37 Absolutely Creative Billboard Ads for your inspiration
How many billboards did you take a look during your walk or driving in your life? I'm sorry that I can't remember many of them, but I sincerely believe that it's not my problem, as the billboard itself should be great enough to attract me!
What makes a great billboard then? Or ask yourself a question, what can cause the drivers to endanger their lives to take a look at your billboards while they're driving? Great billboard can answer this question well. It should be graphic-oriented, informative, interesting and most importantly, creative.
Sounds insane? Nah. There are just too many billboard ads that did it, and in this post I'm gonna bring up 37 billboard ads that are extremely creative and attention-grabbing. Once again, they gonna prove you that creativity has no boundaries, enjoy them all!
Related articles:
–
1. Cossette and Spencer & Jordan Collab
From what I can say, this billboard from the collab of Cossette and Spencer & Jordan tells me 2 things. One, this ad had the audacity to butcher the McDonald's logo and brag about it. And two, it may imply that there's a McDonald's on the next right turn of this ad. But it works. This ad won a Follow The Arches campaign, and it inspired me to get a cheeseburger.

–
2. Red Cross: Optical Illusion Billboard
Liked this one, big and realistic enough to shock passengers, thus raising their awareness about amnesty.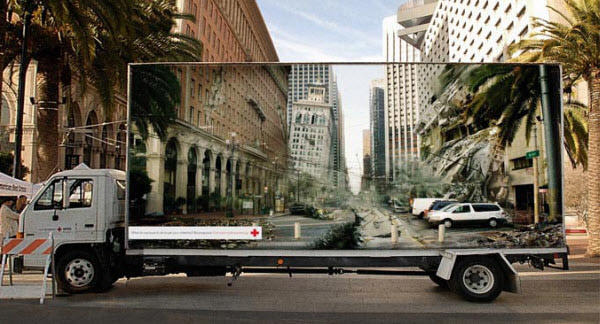 –
3 . Anando Milk
You know, if I was a kid and you told me that I could develop amazing powers by drinking milk, I'd probably believe you after seeing this. This billboard from Anando Milk shows that fantasy is a great medium to appeal to children. Also, using two billboards to achieve this optical illusion was nothing but pure genius!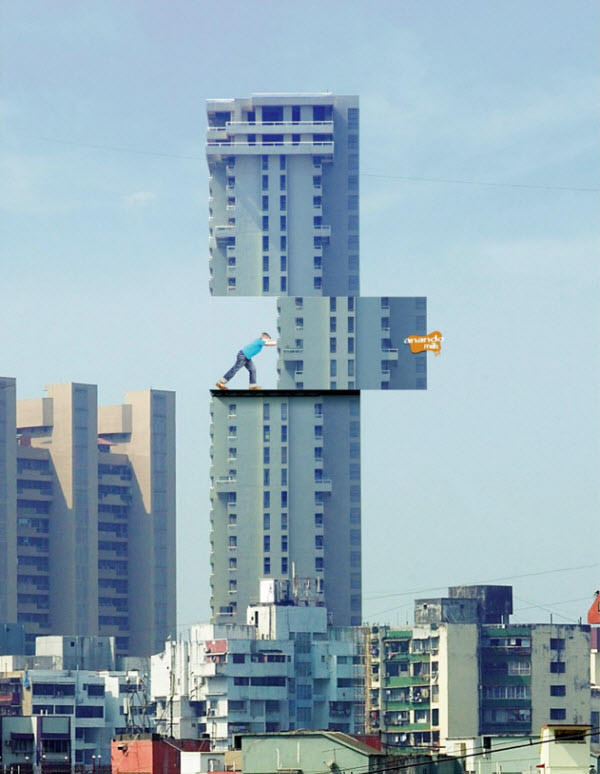 –
4. Regional Environmental Awareness: Swimming Pool
Well-placed creative ad that can add up the effect due to the environment, but viewing numbers might be an issue.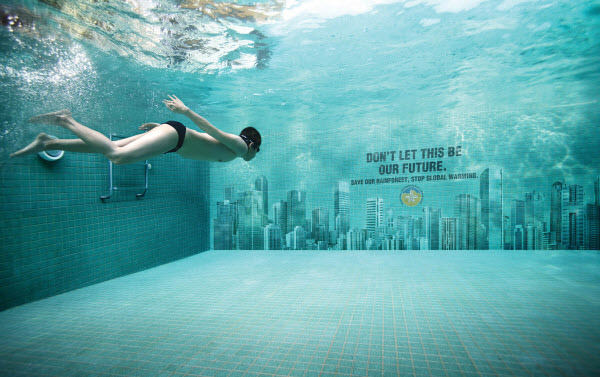 –
5. Seat Belt Billboard Ad
One great tactic would be to use everyday objects to complement the billboard's message and get people talking about it. This ad shows just how dangerous it can be without having your seatbelt on – back seats are no exception. Talk about clever ad design!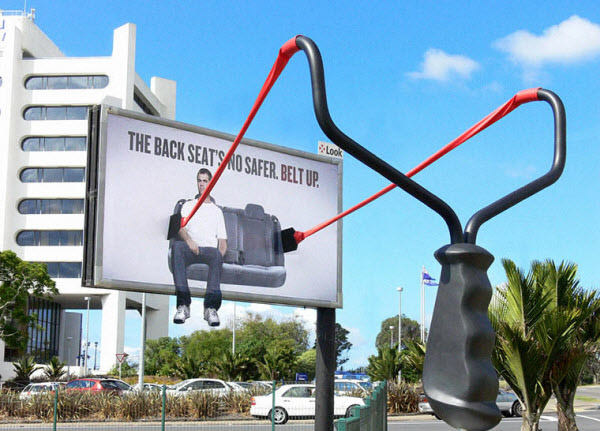 –
6. Quitplan: Big Butt
"Our Paul Bunyan sized cigarette should get Minnesotans thinking about quitting smoking in a really big way. With every trip back and forth to the cabin or the casino, smokers will be reminded that QUITPLAN.com is ready to help when they are ready to quit."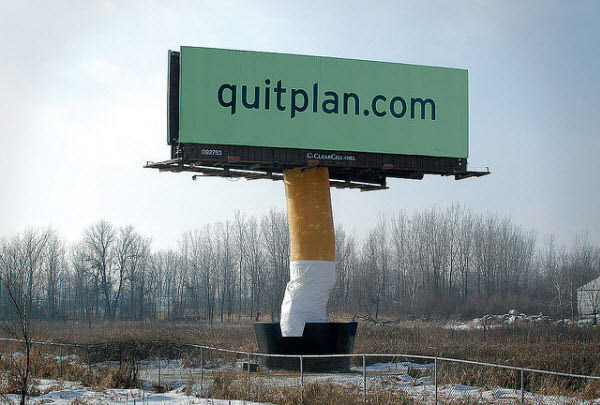 –
7. Netflix
This billboard ad is quite simple, but it's bound to trigger a lot of people who are loyal to Netflix, so it's already turning heads. The plot twist? Netflix is the one that put it up! Talk about reverse psychology. It also makes you wonder who would spend this money to trash Netflix and yet not give a source or name? Obviously it would be Netflix themselves.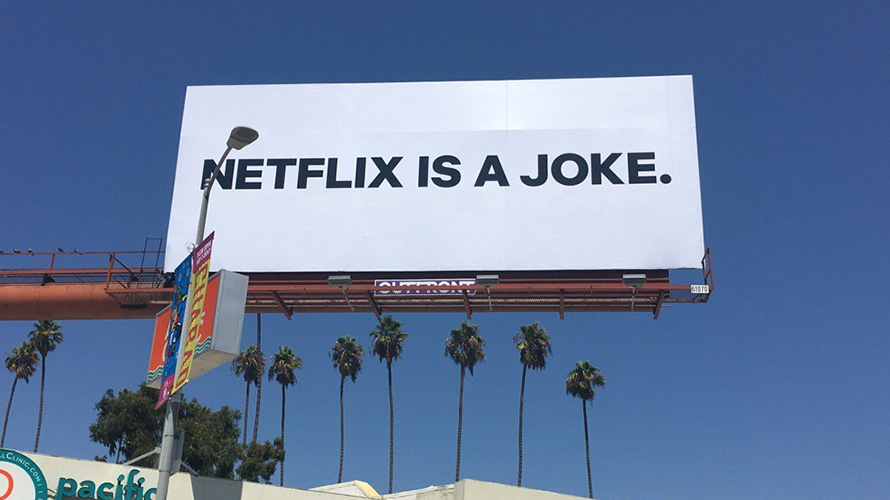 –
8. Spotify
How can you look at this and NOT chuckle? I agree, Spotify: 2016 was indeed a weird year. Those whimsical messages in their ad are really relatable, and I love the bright colors used to make the billboard ad stand out. Also, very clever of the designer to point out the person who played "Sorry" 42 times. Definitely makes you stop and think a little…what did he do?!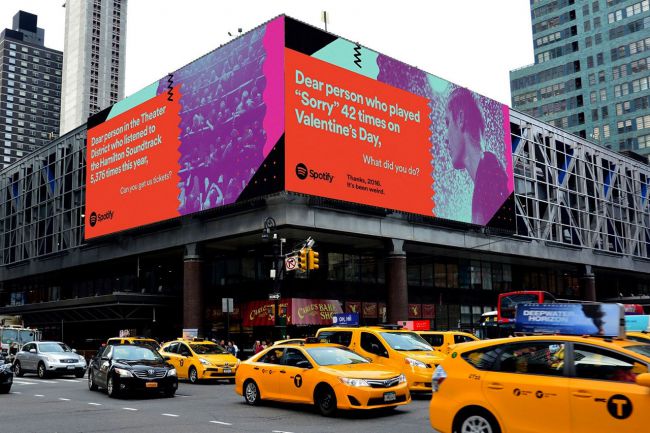 –
9. Leica Binoculars: Brown Bear
Get Close. With the Ultravid from Leica.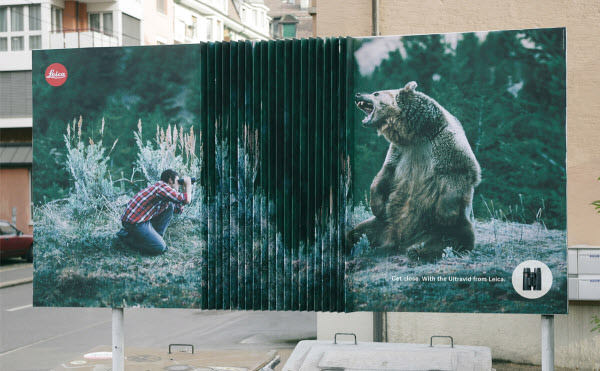 –
10. LEGO
Growing up, I've always enjoyed playing with LEGO bricks, so this billboard ad tugs at my nostalgia. Plus, I just love how they were able to blend the surroundings into it – reminds me of a lot of augmented reality! And the use to re-create this SPECIFIC scene means this ad was made specifically for this location. That's a lot of work and dedication for just ONE ad.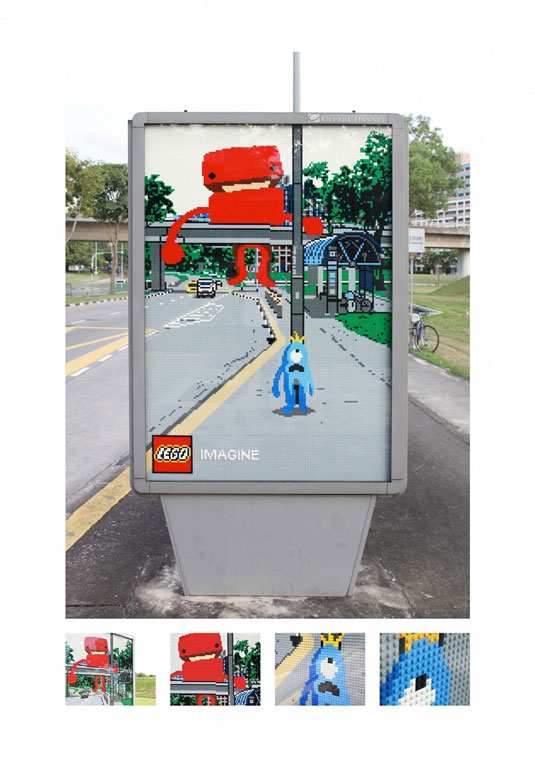 –
11. Real Hip Hop: Black Power
A rocking billboard ad about rocking company, created by rocking agency. Totally rocks.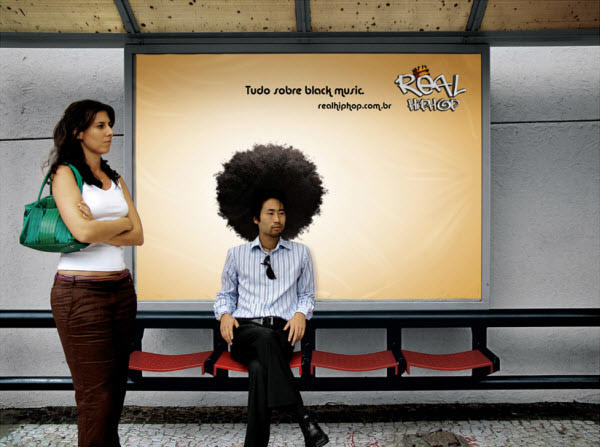 –
12. Berger
I've known for a while that there was a color in Berger's arsenal called Sky Blue, but I never thought that this billboard ad would take it literally! Great blending of color compared to the sky! However, it may lose some of its impact at night, but that's just me.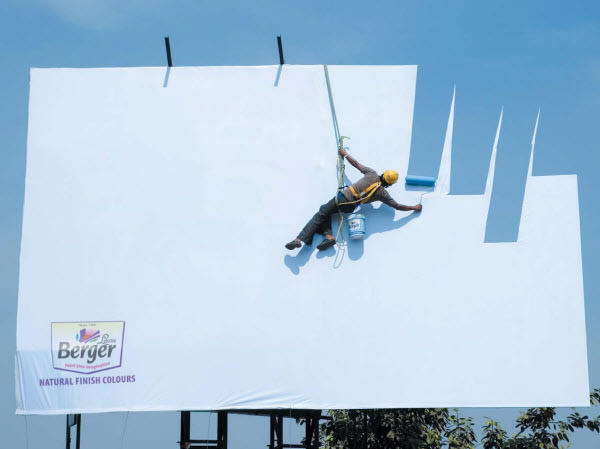 –
13. Mars Chilled: Tongue
Great work on using 2 billboards to set up a creative ad that's never seen before, and the lip is too great that it looks like 3D!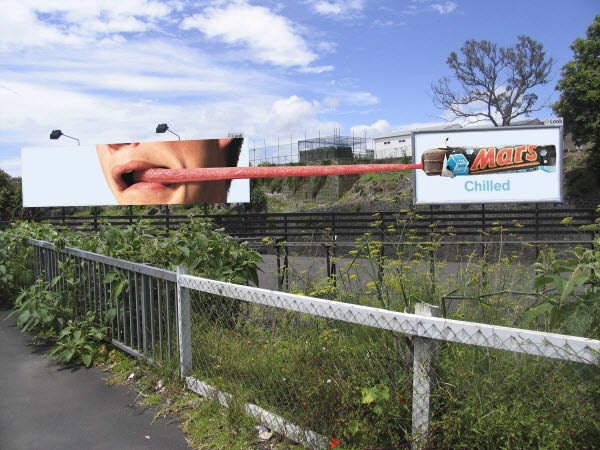 –
14. Law & Order
Any fans of Law & Order here? Perhaps you can tell me the scene this billboard ad is pulling from? Anyway, I find this ad absolutely captivating, and the integration with the light is top-notch. Love it when the ad uses the surrounding to its advantage.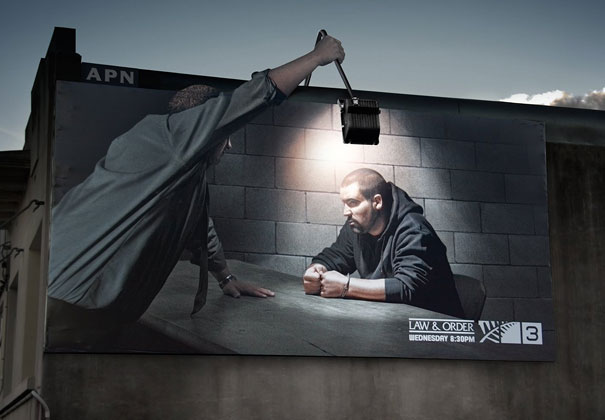 –
15. McDonald: Sundial Billboard
If you are creative enough, an ancient idea can help to build a creative billboard ad. Idea is everywhere.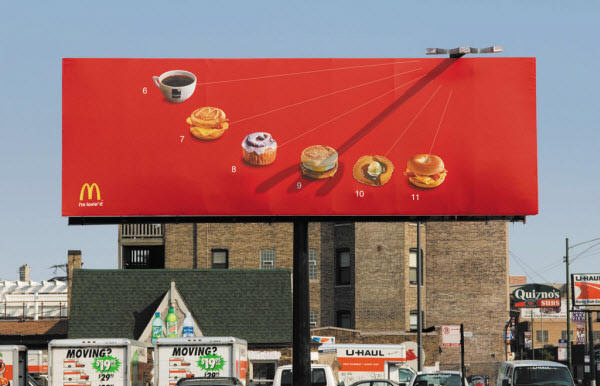 –
16. Science World
This billboard ad by Science World is a beautiful representation of how diamonds are a lie designed to fool consumers into thinking that they're valuable. I'm not sure if the diamonds on the billboard are actually real or synthetic diamonds (both are expensive). But this definitely makes me want to stop by Science World to find out why.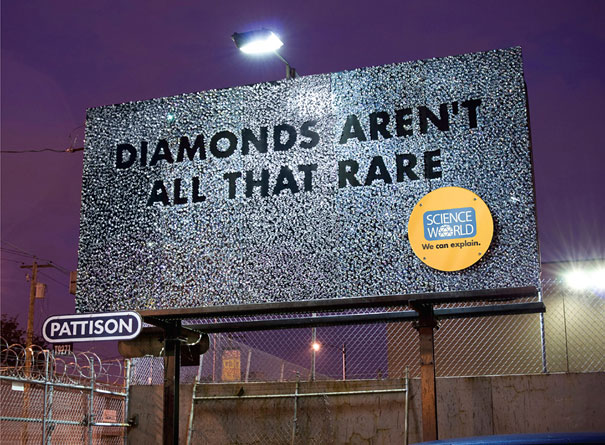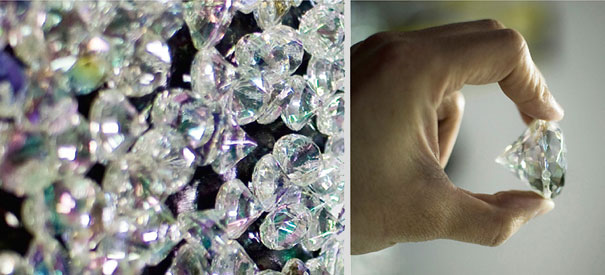 –
17. BiC
I never figured that the Earth would have a need for a razor, but this ad from BiC does more than enough to get the point across with its simple design. Bonus points for use of a non-electric model! But it does make you wonder…do they have to come by every 2 weeks to mow just that specific area?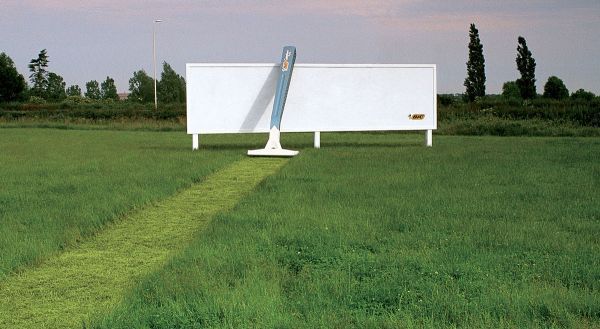 –
18. Craftsman
This Craftsman billboard ad shows a dynamic side by interacting with the wrench and 'supporting' the billboard – love the shift in the wrench!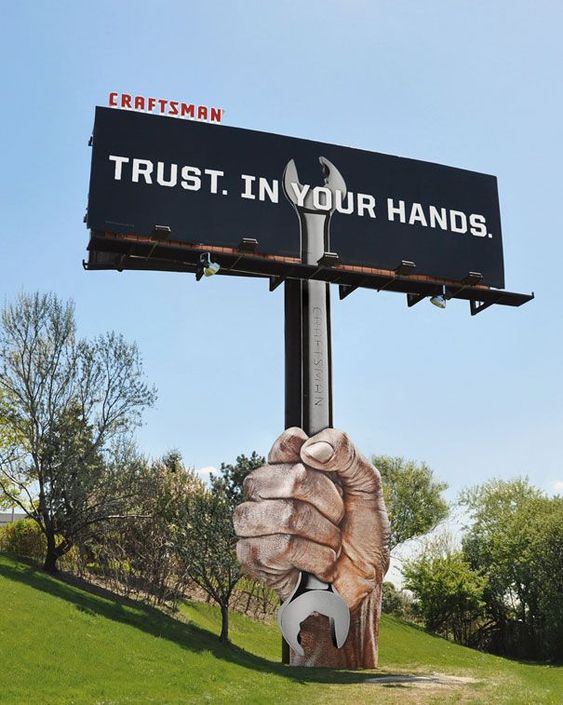 –
19. Royal
In order for Royal to show their message, they turned an entire 7-story building into a cake? That'll definitely turn heads, and this billboard ad is a work of art. If there's one billboard you can't miss, this would be it.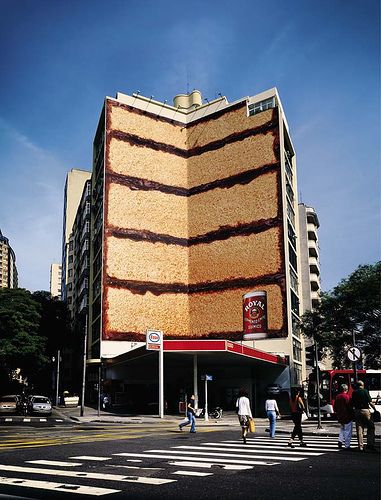 –
20. Smirnoff
Now, I wouldn't call myself much of a political commentator, but Smirnoff just couldn't help taking a jab at our Commander-In-Chief with this witty billboard. The madman behind this ad must be drunk or ungodly brave. Regardless, props to Smirnoff for having the balls to approve of this ad. Does anyone have any aloe vera?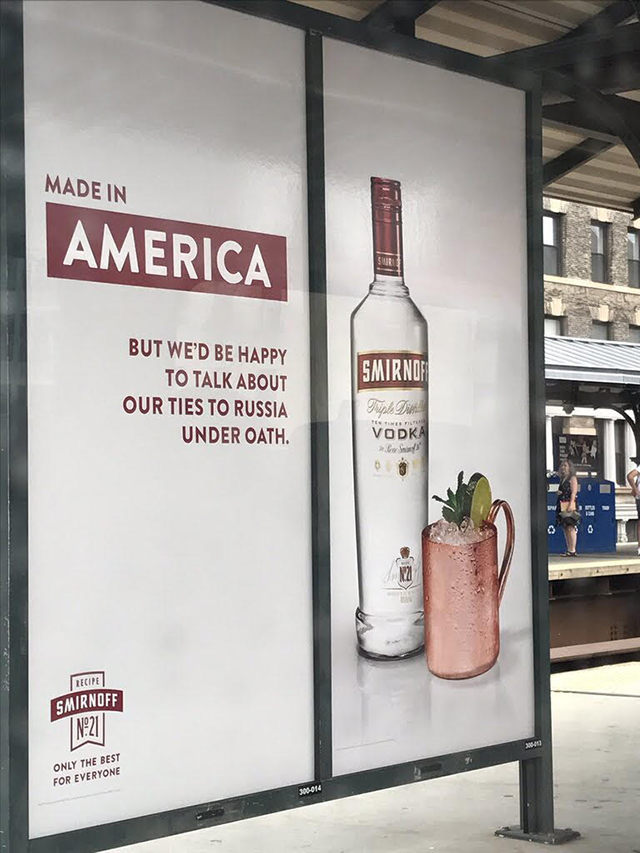 –
21. Leica V-Lux 1: Ivy
Beautifully and brilliantly done. Leica has hired the right agency to do the right ads.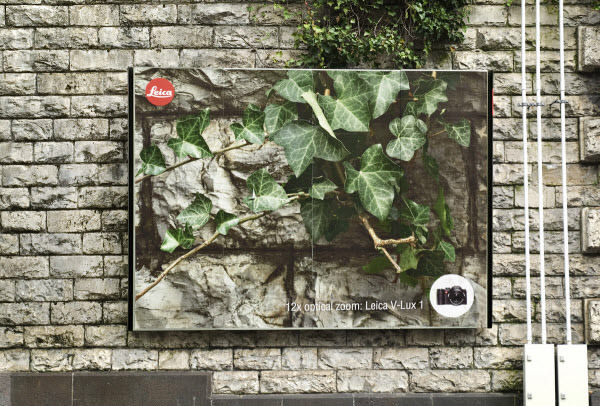 –
22. Nationwide
Insurance companies are the wildest when it comes to advertisements. After all, you're advertising a boring product that can't really be shown. Nationwide certainly didn't pull any punches with this billboard ad – great use of pseudo-3D to have the paint spill out in the real world! This is going to be a massive pain to clean up. And did they really do that to the van and 2 cars in the parking lot?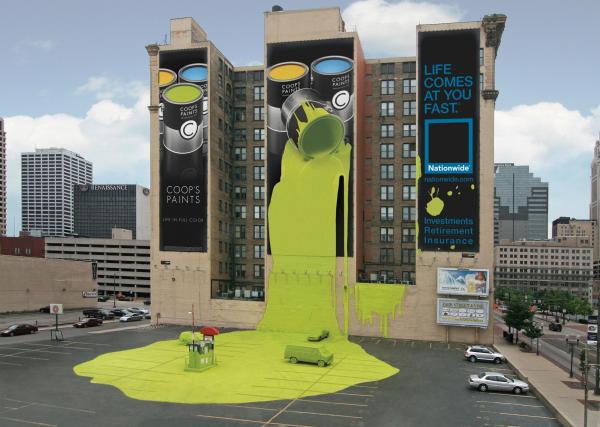 –
23. DHL: Maze
For this gigantic 3D billboard, a small, red ball rolls from point A to B via the shortest route. After it finished the journey, it will be transported through an invisible conveyor belt within the billboard back to the top to begin the journey again. Again and again, yes, always the right way.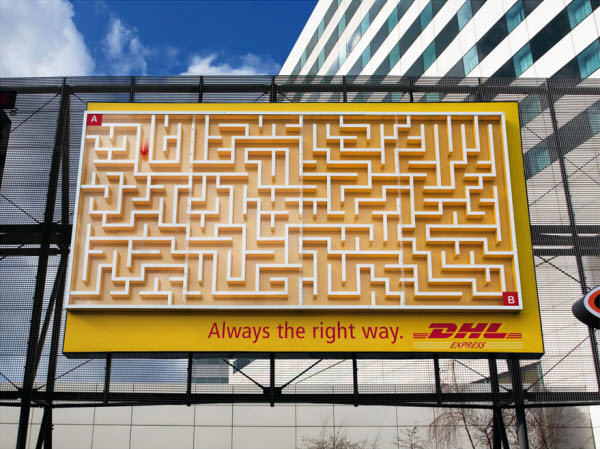 –
24. Allstate
See, this is why having car insurance is so important – it's all fun and games until your car is dangling from a 10 story parking lot. Amazing ad from Allstate, but that car owner looks like he needs a hand.

–
25. The Economist
Okay, now this billboard ad from The Economist is just a brilliant idea. Having a giant light bulb with a motion sensor built-in is just great to look at when driving by and seeing all the smart folk interacting with it. This doesn't surprise me that much actually. Of course, The Economist would have a few smarty-pants hanging around the office.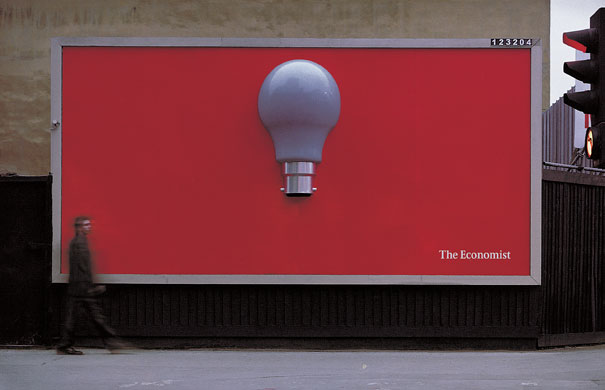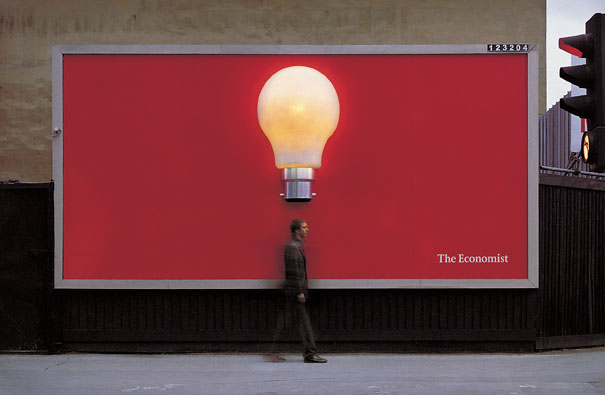 –
26. Ford Mustang: Fast
How to express speed on billboard ad? Ford knows it very well. Constructed from GE Lexan EXL semi-transparent resin, the billboard accurately blurs the scene behind it regardless of day, weather or season.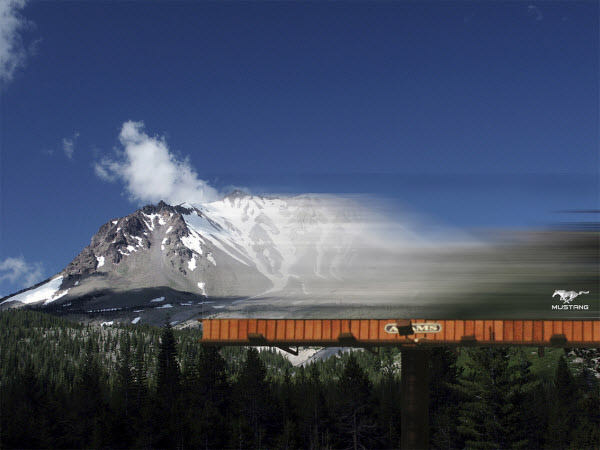 –
27. Formula
According to this creative billboard ad from Formula, you can have strong and healthy teeth too! Strong enough to tear off metal, even! Well, iron is in fact good for your diet…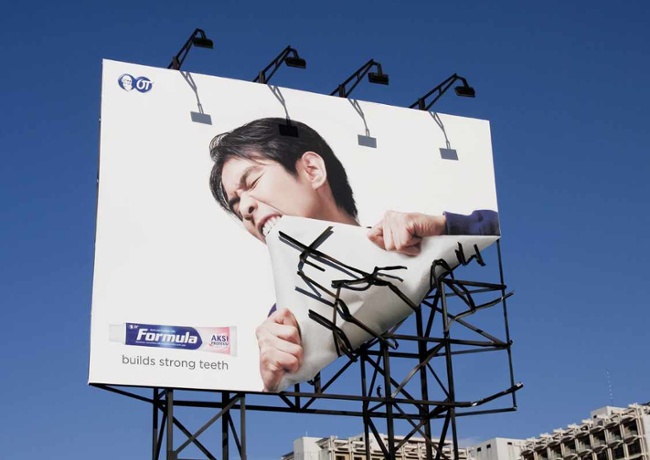 –
28. Tylenol
I can totally relate to this guy. My headaches can be the absolute worst with the stress of work sometimes. But Tylenol skillfully uses the wrecking ball to get its point across.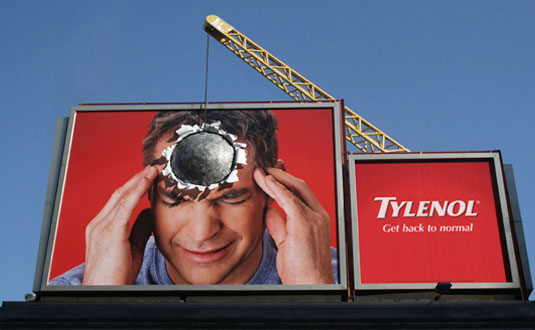 –
29. Maker's Mark
3D billboard ads are always such a joy to see, and this simple, yet effective one from Regent demonstrates this. I also learnt that oil tankers contain whisky – interesting to know.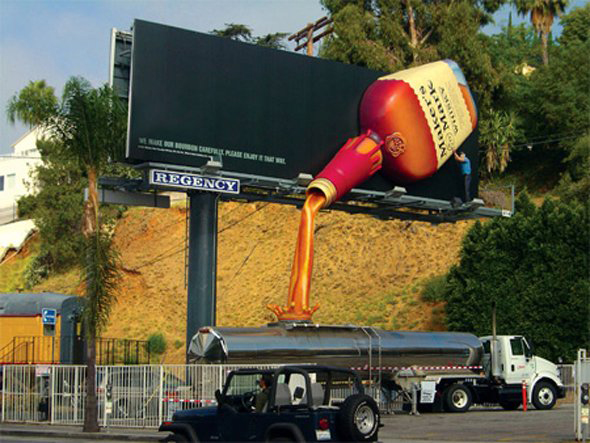 –
30. Silberman's Fitness Center
I've seen a lot of clever weight loss billboards, but this one was just so simple and creative. This ad by Silberman's Fitness Center may just take the cake in terms of weight billboard ads. Amazing use of the tilt to convey an important message – get in shape!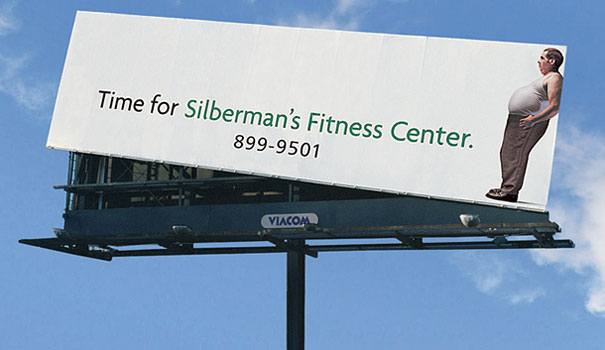 –
31. Nike
Nothing says getting in shape with Nike gear than being able to move yachts. A pretty smart combination with the boat makes this billboard ad even more eye-catching.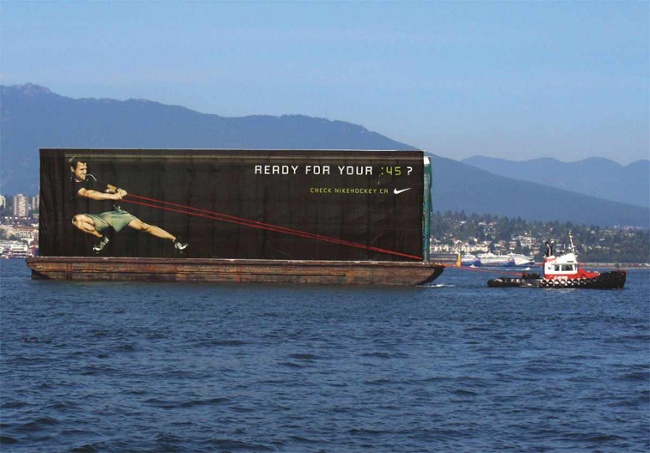 –
32. Hotwheels: Curl
Perfect execution for the brand, keep it rolling.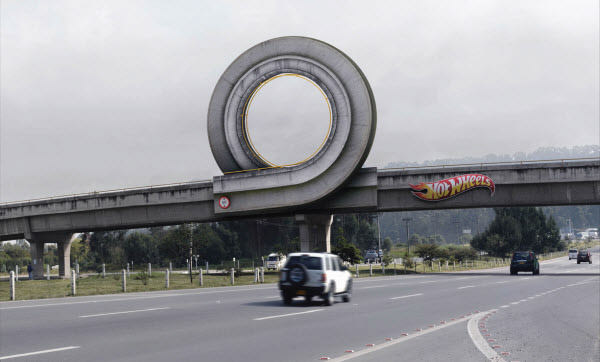 –
33. McDonald's
This billboard ad located at the Norway/Sweden border may come off as a bit obscure, but it humorously shows that there's a big price difference in the cost of food. I guess I know where I'm going for my next big Mac. Sweden, here I come!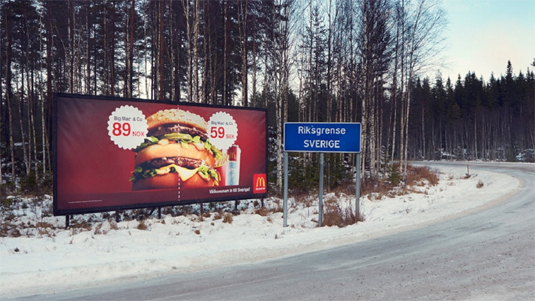 –
34. Sky, Now You Know, Discovery Channel
Now this billboard ad is really cool – not only does it advertise two firms at once, but it's a working circuit board! The fan turning generates the electricity for the neon light – pretty green, I'd say.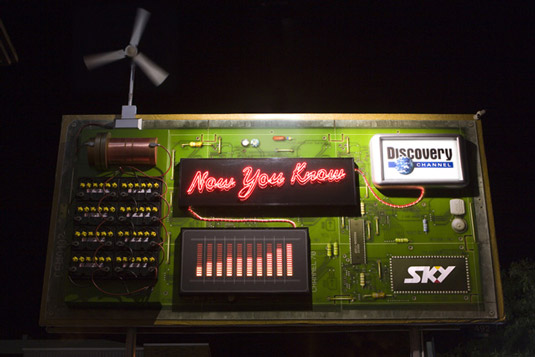 –
35. Penline Stationary: Strong Tape
No other tape advertisement can be better than this one, a tape that can stick up a billboard firmly.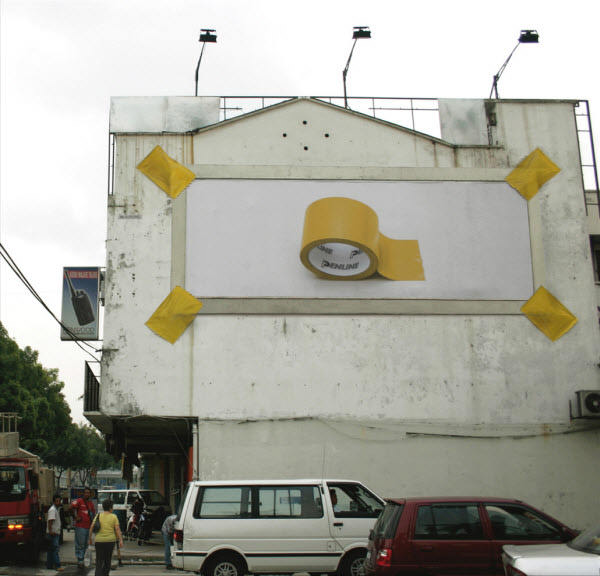 –
36. BBC
"See the other side of the story" by literally turning a corner. Pretty ingenious to use the sides of a building to showcase your billboard ad. Well played, BBC.

–
37. Coca Cola
Refreshing is right! And this subtly amazing billboard ad brings the point home. The straw and the ladder just further exemplifies the need to have a Coke.