Last Updated on August 15, 2023 by Mr.Pugo
Hey there, household heroes! We all know that managing a home is like juggling a circus sometimes – there's the meal planning high wire, the budget tightrope, the chore carnival… you get the drift. But guess what? Notion, that digital Swiss Army knife, has some seriously cool free templates that can turn your home management circus into a well-oiled machine. Buckle up, because in this blog post, we're diving into the wild world of Notion household templates – the top freebies that are about to make your home life smoother than butter.
Discover the top-notch Notion household templates that revolutionize home management. Streamline your routine with all-in-one solutions for finance, pet care, plant care, car maintenance, entertainment planning, meal preparation, and more. Elevate your organization game and reclaim valuable time for the things you love!
Super Life's Household Manager
Super Life notion template has everything you need to capture and organize your entire line all in Notion. One of it's great features is the Household Manager.
Simplify your home life with enhanced household management features. Keep track of chores, schedules, and essential tasks with ease.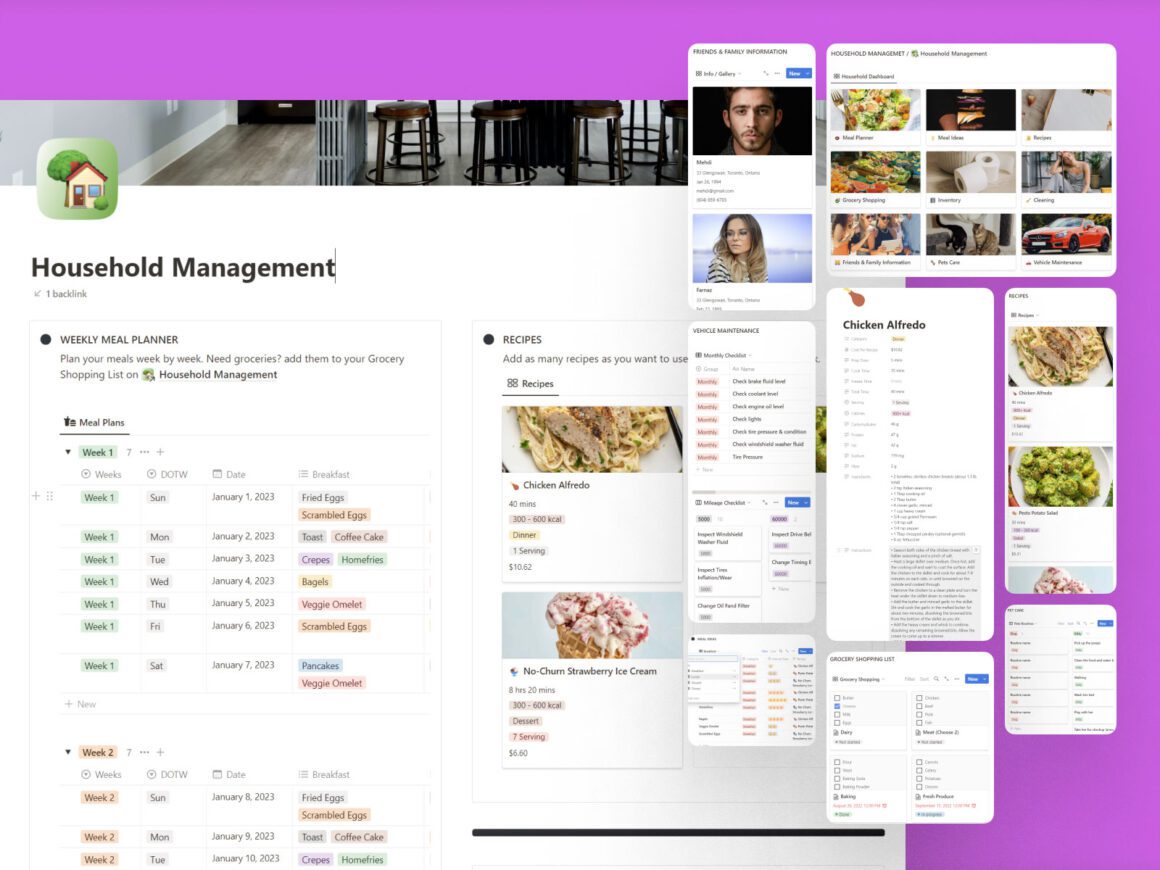 Household Management Pro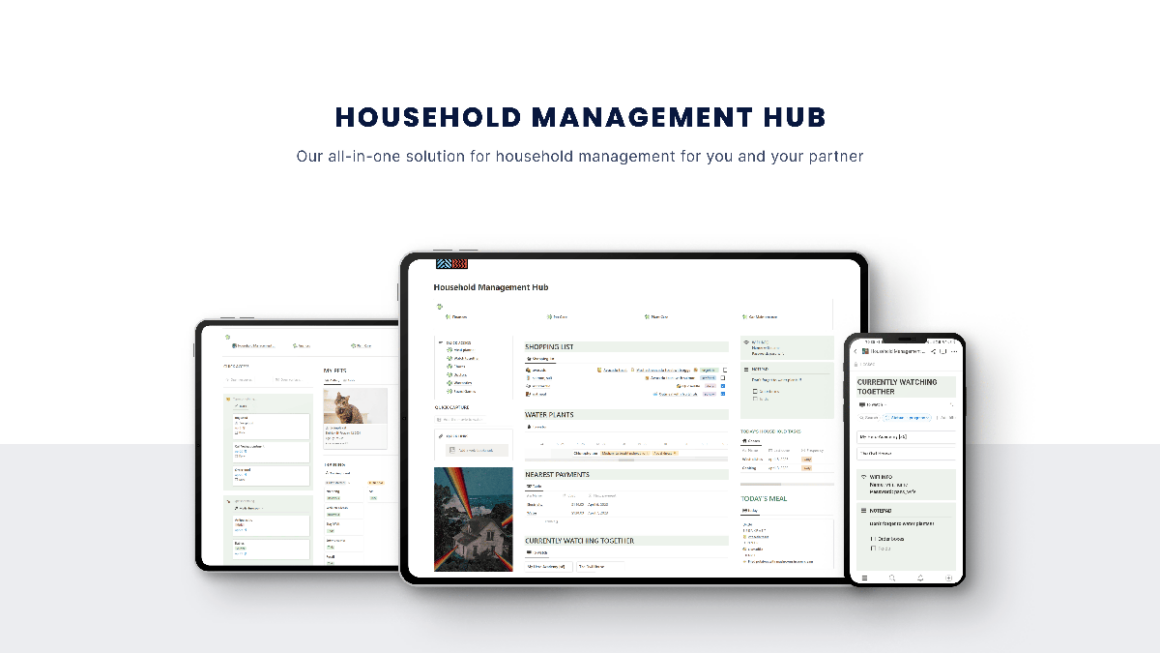 Introducing the ultimate household management template for Notion! This all-in-one solution is meticulously crafted to simplify your daily routine and ensure your household functions like a well-oiled machine.
Their financial dashboard is a game-changer, effortlessly handling payments for multiple individuals, making bill management and budgeting a walk in the park. With dedicated pet care and plant care pages, you can effortlessly keep track of your furry companions and indoor garden. Their car maintenance page ensures your vehicle remains in top-notch condition, while the warranty page is designed to keep all your crucial documents at your fingertips.
But hold on, there's more! The board games database is a dream for anyone keen on organized entertainment, and the doctors' database streamlines your medical information with ease. Planning meals becomes a breeze with their meal planner, and the watch together page lets you coordinate movie nights or TV show marathons effortlessly.
The reminder feature is the icing on the cake, making sure you never miss a beat – whether it's settling bills, tending to your plants, tackling chores, or curating delightful meals.
Elevate your household management game with this outstanding Notion template and unlock an organized and stress-free routine. Say goodbye to scattered information and say hello to more quality time for what truly matters – all thanks to this ingenious solution!
 The Household Notion Dashboard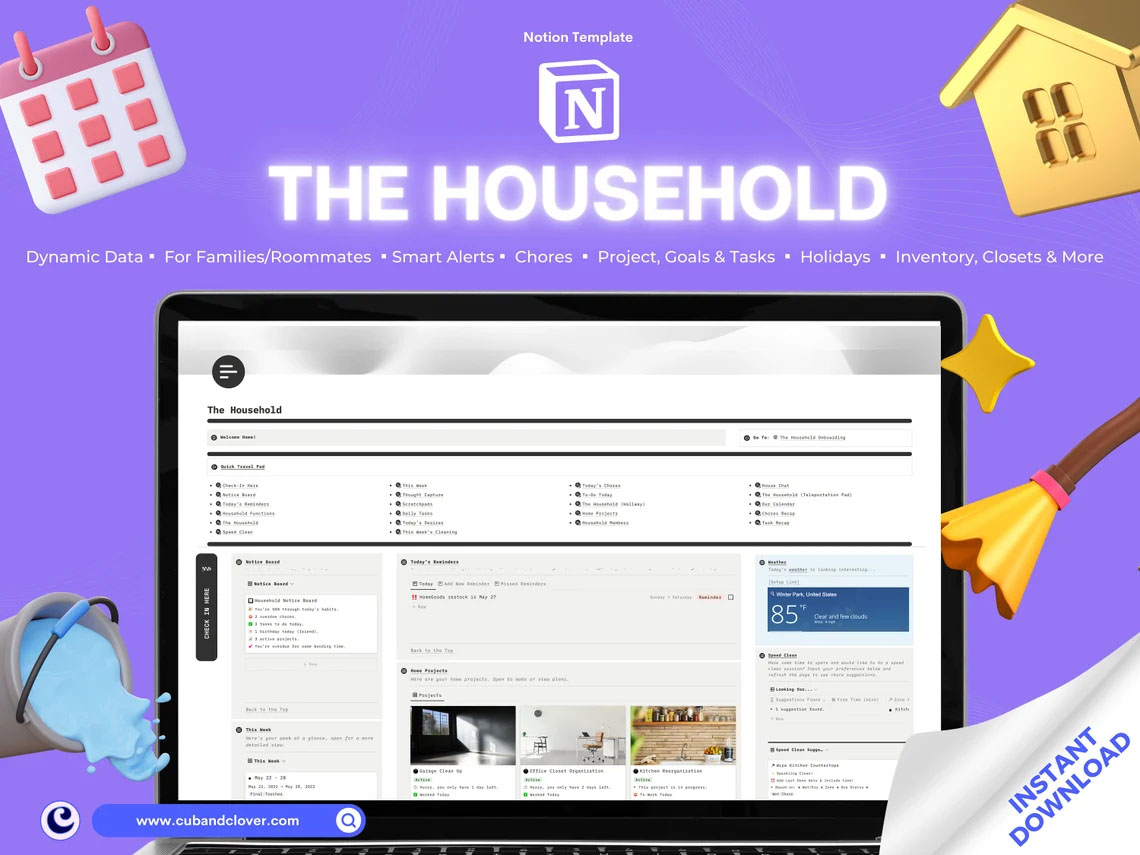 The Household Notion Template is professionally designed for the home manager. It contains everything needed to stay on top of cleaning, chores, housekeeping, and more. The goal of this suite is to give you a dynamic, fun, and easy way to keep your household on track!
Notion ultimate home manager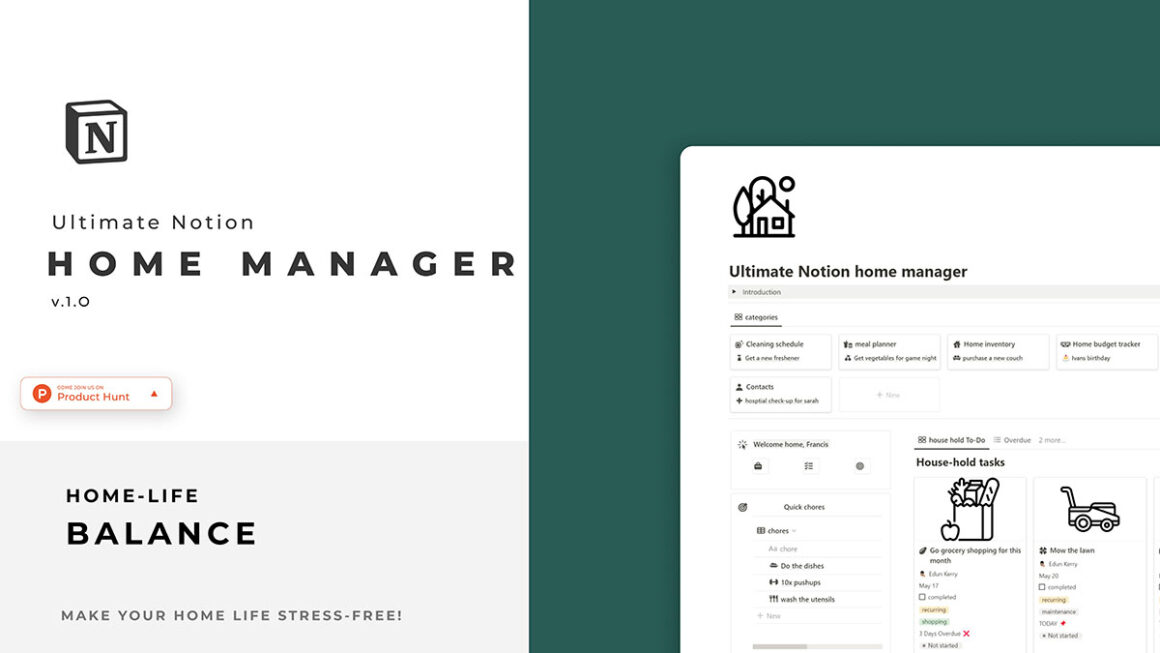 A system that aims to provide a comprehensive solution that empowers you to overcome disorganisation, streamline your house hold tasks and create a more productive and harmonious home environment.
you'll have access to a wealth of features to simplify your home-life balance.
Family Hub Notion Template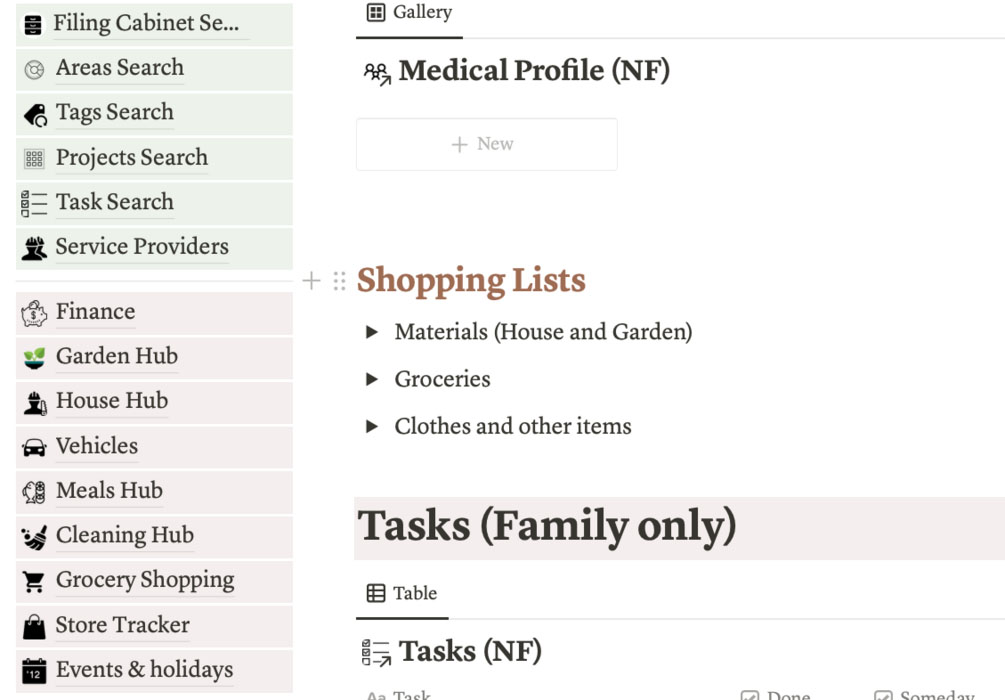 ORGANISE YOUR FAMILY LIFE ….store everything in one place. Your paperwork,finance, house renos, garden plans, vehicle details, groceries list, meal plans, pet vaccinations, fav clothing stores, all your medical issues , birthday and holiday events and much more.
Home OS 2.0 – Organizing your Home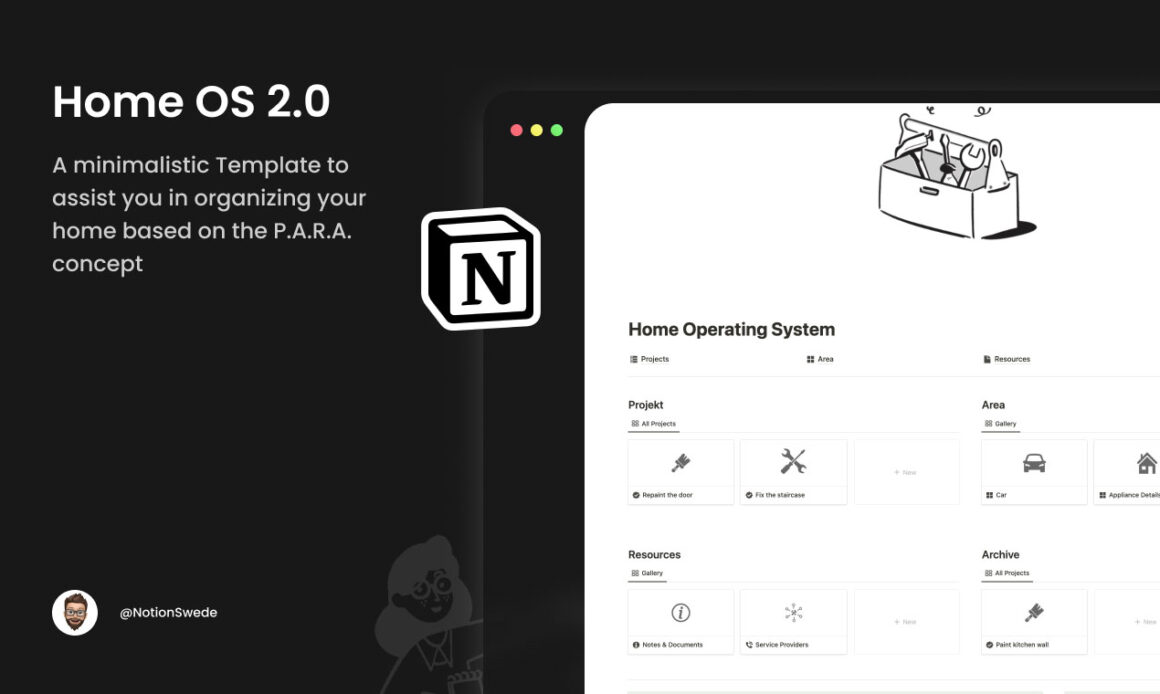 The Home OS 2.0 is a minimalistic Notion Template to assist you in organizing your home based on the P.A.R.A. concept.
Notion Household Tasks and Chore Tracker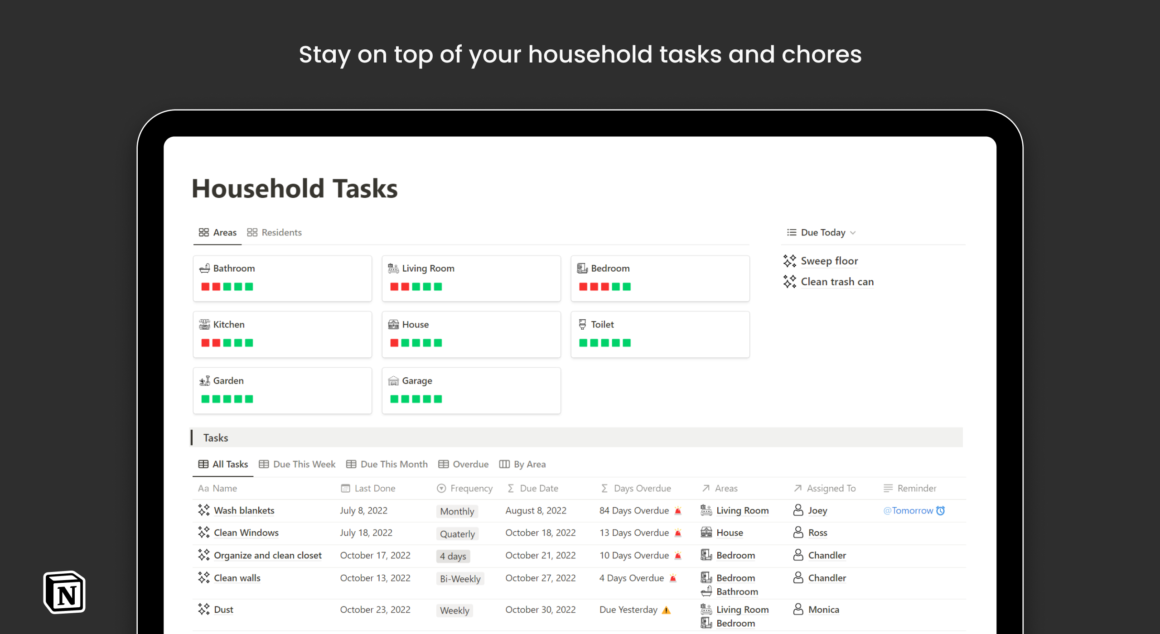 The Notion chore and cleaning tracker template helps you keep your home clean and organized. The template is easy to use and can be customized to fit your specific needs.
Household task tracker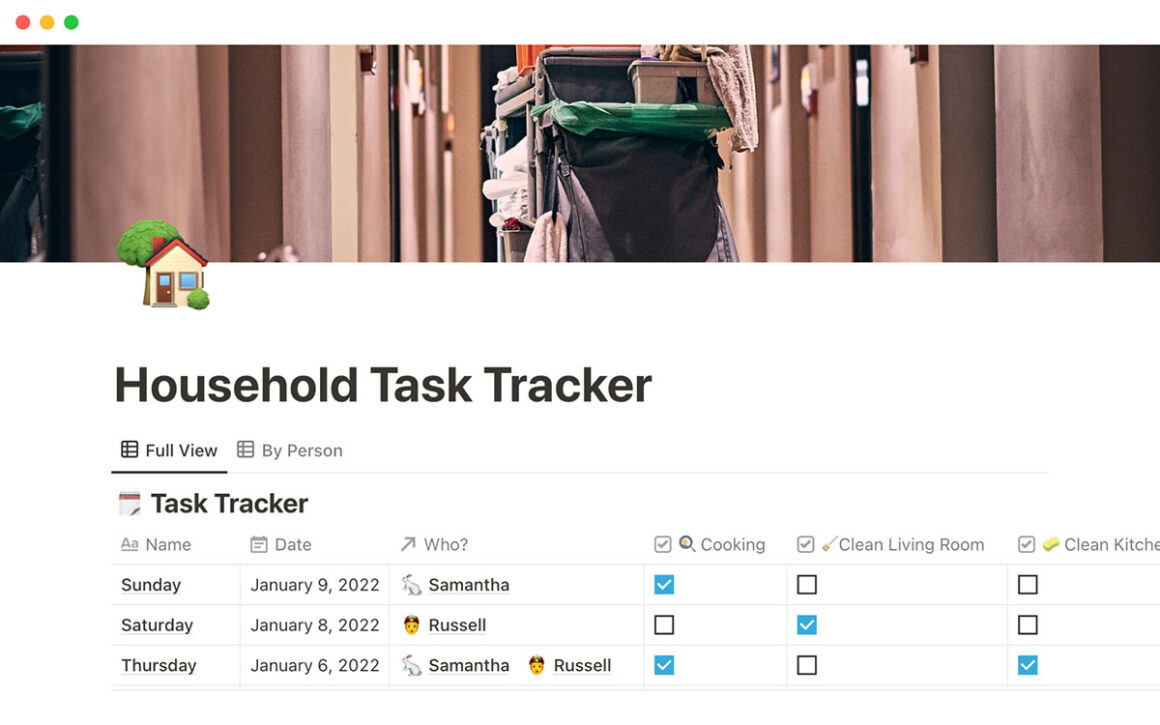 This template helps you organize your household by tracking the chores each housemate has done. It's a no-brainer to use, and really fun to personalize to your own needs. You'll never have to fight about chores again!
Household Inventory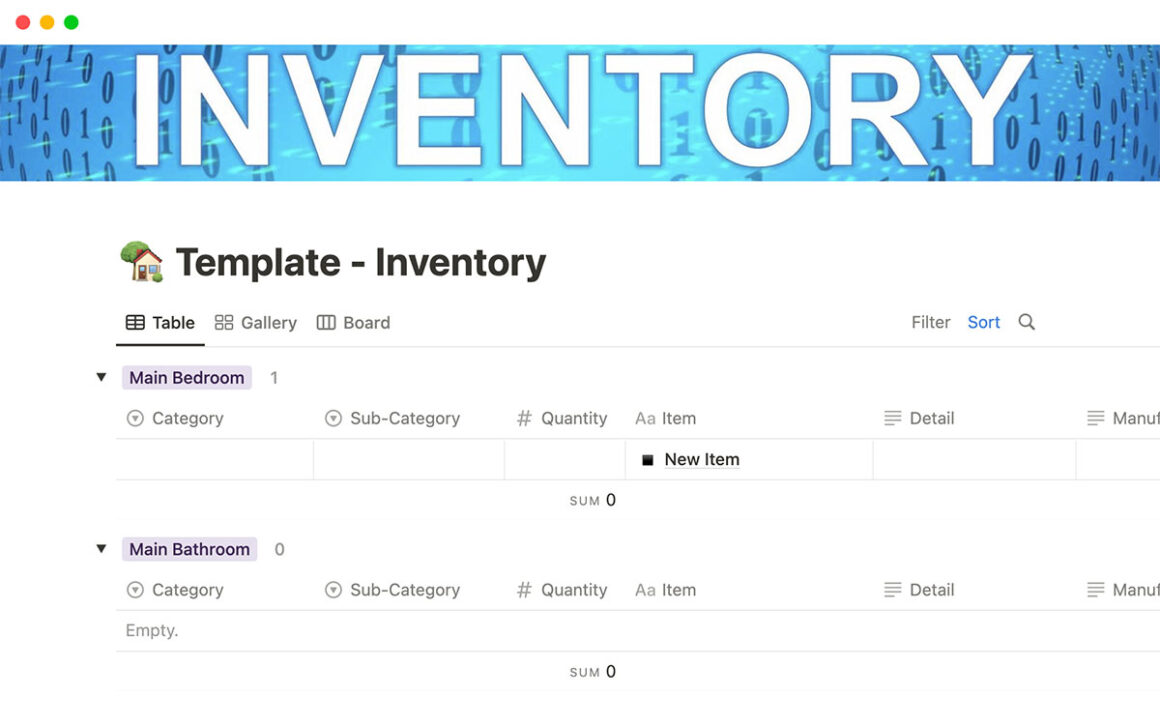 This template gives you a place to keep an offsite record of your home inventory with pictures and cost detail. This is critical insurance information to have after a disaster. It also gives the user a place to store electronic copies of user/installation manuals, reducing the need for storing paper.
Household Second Brain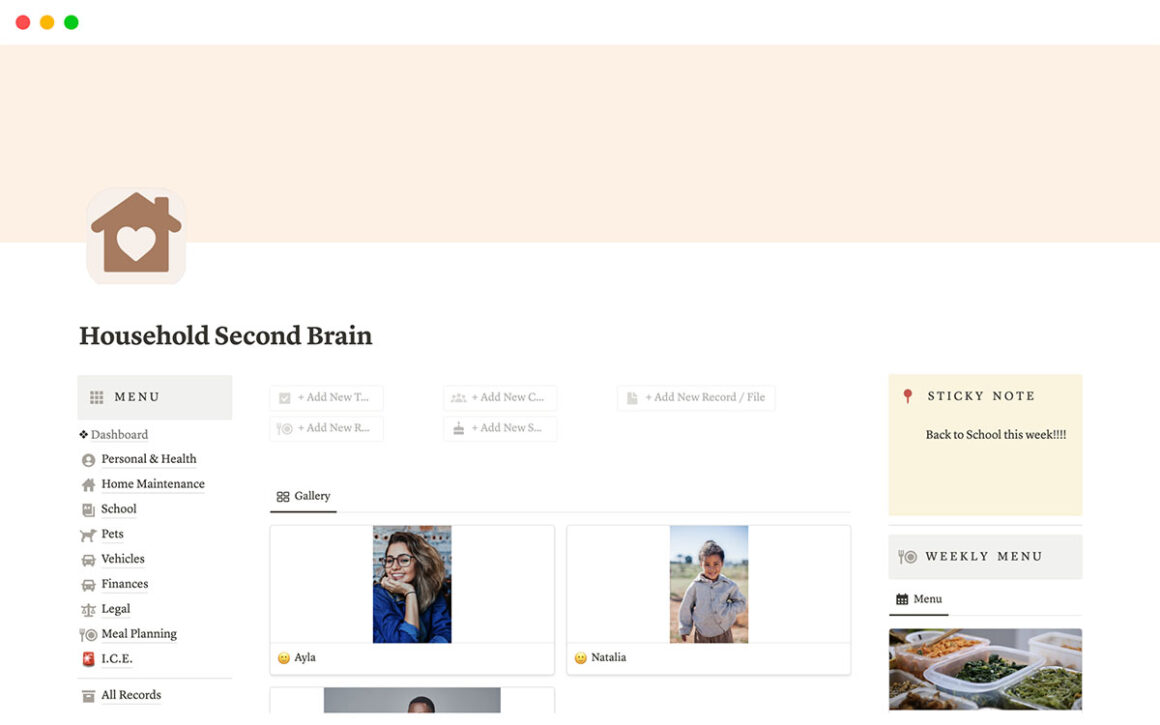 All-in-one Notion planner template family & household dashboard to organize all of your "adulting". A "digital brain" to reduce the mental load of managing all household & family details. Recurring weekly & monthly household chore list. Menu & meal planning. Keep both partners / parents on the same page about school, health, car and pet details. Have important records & info at your fingertips (legal, financial & health.
Household Budget Notion Template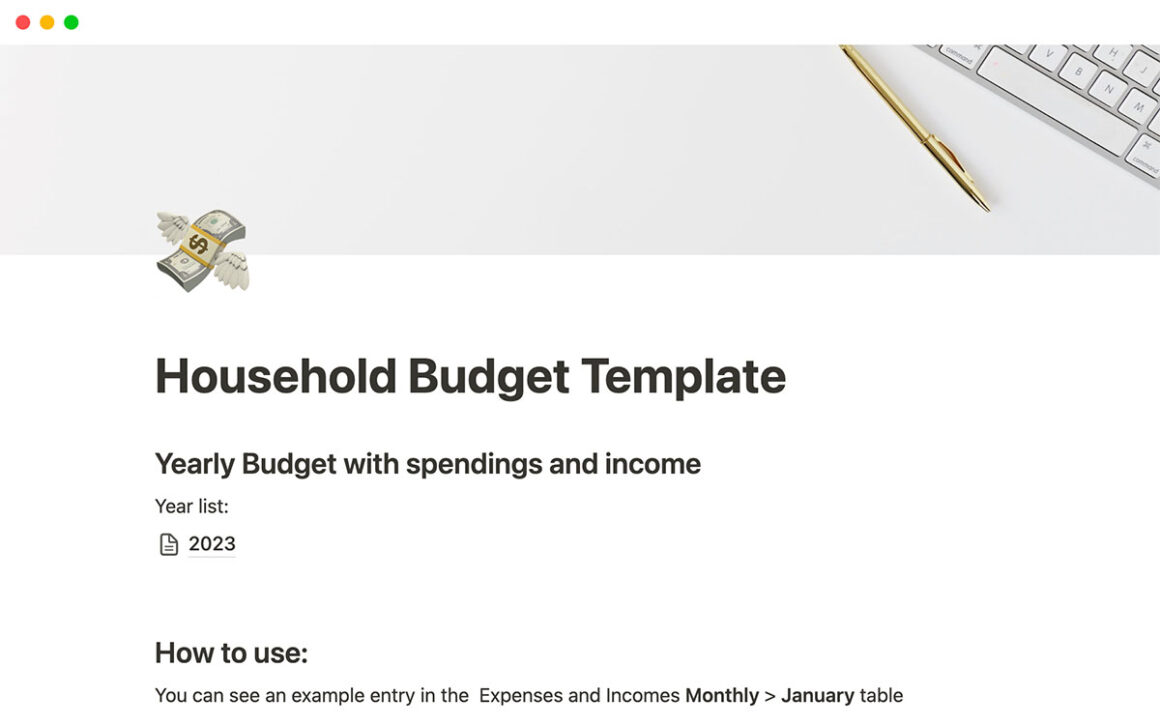 Provide a detailed overview of an household spending and incomes, with breakdowns on individuals and categories
Household Tasks and Chore Tracker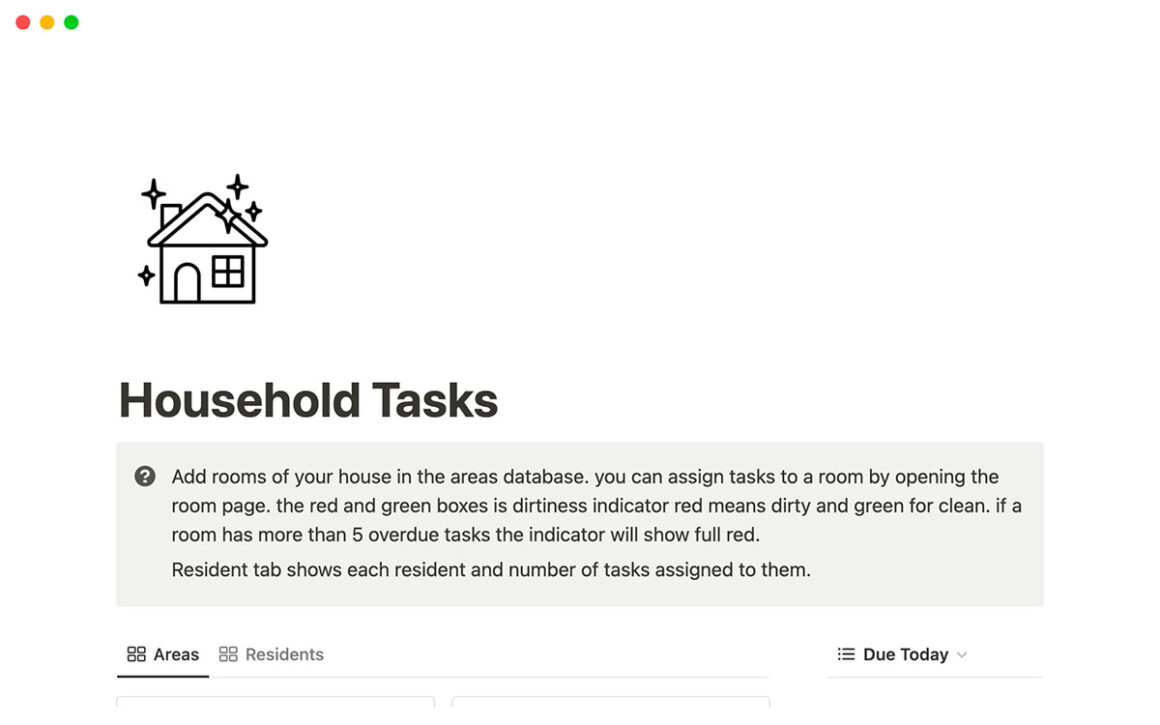 The Notion chore and cleaning tracker template is an invaluable tool for maintaining cleanliness and organization in your home. With its user-friendly interface, you can effortlessly create tasks for each room and assign chores among household members. The innovative dirtiness virtual indicator keeps you motivated by visually tracking the cleanliness progress.
And there you have it, folks – the scoop on how Notion's awesome best & free household templates can turn your home from chaos to choreographed. From mealtime magic to budget brilliance, these templates are your trusty sidekicks on the home management journey. So why not dive in, give 'em a whirl, and see your household superhero skills reach new heights? With these Notion templates in your corner, you'll have more time to kick back, relax, and enjoy the good stuff. Cheers to a more organized and stress-free home life!
Take a look at these two posts to find more personal and life notion templates, free and paid: