Last Updated on July 16, 2023 by Farnaz
Artificial Intelligence (AI) is revolutionizing the way we live and work. From chatbots to deep learning algorithms, AI is transforming every aspect of our lives. This blog post explores 160 fun AI tools that you may not have heard of before. These tools cover a wide range of applications, including chatbots, precision agriculture, and medical imaging analysis.
AI has advanced to the point where it can assist humans with repetitive tasks, reduce human error, and save operational costs and resources. As a result, I conducted research on available AI tools. Although I was already familiar with some AI video generators, copywriting tools, and AI tools for generating art, I discovered many new ones. For instance, AI can write code, create Excel formulas based on text input, and generate lifelong AI companions similar to those in the movie Her. So, let's explore these artificial intelligence tools together, and make sure to note the ones you'd like to try – the list is extensive!
AI Video Generators and Editors
Video is currently the most popular medium, but creating it can often be a tedious process. Whether you are a content creator, professional editor, or beginner, producing a good video requires knowledge, skill, and proper equipment. Luckily, there are now better ways to create video content using AI video editors or AI video generators. With AI, creating videos is faster and cheaper, allowing you to focus on creativity and storytelling rather than technical details. There are many AI tools available to enhance existing videos or produce new ones based on your text input. In this document, we will take a closer look at some of the best AI video editors and generators available today.
Synthesia is a leading company in AI video generation. Their user-friendly online platform enables you to create videos with human presenters through simple text input. With over 125 AI avatars based on real actors to choose from, you can have your words spoken in over 120 languages. You can try a free demo and then upgrade to either a personal plan for $30 per month or a custom-priced corporate plan.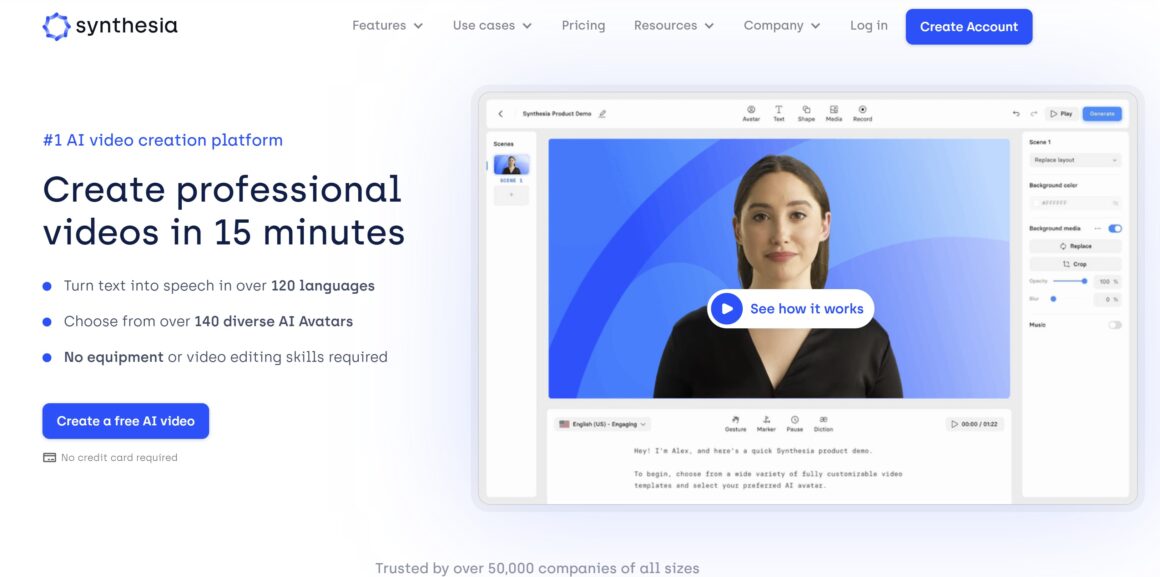 2. Runway
Editing videos used to be a time-consuming and difficult process. However, now it's easier than ever before with Runway, an affordable program that doesn't require any technical expertise. With Runway, you can easily enhance your existing footage by removing backgrounds, painting out objects, adding subtitles, and much more. You can create up to three projects for free, and the most popular plan is available for just $12 per editor per month.
3. Unscreen
Unscreen is a tool that automatically removes backgrounds from your videos. With Unscreen, you won't have to manually pick out pixels or select colors and masks. Instead, Unscreen analyzes your videos with AI, detecting even the smallest details. This results in super accurate outcomes. Even better, it's free to use with some limitations. For example, you can only export gifs and are limited to 5 seconds. If you need better quality results without a watermark, you can upgrade to a pricing plan that starts at $4.99 per video minute.
4. VREW
VREW uses artificial intelligence to automatically generate captions for your videos from speech. This innovative software eliminates the need for tedious manual transcription, saving you valuable time. Furthermore, you can conveniently edit the captions to ensure their accuracy. Additionally, you can customize the style of the captions with different fonts, borders, and shadows. It's worth noting that this software is available for download.
5. Descript
Descript is an AI video editor that provides a robust set of features to help you create professional-looking videos quickly. Using Descript, you can easily add visual elements, titles, captions, and layers, and animate them. In addition, you can use Descript to add a voiceover to your video. They offer a variety of stock voices to choose from, or you can clone your own. It's worth noting that Descript offers a limited free plan.
6. Nova A.I.
Nova A.I. is a video categorization and organization tool. It simplifies the process of finding and categorizing videos by utilizing AI to detect and tag various elements such as faces, expressions, objects, activities, and even celebrities. This makes it an excellent tool for organizing video collections of all types. The basic version is available for free, while the most popular plan costs $18 per month.
7. Reface: Face Swap Videos
The Face Swap mobile application is a fun and user-friendly tool that allows you to exchange faces with friends or celebrities, or insert your own face into pre-made videos. It uses innovative face swap technology that enables real-time swapping of faces via a camera. Additionally, the application offers a variety of filters, GIFs, and amusing videos.
8. Topaz Video AI
If you have video footage that needs enhancing, consider using this $199.99 desktop app. It utilizes AI to effectively upscale, denoise, and restore (old) videos. The app can recover video details, blend frames, create smooth visual transitions and more. The AI "learns" from the surrounding frames of the video, producing natural-looking results.
9. Make-a-Video
Make-a-Video is Meta's latest AI system that enables users to create videos by simply typing in text. The videos generated are based on the text entered and can be shared online or downloaded. Although the AI video generator is not yet available to the public, we anticipate that it will provide significant opportunities for content creators in the future.
10. Aimages
If you want to enhance the quality of your videos without downloading new software, you should check out AImages. It provides a variety of tools for sharpening, deblurring, enhancing, and upscaling videos, as well as improving photo quality. With AImages, you can sharpen blurry details, remove artifacts, and increase image resolution. Pricing options include pay-as-you-go or subscription plans, starting at $11 per month.
11. D-ID
If you're interested in producing videos featuring speaking characters generated from text, you might want to take a look at D-ID's Creative Reality Studio. This online video generator incorporates AI to assist with various aspects of video production, such as text and image generation, as well as facial animation. With this tool, you can create a talking character using a single still image or a textual description, which can then be generated by the AI.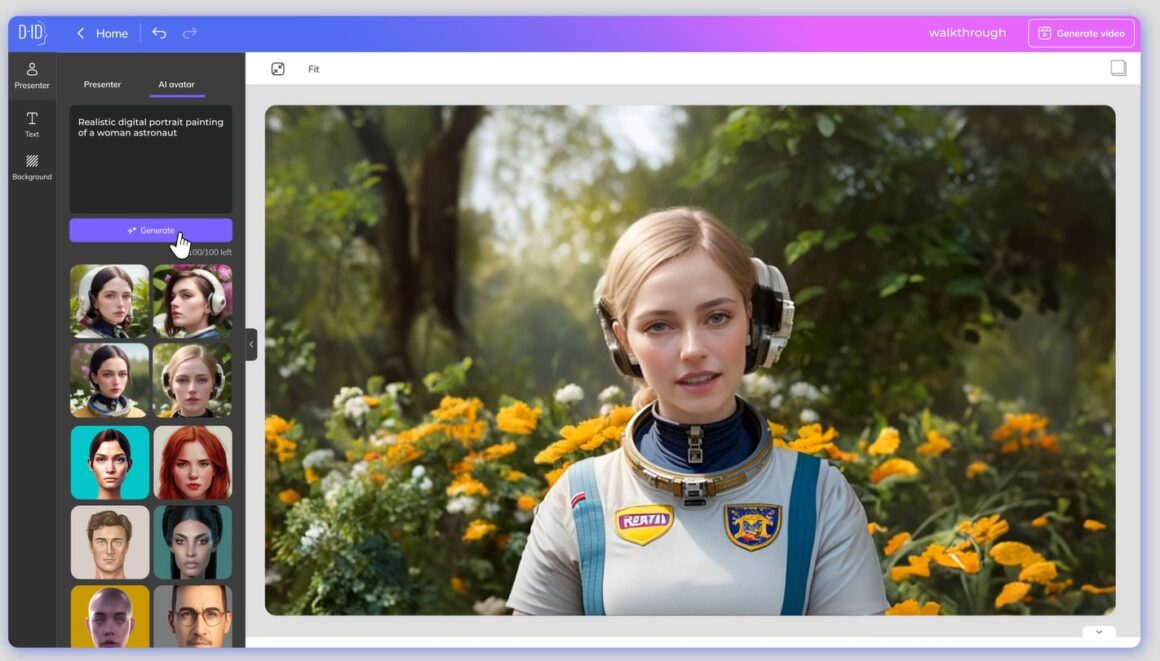 12. Pictory
Pictory is a high-quality text-to-video converter that easily transforms long-form text content into branded videos. It offers support for various aspect ratios, access to millions of stock videos and images, and automatic addition of English captions, providing everything you need to create stunning videos.
Moreover, Pictory is incredibly user-friendly. Just insert your script, choose a template, and the AI will automatically create a storyboard for you. If you want to convert existing online content, you can simply share a link as an input source. It's that simple!
13. Descript
If you spend a lot of time on social media, you may have come across trendy video clips with eye-catching captions. These videos are often created using Descript, an exceptional AI tool that transforms raw video footage into seamless, branded video clips. Descript seamlessly transcribes your video footage (and removes unwanted parts!), and you can customize different design elements such as aspect ratios, fonts, colors, and more.
14. Munch
Munch is an innovative tool that employs advanced generative AI and marketing analytics to extract engaging and impactful clips from your long-form videos. By analyzing trends and marketing insights, it identifies the most shareable moments and presents you with coherent and captivating clips.
15. Fliki
Fliki is an AI tool that seamlessly transforms blog posts into captivating videos. Simply input the URL of your blog article and Fliki will summarize its content, select appropriate visuals, and create a video with a realistic voiceover in your chosen voice. With over 1000 voices available in 75 languages and a vast stock media library, Fliki offers endless creative options to enhance your content with ease.
16. Powtoon
Creating videos with animated characters used to be a daunting task. Fortunately, tools like Powtoon are revolutionizing the process. Powtoon is a user-friendly online platform that enables users to effortlessly create engaging animated video presentations. With pre-designed templates or starting from scratch, anyone can create visually appealing videos without prior technical knowledge. Its character builder is particularly popular among educators, marketers, and businesses, as it offers various options for customizing characters to align with a brand's image.
AI Image and Art Generators and Editors
Not long ago, creating art was limited to a specific group of people. However, with the help of generative AI, anyone can now create art by writing a text prompt and letting the AI generate the desired image. AI-generated art does not replace artists, but instead opens up new possibilities for creative expression that are accessible to all.
AI image generators are rapidly evolving, with major companies like Google, Open AI, and Stability AI launching new models in the last year. The internet is filled with AI-generated art, showcasing its potential for different aspects of content creation.
Moreover, AI models are not limited to generating abstract and artistic content but are also trained to produce photorealistic images that are indistinguishable from real photos.
If you're ready to start creating, here's a list of the most notable text-to-image generators available right now:
17. DALL-E 2
One of the most well-known AI image generators is DALL-E 2 by OpenAI. This text-to-image system can produce realistic images and art based on written input. It's almost like magic!
All you need to do is describe what you want the system to create, and voila! You'll have your image in no time. DALL-E 2 is capable of producing images such as an astronaut riding a horse in photorealistic style or a fox sitting in a field in the style of Claude Monet. The best part is that anyone can experiment with it.
18. Stable Diffusion
Stable Diffusion is a model that, like DALL-E 2, generates images from text descriptions and has the ability to modify existing images based on text prompts. You can try out its functionality on their website without needing to register or provide credit card information. All you need is an idea and a brief description of what you want to achieve.
19. Midjourney
Another AI art generator that might interest you is Midjourney. This tool is currently in beta, and you can start using it by joining their Discord channel. Note that the trial version is limited to 25 queries, but once you try it, you may find yourself wanting more. After submitting your text request, it only takes about a minute to generate four options. However, it's important to be aware that this tool can be quite addictive, so use it with caution!
20. GauGAN
If you're interested in creating lifelike images, you should check out GauGAN. This tool can transform your written prompts into highly detailed and photorealistic images. You can even try it out for free on their website, as a live demo is available without the need for registration.
21. The Next Rembrand
The Next Rembrandt is a project that aims to create a brand-new painting in the style of the famous Dutch painter. The project utilizes a combination of 3D printing and artificial intelligence technologies to produce an artwork that closely resembles Rembrandt's original style. Its main objective is to demonstrate how artificial intelligence can be used in art creation and how technology can be leveraged to reconstruct history.
22. Neural.love
Another free-to-use AI art generator is neural.love, which can be accessed through a browser. The tool includes a built-in prompt generator that makes it easy to use. It offers various styles to choose from, such as painting, photo, sci-fi, anime, and more. Once you have selected a style, you can write or dictate a text description. You can also specify the output dimensions.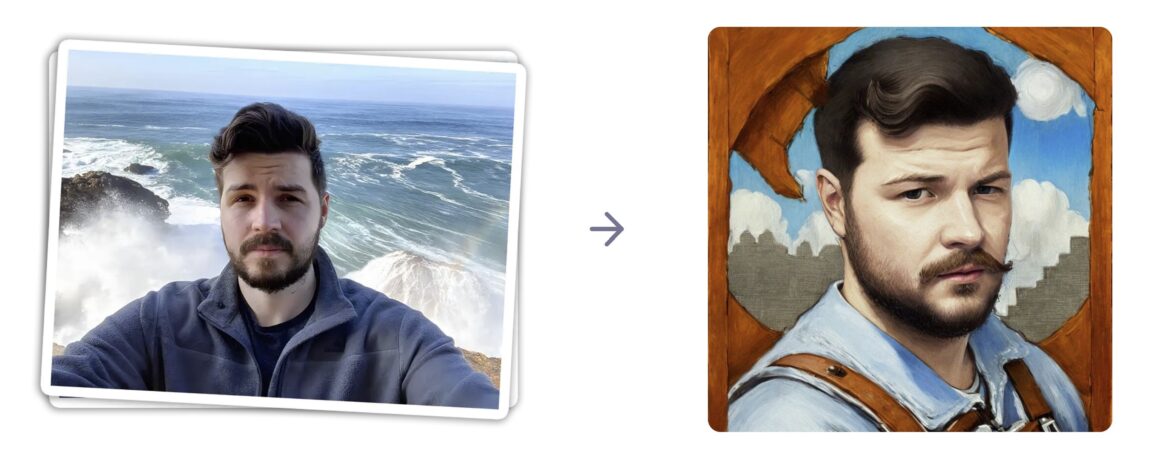 23. This Beach Does Not Exist
This AI-generated art focuses on a common theme: beaches. However, the beaches depicted in this art do not actually exist. The AI model was trained on a dataset of over 20,000 images of real beaches, enabling it to create new and random images of non-existent beaches. If you're ready to take a dip in the ocean, you can check out some of the nicest beaches by clicking here.
24. Imagen
The image generator AI is a product developed by Google. It uses a sophisticated natural language processing system in combination with a text-to-image diffusion model to produce high-quality images. However, it is not currently available for public use.
25. Magic Eraser
If you have ever needed to quickly remove something from an image, you will be pleased to know that AI can make it possible in just a few seconds. Thanks to the Magic Eraser, you can easily highlight the area you want to delete and download the edited image. The best part? It is all done within your browser, with no need to register or pay anything.
26. Let's Enhance
If you need to resize or enhance an existing picture, Let's Enhance can help. This online tool enables you to correct colors, fix pixelation, or remove specific objects from your image. It can edit up to 20 images simultaneously, and you can use presets to save time. The tool works directly in your browser, and there's a free trial available for you to try it out.
27. Playground AI
Playground AI is an online platform that provides a user-friendly way to create and share art. The interface offers writing prompts to guide you through the process. Simply enter your description in a text field, and choose a style from the dropdown menu, such as cinematic, wall art, Spielberg, or delicate detail. In addition, you can choose between the Stable Diffusion or the DALL-E 2 model to generate your image.
The platform is free to use, but you can upgrade to the Pro plan for $15 per month. This plan allows you to create up to 2000 images per day.
28. DreamStudio
The Stable Diffusion image generation model provides an online app called DreamStudio. With DreamStudio, you can generate images based on any description you enter into a text box. The app can be used for free, but you must create an account first. After consuming your initial 200 free credits, you can purchase more credits to continue using the app.
29. Deep Dream Generator
Deep Dream Generator is a platform that provides AI tools to assist humans in collaboratively creating art. To start, create an account and upload both your "Base Image" and "Style Image." Then, click on the "Generate" button to allow the AI to produce a new image based on the Base Image and the chosen style. You have the option to choose from various predefined styles or create your own. The platform offers various subscription plans, and you can begin using it for free.
30. Artbreeder
Artbreeder utilizes AI to offer two distinct methods for creating art. With "Collager," users can sketch simple shapes and describe desired objects, which the AI will then integrate into pre-existing shapes. Alternatively, "Splicer" enables users to blend and adjust various parameters of images using a slider, such as age, gender, and colors. Users are able to upload up to three images for free. It is important to note that the processing time for original images can take up to an hour, which is longer than some other similar tools.
31. Wombo.art
Create your artwork with ease, and bring your style to life! Wombo.art is a user-friendly app for generating art, complete with in-app options to mint it as an NFT or print it on canvas. Best of all, there are no limits to what you can create, and the app is completely free to use.
AI Writing Tools and Text Generators
Writing is essential in modern work life, involving various types of texts like emails, reports, social media posts, and blogs. However, it can be time-consuming. AI writing can make this process faster and smoother. Regardless of which AI text generator you choose, the concept is the same: you provide the prompts for your text, and the AI generates the outcome within seconds.
AI writing is not only capable of generating general texts but also adding specific tone, style, and creativity. AI writing programs use natural language processing (NLP), which allows computers to understand human language. Most AI text generators are based on GPT-3, the biggest machine learning model used for NLP.
To choose an AI writing tool, consider your specific needs. Here are some popular options:
32. ChatGPT
ChatGPT is a web-based chatbot developed by OpenAI that launched in November 2022. It quickly gained popularity for its user-friendly interface, allowing users to ask questions and receive answers. This makes it a valuable tool for those up to date with current tech trends.
The chatbot is built on top of OpenAI's family of large language models. It has been trained on extensive internet-based information databases. ChatGPT is already changing the way people approach text-based content creation, including essays, emails, blogs, articles, speeches, and even coding.
One of the most impressive things about ChatGPT is that it's completely free to use! You can sign up and give it a try by clicking here. You'll be amazed at how intelligent this chatbot really is!
33. Writer
Writer is a powerful AI writing tool designed specifically for businesses. It uses advanced AI technology that can learn from your data and be customized to your brand and workflows. Writer is a versatile tool that can assist with content creation and writing across various departments, from marketing to HR.
34. Notion AI
Notion has a certain appeal that resonates with users, whether it's their customization options, aesthetics, or ease of use. However, they've recently added a remarkable feature: Notion AI. This AI text generator and editor is conveniently integrated within Notion, eliminating the need to switch between apps. Users are raving about its seamless functionality!
35. TLDR This
Do you need to read a lengthy article but lack the time? No worries! You can use the AI writing tool TLDR to summarize any text quickly. To get started, paste the link of the article you want to summarize and select your desired output (a choice between short and detailed summaries). Then, click the Generate button to get a summary of the key points that you can read quickly and easily. You can also use TLDR plugins for Chrome and Firefox to summarize any text while browsing. The tool allows you to summarize up to 10 pieces of content at no cost and without requiring registration. For more advanced users, TLDR offers two paid plans.
36. LyricStudio
If you're struggling with writing lyrics, LyricStudio can help. This tool is designed to assist songwriters and musicians of all genres. It offers a variety of unique lyric options through its "Smart Suggestions" feature and can even help you find rhymes for specific words. To try it out, simply create an account and start your free trial.
37. Shortly
Have you ever experienced the frustration of staring at a blank page, feeling stuck and uncertain of how to proceed with your writing? Fear not, because Shortly can help. By utilizing the power of GPT-3, Shortly can assist you in continuing, rewriting, shortening, or expanding your sentences with ease. The unlimited annual subscription is priced at $65 per month, and you can even try it out for free before committing to a purchase.
38. INK
This AI tool combines an AI writer, an SEO optimizer, and a content planner. These features can be used independently or as a bundle known as INK Suite. Its goal is to serve as a one-stop-shop for writers, replacing multiple tools and providing a seamless user experience that covers various aspects of writing. While the INK tools can be used for free, there are some limitations to the plan.
The AI text generator offered by Copy.ai is an excellent tool for marketers who need to create various types of copy, including emails, product descriptions, Instagram captions, ad copy, and more. The process is simple: select the type of copy you need, input the required data, and choose the appropriate tone. The AI will produce several different versions of the copy, giving you the option to choose the best one. Get started with a 7-day free trial today.
40. WordTune
If you're having trouble finding the right words, Wordtune can assist you. This AI-powered tool can rephrase your sentences in different styles, allowing you to shorten, expand, or reword them as necessary. Wordtune is available as a browser plugin and in the beta version of Word, and offers both free and premium plans.
41. Jasper
Jasper is an online writing tool that uses AI to assist marketers who use GPT-3. It provides over 50 templates, ranging from blog posts to Facebook ads to video scripts, and its AI is trained on the latest industry practices. You can try it for free for five days, but you need to provide payment details. After the trial period, paid plans start at $40 per month.
42. Frase
SEO professionals share a common goal: achieving high rankings in search engine results pages. Frase, an AI tool, shares this goal and helps users create optimized content for Google. It does so by analyzing the top 20 search results and covering the entire SEO workflow, including research, competitor analysis, writing, and content optimization. Frase offers a 5-day trial for $1, and paid plans start at $14.99 per month.
43. Sudowrite
Think of Sudowrite as your new writing companion. It can assist you in rephrasing your paragraphs in various styles and even aid in creative brainstorming. You can try it out for free, and after the trial period, it costs $10 per month.
44. Jenni
Jenni is an AI writing tool that assists in completing your writing based on the title and content you provide. To generate content, Jenni first asks for your preferred tone (professional, friendly, persuasive, academic) and a brief description of your writing. Jenni then produces content sentence by sentence, and you can choose to approve or reject each new sentence. After a free trial period, Jenni costs $12 per month.
45. HyperWrite
HyperWrite is a tool that helps with quickly completing sentences and providing writing suggestions. The platform is available online, which is ideal for longer documents that require proper formatting. Additionally, the Google Chrome extension allows for use across the web. The free version of HyperWrite has a limit of 1000 sentences per month.
46. Rytr
Another AI text generator that uses GPT-3 is Rytr. This tool can help you quickly and easily write story plots, Instagram posts, headlines, and more. With an intuitive interface and several preset options, you can provide good prompts that make writing a breeze. To get started, simply register on their platform. The service is free to use if you generate less than 10,000 characters per month, and paid plans start at just $9 per month.
47. Copysmith
If you and your team want to save time on writing, consider using Copysmith. With the ability to generate copy in more than 100 languages, it provides a wide range of options. The "Campaign Builder" feature allows you to create copy for multiple channels with just one prompt. Copysmith can help you write blog posts, headlines, and other marketing materials. Sign up today at Copysmith to take advantage of the 7-day free trial.
48. Phrasee
Phrasee can assist you in rewriting or generating marketing copy that matches your brand's language, using a blend of artificial intelligence and computational linguistics. While there is no free trial option available, you can schedule a demo to see how it works. Pricing details are currently not available on the Phrasee website.
49. Article Forge
Article Forge was developed to assist writers in generating long-form articles that exceed 1500 words. The tool employs artificial intelligence to deliver results within a minute of entering your keyword. This straightforward tool allows you to use the service free of charge for five days, after which you can opt to continue with a paid subscription if you find the service useful.
50. NeuralText
NeuralText is a versatile tool that offers three main features: Paragraph Generator, Content Outline, and Product Description. It also provides valuable assistance with your SEO efforts by performing competitor analysis, generating the optimum H-structure for your content, and identifying and grouping relevant keywords. Currently, it is integrated with Google Docs, and integrations with Chrome, Shopify, and WordPress are currently in development. Pricing for this powerful tool starts at just $49 per month.
51. Writesonic
Writesonic is an AI tool that can help you create long-form content in four simple steps. First, it provides you with ideas. Second, it creates an introduction. Third, it generates an outline. Fourth, it writes the full article. You can try it out for free to see how it works before subscribing.
52. Scribbl
Are you still taking notes manually during your online meetings? Why not let AI take over? Scribbl, a transcription tool, can transcribe your Google Meets and save them to Google Docs. The transcriptions can be downloaded or easily edited. Scribbl offers a free plan that covers up to 15 transcriptions, while the Pro plan is available for $9 per month.
53. Virtual Volunteer
You may already be familiar with text-to-image tools, but have you heard of this tool? This tool does the opposite, by "reading" images and translating them into text. Powered by GPT-4, users can send images via the app and receive instant identification, interpretation, and conversational visual assistance. Although the app is not yet available, you can join the waitlist for both iOS and Android versions.
AI Music Generators
Artificial intelligence is revolutionizing music accessibility, transforming the way it is created and giving aspiring musicians a chance to shine. With the help of a computer and an AI music generator, you can turn your musical ideas into reality with ease.
AI-generated music is quick to create and tailored to your specifications. Most AI song generators ask for specific details on style, use case, or other characteristics that will shape the output to meet your needs.
To achieve this, AI tools use large models trained on a vast number of songs and audio files. This allows them to accurately interpret your prompts and apply machine learning to create unique, new music. From background music to speech enhancement to jingles, these AI tools can assist with all aspects of musical production.
54. Jukebox
Jukebox is an artificial intelligence (AI) song generator developed by OpenAI. It can produce music and singing in various styles and genres. You can listen to the collection of songs generated by Jukebox by clicking here. However, using this tool requires some coding proficiency.
55. AIVA
AIVA is an AI-powered music generator that creates background music for various purposes, including games, videos, commercials, and events. It generates unique music based on your needs. You can begin generating music by selecting preset styles or by uploading an original sound file as inspiration. If you choose the free plan, please note that the generated music belongs to AIVA and cannot be used for commercial purposes. For more advanced users, AIVA offers paid plans starting at $11 per month.
56. Supertone
Supertone is a Korean creative studio that utilizes AI to produce music, voices, and other sounds. They specialize in speech enhancement, song revival, and dubbing. Need to hear Freddie Mercury sing in Korean? They've got you covered!
57. Boomy
Boomy is an online AI music generator that allows users to create original music within seconds and share it with others. To use Boomy, simply select a style and customize it to your liking. Once your music is created, you can share it on various streaming platforms, such as Spotify, YouTube, and TikTok, and earn money for each listen.
58. Loudly
Loudly's AI music generator is a powerful tool that can create custom tracks in just seconds. With a simple formula, you can generate unique songs and easily save and download them. The platform simplifies the process of creating and customizing music for your videos. Its advanced AI solutions allow you to easily discover the perfect music for your projects. You can even receive recommendations based on text descriptions, or customize existing tracks to better fit your content.
Loudly offers a free subscription that allows you to try out its features firsthand, with up to three downloads included.
AI Face Generators
Do you require a portrait of a real person for your marketing materials, but are constrained by a tight budget? Alternatively, are you developing a buyer persona and would prefer not to use images from the internet? If yes, an AI face generator might be the perfect solution for you. With advanced image processing technology and neural networks, these generators can create unique human faces in just seconds.
Certain AI face generators can even create faces with specific attributes such as skin color, hair color, and emotions. Importantly, research has shown that the images created by these generators are indistinguishable from real photos. Thus, you can use AI-generated faces without any worries.
59. This Person Does Not Exist
AI has the ability to generate images of human faces that are virtually indistinguishable from real people. If you're skeptical, check out this random face generator. With just one click, you can create images of people who do not actually exist. The page was primarily created as a way to showcase the capabilities of AI and raise awareness about its potential.
60. Face Generator
While This Person Does Not Exist generates random faces, our face generator allows you to apply your own parameters. With our Face Generator, you can select skin color, emotions, hair, makeup, and more to generate the exact face you desire. It's interesting to note that, by manipulating all parameters, you can create over 11,232,000 variants of the same face. The tool offers a free 3-day trial, and after that, it costs $19.99/month. Additionally, you can purchase a single image for $8.97.
61. Fake People
Another AI face generator is called Fake People. It can create a realistic-looking "fake" human portrait with just one click. The technology is based on 70,000 real photos of people, which helps produce more convincing results.
62. Face Swapper
With the rapid advancements in AI technology, there are numerous face swapping tools available today. Nevertheless, Face Swapper distinguishes itself as the first tool to offer high resolution of up to 1024px, making it ideal for professional settings.
Face Swapper provides a free 3-day trial period and even includes a celebrity face-swap section for entertainment purposes. This allows you to test the quality of the tool and experiment with mashups, such as combining Rihanna's and Drake's faces.
AI avatar generators
Interested in creating a customized AI avatar that looks just like you? There are various AI avatar generators available on the internet that can meet your needs, whether you prefer a more realistic or cartoon-like avatar, with options for full customization, avatars for videos, or a static profile picture.
63. Ready Player me
Ready Player Me is an excellent AI-based platform for creating avatars to use in the metaverse. Users can easily create their own avatars using just one photo and a variety of customizable features. These avatars can be integrated into a variety of virtual experiences, as the platform is compatible with over 7000 apps and games.
64. Try it on
Are you looking to update your profile picture? That's great! However, arranging for a photographer, visiting a hairdresser, and selecting a location for the shoot can be quite time-consuming. Fortunately, there's a simpler solution available.
Try it on is an impressive AI tool that lets you create professional-quality headshots with ease. To get started, simply submit 10 or more selfies, and within 24 hours, you'll receive 100 AI-generated headshots for just $17.
65. Avaturn
Avaturn is an AI tool that enables you to create an AI avatar from just a few selfies. Using this app, you can customize your avatar's body type, hairstyle, clothing, and more. One of the significant benefits of Avaturn is its vast dataset, which allows it to generate a real-time 3D model that accurately reflects the user's facial geometry based on their photo.
66. Inworld
Have you ever considered using an AI avatar generator that offers more than just customizing appearance? With Inworld, you have the ability to shape your avatar's personality by providing natural language prompts. Using advanced AI models, Inworld is able to replicate human-like behavior, including gestures, speech, emotions, and memory.
67. RemoteFace
Do you enjoy being on camera during video calls, or would you sometimes prefer to use an AI avatar instead? You can create one using RemoteFace, a virtual camera plugin that generates avatars based on your selfie.
68. Microsoft Mesh avatars
This feature is currently limited to those who are part of the Microsoft ecosystem, meaning that only users of Microsoft products will be able to take advantage of it. With the help of Microsoft Mesh avatars, users can create an animated representation of themselves that can be used for a variety of purposes. One such purpose is the ability to attend meetings without the need to activate a camera, allowing users to participate in discussions without having to worry about their appearance or surroundings. Additionally, these avatars can be customized to reflect the user's personality or preferences, adding a personal touch to the digital experience. Overall, the Microsoft Mesh avatar feature offers a unique and innovative way for users to interact with others and engage in virtual environments.
69. Lensa
Lensa is a fantastic photo editing app that uses artificial intelligence to elevate your selfies to a whole new level. With its innovative features, Lensa allows you to transform your photos into stunning customized portraits, giving you the freedom to express your unique sense of style. Whether you're into anime, fantasy, pop, or any other genre, Lensa offers a wide range of filters and editing techniques that are sure to impress.
In addition to its advanced editing capabilities, Lensa is also very affordable, with subscription plans starting at just $3.49. This means that you can enjoy all the amazing features of Lensa without breaking the bank. So what are you waiting for? Download Lensa today and elevate your selfies to the next level with the power of AI!
70. Memoji
Memoji, an app developed by Apple, is a fun and versatile tool that allows users to create personalized avatars for messaging apps. With a wide range of customization options, including a variety of facial features, hairstyles, accessories, and skin tones, users can create unique and expressive characters that showcase their personality and style. Memoji is not just limited to messaging apps, but can also be used during FaceTime calls and video messages, adding a playful and fun touch to digital interactions. With its user-friendly interface and extensive range of customization options, Memoji is an excellent way to inject creativity and excitement into your conversations and express yourself in a fun and engaging way.
AI Painting and Drawing Tools
Improve your drawings and have fun with an AI drawing generator. It can help you complete your doodles, animate objects in your drawings, or generate entirely new sketches based on your text descriptions.
All of these AI drawing tools are easy to use and free. They are not intended to generate picture-perfect art and images, but rather simple sketches. If you're looking for AI image generators, please refer to chapter 2. However, if you want to have some fun and unleash your inner child, give one of these tools a try:
71. AutoDraw
AutoDraw is a powerful upgrade to the classic Paint program that we all know and love. With this AI drawing generator, you can easily doodle on a blank canvas and receive suggestions for shapes and symbols to enhance your drawing. You can even customize your drawing by adding text, changing colors, and inserting different shapes. Once you are happy with your creation, simply download the image. Originally an AI experiment by Google Creative Lab, AutoDraw is now a must-try tool for anyone interested in digital art.
72. Sketch MetaDemoLab
Have you ever heard of an online tool called Sketch? It can animate your drawings, bringing your artwork or your children's artwork to life. Simply scan and upload your drawing, and the AI will automatically recognize the objects. From there, you can choose from a variety of movements to make your character dance, jump, or walk. Best of all, this AI drawing tool is completely free of charge.
73. Magic sketchpad
Magic Sketchpad is an artificial intelligence tool designed to assist you in completing your artwork. To begin, select a category that best represents the image you wish to create. You may also modify colors and apply multiple categories to your image. Once finished, you can download your image in .jpg format. The tool is completely free and does not require a sign-up process.
74. Quick, draw!
Are you looking to improve your drawing skills? Look no further than Quick, Draw!, an AI drawing experiment developed by Google. Using technology similar to that used by Google Translate, Quick, Draw! can recognize the object you want to draw based on a simple sketch. Best of all, it's free and accessible to anyone who wants to give it a try!
75. Craiyon
Craiyon is an online tool that creates images based on text prompts. It used to be called DALL-E mini. It takes about 2 minutes to generate 9 images, and you can choose from those images. This tool is available for free, and can be used in a browser or on an Android app.
AI Audio Generators
Are you looking to convert your text into speech without the hassle of recording it yourself? If so, AI voice generators might just be the solution for you. These tools offer a wide range of voices to choose from, including those of "normal people" and synthetic voices that can mimic famous actors, politicians, or movie characters.
You can use AI voice generators for a variety of purposes, from creating voice recordings for commercial use (like chatbots, commercials, and video voiceovers) to simply having fun with them.
76. Murf
Do you ever feel uncomfortable when you hear a recording of your own voice? Don't worry, it's a common experience. Murf.ai is an AI voice generator that can help. With this tool, you have two options: generate a voice from text or upload a recording of your own voice and adjust it as needed. It supports 20 languages and allows you to modify pitch, tone, and speed for a more natural sound.
77. Cleanvoice
Cleanvoice is an AI-powered tool that removes filler sounds, stuttering, and mouth noises from your podcasts or audio recordings. The process is simple – just upload your audio file, let the AI do its magic, and then export the polished results. You can even try it out with the 30-minute free trial to see how it works for you.
78. FakeYou
If you're looking for a fun way to get creative with words, check out FakeYou. This free text-to-speech generator uses AI to give you access to hundreds of voices, from Barack Obama to your favorite cartoon characters. Whether you want to play a silly prank or just try out your writing in a new way, FakeYou is a great tool to experiment with.
79. TikTok
AI voice generators are versatile tools with practical and leisurely applications. TikTok is the only social media platform with a text-to-speech function. This makes the platform more accessible for visually impaired people and those who prefer audio content. The function can also be used for creative purposes like adding a unique voice or creating a humorous effect. AI voice generators are gaining popularity, and more social media platforms may adopt this technology in the future. Currently, TikTok is leading the trend.
80. Uberduck
Uberduck offers a wide selection of over 5000 expressive voices for your voiceover needs, including the option to clone your own voice. This versatile tool can be used for both leisurely activities, such as singing or rapping, as well as for commercial purposes. The pricing for paid plans starts at just $10 per month.
Are you looking to extract specific sounds from your audio or video files? Look no further than LALAL.AI, an AI audio tool that uses machine learning algorithms to deliver quick and accurate results. This top-of-the-line system can remove unwanted voices and instruments from your files without any quality loss. Take advantage of a free trial of 10 minutes, and receive an additional 5 minutes when you follow them on Reddit.
AI Design Tools
The online world is highly visual, and basic design skills are becoming a necessity today. Think about how much time you spent designing your last presentation or social media banner.
While hiring a designer is an option, it can be expensive and time-consuming. If you need to design visual materials quickly and efficiently, consider using an AI design tool. There are plenty of artificial intelligence tools available for (non)designers that can help you create nice and on-brand visuals in no time. Save yourself hours of work and money by letting AI do the job for you.
82. Fontjoy
It's widely known that combining fonts can enhance the overall visual appeal of a design. However, selecting the right combination can be challenging. Fortunately, you can now rely on an AI design tool powered by deep learning to assist you in pairing fonts. Fontjoy.com is a free and open-source tool that enables you to select the perfect combination of fonts without relying solely on your intuition.
83. Looka
If you're looking to create a logo and other branded materials but don't have design skills, Looka might be worth checking out. With Looka, you can generate a logo that fits your business by selecting from a wide variety of styles, fonts, layouts, and more. The platform offers multiple variations of your logo, including black and white, colored, and transparent background options, which you can easily download. Paid plans start at just $4.99 per month.
84. Design Beast
The AI design platform, Design Beast, consolidates various design features in a single location, such as a Mockup Engine, Logo Factory, Image Editor, Object Remover, Background Remover, and Pixel Perfect. It is an excellent option for individuals without a design background, as it offers a wide variety of templates for diverse use cases. The pricing begins at a one-time fee of $67.
85. Jitter
Jitter is a tool that allows you to create animated designs quickly and easily. You can animate text and other elements of your design, making it ideal for animating interfaces or creating social media and other communication materials. The platform offers a wide range of templates to choose from. The Basic plan is free, but if you require high-quality exports without watermarks, the Pro plan is available for $12 per month.
Learn to create designer-level presentations with ease using AI-powered tool Beautiful.ai. The platform offers a vast collection of customizable templates, as well as a wide selection of stock photos and videos, the option to upload audio tracks, and collaboration features that make teamwork a breeze. Plans start at $12/month or you can purchase individual projects for $45 each.
This AI design tool covers all visual aspects of content marketing. It allows you to easily create logos, videos, banners, voiceovers, and mockups. They offer four subscription tiers, and you can also pay per project if you prefer.
88. Let's enhance
No more grainy images! Let's enhance is a versatile image enhancer and upscaler that instantly improves image resolution, quality, and clarity with just one click. It uses high-quality AI art to increase the resolution of user-generated content, making your photos ready for large-scale canvases.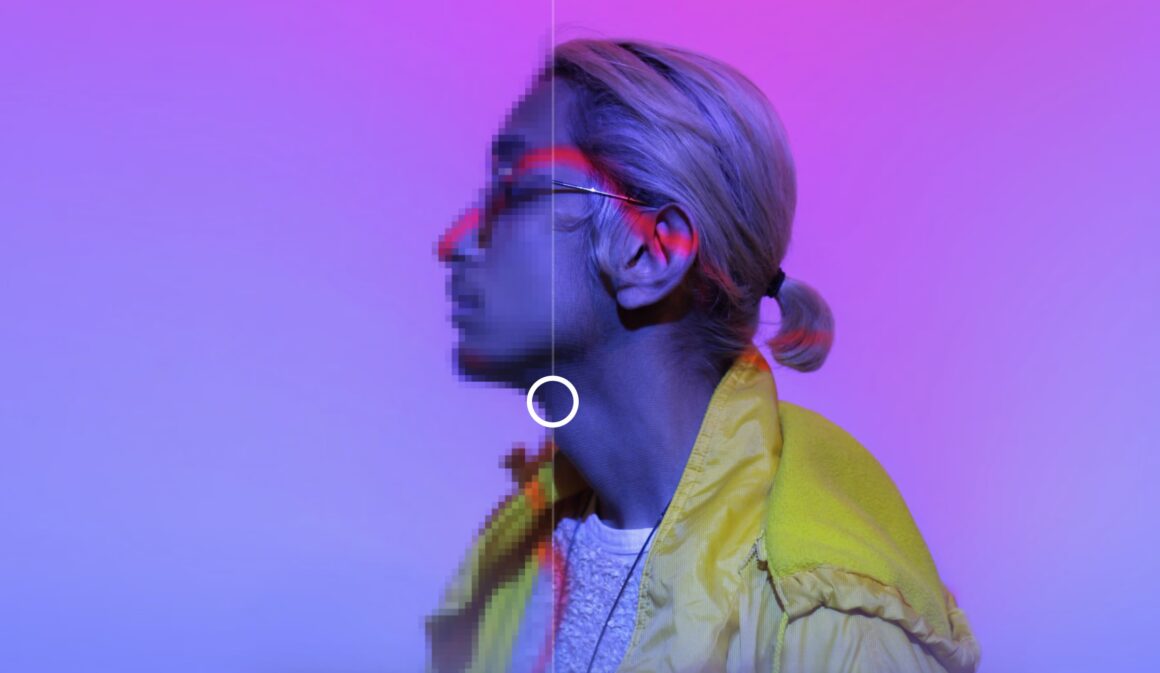 89. Uizard
If you're a designer, you probably have a collection of screenshots featuring good pages and apps you admire. Uizard takes this one step further by allowing you to transform these screenshots into editable designs. Additionally, Uizard's intuitive and time-saving features can even automatically convert your sketches into designs. This tool is suitable for anyone working on landing pages, apps, or wireframes.
90. Tome
In the year 2023, creating a presentation can still take an excessive amount of time. Does this sound familiar to you? If so, you may want to explore Tome, a versatile AI tool for presentations. By simply typing in a prompt, Tome can generate stunning presentations for you, making it easy to transform strategy documents, creative briefs, websites, and long-form content into engaging presentations.
AI Business Tools
If you are a small business owner, you most likely have to juggle multiple responsibilities, such as managing customer relations, handling administrative tasks, and overseeing various business processes. Excelling at these tasks requires strong time management skills and a diverse skill set.
Have you ever thought about using AI tools that are tailored for small businesses? These tools can automate processes, save time on repetitive manual tasks, and increase revenue. The best part? You do not have to break the bank to access them. In fact, many AI tools are specifically designed for small businesses. Why not give them a try?
91. Namelix
Coming up with a business idea may seem like a breeze, but naming your business is a whole different story. It can be challenging to find a name that doesn't sound silly, weird, or too basic. Fortunately, Namelix, a naming tool, can generate brand name suggestions for free. All you have to do is enter your keywords, select the level of randomness, and choose a naming style.
92. Textio
In recent years, the job market has undergone significant changes, leading many businesses – both large and small – to struggle with attracting top talent. To tackle this challenge, it's crucial to have consistently optimized copy that appeals to potential candidates.
Enter Textio, an AI tool that offers research-backed language guidance and detects social bias in your content. This makes it an ideal solution for improving your recruitment efforts. Textio integrates seamlessly with popular apps such as Workday, Greenhouse, Outlook, and Gmail. It is also available as a standalone platform. To learn more about pricing, simply book a demo.
93. Flatlogic
Are you considering developing your own web application? Look no further than Flatlogic. This AI tool can save you or your mobile developers a considerable amount of time and developmental costs. With Flatlogic, you can create web applications, CMSs, online databases, and more, all while having the freedom to choose the technology stack and template that best suits your needs. Once you've customized your application, simply review it, connect to Github, and you're ready to deploy. With pricing starting at $299 per application per year, Flatlogic offers an affordable solution to your web development needs.
94. Weblium
Are you planning to create a website for your business? Weblium can help you build one quickly and easily, even if you don't have any design or coding skills. With over 300 templates for mobile-friendly websites, you can choose the one that best suits your needs. Each website comes with a free domain, but to customize it, you'll need to upgrade to the Pro plan.
95. Zia
Imagine having a business assistant available 24/7 to help you gather data, understand important insights and advanced analytics, translate your emails, and more. Meet Zia, an AI assistant from Zoho.
Are you searching for a job? If so, crafting a great resume can be the key to setting yourself apart from other applicants. With resume.io, you have access to 18 expertly-crafted templates that make creating your resume and cover letter a breeze. You can also take advantage of pre-written phrases that are triggered by adding a job title, and spell check to ensure that your copy is error-free. Best of all, you can try it for free!
97. Kickresume
Another AI tool that can assist you in polishing your resume is Kickresume. It uses AI to generate various sections for your CV, such as a summary, work experience, and education. Additionally, you can pair it with a visually matching cover letter. And the best part? There's a free version available for you to try it out.
98. Timely
Tracking the time you and your team spend on different tasks is one of the best ways to monitor productivity. However, manual tracking can become a big administrative burden, taking up valuable time. Fortunately, Timely offers a solution. It automatically records the time spent in various work apps through native integrations. They even offer a 14-day free trial, and a popular plan is available for just $14/month.
99. Landbot
Are you interested in creating your own chatbot but lack coding experience? Look no further than Landbot, an easy-to-use platform that allows you to launch your chatbot quickly. Landbot provides a variety of templates, simple WhatsApp automation, and an API. Your data is automatically synced across multiple platforms. The basic plan is available for only €30 per month.
Boost.ai is a conversation builder that utilizes AI to provide customers with accurate answers based on advanced natural language processing and training inputs. It is compatible with websites and multiple platforms, including Slack, Zendesk, and Teams.
101. Yooz
As a business owner, you are likely familiar with managing invoices. Why not try an automated solution that leverages AI to go paperless? With Yooz, you can enjoy a free 15-day trial or subscribe to the platform, with pricing based on the volume of documents processed.
102. RAD AI
Many experts suggest that in today's world, companies must also function as media companies. However, simply producing content is insufficient. The content must connect with the intended audience. RAD AI addresses this need by integrating data with genuine content across all marketing channels. The company's approach concentrates on creating honest and emotional connections. It does this by examining past successes and devising plans for forthcoming content.
103. DigitalGenius
Providing good customer support is crucial to keeping them satisfied. The AI marketing tool DigitalGenius can interact with customers like a real person. It integrates into your stack and covers over 50 e-commerce use cases, including order updates, refunds, and loyalty programs. Unsure if this tool is right for you? Don't worry, they offer a free trial with full access to the platform.
104. Conversica AI
Here's a group of assistants to help your revenue team convert even more opportunities. Your AI assistants team is super smart, hardworking, and never sleeps. As a result, they can respond to inquiries within minutes and engage with prospects in a personalized manner in real time.
105. Acrolinx
Acrolinx is an AI marketing tool that assists in creating enterprise content for multiple customer touchpoints. It analyzes your existing content and helps you set improvement goals. Acrolinx provides a score for different aspects of your content, such as clarity, accessibility, and tone of voice. It also suggests alternative phrasing to enhance the quality of your content.
106. MyWave
It's common knowledge that personalized communication yields better business results. Nobody wants to receive generic content. MyWave merges artificial intelligence with personal data collected from previous interactions to ensure that every communication with the customer is highly personalized. Check out MyWave today to see how you can enhance your customers' experience.
107. Abe
Abe is a platform that assists in building and integrating virtual financial assistants for online banking. Our aim is simple: to simplify and enhance our clients' financial journeys. Abe uses natural language for communication and leverages financial intelligence to help you make informed financial decisions.
108. Poplar.Studio
Online shopping has become a massive industry, but what if customers could virtually try on clothes and see how products would look in their homes? Poplar.Studio offers AR and 3D solutions that enable shoppers to make more informed choices through advanced virtual displays of goods, ranging from jewelry to cars to furniture.
109. GitHub Copilot
Have you ever heard of pair programming? If not, you might be interested to learn about GitHub's Copilot. It's like having a programming buddy, except it's powered by AI. Copilot is trained on natural language text and public source code, making it a useful tool for quickly writing code with less effort. Simply describe the code you need in everyday language, and it will suggest code and entire functions in real-time. You can try it for free for 60 days, and after that, it costs $10 per month per user.
Although categorized under design tools, we view AdCreative.ai as a business tool. This platform efficiently generates ad creatives and social media posts with the goal of increasing conversions. By supplying information about your target audience and platform, the AI selects the optimal tone and length while addressing their pain points.
111. Cohesive
Promoting your business is crucial to its success. To spread the word, you'll need to generate a significant amount of content, which is where Cohesive comes in. This tool allows you to create text and images in one place and provides over 150 templates for different types of content. And the best part? You can get started for free with a plan that includes up to 10,000 words per month!
112. Reply
Have you thought about using AI to expand one of the most important parts of your business: sales? Reply is a sales platform powered by AI that simplifies outreach, manages customer responses, and optimizes sales engagement. It offers a complete solution, including email discovery, automated sequences, CRM integration, and performance analysis.
113. Lalaland
If you work in the fashion industry, Lalaland's AI tool can revolutionize the way you produce products. With Lalaland, there's no need for physical samples. Simply choose a model or avatar, apply your new design, and render the final image. Lalaland offers a variety of plans with different features, such as multiple body sizes, hairstyles, body shapes, custom poses, and more.
AI Research Tools
AI is becoming increasingly popular among students and researchers. It simplifies staying up-to-date on the latest research and aids in organizing and citing research papers accurately. With features such as generating summaries and sending notifications about emerging trends, AI can save you a lot of time and effort in your research. If you're in academia, consider trying these affordable and accurate AI tools. They work quickly, allowing you to focus on what really matters.
114. Genei
Research can be a time-consuming process, but Genei provides a solution with AI technology. This tool automatically summarizes PDFs or websites, and generates brief answers based on available resources when prompted with questions. The Basic plan is priced affordably at $3.99/month, and a free trial is available to test the service.
Iris.ai is a research tool that leverages AI to assist with all aspects of research. With Iris.ai, you can upload documents, connect to various data sets, and utilize the software's extensive features. This research tool can filter and extract data, comprehend contexts, and generate summaries. To request a demo, simply visit their website.
116. Semantic Scholar
Are you interested in staying up-to-date with the latest research trends in your field? Consider using Semantic Scholar, an AI-powered research assistant. With over 2 million academic research papers already indexed, it can extract key findings within seconds. Moreover, it can help you find and cite influential literature, as well as notify you of new papers or citations that may be of interest. Best of all, it's completely free to use.
117. Elicit
Elicit is an AI tool for researchers based on GPT-3. It functions as an AI-powered search engine, allowing for quick search and abstract retrieval of relevant papers. By simply inputting a question, Elicit can find the best answers for you, and the best part is that it's free.
Wizdom.ai is a platform that uses natural language processing to help individuals and organizations make informed decisions by extracting insights from data. By entering a topic of interest, users can access a variety of insights, including publication activity, citation trends, top publishers, and authors. It is a valuable tool for companies and organizations looking to gain actionable insights from their data.
AI Tools for the Everyday
Let's face it – some things in life can be incredibly time-consuming. For instance, searching for the right Excel formula, updating your CV every time you want to look for a job, or keeping your personal finances organized. However, it's now 2023, and there are AI-powered productivity tools that can help with these tasks. These tools are designed to assist with repetitive and time-consuming tasks, allowing you to spend your time more wisely. You can finally focus on the important tasks while the AI takes care of the rest without you even noticing.
119. TimeHero
Staying organized is crucial for maintaining control, not just for large corporations, but for individuals as well. Take charge of your time with this AI productivity tool designed to help you stay on top of all your tasks. Simply connect your calendar, add tasks, and integrate your favorite daily apps. TimeHero uses this information to create a customized work schedule, allowing you to focus on your work without getting bogged down in planning.
120. Wade
Are you seeking help with career advancement? Meet Wade, your personal career guide who can provide tailored advice based on your ambitions. With Wade, you can receive assistance in job searching, career journaling, and even updating your CV. Don't let your CV fall out of date – let Wade help you take your career to the next level.
121. Josh
Josh is a voice-controlled AI system that offers a convenient way to manage various smart home devices, including lights, thermostats, and door locks. It also provides access to weather, traffic, and news information. To determine if Josh is compatible with your devices, check out the list of supported devices.
Do you feel confident in managing your daily finances or do you think there is room for improvement? Wallet.ai is an application that categorizes your spending habits based on data collected from other applications, your location, and more. It offers timely financial advice through alerts and recommendations. Please note that this application is available by invitation only.
123. Excelformulabot
Introducing text-to-speech, text-to-image, and the newest member of the family: text-to-excel formula. With this productivity tool, you can save yourself the frustration of using complicated Excel formulas. Simply describe the problem you want to solve in words, and it will generate a formula for you in seconds. This intelligent tool is available for just $2.99 per month.
Looking to boost productivity? Check out Brain.fm! Their scientifically-backed background music is designed to affect your brain in the way you need. Simply choose your preferred genres, current mental state, activity, and duration in the app, and let the optimal music stimulate your brain.
125. Rewind
Using Rewind is like having a perfect memory. It captures all audio, visual, and verbal information, making it easily searchable. With Rewind, you can quickly locate meeting outcomes, products, or even that one tweet you saw. Say goodbye to note-taking and simply ask Rewind for the answers you need based on your past interactions.
126. Futurenda
If you're looking for another productivity tool to manage your time, you might want to check out Futurenda. It allows you to create a dynamic agenda of your activities so you can stay on top of what's happening next and when you can complete specific tasks.
Looking for an app to help you organize your trips? Consider joining the waitlist for Tripnotes. This powerful travel planner uses data to make trip planning a breeze. With Tripnotes, you can easily add any travel inspiration, whether it's from text messages, saved social media content, or blogs. The app automatically saves and researches each place you mention, giving you all the necessary information at your fingertips. What's more, Tripnotes offers built-in collaboration features, making it easy to plan your trip with others.
128. Write a Thank You
When was the last time you wrote a personalized thank-you note? It's a simple yet meaningful gesture that anyone can do, regardless of their writing skills.
ThankYouNote.app is an AI-powered tool that lets you generate personalized thank-you notes for any occasion. Simply provide the name of the person you're thanking, what they did, and how it benefited you, and the tool will create a customized note that expresses your gratitude. It's an effortless way to show appreciation and brighten someone's day.
129. GymBuddy
GymBuddy is a mobile application powered by artificial intelligence that can help you create custom workout routines. With GymBuddy, it's easy to target specific areas of the body and remove any uncertainty from your gym routine. Simply input your fitness level, and the app will recommend appropriate exercises and provide guidance every step of the way. If you're looking for a customized fitness experience, GymBuddy is definitely worth checking out!
130. Let's Foodie
Let's Foodie is an AI-powered recipe generator that simplifies meal planning. Simply input your list of ingredients (with or without quantities), and your personal AI chef will create a customized recipe with instructions tailored just for you.
131. Style DNA
StyleDNA is an AI-powered personal stylist that combines expert image consultants and advanced technology to offer instant, personalized fashion recommendations. It helps you choose the right outfits for any occasion based on your personal style, figure, fit, and preferred colors. 👔👗👚
132. Wysa
Wysa is an AI-powered conversational care platform for mental health. It offers a secure and private space to discuss concerns and sources of stress, and provides customized programs and on-demand support. Wysa includes check-ins, options for human coaching, and over 150 research-based exercises to manage stress on a daily basis and alleviate symptoms of anxiety and depression.
133. CF Spark
Are you looking to add a touch of creativity to your daily routine? Try out our free AI image generator. Simply enter your prompt and let the AI create an image for you. You can even join our lively community of CF Spark creators who share their inspiring projects on a daily basis.
134. Microsoft Bing
Microsoft Bing is a search engine that recently added AI-powered features. It allows users to search the web, videos, images, and maps. Bing also provides real-time chat and creation capabilities. With the help of GPT-4, Bing provides the latest information and citations.
135. Fingerprint for success
Fingerprint for success is a coaching app that uses conversational AI technology to offer free, real-time developmental coaching for both individuals and teams. The app is powered by Coach Marlee, the world's first AI coach, and is designed to help users achieve their goals in an enjoyable and effective manner. With a focus on enhancing resourcefulness, emotional intelligence, creativity, and adaptability, Marlee equips users with the tools they need to succeed both in their personal and professional lives.
AI Tools for Students
AI serves multiple purposes in education. It can personalize programs, detect plagiarism, transcribe lectures, and facilitate rapid communication between teachers and students, among other things.
Education faces many challenges today, and these AI tools assist both teachers and students by replacing manual work, reducing the risk of human error, improving communication, and saving time.
136. Otter
Do you find yourself getting exhausted from multitasking during lectures? Otter.ai provides real-time note-taking services, allowing you to concentrate on actively listening and engaging with your peers. Whether attending in-person or virtual lectures, Otter.ai can integrate with Zoom, Google Meet, and Microsoft Teams, making it a versatile solution for all types of meetings. You can access your notes anytime using the mobile or web app and make edits according to your preferences.
137. Summari
With so much to read and so little time, Summari can help. This platform reads texts for you and provides comprehensive summaries quickly. It is trained on thousands of article summaries written by humans, so the AI is able to follow the human approach by setting the introduction, writing concise headings, and providing key information in bullet points. You can summarize texts with ease via the Chrome extension, mobile app, or integrations for Slack and Teams. The platform is currently in beta, so it's free to use.
138. Gradescope
Here is a great example of how AI is being used in education. Gradescope can assist in grading assessments across a variety of subjects, including physics, math, chemistry, biology, and engineering. It is compatible with both digital and paper-based assignments. Along with expediting and streamlining the grading process, it also provides valuable insights into the proficiency levels of students. There are three different plans available, and all teachers can take advantage of the first two terms for free.
139. Knowji
Knowji is a vocabulary learning tool that utilizes AI technology to aid students of all ages. With a spaced repetition algorithm and engaging content, Knowji can assist in long-term word retention. It is accessible on both iOS and Android devices, providing an enjoyable and effective way to learn vocabulary.
140. Hello History
If you find history dull, then you'll love this one. Say hello to Hello History, an AI tool that lets you chat with iconic historical figures. This cutting-edge app is compatible with iOS and Android and goes beyond traditional learning methods, offering an interactive and intellectually stimulating experience that brings history to life in a unique and engaging way.
AI Character Generators
Do you want to bring a fantasy character to life but lack video animation knowledge or professional illustration skills? Don't worry! You can use an AI character generator to make your idea come to life. These AI tools can be helpful whether you want to create animated video stories, digital friends, or other AI-generated creatures.
The AI character generator allows you to craft animated video stories through designing distinct scenes, characters, and dialogues. As of now, it is only available in English, and you may test it out on their website.
142. Replika
If you think that artificial intelligence companions only exist in science fiction movies, you're mistaken. Thanks to the app, you can now create your own AI friend that is always available to chat with you or provide guidance. You can create a replica in the form of a friend, partner, mentor, or any other persona you choose. The more you communicate with your AI friend, the better it will understand you. Sounds familiar from a certain movie, doesn't it?
143. Crypko
Crypko is a tool that utilizes AI to generate anime-style characters. The resulting illustrations are waist-up and can be customized by changing features such as eye color, hair color, and hairstyle. Additionally, Crypko enables users to add fluid animations to their characters.
144. Wonder studio
If you're searching for an AI solution to enhance character animation, consider checking out Wonder Studio. It's a slightly more advanced tool that allows you to seamlessly incorporate characters into real-life environments. The system automatically detects cuts and tracks the actor throughout the sequence when you upload a computer-generated character model to a single shot or an entire scene of a real person moving.
145. Digital People
Soul Machine's "Digital People" AI avatar generator can produce CGI characters that are realistic and responsive, providing immersive user experiences. These avatars can serve as virtual assistants or digital educators, offering engaging interactions with natural movements and speech.
146. Digital Humans
Another conversational AI solution to enhance customer interactions is Digital Humans. Use this platform if you want to create your personalized digital human and leverage your existing data for engaging and human-like interactions with your customers.
AI for Cinephiles
Using a movie quote or music clip can be an effective way to convey your message. However, searching the vast expanse of the internet and YouTube for the right clip can be a daunting task. Luckily, AI technology can now quickly locate specific quotes from popular culture, saving you time and effort.
Our AI tool is the perfect solution for movie lovers. With just a quote in mind, you can search for all corresponding movie clips. Plus, you have the option to download and share the results with your friends.
148. Yarn
Enter a word or phrase from a movie, TV show, or song, and Yarn will locate the exact clips you need. Save yourself from the frustration of endless Google searches and sifting through quotes on YouTube.
AI for Pets
Dear pet lover, this section is just for you. It doesn't matter if you're a cat person or a dog person, AI has you covered.
149. This Cat Does Not Exist
Have you heard of the term "ailurophilia"? It refers to the love for cats. If you are an ailurophile, you may want to check out this online app. It creates a new cat image every time you refresh the page, even though the cats are not real. The images are so realistic that they may fool you at first glance.
150. Dog Scanner App
If you're a dog lover, you won't want to miss out on this amazing app! With just a snap from your camera or a photo upload from your gallery, the AI can identify the breed of any dog. And if you're in the mood for some lighthearted fun with friends, simply scan their face and the app will reveal which furry friend they resemble. Check out this must-try app today!
Bonus: AI for Meme Lovers
AI tools can certainly increase productivity and save time. However, don't forget to have fun! Create a meme and share it with a friend or colleague to brighten their day. Need some inspiration? No problem!
Occasionally, it can be challenging to come up with the perfect idea or locate a meme that elicits the desired emotions. Fortunately, this tool serves as your "Chief Meme Officer," constantly keeping you updated on the latest meme trends. It can produce a meme based on a phrase you input, recommend memes according to a topic you provide, and help you select the most fitting meme for your message.
Healthcare
AI is increasingly being used in the healthcare industry for a variety of use cases. Here are some AI tools that focus on healthcare:
152. Ayasdi
Ayasdi is a technology platform for creating and deploying machine learning models in healthcare and finance. Users can gain insights and make informed decisions with cutting-edge technology that helps identify patterns and trends. Ayasdi helps make accurate predictions and improve work quality, making it a valuable tool in today's competitive business environment.
Suki.AI is an AI-powered digital assistant for healthcare professionals that saves time and streamlines work processes. It integrates with EHR systems and offers critical patient information and real-time insights to make informed decisions about patient care. Suki.AI is highly customizable and easy to use with an intuitive interface and natural language processing capabilities, making it an excellent choice for healthcare professionals looking for a digital assistant to work more efficiently.
154. Octave
Octave is a platform that simplifies the development and deployment of machine learning models in healthcare. It offers powerful tools to build, test, and refine models easily. Octave can benefit data scientists, healthcare specialists, or IT professionals to unlock new insights and drive innovation. By leveraging machine learning, Octave can help improve patient outcomes, reduce costs, and enhance care quality. Its intuitive interface and flexible architecture make it the ideal solution for those looking to use machine learning in healthcare.
Atomwise uses AI technology to speed up drug discovery and testing. Their AI-powered platform quickly and accurately screens massive databases of molecular compounds, which helps identify potential drug candidates. By leveraging machine learning, Atomwise analyzes large amounts of complex data to identify promising drug leads, leading to more efficient drug development pipelines and better patient outcomes. Atomwise is committed to advancing drug discovery and poised to make a significant impact on the pharmaceutical industry and the lives of patients worldwide.
PathAI is an AI-powered solution that uses artificial intelligence to analyze pathology samples for better and more informed diagnoses. This innovative technology helps clinicians identify patterns and anomalies that may go unnoticed, allowing them to provide more targeted and effective treatments. PathAI is changing the field of pathology and has the potential to improve patient outcomes and quality of care significantly.
Niramai's innovative solution for breast cancer screening uses thermal imaging and AI. It's faster, more accurate, and less invasive than traditional methods, detecting breast cancer earlier and reducing the need for aggressive treatments. Niramai's solution is scalable, affordable, and accessible to a wider audience, addressing disparities in diagnosis. It represents a significant healthcare breakthrough that could transform breast cancer detection and treatment worldwide.
Viz.ai uses AI to quickly diagnose and treat stroke patients. By analyzing medical images, the platform identifies stroke signs and notifies medical professionals. This reduces diagnosis and treatment time, and improves outcomes. Viz.ai's approach has the potential to transform healthcare by improving access and reducing costs.
Zebra Medical Vision uses AI to analyze medical images like X-rays, CT scans, and MRIs, delivering accurate results that help medical professionals make informed diagnoses and treatment decisions. Their platform detects and diagnoses various medical conditions, saving time and improving patient outcomes with cutting-edge technology.
Arterys employs AI to quickly and precisely analyze medical images, improving diagnoses and ultimately saving lives. Developed in collaboration with medical professionals, this cutting-edge technology has the potential to revolutionize medical imaging analysis.
Enlitic is an AI-powered medical imaging analysis platform that quickly and accurately diagnoses potential medical conditions, including rare diseases. Its technology aids in early detection, diagnosis, and treatment planning, while reducing costs and improving patient outcomes. Enlitic continuously improves its service to provide the best possible experience for healthcare providers and patients.
Freenome is a revolutionary company that uses AI and computer vision to accurately detect cancer at an early stage. Their innovative approach has the potential to save countless lives and improve cancer detection. Patients can have peace of mind knowing they are receiving the most advanced cancer screening. Freenome's commitment to cutting-edge technology and research to fight cancer is truly inspiring and impactful.
Butterfly Network is a healthcare tech company that created a portable ultrasound scanner. It uses AI and is smaller and cheaper than traditional equipment. It lets medical professionals diagnose and monitor many conditions in real-time, improving patient treatment. This breakthrough technology will change medical imaging, making ultrasound scans more accessible and affordable worldwide.