Last Updated on December 30, 2022 by Farnaz
30 Business and Startups Notion Templates: Business management is crucial for every business to be successful. You need to keep track of time and resources, which can be challenging if you are using a simple spreadsheet. These free and paid notion templates will help you keep things organized, process records, and save time when working on the company's issues.
We've gathered some of the most useful free and paid notion templates for startups and businesses that help founders and entrepreneurs to manage their teams, marketing, products, and anything else in their businesses easier.
If you are a founder that uses Notion or if you just want to start with Notion to keep everything organized and manage your business, then you need to check these business notion templates out.
In this post, I will be sharing 30 of the best and most useful notion templates for work, business, and founder and entrepreneur. You can browse this list of business notion templates and click on their links and duplicate and start using them for your own business.
Startup and Business Notion Templates:
Your Business Hub, ENTIRELY in Notion.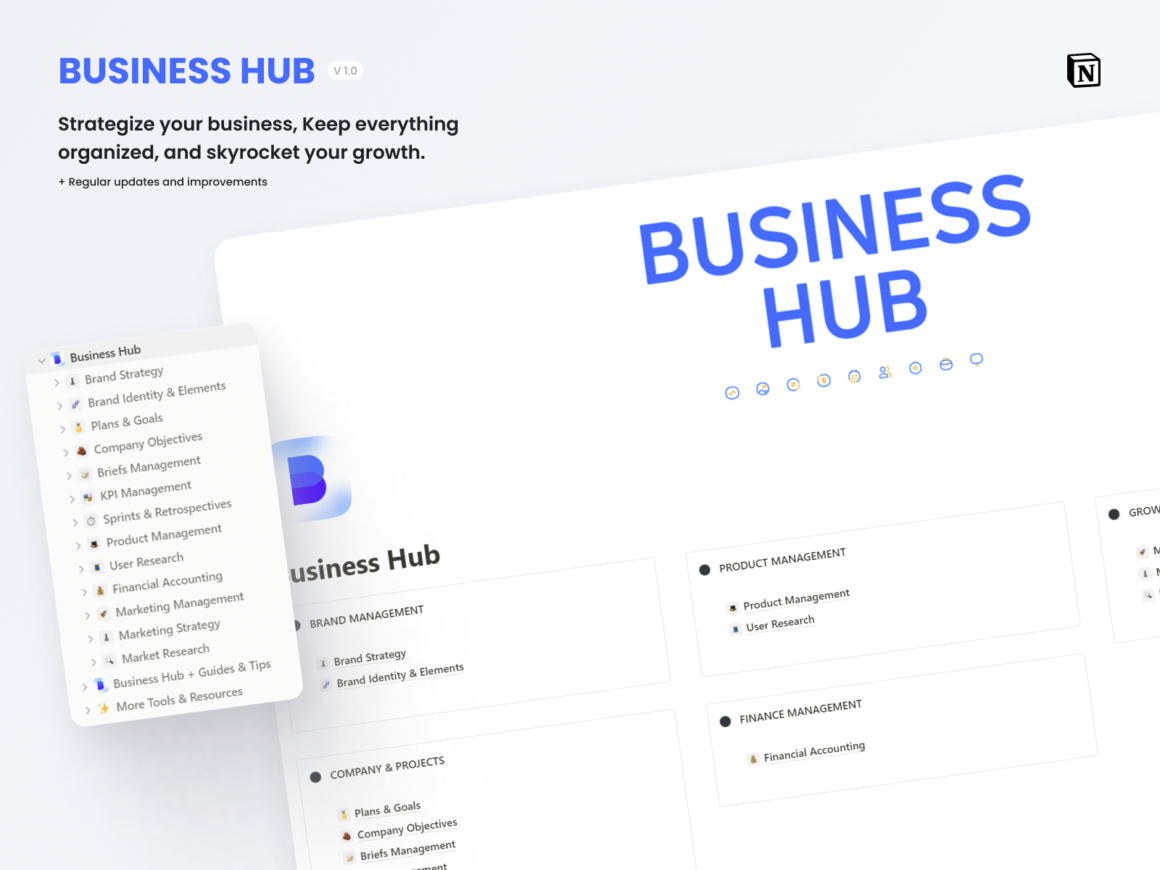 One place for Everything in your Business.
Tired of cobbling together multiple apps to form your Business? Me too. Business Hub lets you capture and organize everything inside of Notion – turning it into an all-in-one workspace.
Business Hub is the most advanced business & startup Notion template that helps you manage every aspect of your SaaS product, Digital product, Startup, and in general your online business.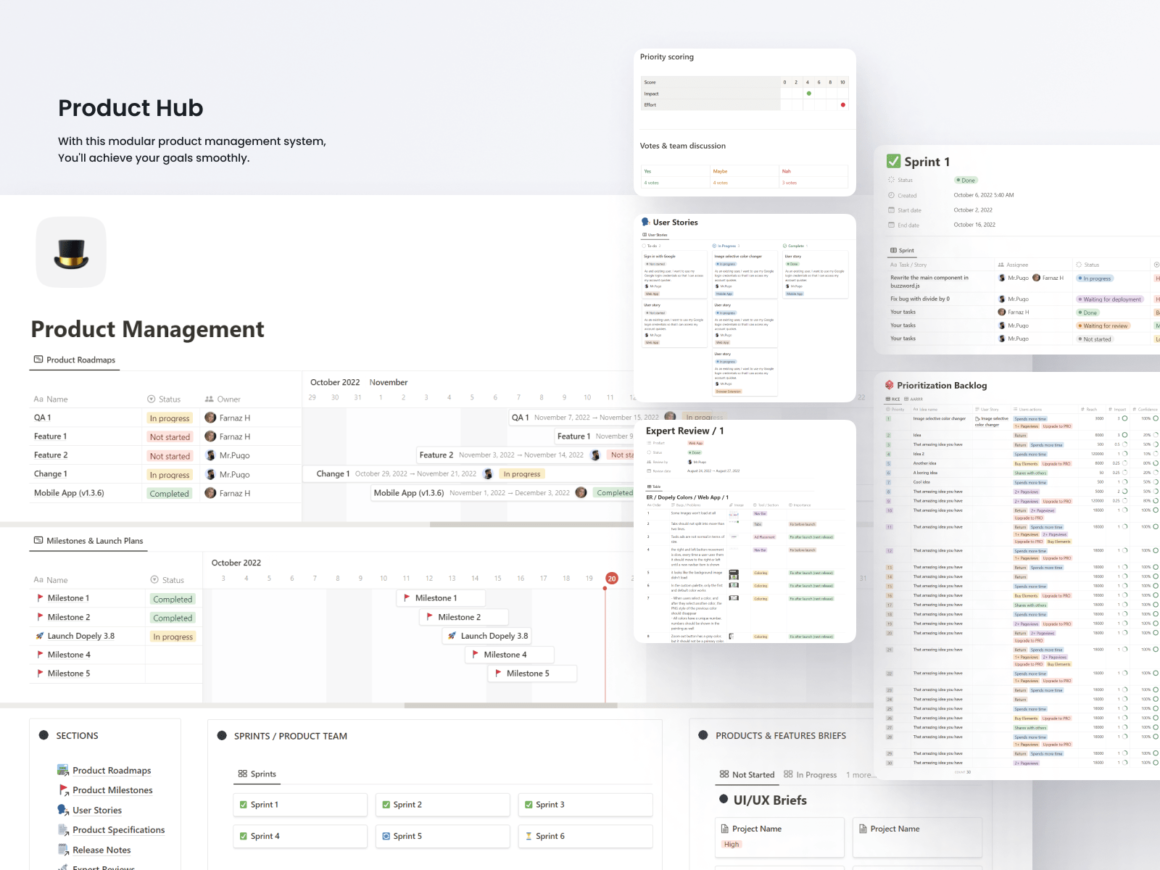 What's Inside:
Brand strategy dashboard
Brand Identity dashboard
Product management dashboard
User research dashboard
Marketing management
Marketing strategy dashboard
Market research dashboard
Plans & Goals dashboard
Company objectives
Briefs management dashboard
KPI management dashboard
Sprints & Retrospective dashboard
Financial accounting dashboard
Tips, guides, and articles to help you get started.
Use this template to log all the books, videos, courses, and other resources that you want to save. Quickly access frequently used tools and docs, plus stay on top of interesting research and articles.
Template for the Y Combinator application form, so you can plan your application, collaborate with others and send to previous founders and mentors for a quick review before submitting.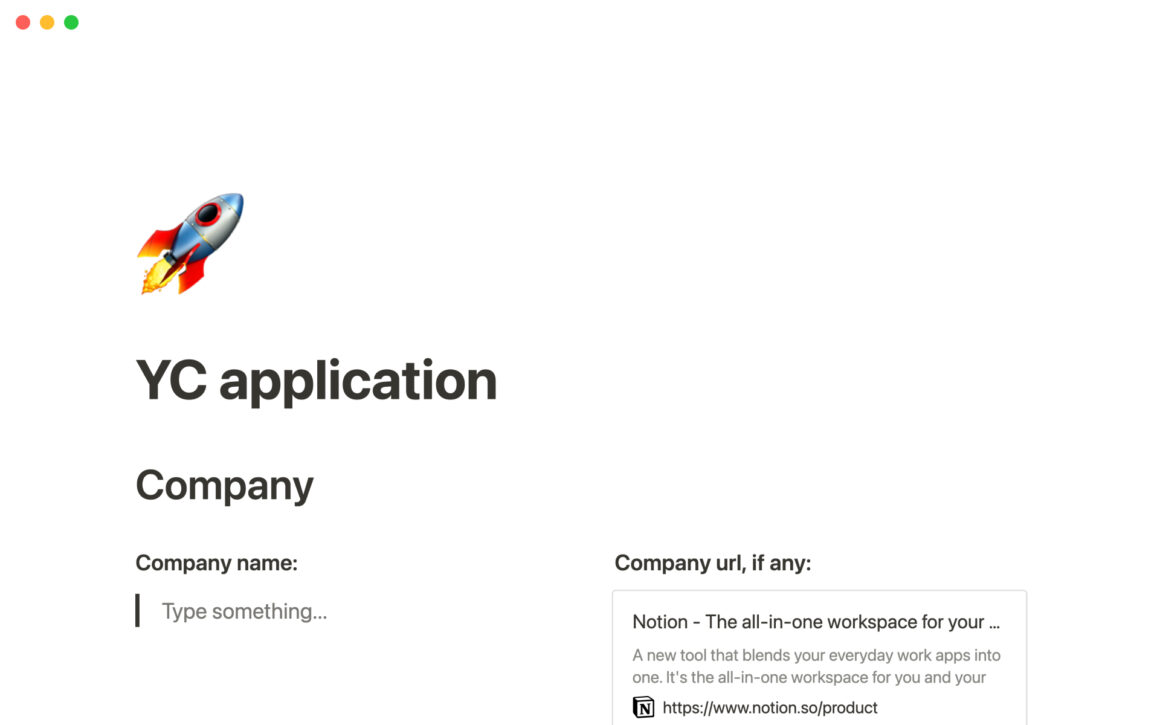 This templates provides resources and step-by-step instructions for startup founders to find a founding team. Start by helping founders understand why and what kind of co-founder they'll need using an interview CRM template, then use equity calculator to provide guidelines for founders in equity splitting discussions.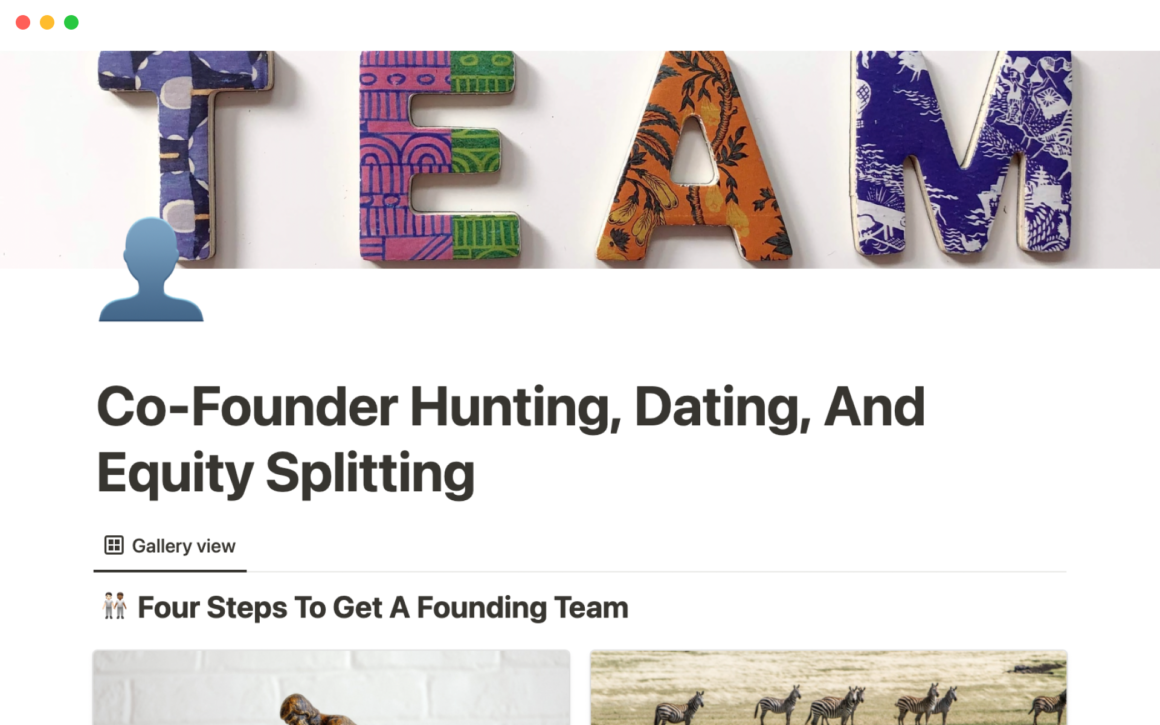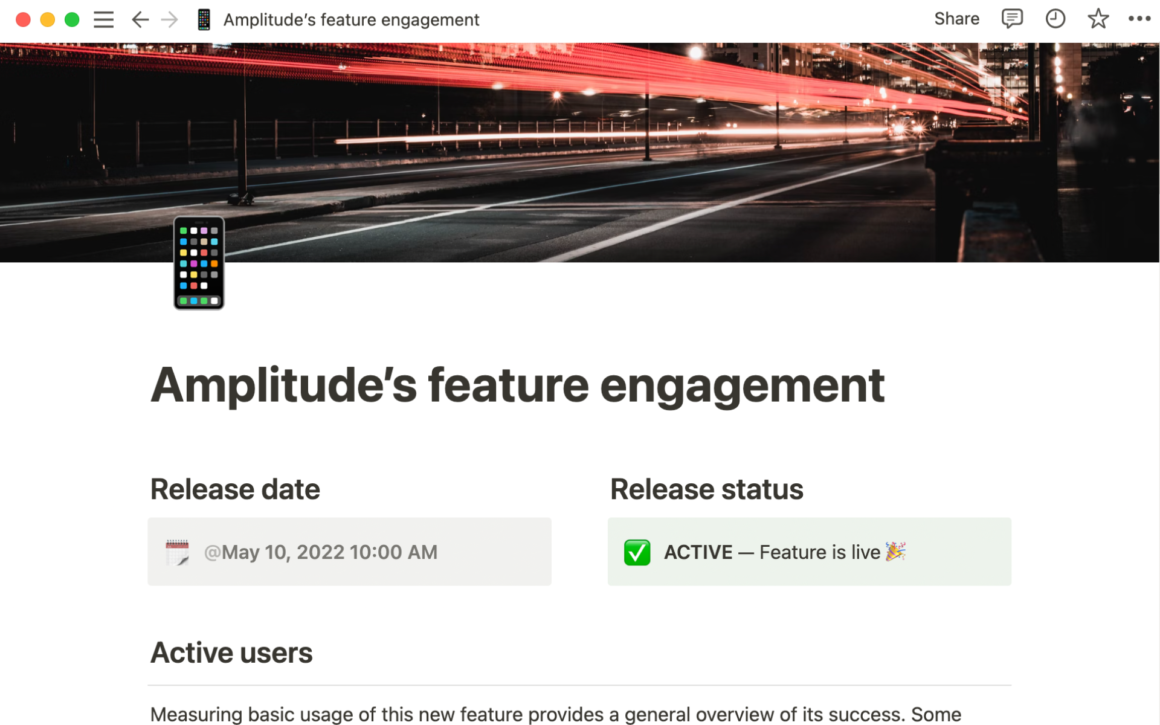 The Business Model Canvas splits a business model into 9 areas and invites you to brainstorm how your business will capitalize on each. Whether you're starting up a new business or trying to understand an existing one, the Business Model Canvas will help you map it out.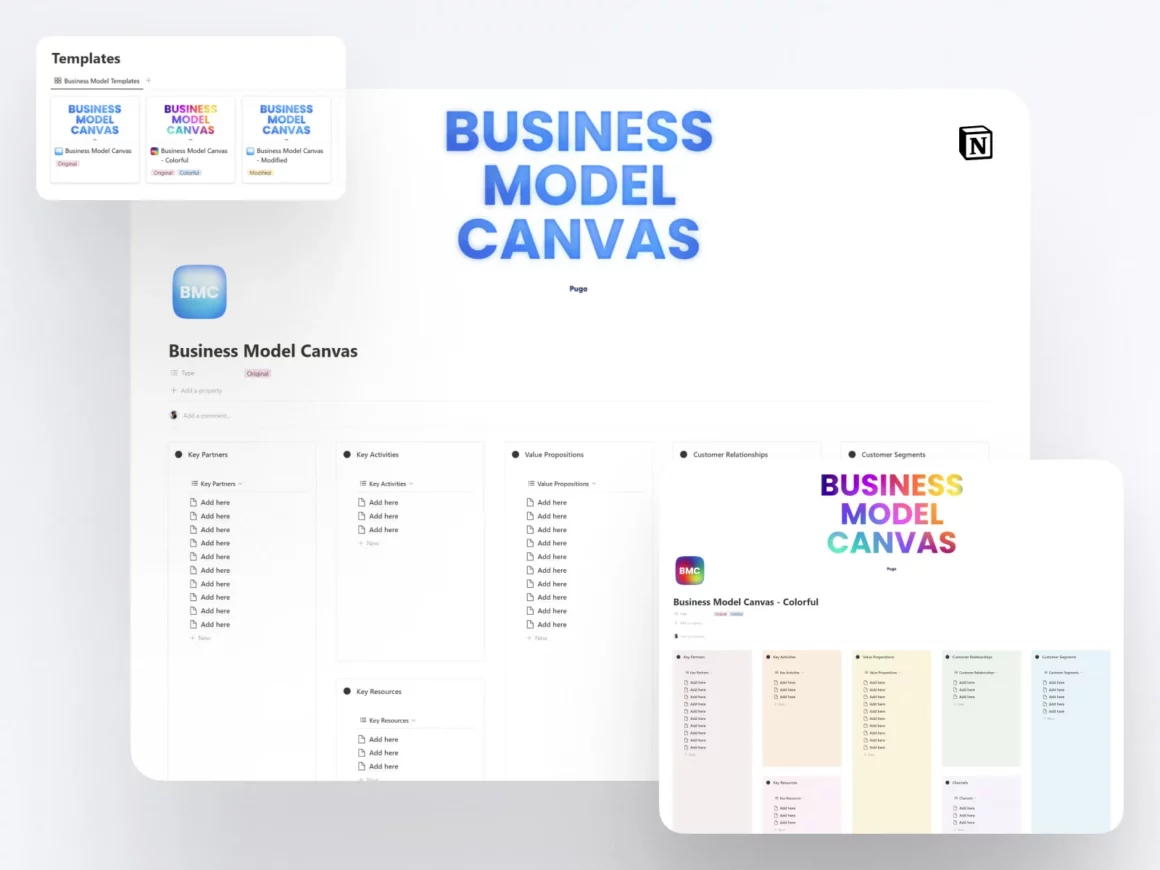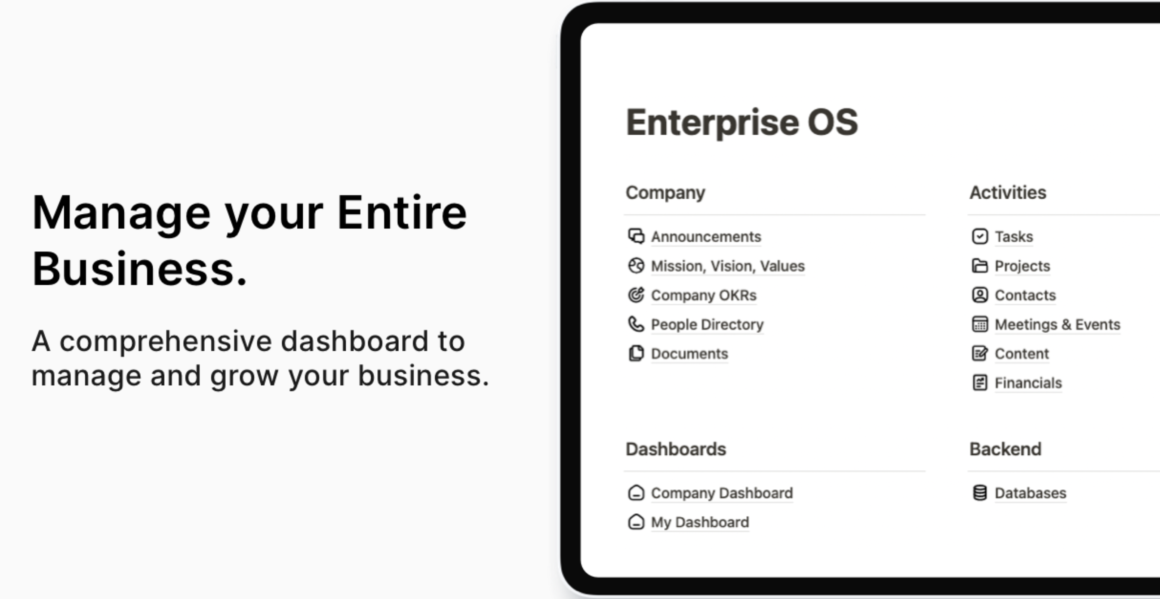 The purpose of the template is to show you how to make the most of Notion's timeline view to develop and launch products. You can use this structure to manage any project that has stages, steps or sub-tasks.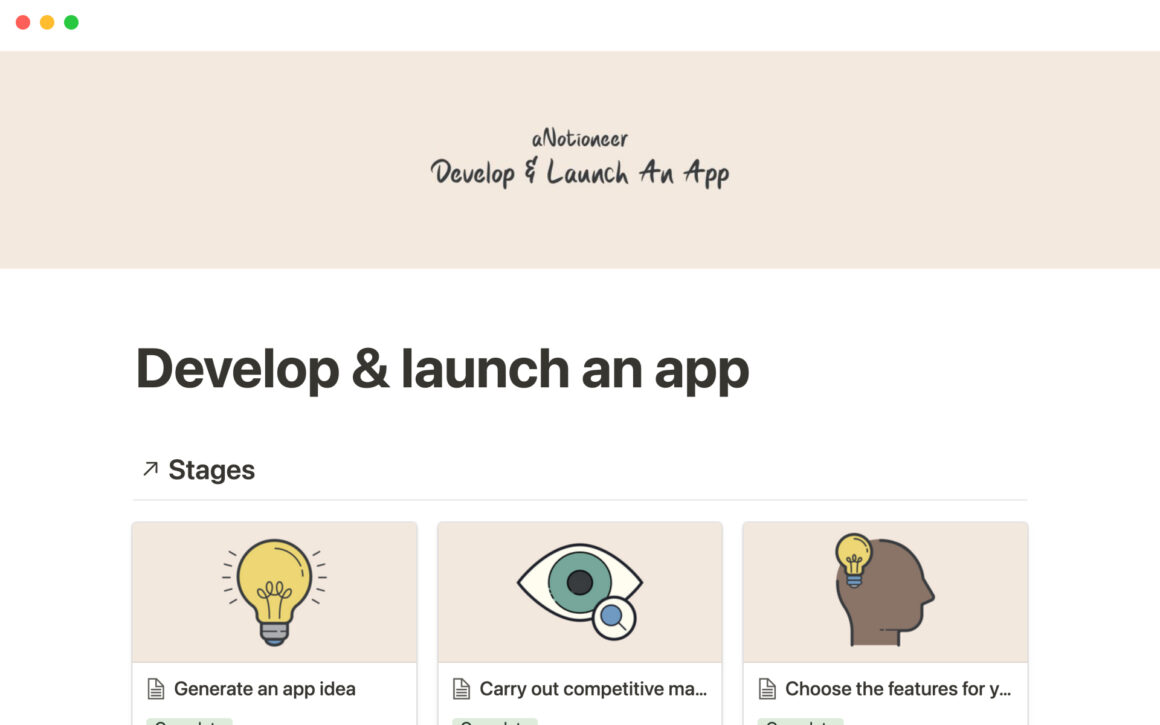 Keep all of your sales documentation and projects in one place. Just replace this sample content with your own.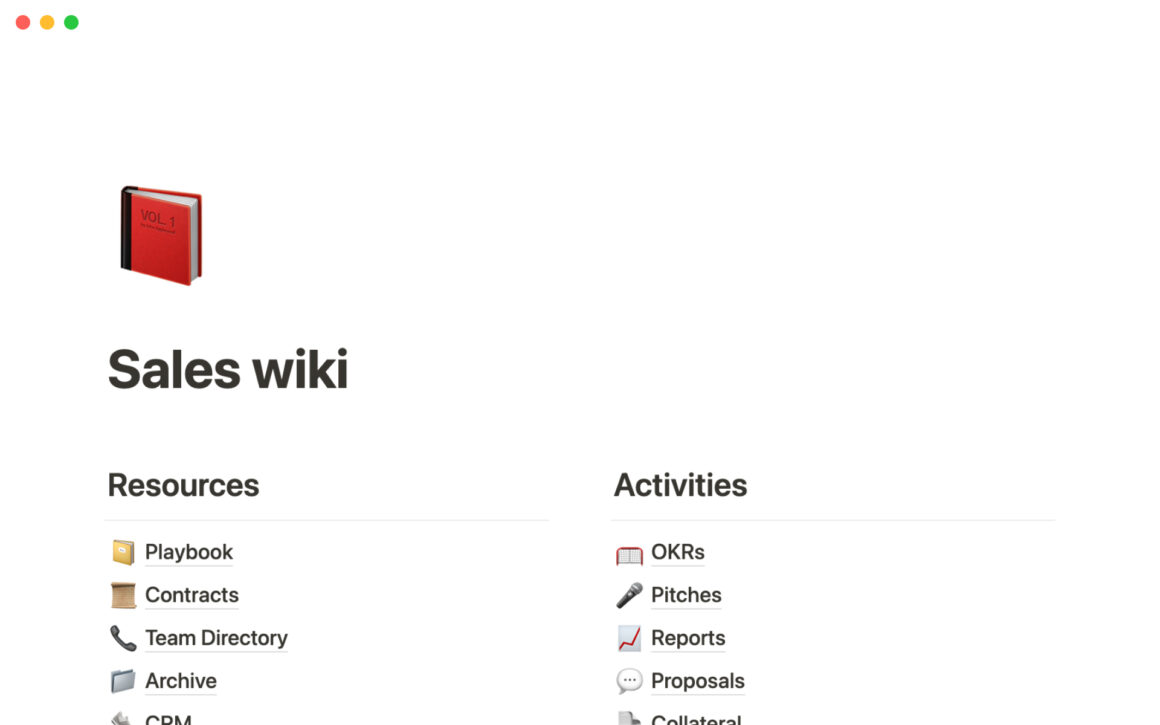 Deel has transformed the way companies hire, pay and manage contractors and employees in over 150 countries. They use Notion as a single source of truth across the entire company. Their Comms team built this template to stay on top of tight PR deadlines and drive clarity around what needs to be done.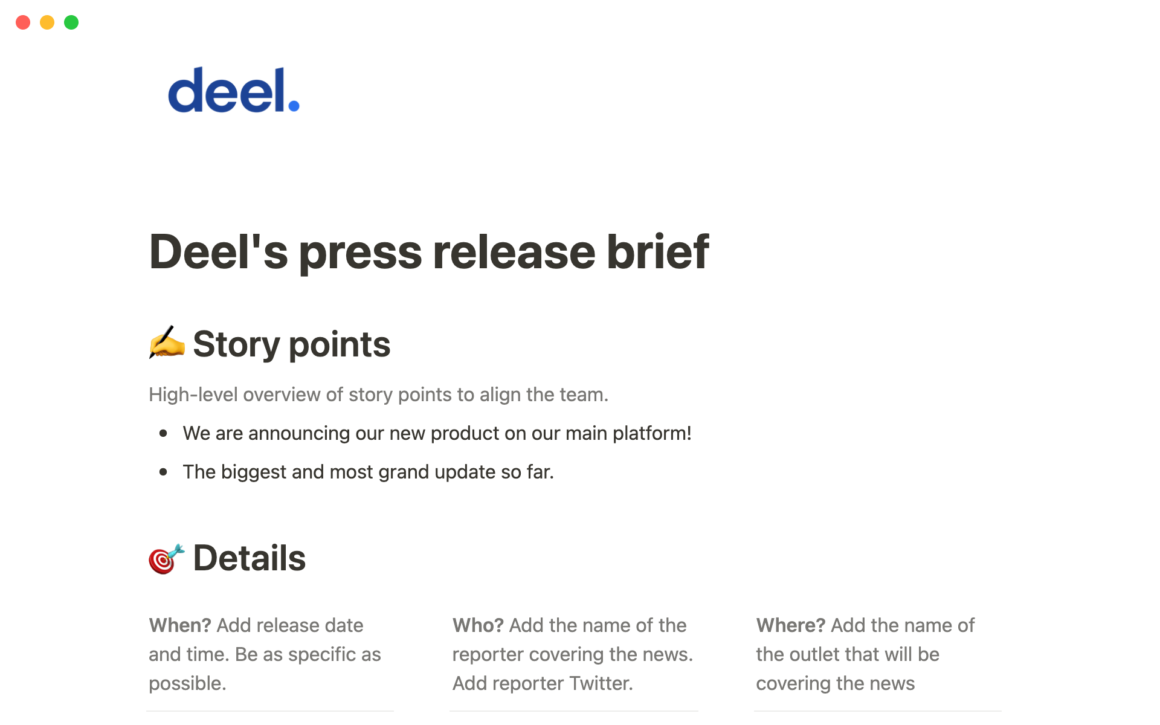 118 tools and resources to help you design better and faster for your business. Colors tools, Icons resources, Fonts, Illustrations, PNG Images, Stock Photos, Logo resources and logo makers, 3D elements, Brushes, Graphic elements, Design tools, Design markets to sell or buy graphic stuff, Prototyping tools, Presentation tools to help you create your amazing pitch deck, etc.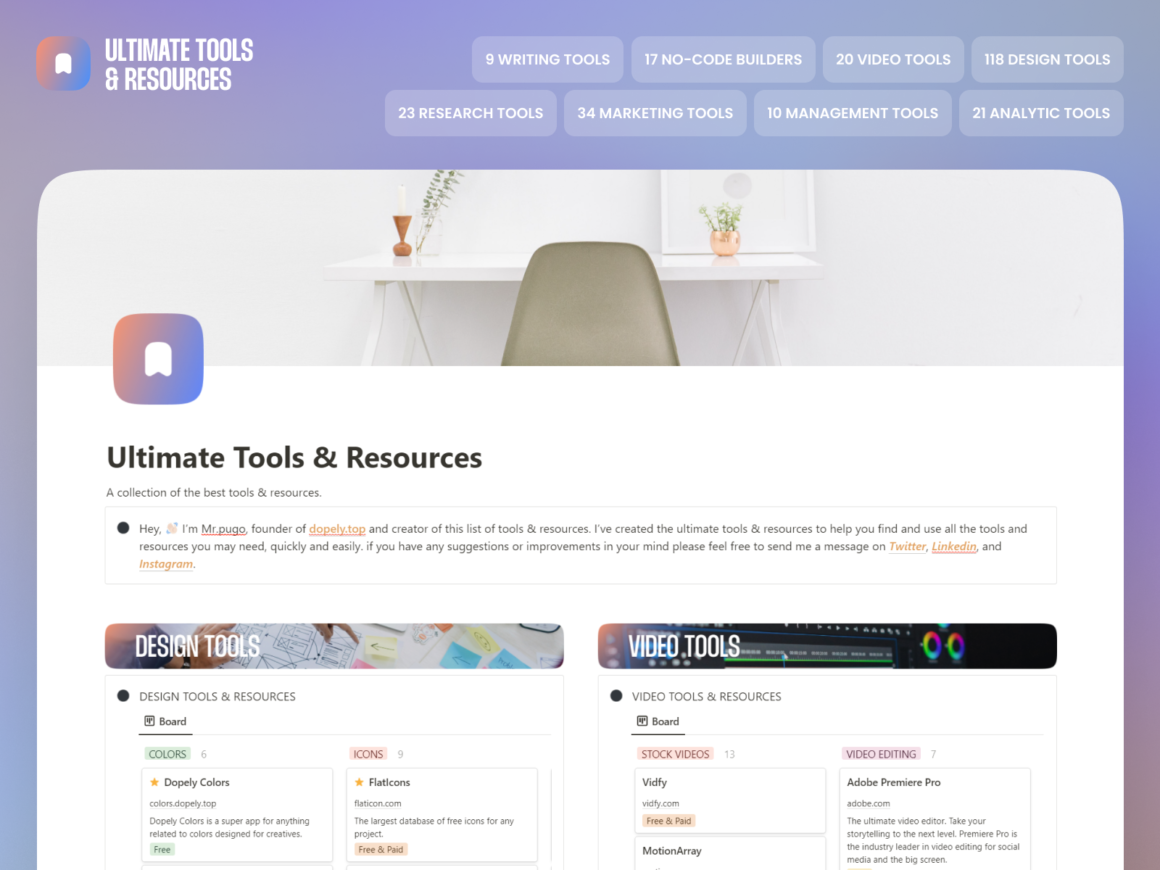 As a fast moving startup, Harmonic uses Notion to keep track of projects and timelines. As part of our webinar series, we had Notion expert Marie Poulin live-critique Harmonic's project database and improve it on the fly. Use their template to stay on top of deadlines and track project work across your entire team.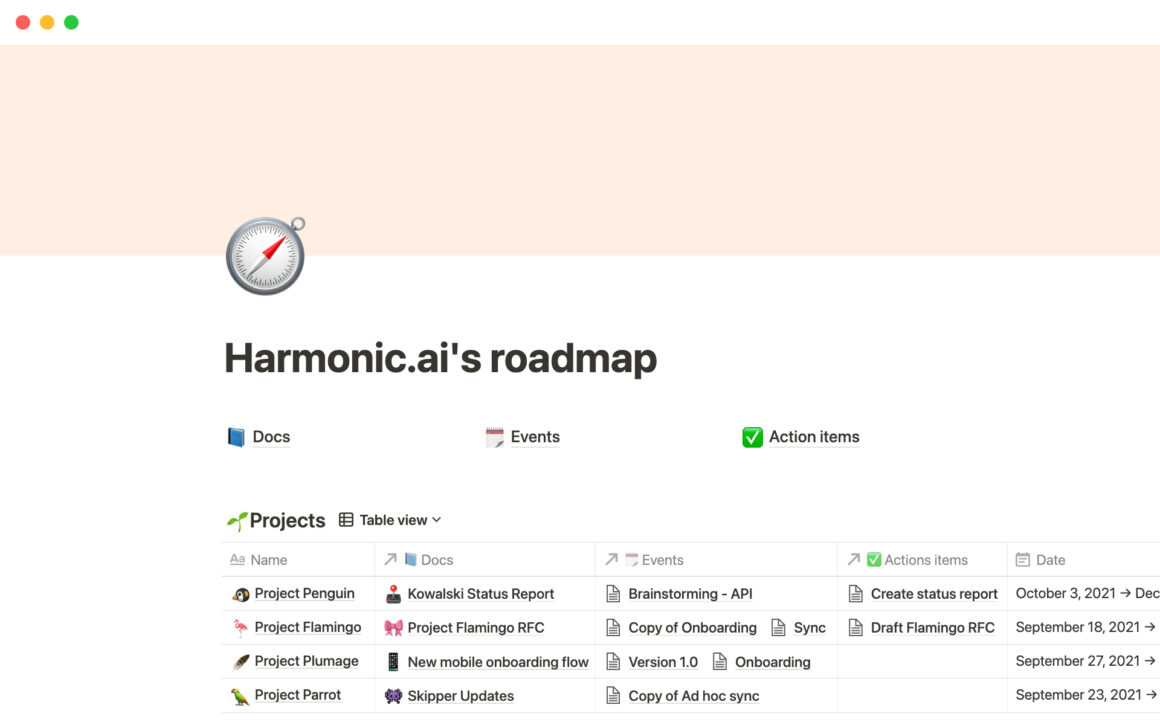 Edlyft is a personalized tutoring platform for STEM students. They use Notion to optimize their product-market fit process. Use their template to run tests consistently and get results fast.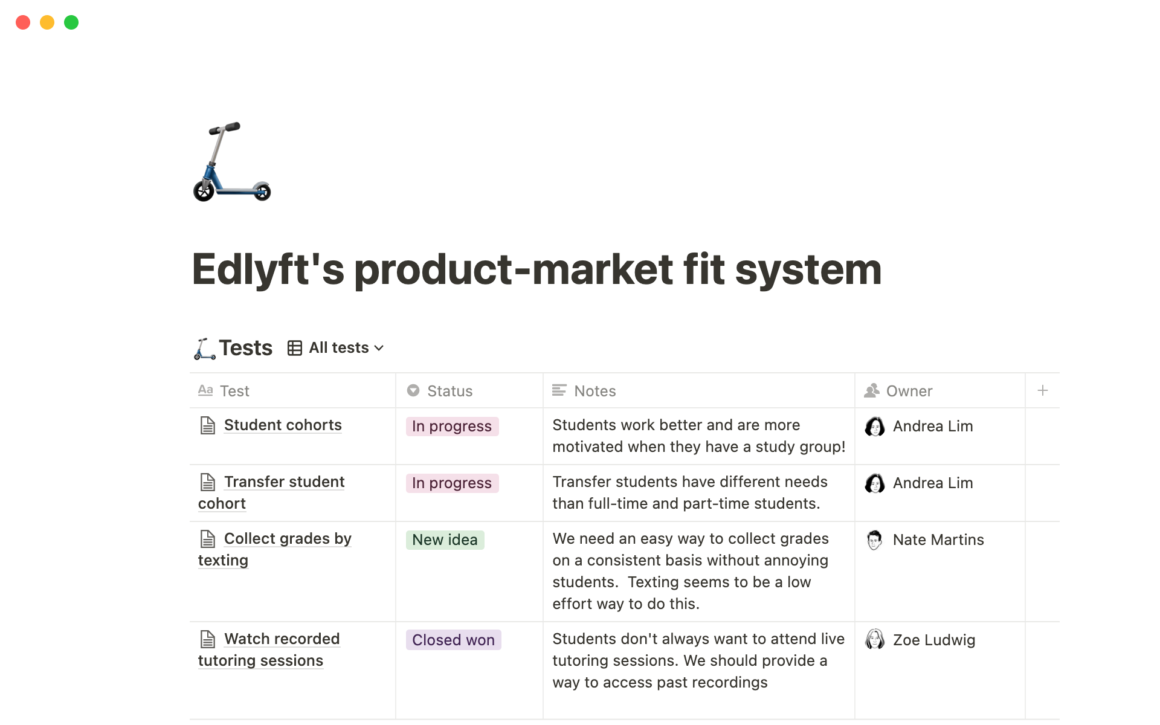 A Product Requirement Document (PRD) or Product Spec designed for product managers in tech. It allows you to easily build a spec and track pain points, users and personas, implementation plan and success criteria. I built this template because I was frustrated by how hard it is to keep track of all the relevant parts of a PRD in more conventional tools – the main upside of building Specs in Notion is that it allows you to keep a clean high-level overview, while linking the more detailed pieces in.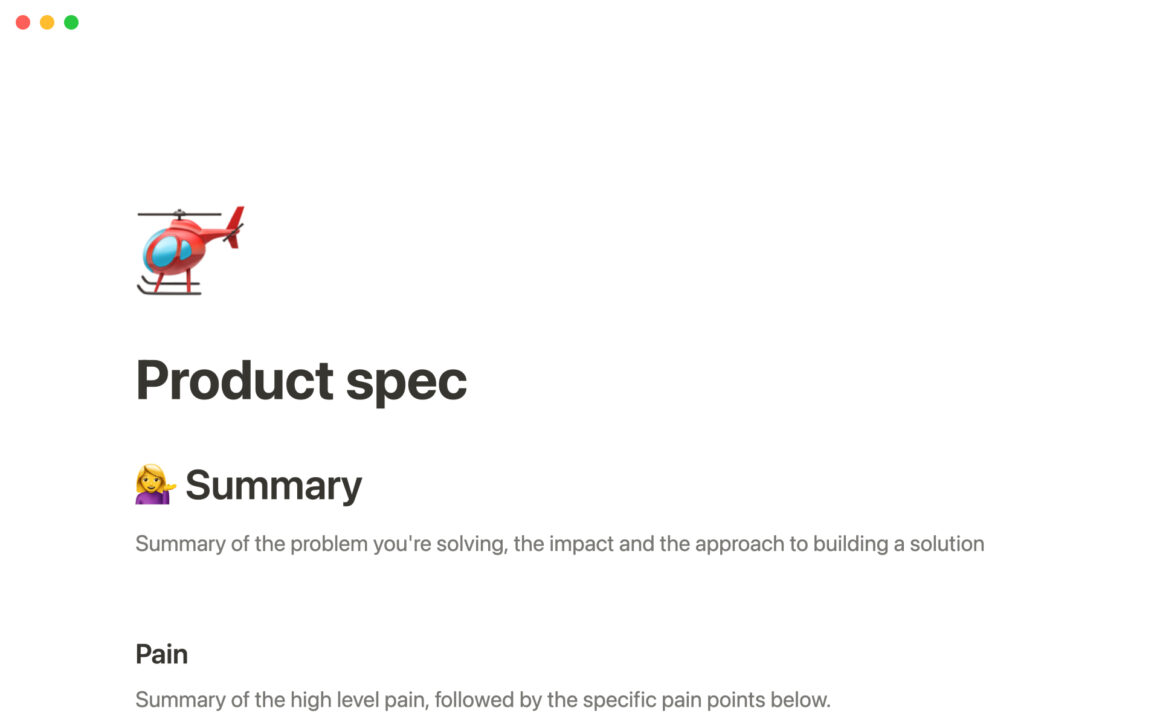 Usually marketing teams have separate tools for planning and writing content. At Notion, we do all of that in one database. Using a calendar view, we can see our monthly publishing schedule and move pieces around to avoid traffic jams. That way, everyone in the company knows there's only one place to look for any editorial project.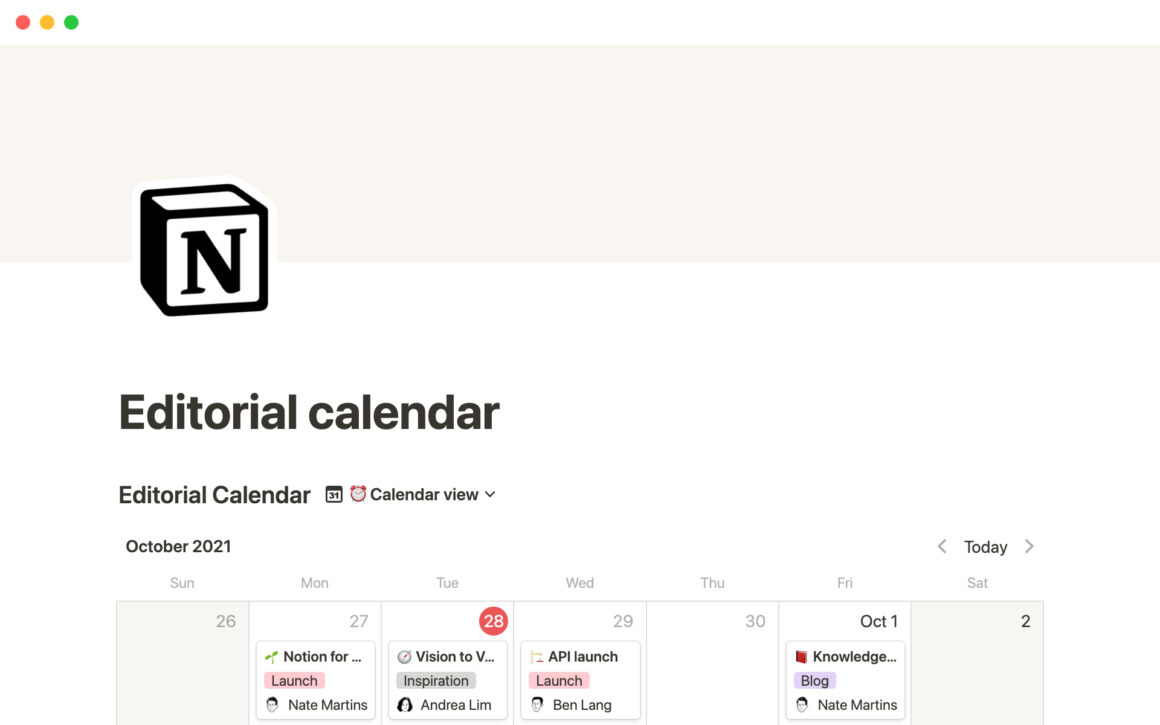 Accidentally emailing an investor you've already pitched, or showing up to a meeting unprepared is like the real-life version of that dream where you show up to a class in your underwear. So use this template as one place where you can track every contact and your communication history.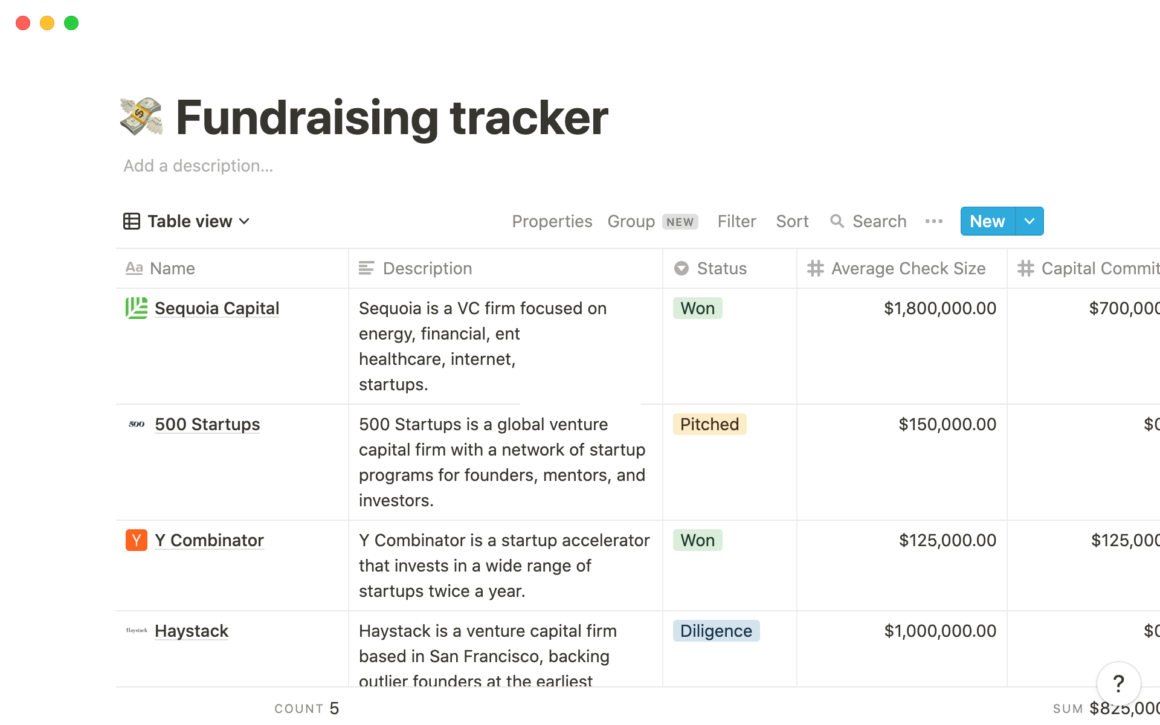 This is Notion's real launch template, giving any project a home base where you can collect all the context, create relevant docs, and track tasks across many people and teams toward a final, shared result. Highly recommended for any launch collaboration.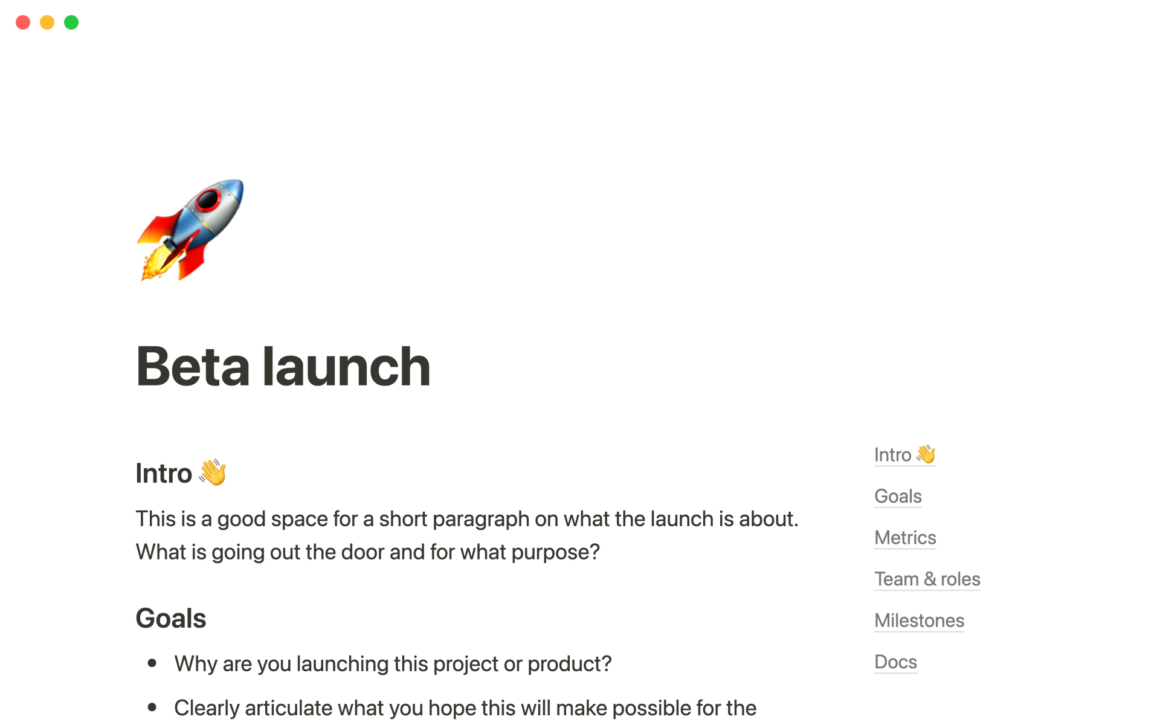 We know early-stage startups don't have much time to build key fundraising, team operations, and sales processes out from scratch.
So we put together this startup OS to help you get set up in minutes with pre-built templates. They're based on learnings from hundreds of startups who've nabbed their first hundred customers and raised from the likes of Y Combinator, First Round, Sequoia, and Index.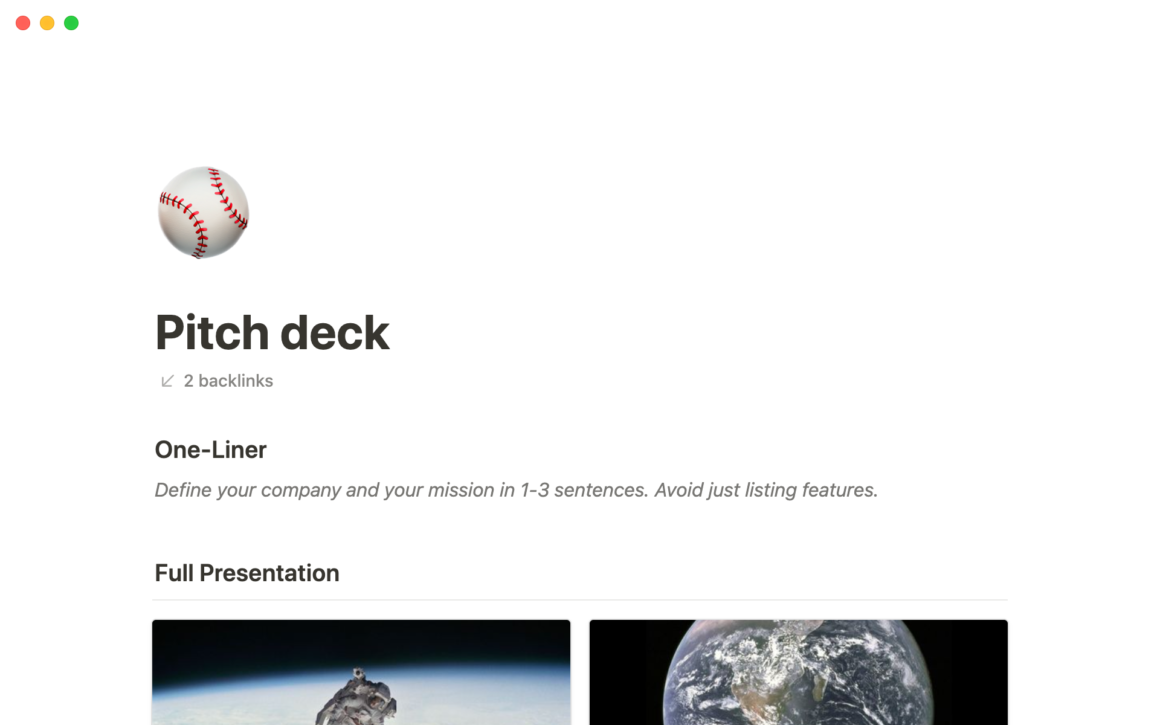 Vision to Values is a framework developed by Jeff Weiner, Executive Chairman of LinkedIn and Founding Partner of Next Play Ventures. It helps you clearly and efficiently codify your company's purpose, approach, and ethos.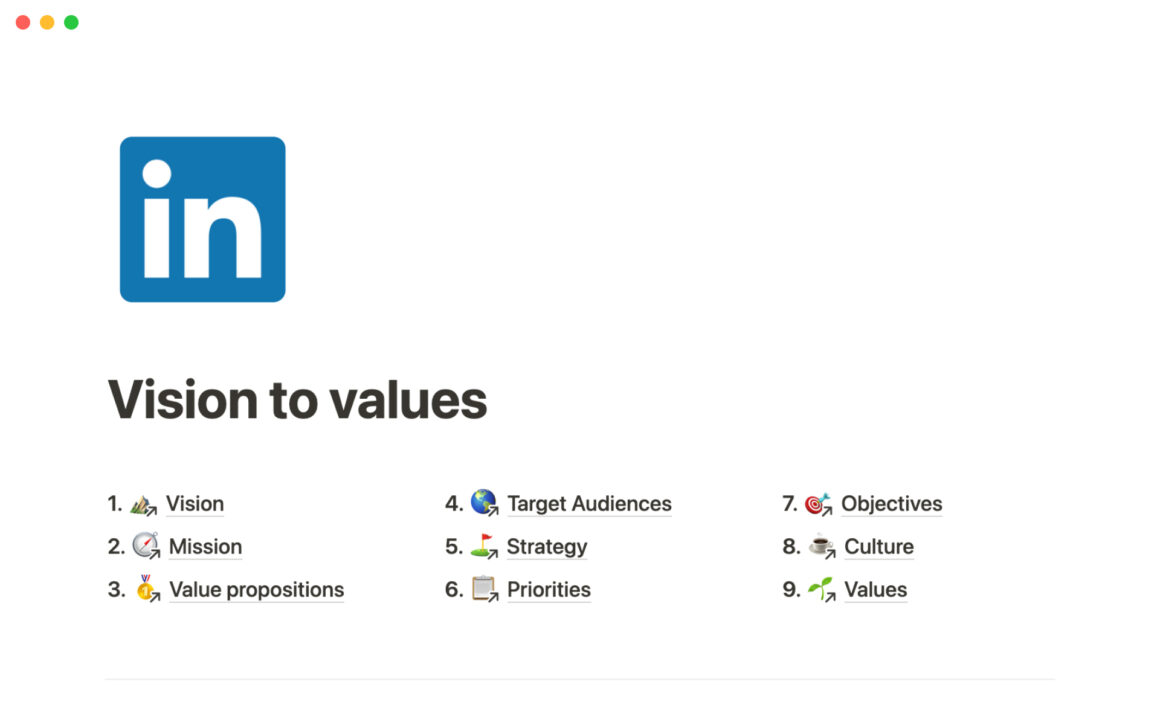 We call our employee directory a "people directory" — because it's all about the people. Instead of using a separate HR tool, we use a database in Notion with custom properties (birthday, office pets, etc.) to give every teammate space to show off their personalities. You can also view the table by team or sort by date joined.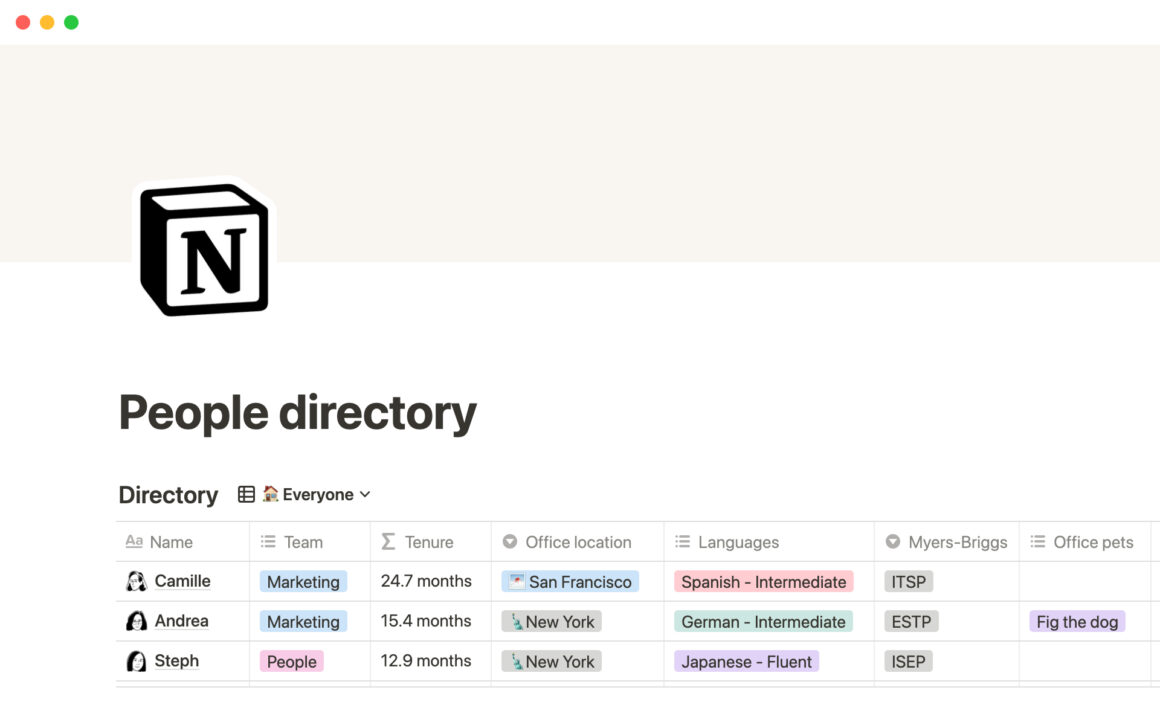 Cron is revolutionizing the way we use calendars by making it more efficient and joyful. As a fast growing startup, they use Notion to host and edit all of their public job postings. Use their template to have a dynamic jobs board that reduces unnecessary repetition and increases your time for productivity.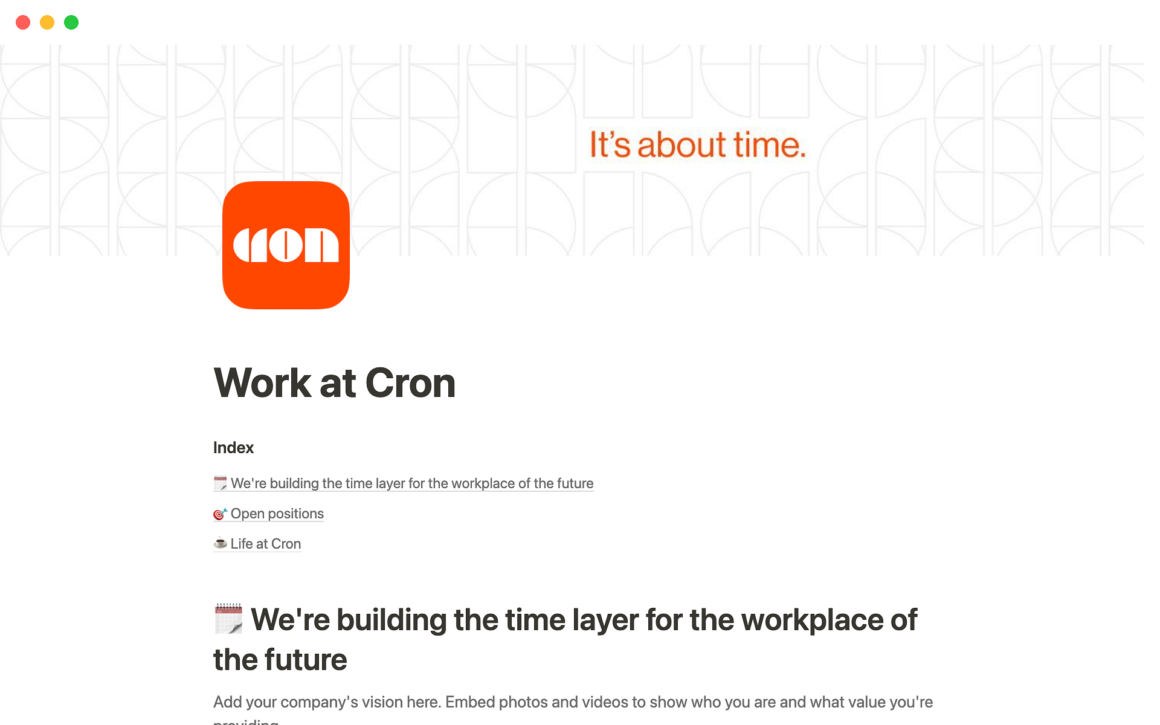 GRID makes spreadsheet data easy to understand and leverage, so your team can move fast and get more done than you ever imagined. They made this startup runway calculator to help startups forecast, budget, strategize and seek funds. Ditch the static spreadsheets and link directly to your GRID data models!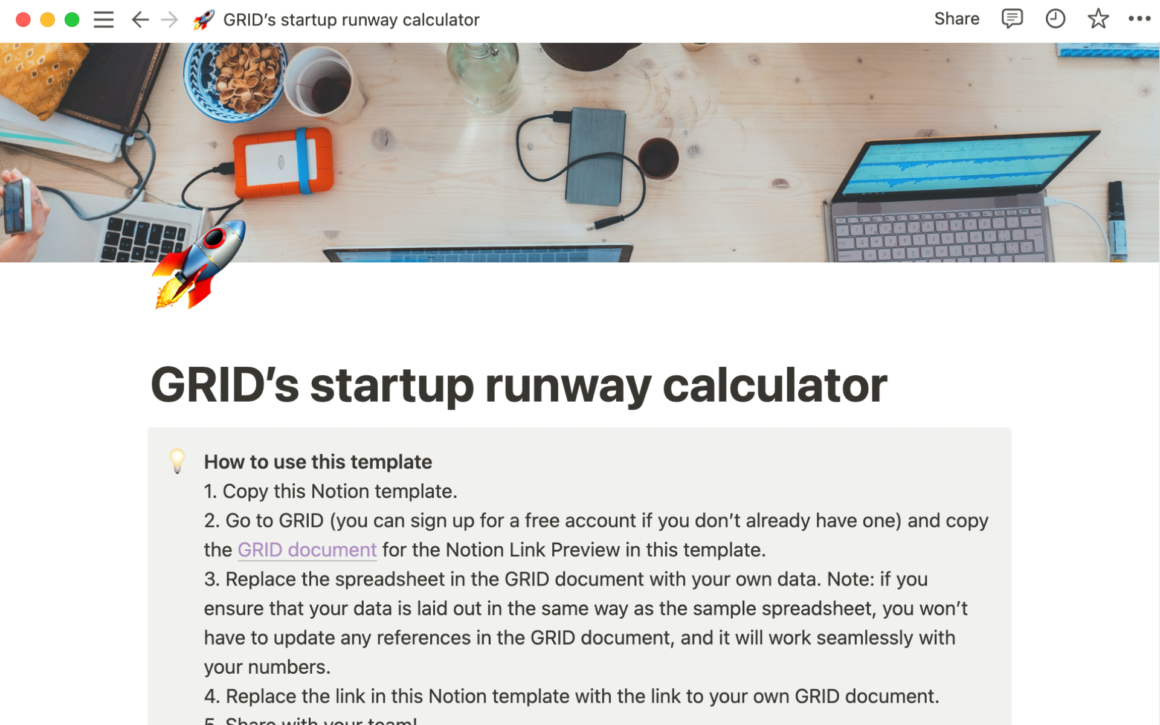 Amplitude is the leading digital optimization system. They provide insight to adapt experiences to each customer and gives teams a common lens into data. Avoid context switching and link directly to your Amplitude charts and data! Use this template to have a context driven A/B test and close the loop between data, insight and action.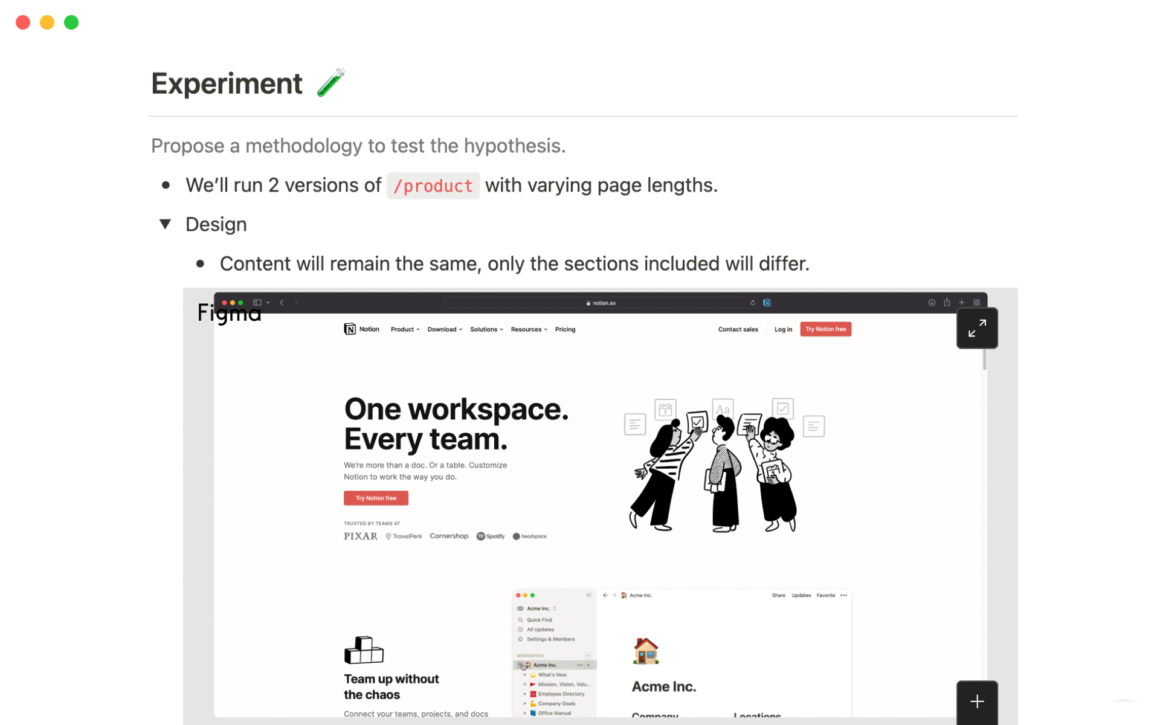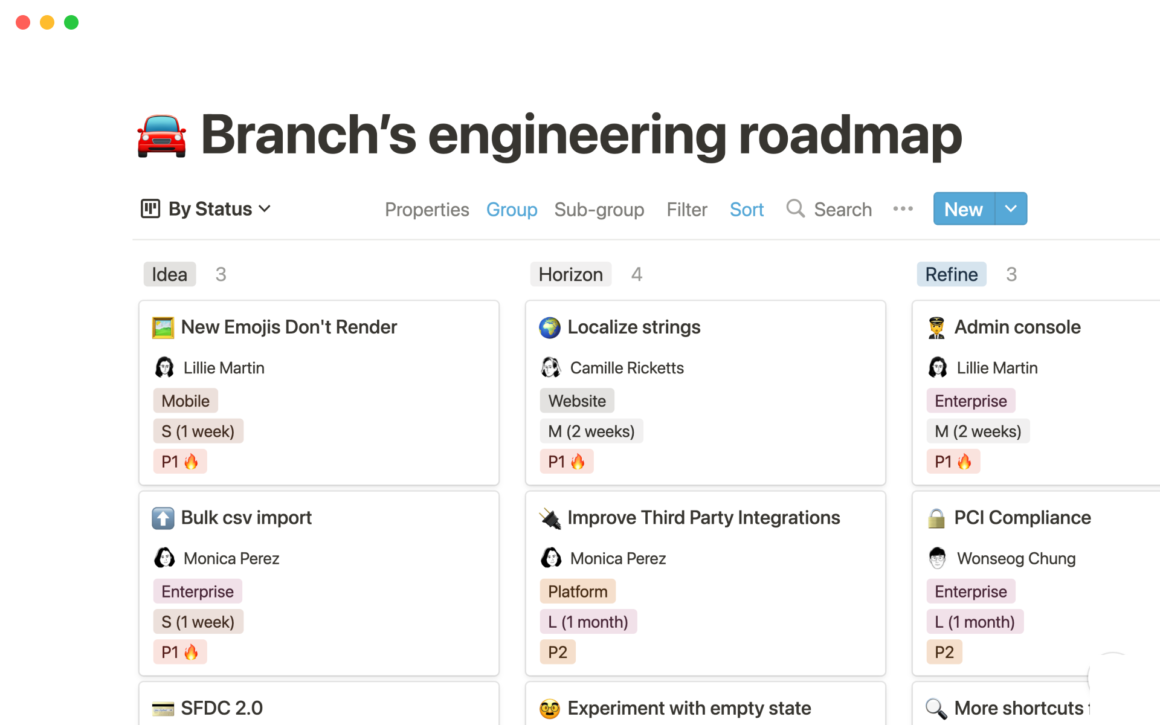 Manage projects per company with a centralized database for all information, and use the linked tasks database to stay on top of each project's progress. Create automated invoices with tax per company, and have a complete balance between invoices, expenses, and income.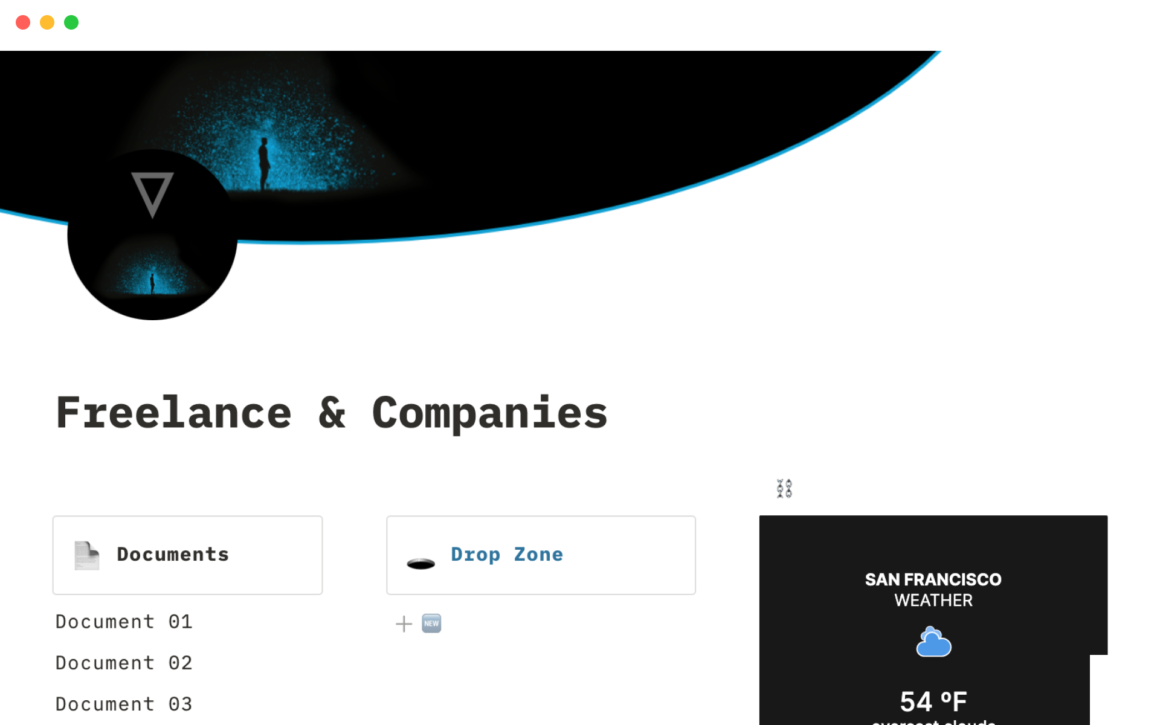 Sales OS will help you manage your contacts, orders, products, and more in the same system. Track your sales revenue on a weekly basis, manage your documentation process, and lear how to integrate this system with the most used sales tools.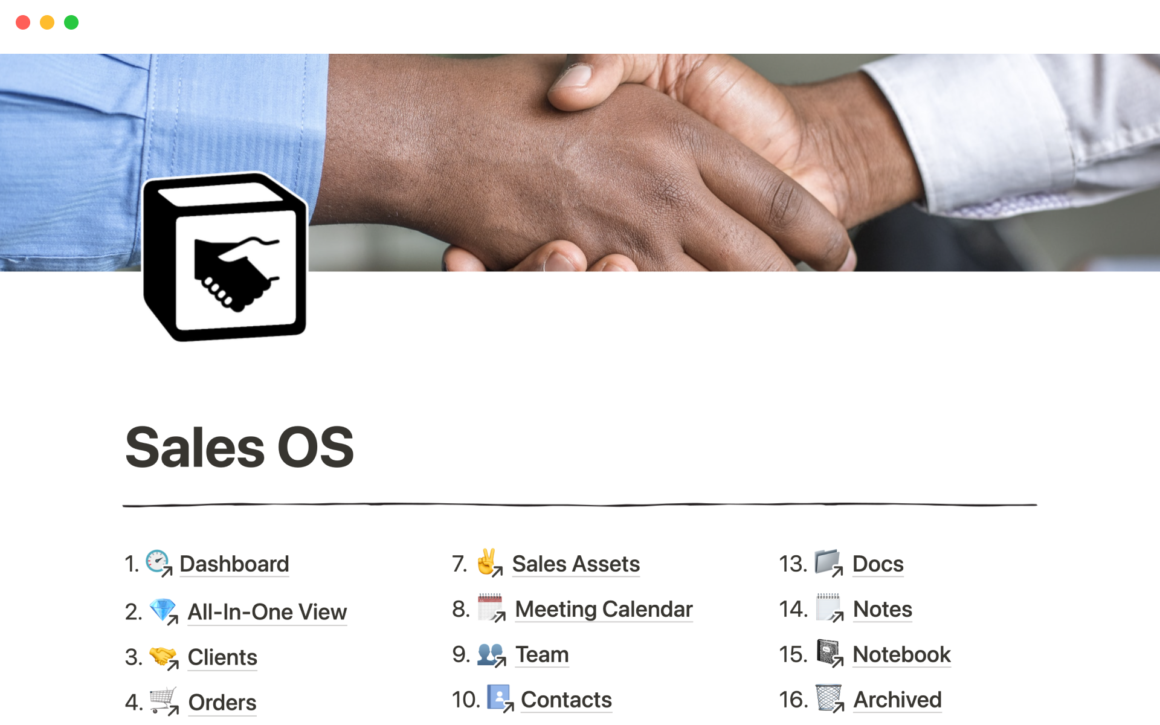 Funding OS is a tool that helps founders to acquire and manage fundraising. It works like a CRM but also covers requirements to fundraising. I created it based on my five years of experience working with business owners and supporting them in their funding rounds.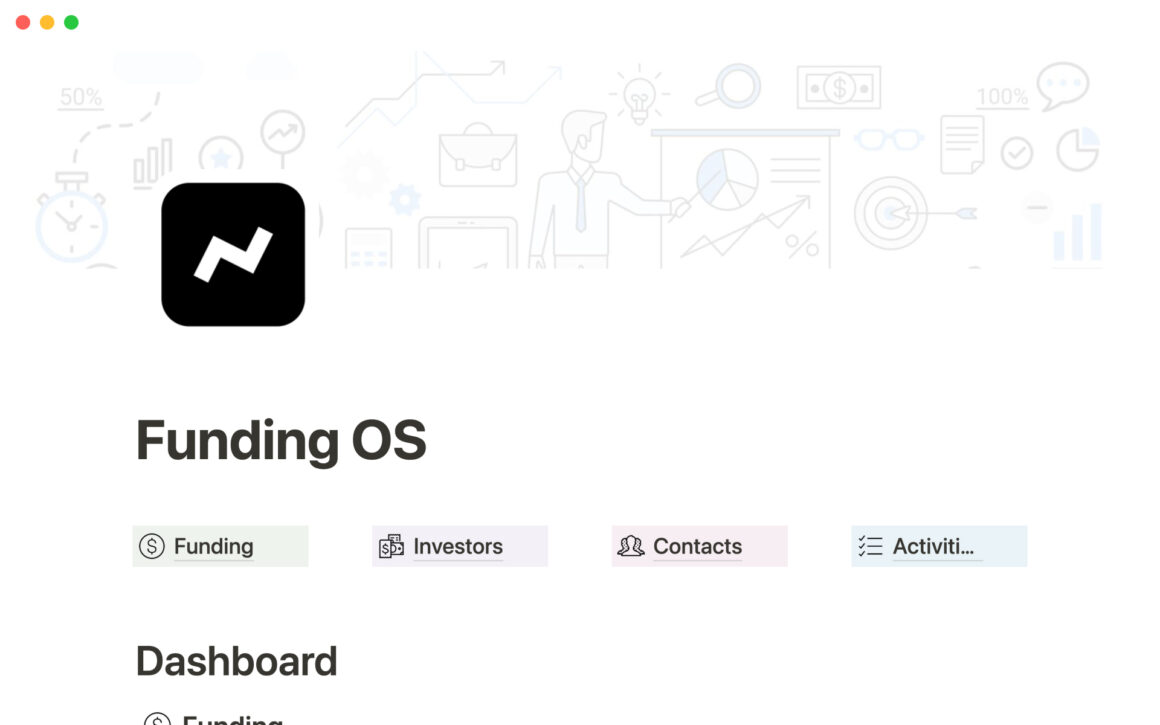 Customer journey maps are an essential piece of any marketing or product strategy, but trying to fit all the subtle (and critical) details into a 5×5 grid just isn't viable.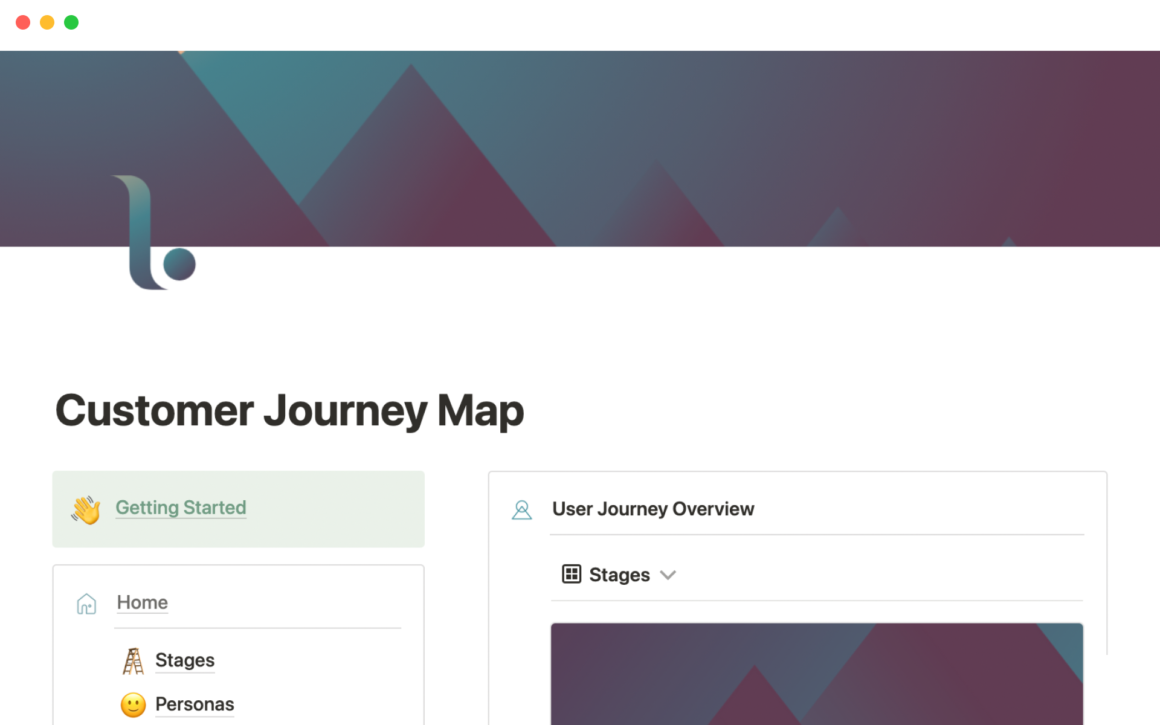 Always use the best demo, white paper, video, etc. for every meeting. Upload any type of file to Notion for instant access and version control.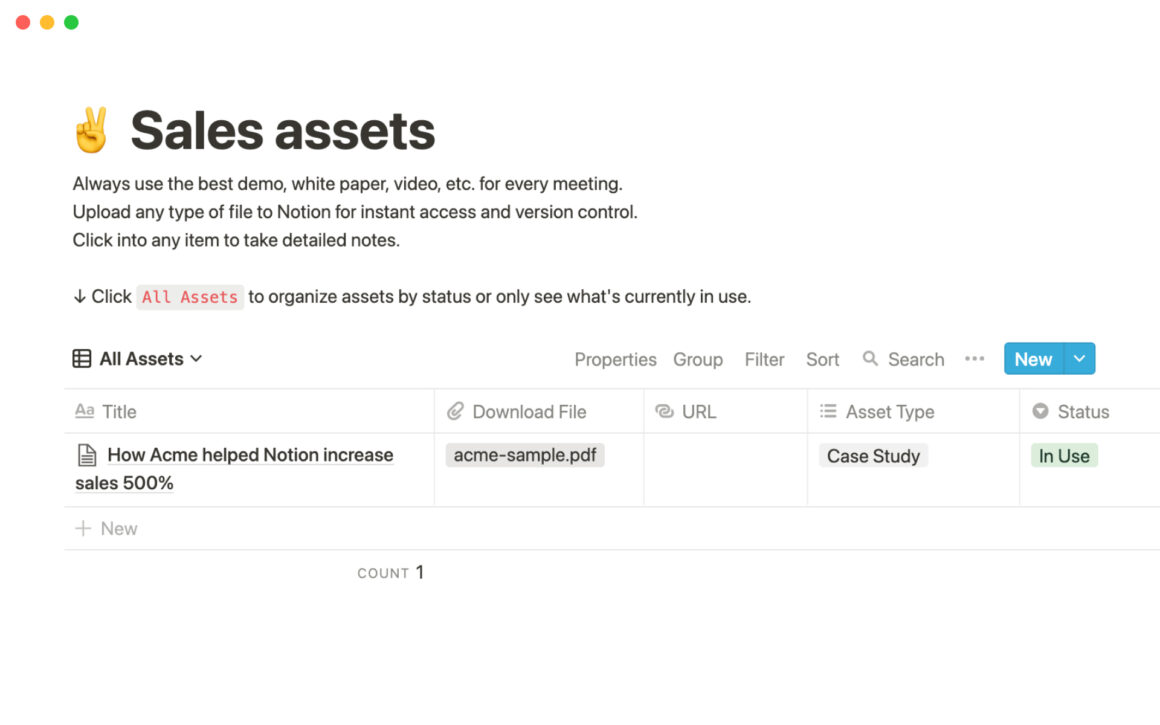 A deal room is your private space to organize pitch decks, manage a list of leads and deals, and store proposals and contracts. This template will help you track all sales prospects in one place and ensure you're focused on the deals that matter the most.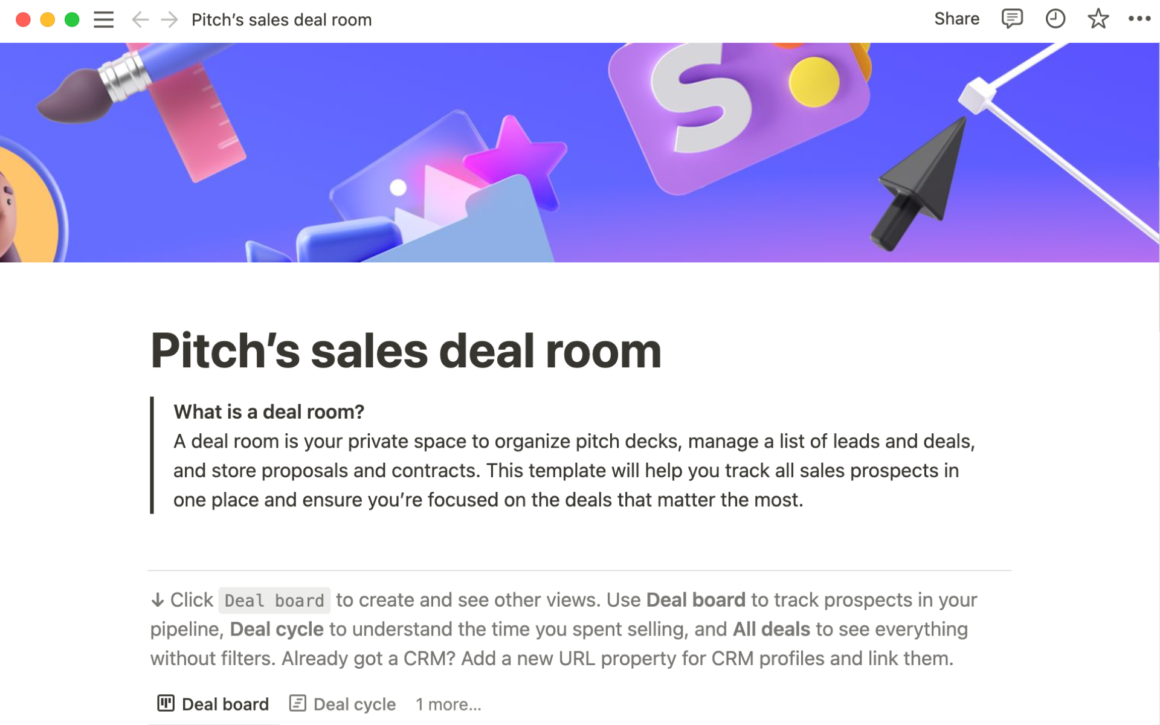 Understand how valuable a product, campaign, or project has been by calculating its relative return on investment.
This template is designed to weigh other factors beyond monetary investment and earnings as well, so you can make nuanced decisions about where to continue or how to iterate.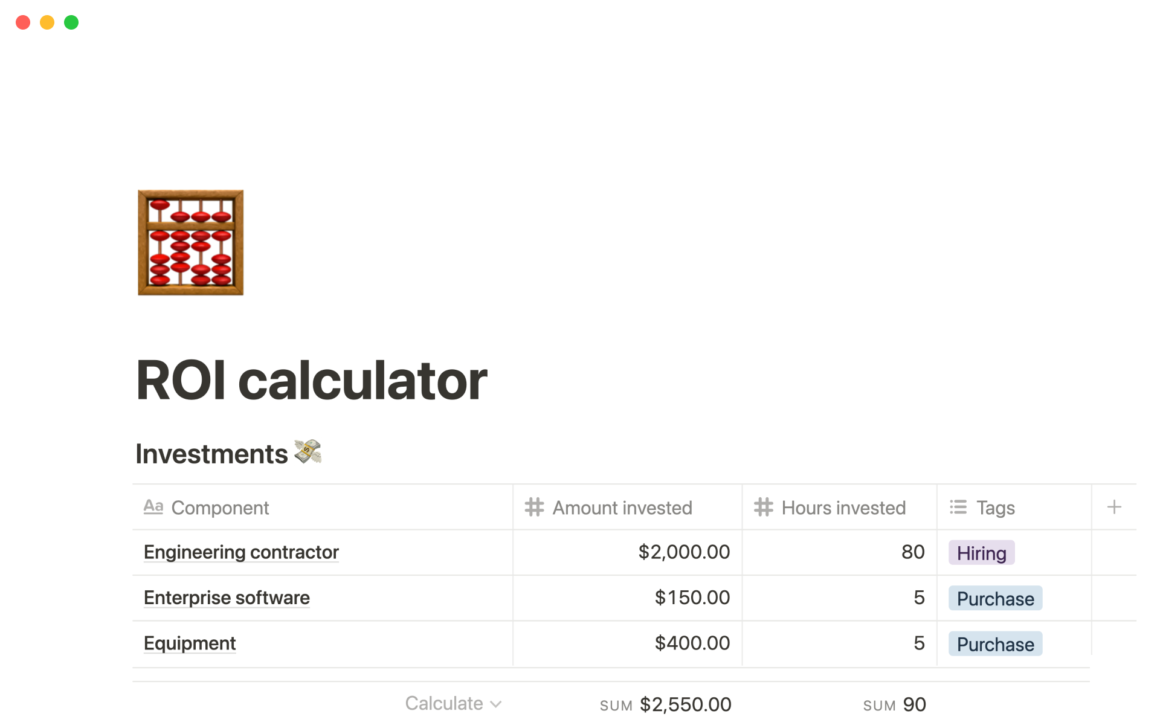 Here at Notion, our sales team uses this weekly digest to keep everyone up to date with the latest metrics, product updates, upcoming events and more! We build consistency by using the database template feature and filling out the action items with weekly to-do's. Use this template to host your weekly sales sync and make complex collaboration effortless and enjoyable.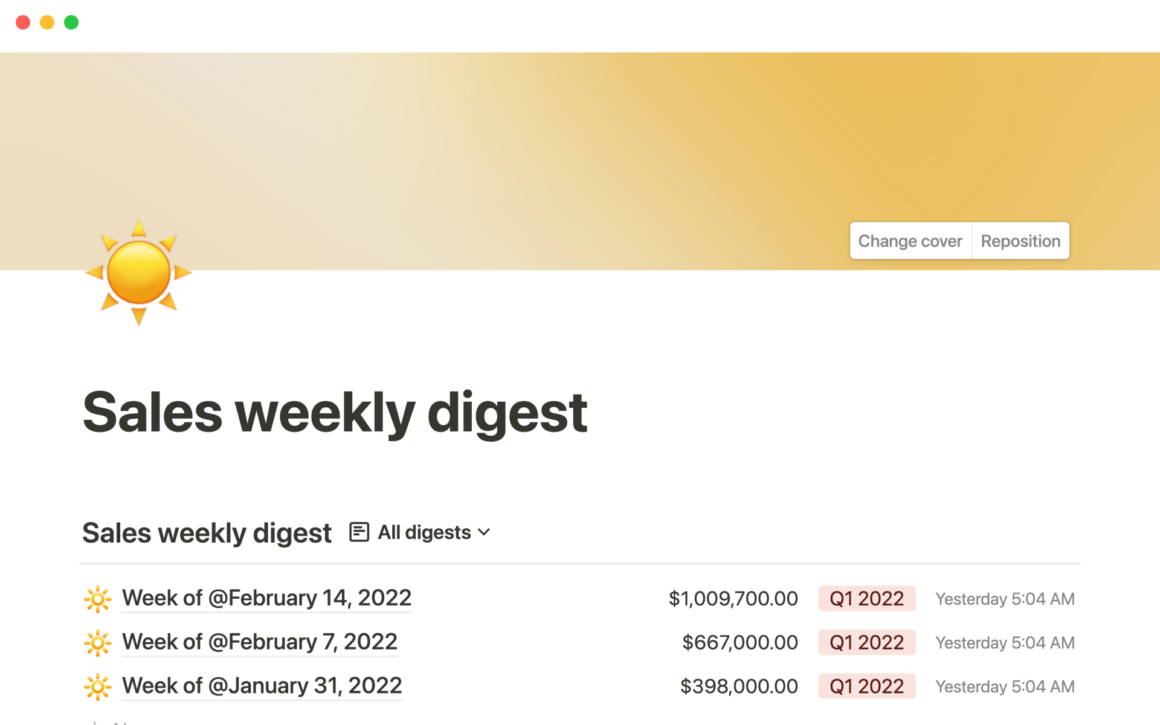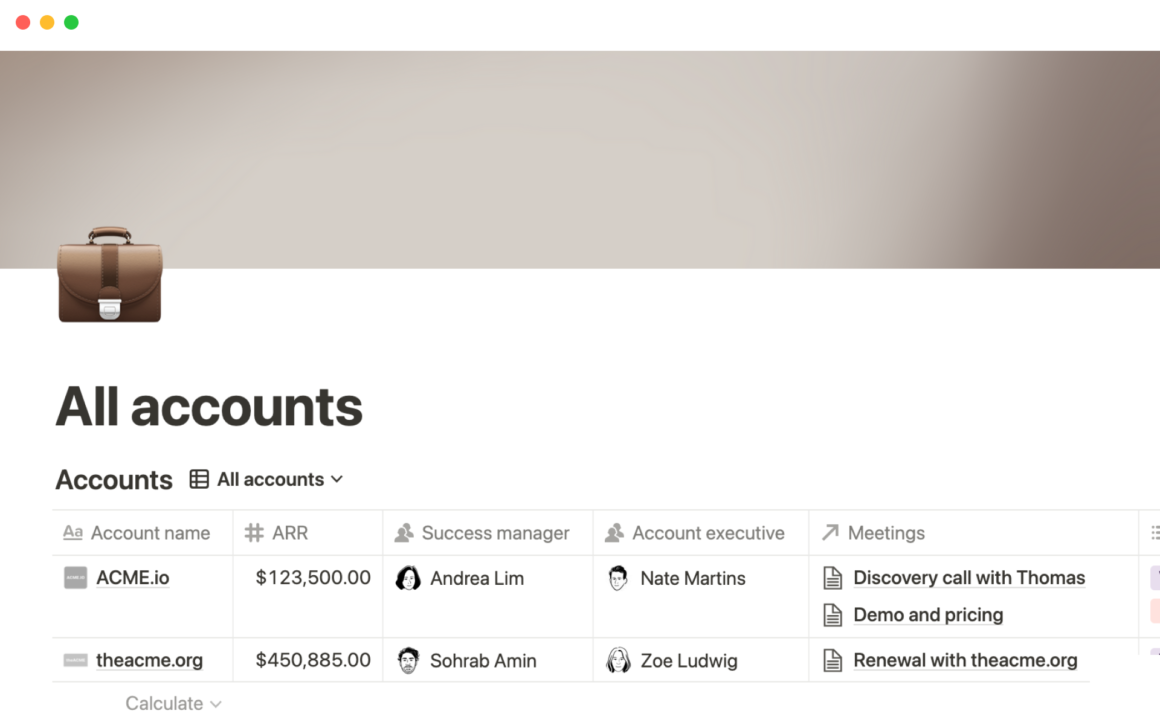 We use this template as a system to instantly score and prioritize any marketing idea we have for our clients. Business owners and marketers can use it to focus on the strategies that are most likely to bring them a return on their effort while minimizing costs and increasing impact.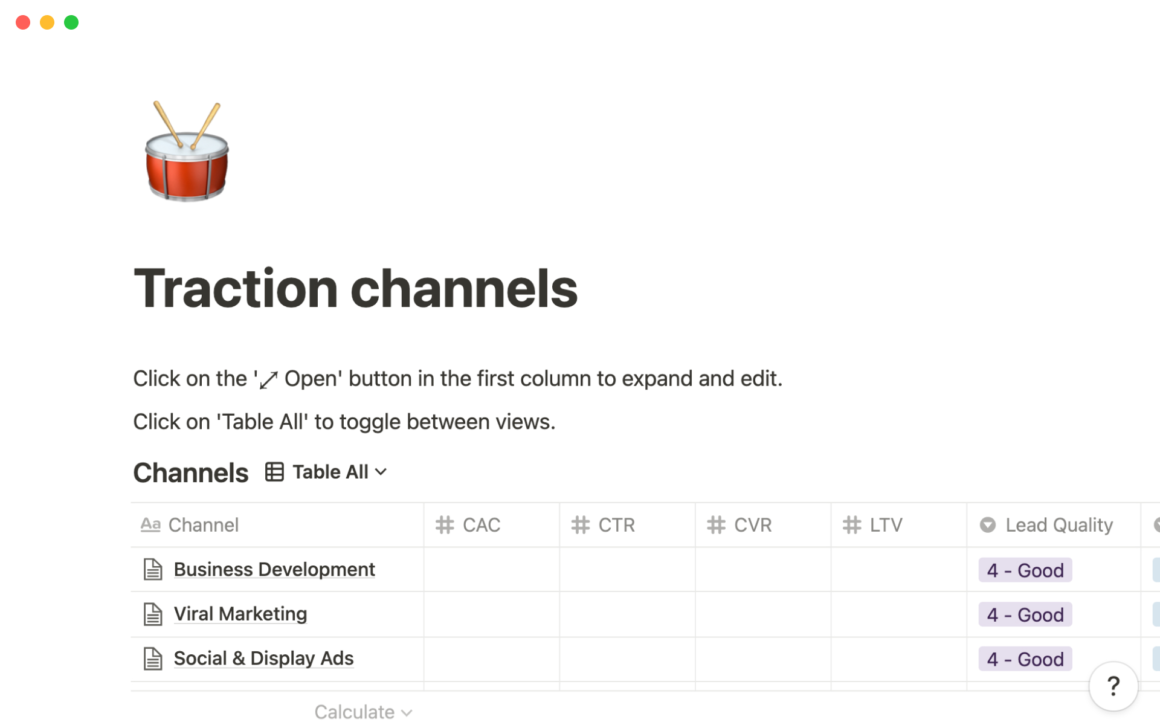 .