Top Digital Planners for GoodNotes (Free & Paid): Explore the coolest digital planners and discover all the fantastic features for planning your life with flair. Going digital this year is a cool choice if you want to ditch the paper and enjoy a fun, organized life.
Why is it cool? Well, digital planning isn't just about keeping up with the times, it's super practical too. Imagine, no more scribbling out mistakes, and everything you need is neatly tucked into one place, from your planner pages to adorable stickers. Plus, it's an eco-friendly option, so you're helping out the planet while you plan. How cool is that? 😎
On the hunt for the perfect digital planner to swap out your trusty old paper notebook? Well, you're in the right place! We've done the legwork and put together a list of awesome digital planners made for GoodNotes on your iPad. We've got options galore: from versatile all-in-one planners to precise time-scheduling ones, and yep, even a nifty freebie digital planner. Plus, there's a whole bunch of designs, so you can pick the one that suits your style.
But before you jump into our suggestions, here are a couple of handy tips to steer you in the right direction.
How to choose the best digital planner for you
Choosing the perfect digital planner is a bit like finding the ideal pair of shoes. It needs to fit just right. Here are some friendly questions to help you discover which digital planner is your Cinderella slipper:
Portrait or Landscape? Do you like holding your tablet tall like a book (portrait) or wide like a movie screen (landscape)? Some planners prefer one over the other, but many are versatile and can adapt. So, think about how you like to hold your tablet.
Simplicity or Full-Package? Are you a less-is-more person, or do you like having all the bells and whistles? If you want something straightforward, look for a planner that doesn't overwhelm you with tons of templates. But if you're the kind who wants to plan every detail of your life, from bills to brunch, you'll find planners that do it all.
From Scratch or Ready-to-Go? Do you want a planner that's a blank canvas, waiting for your creativity to paint it with your ideas and stickers? Or do you want one that's pre-designed and ready to roll from day one, so you can dive right into planning without any setup fuss? It's like choosing between a DIY project or an already assembled one.
Remember, it's all about what makes you feel comfortable and excited. Happy planning!
Elevate Your Planning Game with GoodNotes Digital Planners!
GoodNotes has completely changed the note-taking and organization game, making it easier and more efficient. Its user-friendly interface and impressive range of features have made it a top pick for digital planners. So, if you're on a mission to make your planning process smoother and more eco-conscious, GoodNotes digital planners are the answer. In this article, we've handpicked 21 of the finest digital planners, all tailored to work seamlessly with GoodNotes. 🚀📓
The Benefits of Using GoodNotes Templates
GoodNotes templates provide a foundation for your digital planning journey. These pre-designed templates offer a wide range of layouts, designs, and functionalities to suit various needs. Whether you're a student, professional, or creative individual, GoodNotes templates make it easy to customize your digital planner to match your style and preferences. With just a few taps, you can have a beautifully organized planner at your fingertips.
Explore Your Perfect Fit: 21 Amazing Digital Planners for GoodNotes!
Our handpicked selection of 21 top-notch digital planners compatible with GoodNotes has something for everyone. Whether you adore minimalistic styles or crave vibrant and artistic layouts, you'll find your ideal match here. Dive into a world of planners crafted especially for goal setting, habit tracking, meal planning, boosting productivity, and much more. These digital planners promise a seamless and interactive planning journey, where you can effortlessly flip through pages, jot down notes, and tweak sections to fit your unique requirements. 🌟📚
Gillde's picks for the best and free GoodNotes digital planners for 2023 & 2024
1. 2023 Digital Planner with Reminders by My Daily Planners
2023-2024 Digital Planner with Notifications for Goodnotes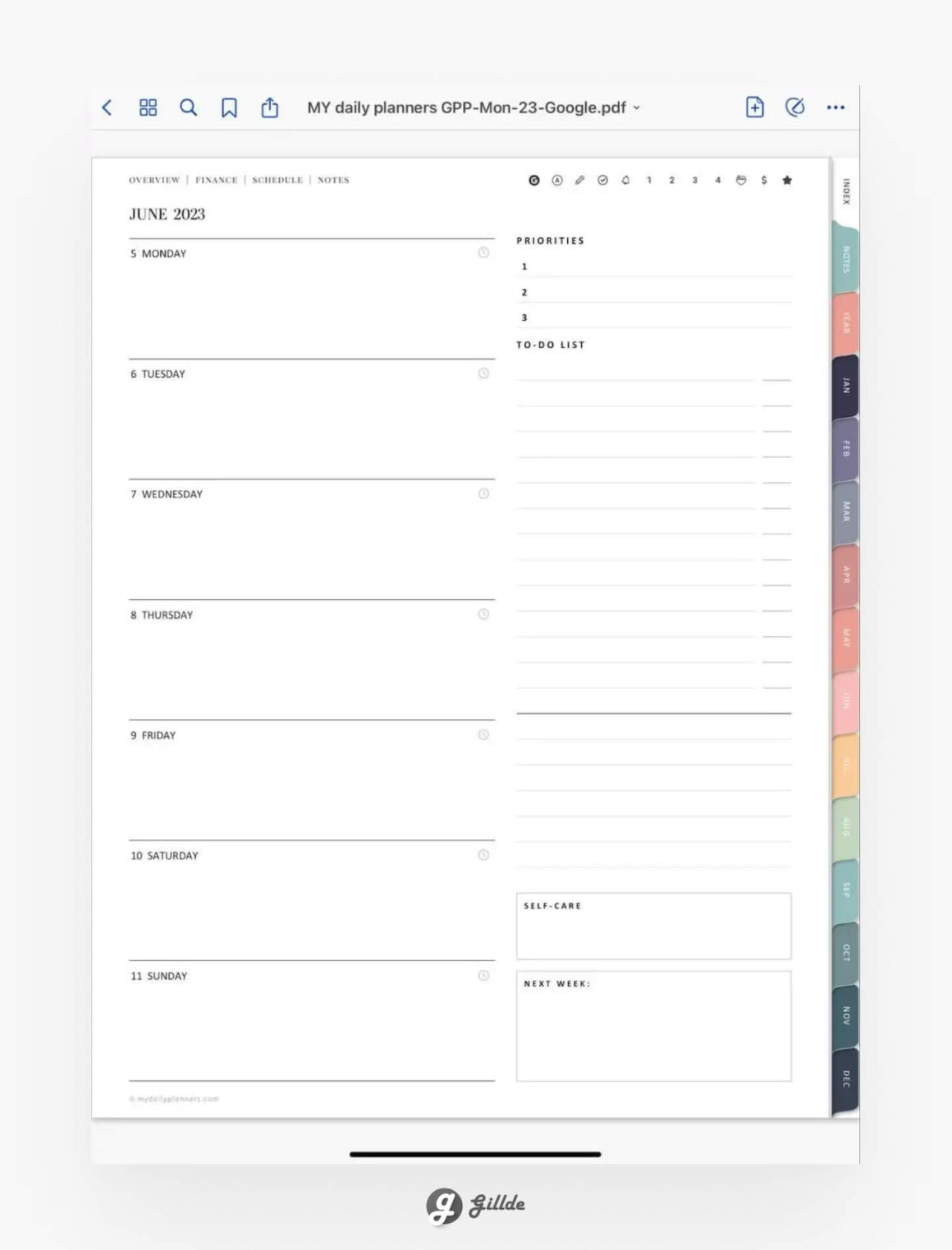 Seamlessly Sync Your Digital Planner with Your Calendar!
This innovative 2023 digital planner comes with a nifty feature – clickable links embedded in its hourly schedules. These links seamlessly open your Google or Apple Calendar app, making scheduling your tasks and events a breeze.
It's a real time-saver, particularly if you're someone who enjoys having your schedule integrated with your calendar app or if you're a fan of time-blocking for increased productivity. Here's how this feature works:
And of course, this digital planner offers your basic daily, weekly, and monthly planning tools.
Highlighted Features:
Effortless Event Scheduling: Quickly add events from your digital planner to your Google or Apple calendar.
Versatile Trackers: Whether you're tracking your financial health, fitness goals, or planning your next adventure, this planner has you covered.
Family and Pet-Friendly: It's not just for individuals. This planner also includes logs for your pets or kids, making it handy for working parents (or paw-rents) to streamline their lives.
This digital planner is perfect for:
Those who appreciate comprehensive templates for managing all aspects of their lives, from finances and family to pets and more.
Individuals who heavily rely on their calendar app to keep their schedules and tasks in check." 🗓️✨
2. Cyberry 2023 digital planner by KDigital Studio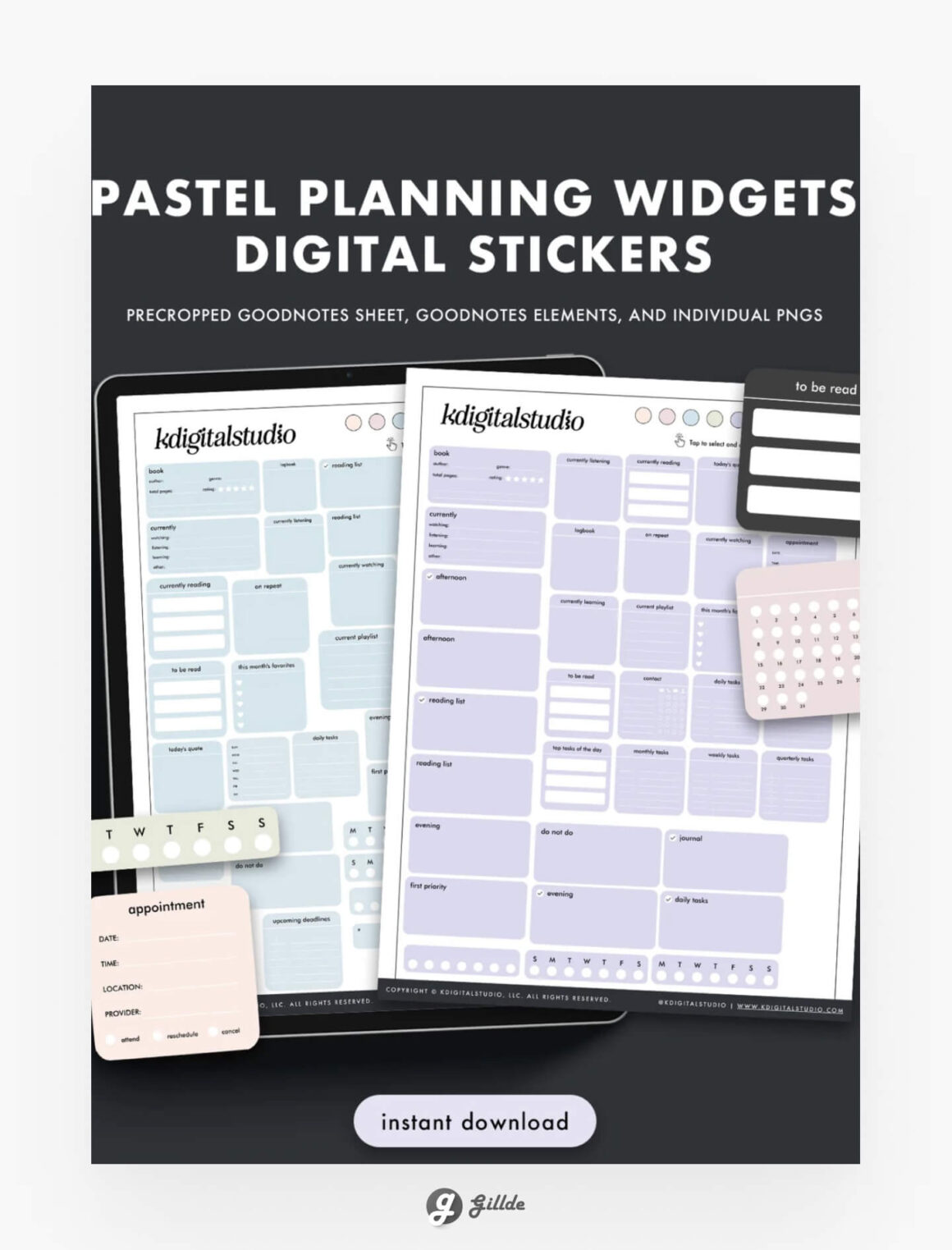 Have you ever wished your digital planner felt as sleek and organized as your favorite mobile apps? If so, you're in for a treat with KDigital Studio's Cyberry 2023 digital planner. This unique black-and-white creation not only looks like the apps you use daily but also helps you keep everything in your life neatly sorted.
If your days are a whirlwind of appointments, projects, and deadlines, Cyberry is here to save the day. Here's why it's perfect for busy bees like you:
Cyberry goes the extra mile by accommodating multiple calendars. So, you can maintain separate schedules for your personal life, work commitments, school responsibilities, or anything else you're juggling. It even lets you create custom calendars, such as one for your social media posts or your blog schedule.
Impressive Features:
Flexible Monthly Views: Easily distinguish your personal, work, business, and school agendas. Plus, you can give custom names to these views.
Your Planner, Your Way: Cyberry rocks a minimalist design that you can tweak to your heart's content.
Join the Community: If you love the digital planning world, Cyberry also offers opportunities to connect with fellow enthusiasts.
Cyberry is your ideal digital planner if you:
Enjoy connecting with other digital planning enthusiasts or exploring the world of online planning.
Lead a multifaceted life, whether you're running a side business, juggling work and studies, or simply wearing many hats.
Prefer a clean, customizable planner to design it according to your unique style." 📅📱🎉
3. 2023 Planner by TemplateStack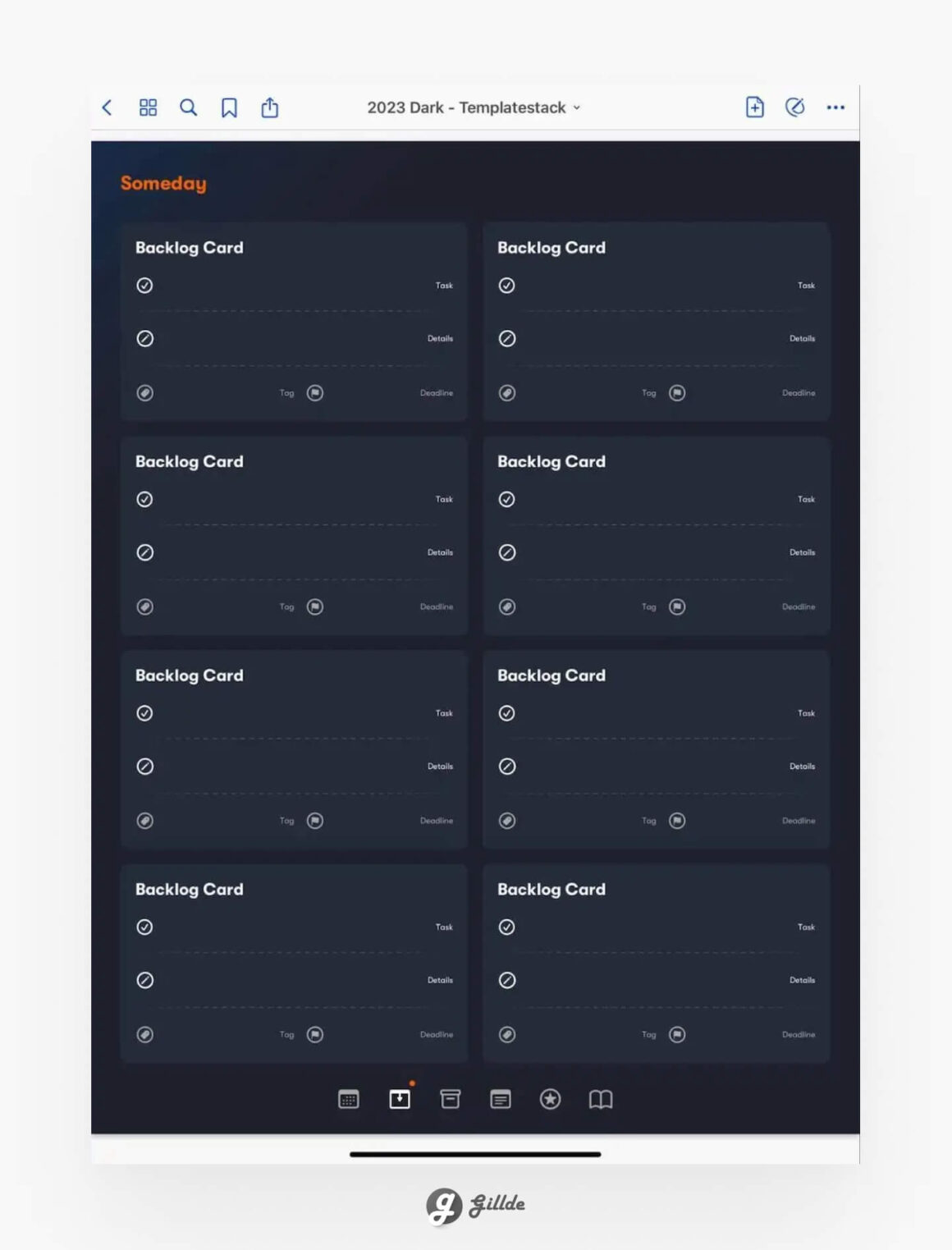 If you're on the lookout for an efficient digital planner that's perfect for scheduling and managing your projects, you've got to check out TemplateStack's 2023 digital planner.
Navigating this digital planner is a breeze, making it an excellent choice for beginners who might be new to the world of internal links and digital pages. So, whether you're a digital planning rookie or a pro, this planner has something to offer.
In addition to the everyday, weekly, and monthly spreads that keep you on track, this planner also brings something special to the table – 'someday' lists.
These lists are perfect for jotting down those to-dos and ideas that don't necessarily have a set timeframe yet. Think of it as your place to record all the cool places you want to visit, the skills you're eager to learn, or the innovative ideas you're planning to bring to life.
What Sets It Apart:
Project Management Magic: For all the go-getters and productivity enthusiasts, this planner is equipped with project management templates. They'll help you steer your projects in the right direction.
Smooth Navigation: Getting around this planner is a breeze, thanks to its user-friendly design.
Bonus Goodies: You're in for a treat because it comes with icons, digital stickers, and even some bonus Cornell notes templates.
This digital planner is tailor-made for:
Anyone who's all about maximizing productivity.
The project management aficionados who thrive on keeping everything in order.
Beginners who want a straightforward and easy-to-use daily planner. Whether you're a planning pro or just starting out, this digital planner has your back." 📆✅🚀
4. The 2023 Focus Course Digital Planner by The Sweet Setup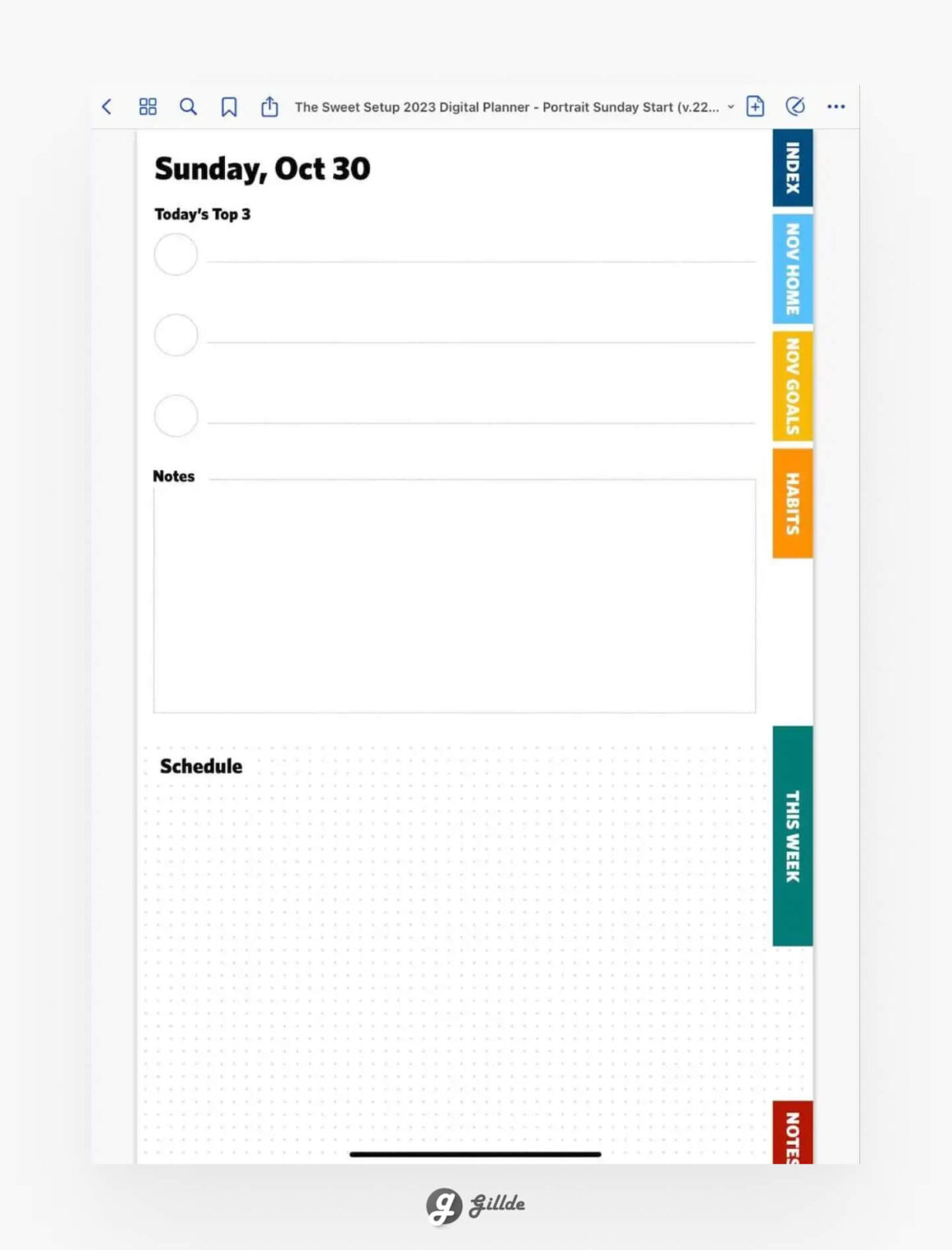 Ready to turn those New Year's resolutions into reality? The Sweet Setup's digital planner is your perfect partner in achieving your goals with a structured planning process.
This digital planner is designed for those who crave a clear path for each day, and that's why every daily page kicks off with a space to list your focuses. It's a fantastic way to set your intentions and keep them front and center.
Now, if you're someone who loves to dive deep into every hour of every day, this planner might not have the sprawling space you're looking for.
Let's talk features:
Monthly Habit Trackers: Keeping up with your habits is a breeze with these trackers. Each day has a dedicated space for your highlights.
Quarterly Focus Statements: These help you reflect and plan for each quarter, keeping you on course to your bigger goals.
Goal-Setting Support: With a structured goal-setting process, you'll get crystal clear on your objectives and the steps to reach them.
Personal Index Page: Ever wished for an easy way to locate specific planner pages? This planner has you covered.
This digital planner is the top choice for:
Those aiming to turn their New Year resolutions into a bigger picture reality, focusing on the grand plan rather than daily nitty-gritty.
Folks who thrive with a structured approach to achieving their dreams.
Anyone who enjoys regular reflection and weekly goal-setting in their planning journey. 📝💫🗓️
5. 2023 Noteamine Digital Planners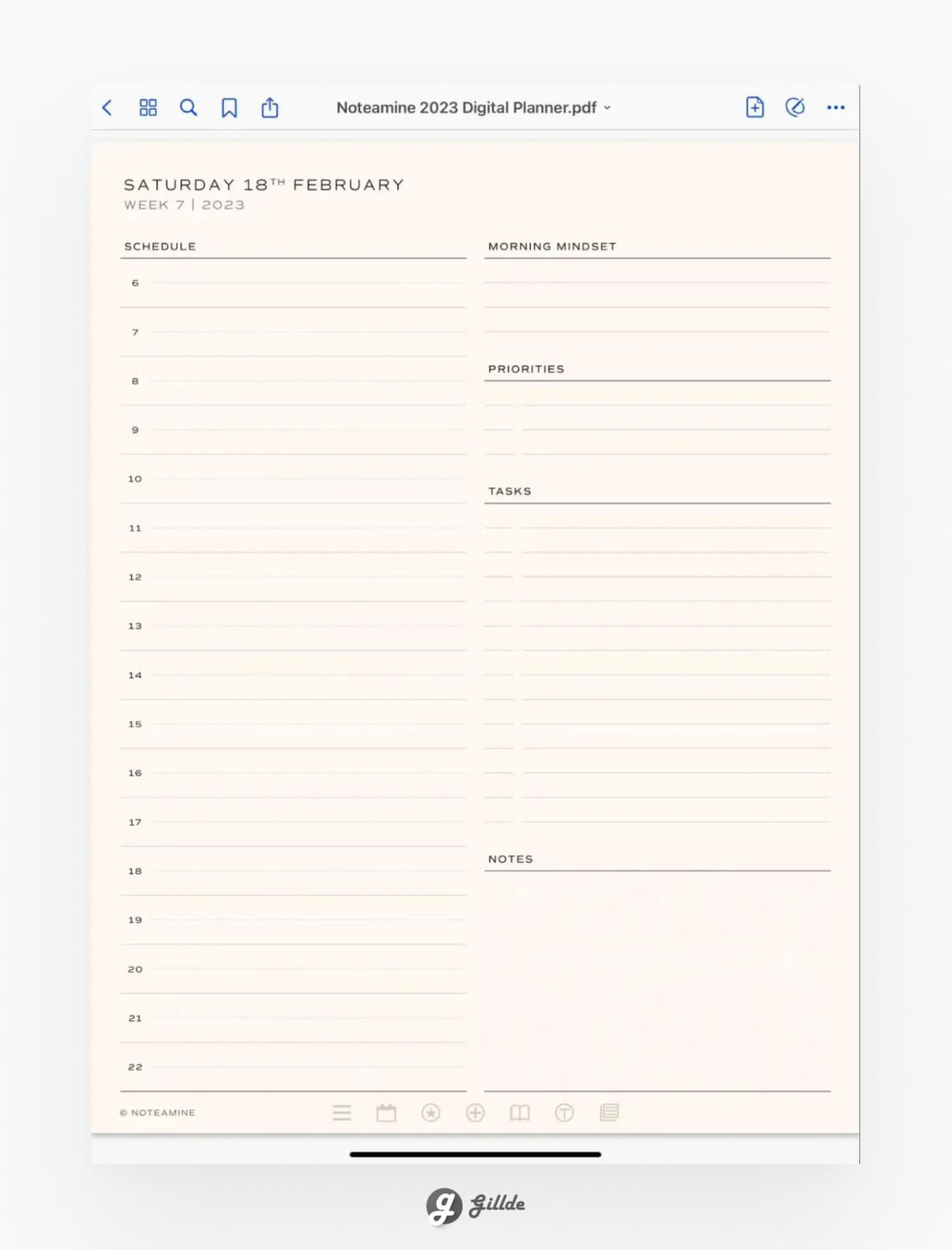 In the quest for a ready-made planner that'll keep you on track with your goals, you might have just stumbled upon your ideal match. The 2023 Noteamine Planner offers a subtle, elegant aesthetic with classic fonts and calming soft beige page colors, making it the perfect digital companion for a poised and focused year ahead.
But what sets this planner apart are the thoughtful features:
Reflection and Goal Setting System: A complete system to help you reflect, plan your goals, and get your life on the right track. It's not just about scheduling; it's about mindful living.
Brain Dump Section: We all have those moments of brilliant inspiration. With the Noteamine Planner, you've got a dedicated space to jot down all those ideas and notes.
Daily, Weekly, and Monthly Reflection Pages: These come with reflection prompts, ensuring you stay in tune with your progress and your dreams.
Extras: It doesn't stop at planning. There are travel logs, contact lists, cleaning templates, and more, so it's not just about your goals; it's about every aspect of your life.
This planner is the top choice for:
Those who desire a digital planner with a timeless, elegant aesthetic where everything is just perfect as it is, no need for tweaking.
People in search of a digital planner that's more than just a calendar, one that's a true companion in their journey towards realizing their goals. 📔✨📆
6. Paperlike's Free Digital Planner 2023
Paperlike's free digital planner's biggest asset is their generous space allocation for daily pages.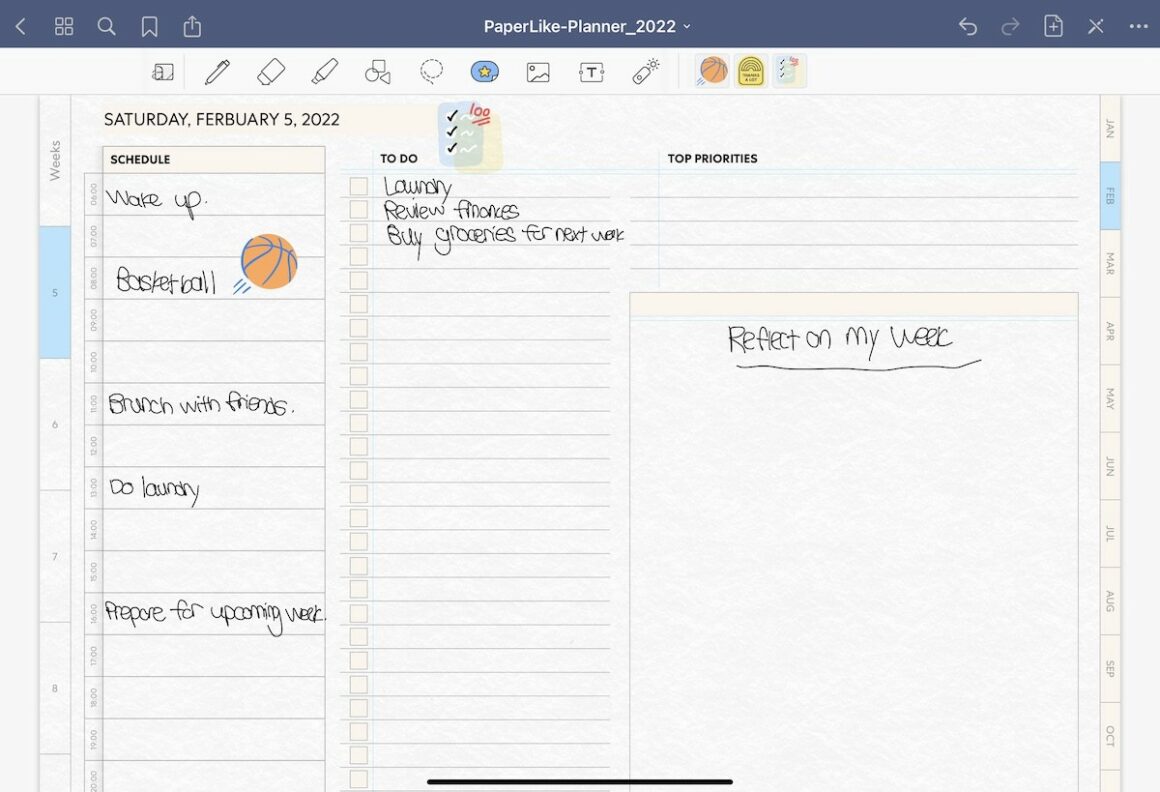 Includes:
Visualize your week at a glance with weekly spreads with hourly breakdowns by day
Clickable tabs to navigate between months
Daily pages for each day of the year. Includes space for to-dos and notes, doodles and stickers.
Recommended for:
Minimalist planners who love simple, functional designs with lots of space
People who plan each hour of their day
People looking for a free digital planner that's still comprehensive and high-quality
7. Free Digital Planner, with Self-Care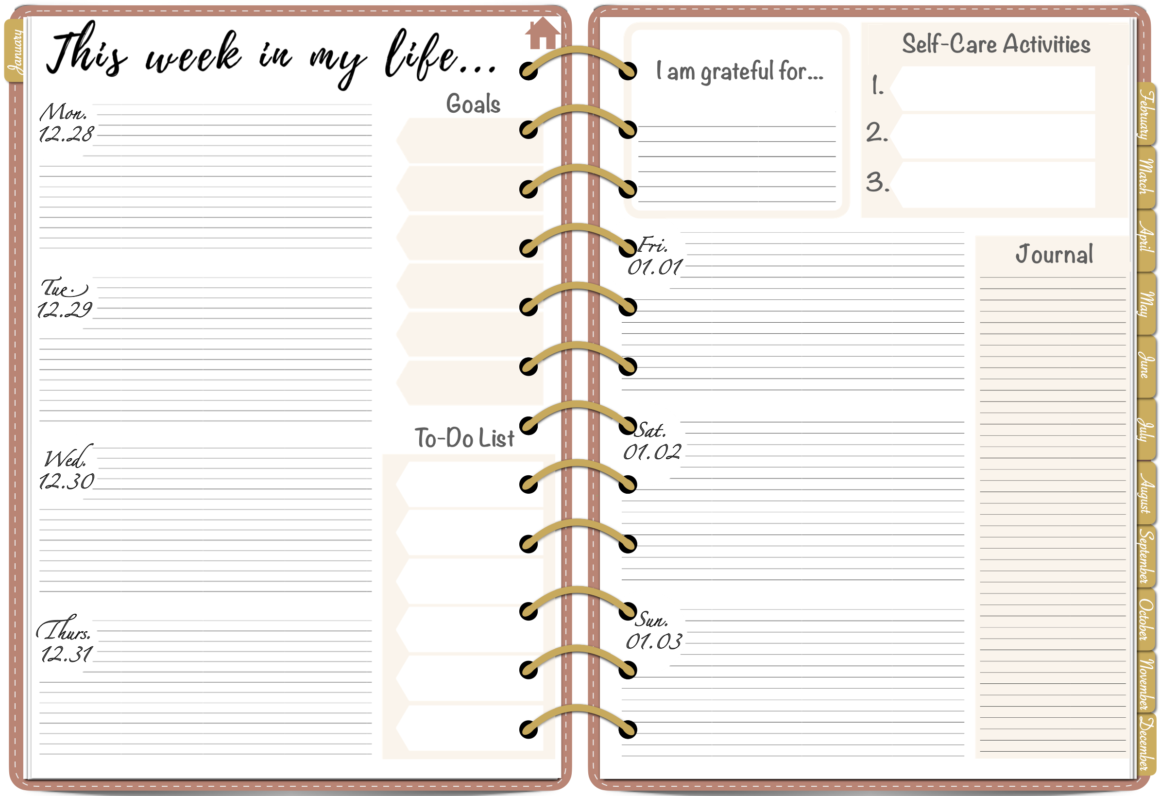 Features:
Weekly Horizontal Layout
Monthly Layout
"Flippable" Monthly Tabs
Navigation Links
Home button
To-Do List
Goals List
Gratitude Insert
Monday-Sunday Start
Monthly Priorities List
8. Free Digital Weekly Habit Trackers (8 Designs)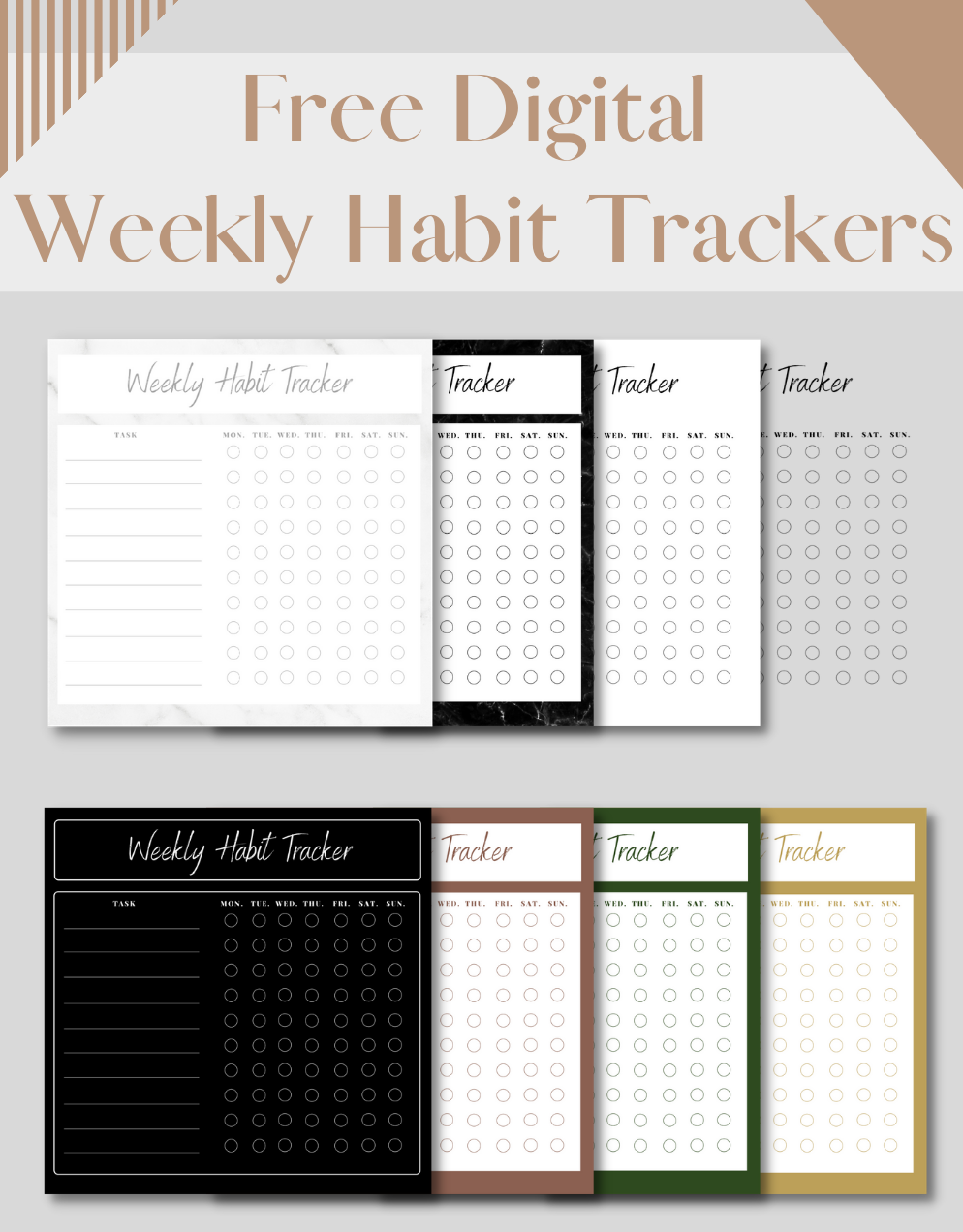 The weekly and daily habits I track each week include:
Exercise
Journaling
Intentional relaxation time
Cleaning / tidying my house and room
Drinking 3 cups of tea per day
Drinking three bottles of water per day
Reading for at least 30 minutes
Waking up by 7 am
Going to bed by 12am
No fast food or take out
Blogging
Studying for my law school entrance exam
9. Daily Digital Life Goodnotes Planner
Get ready to supercharge your planning with the Digital Planner 2023 by KayaPlanners. This planner is tailor-made for digital planning tools like GoodNotes and Notability, turning your iPad into a powerhouse of organization. Priced at just CA$4.29, it's a steal for all the features it offers.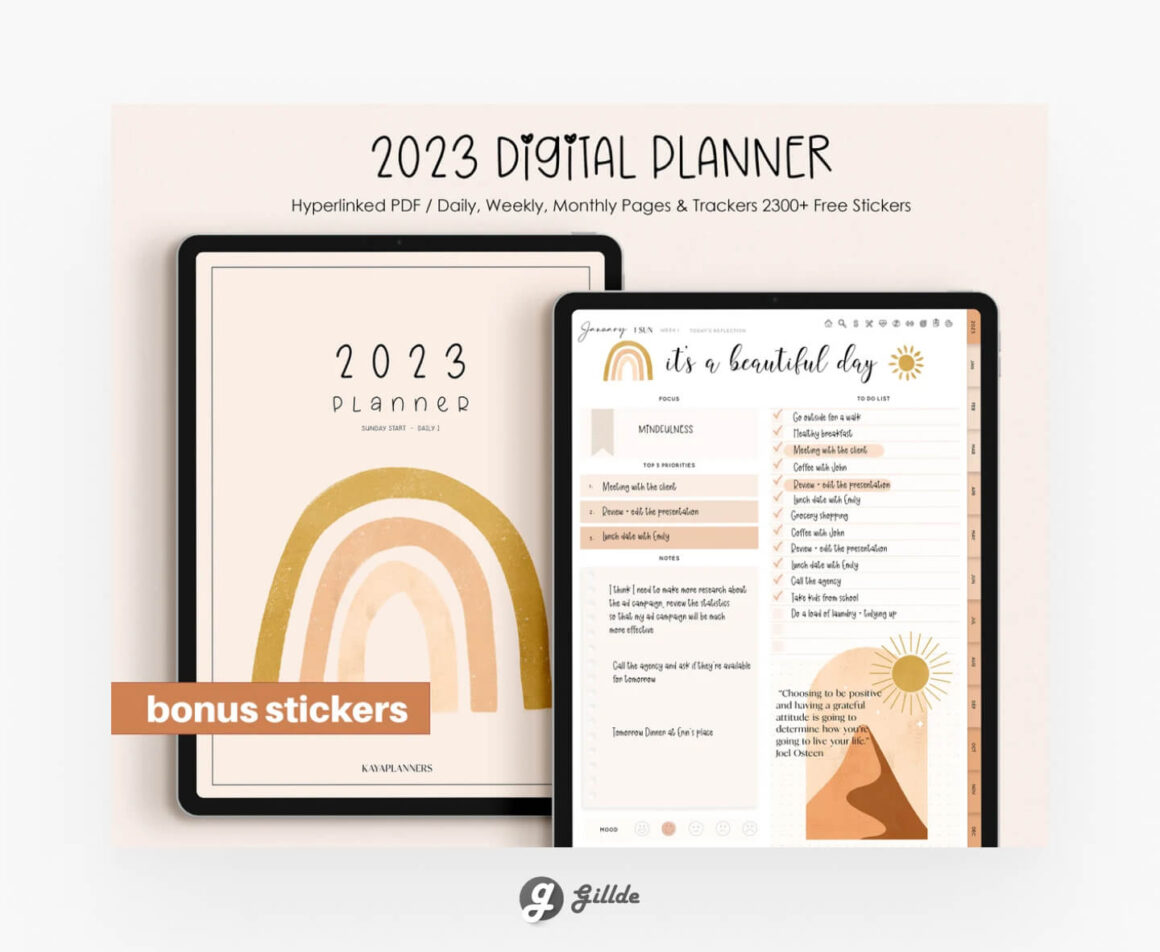 Here's a glimpse of what you'll get:
📅 PLANNER FEATURES
Professionally designed in Adobe Suite.
Fully hyperlinked for easy navigation.
Options to start your week on Sunday or Monday.
Weekly layouts are linked to the schedule, review, and meal planner for that specific week.
Two daily page layout options.
All-in-One Monthly Index for quick access to your monthly pages and trackers.
All-in-One Weekly Index for easy navigation to your weekly pages and trackers.
12 Custom Sections.
9 Projects Sections to keep you on top of various tasks.
9 Goals Sections to help you chase your dreams.
A Recipe section linked to 40 delectable recipes.
8 notepaper templates that you can copy and paste as needed.
6 main categories covering finance, wellness, nutrition, fitness, productivity, and lifestyle.
📜 INDEX OF THIS PLANNER
A well-structured index to help you find what you need.
Everything from Yearly Calendar to Daily Reflections is included.
Weekly and Monthly sections keep your plans organized.
Dedicated sections for your financial, wellness, nutrition, fitness, productivity, and lifestyle needs.
Custom sections for you to personalize as you wish.
📋 BONUS And as if this comprehensive planning tool isn't enough, you get a whopping 2370 Digital Planner Stickers as a bonus! Check them out here.
This Digital Planner is like your personal life organizer, helping you keep your life balanced, organized, and productive. You've got sections for everything from finances and wellness to nutrition, fitness, and productivity. Plus, an array of templates for your notes.
Detailed help guides are included, but don't forget, KayaPlanners is just a message away if you need assistance.
So, if you're looking to bring some serious structure and organization into your life, this Digital Planner is a fantastic choice. And at CA$4.29, it's not just a planner; it's a digital planning powerhouse. 📆📈🎯
10. PREMIUM Daily Planner for GoodNotes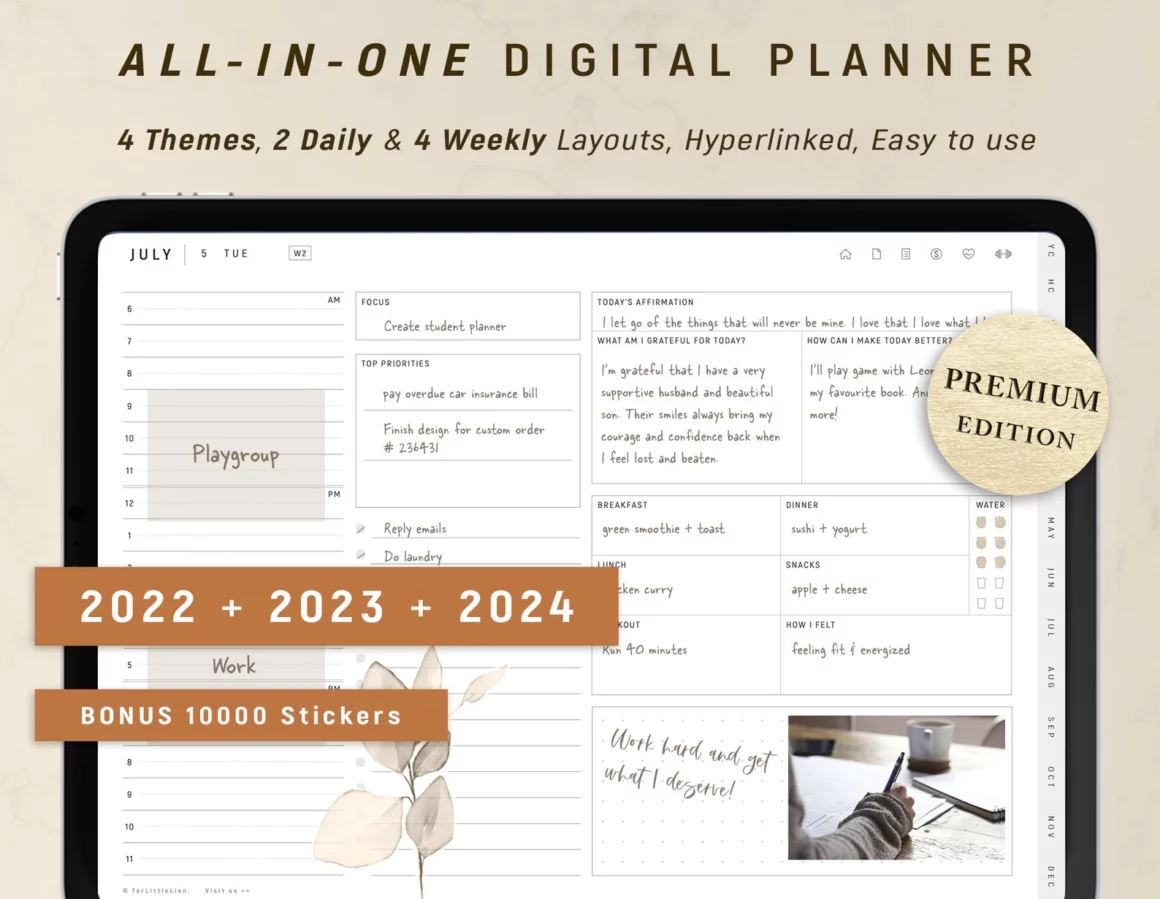 Premium All-In-One Digital Planner features:
Includes 3 dated planners
Professionally designed with thousands of hyperlinks for quick and easy navigation
Includes 64 variations of the planner (Landscape mode)
4 themes – PASTEL, BOHO, GREY & PINK
Covers everything to help you stay organized and keep track of your life and work
450+ stickers preinstalled in GoodNotes file for easy access
FREE 10000+ precropped digital stickers in varying colors (individual PNG files)
12 beautiful covers
All pages can be easily duplicated and/or removed
11. 12 Tab Digital Notebook for GoodNotes & Note-taking App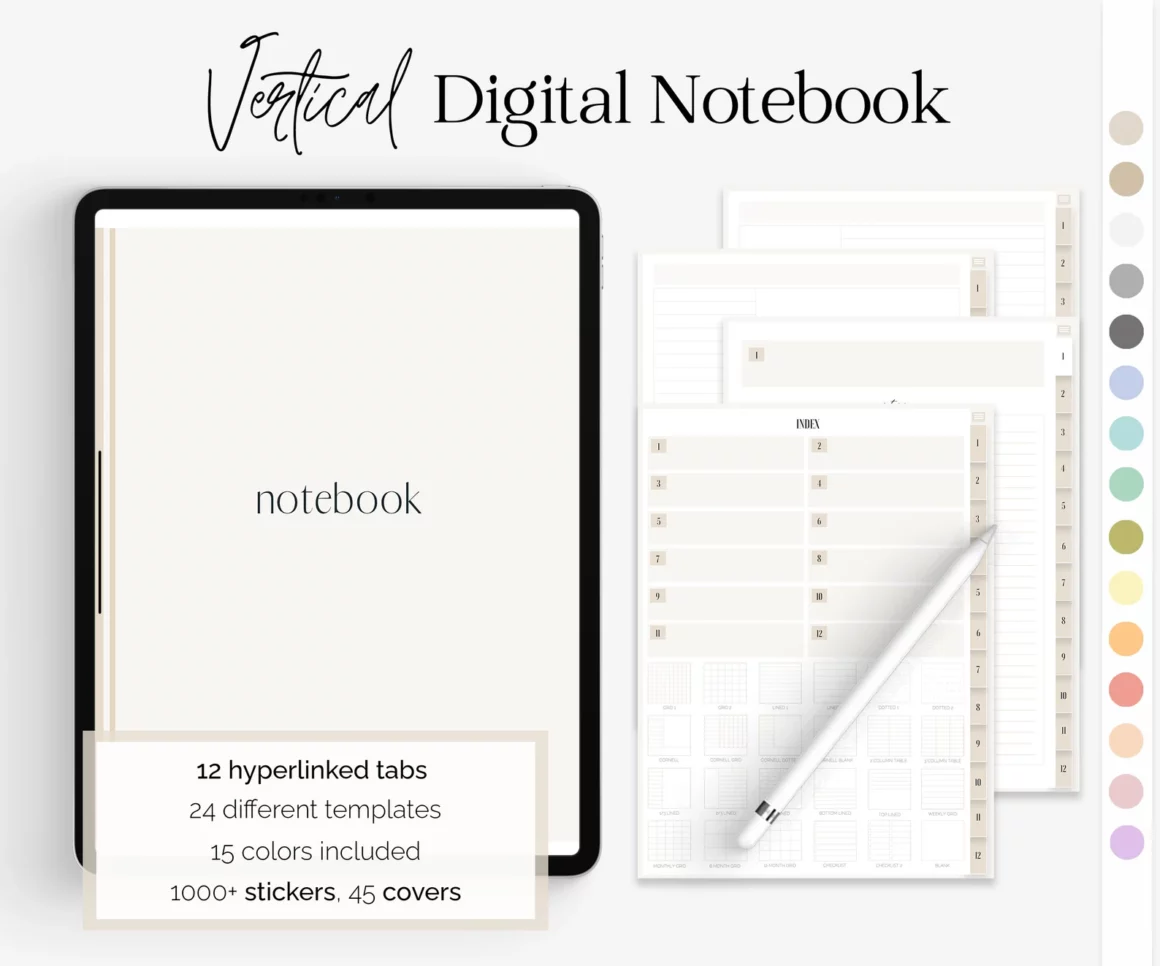 What's inside?
Cover page
Index page
12 Section Dividers
24 Page Templates
1000+ stickers (png files and Goodnotes sticker book)
15 different color themes, which means you're getting 15 different
12. Undated Dark Mode Digital Planner for Goodnotes
Are you in search of a versatile digital planner that adapts to your needs? Look no further than the Undated Dark Mode Digital Planner. This planner is a perfect companion for your PDF annotation app, whether it's GoodNotes, Notability, or any other similar tool on your trusty iPad or tablet.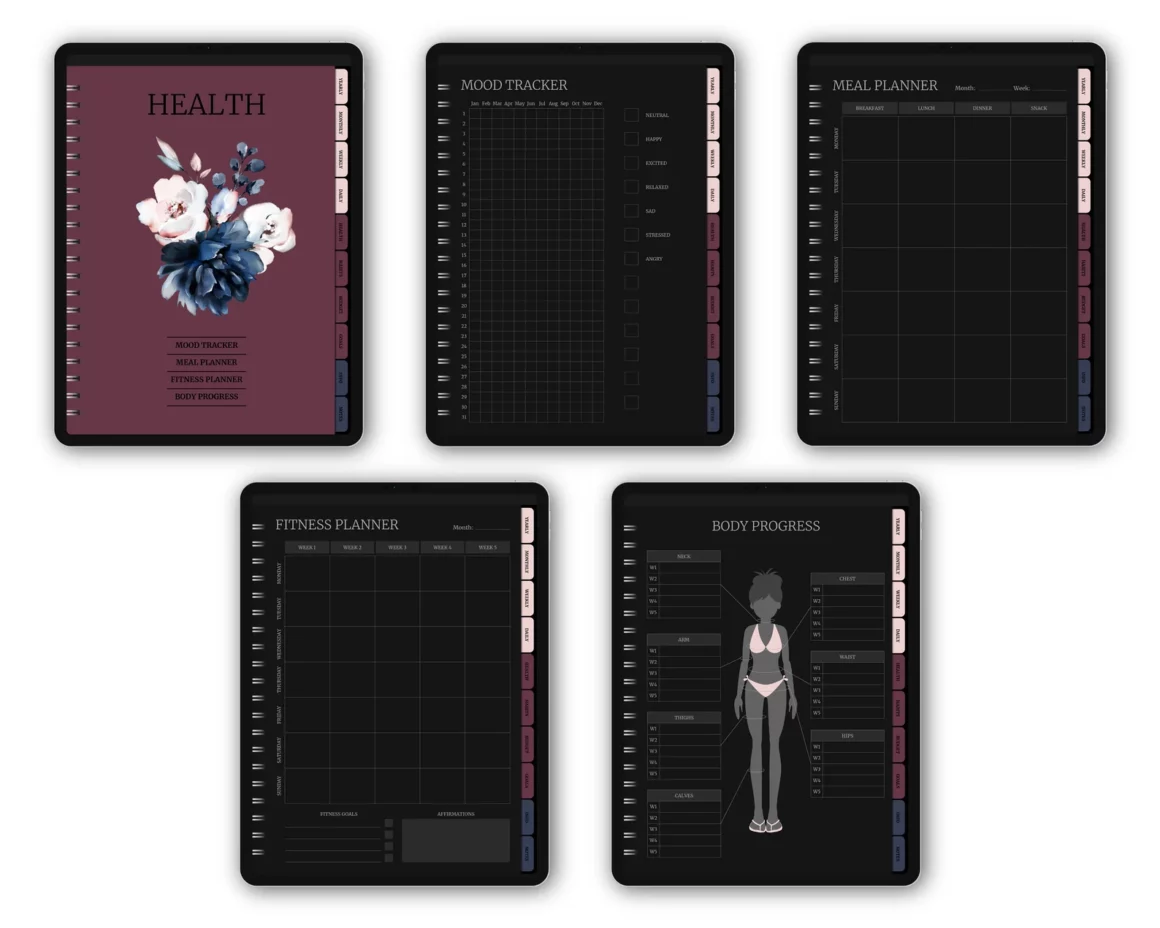 Why is it so impressive? Let's dive into its features:
Hyperlinked Divider Pages (10 of Them): Say goodbye to endless scrolling. Find what you need with a simple click.
Yearly Overview: Start with the big picture in mind, and then get into the details.
Monthly, Weekly, and Daily Planner Pages: Whether you're planning your month, your week, or your day, this planner has got you covered.
Mood Tracker: Keep tabs on how you're feeling because emotional health matters too.
Meal Planner: Plan your culinary adventures, from daily dinners to special occasions.
Fitness Planner: Achieve your fitness goals one workout at a time.
Body Progress Page: Track your journey to a healthier you.
Habit Tracker: Build good habits, one day at a time.
Expense Tracker and Revenue Tracker: Manage your finances and keep an eye on your income.
Monthly Budget: Stay on top of your money and make it work for you.
Goal Planner: Dreams without a plan are just wishes. Make your dreams a reality.
My Goals Page: A dedicated space to keep your goals front and center.
Password Tracker for GoodNotes: Safely store your important passwords.
Contact List: Never forget a friend's number or email again.
Birthday Tracker: No more belated birthday wishes.
Notes Pages: Whether you prefer lined, grid, or dotted pages, there's room for your thoughts.
Vision Board: Visualize your dreams and make them happen.
GoodNotes Sticker Book with 1800+ Stickers: Add some fun and color to your digital planner.
Individual PNG Files of 1800+ Stickers: Customize to your heart's content.
This digital planner is perfect for anyone who wants an all-in-one solution for their digital planning needs. It's like having a personal assistant at your fingertips. 📅📈📝🎉
13. Project Planner Digital Template for GoodNotes
4 Colors – White / Dark / Off white (Paper texture) / Beige (Paper texture)
Modern Minimalist Design
For Digital use
+Plus Printable / Editable PDF – Letter Size (available in white color)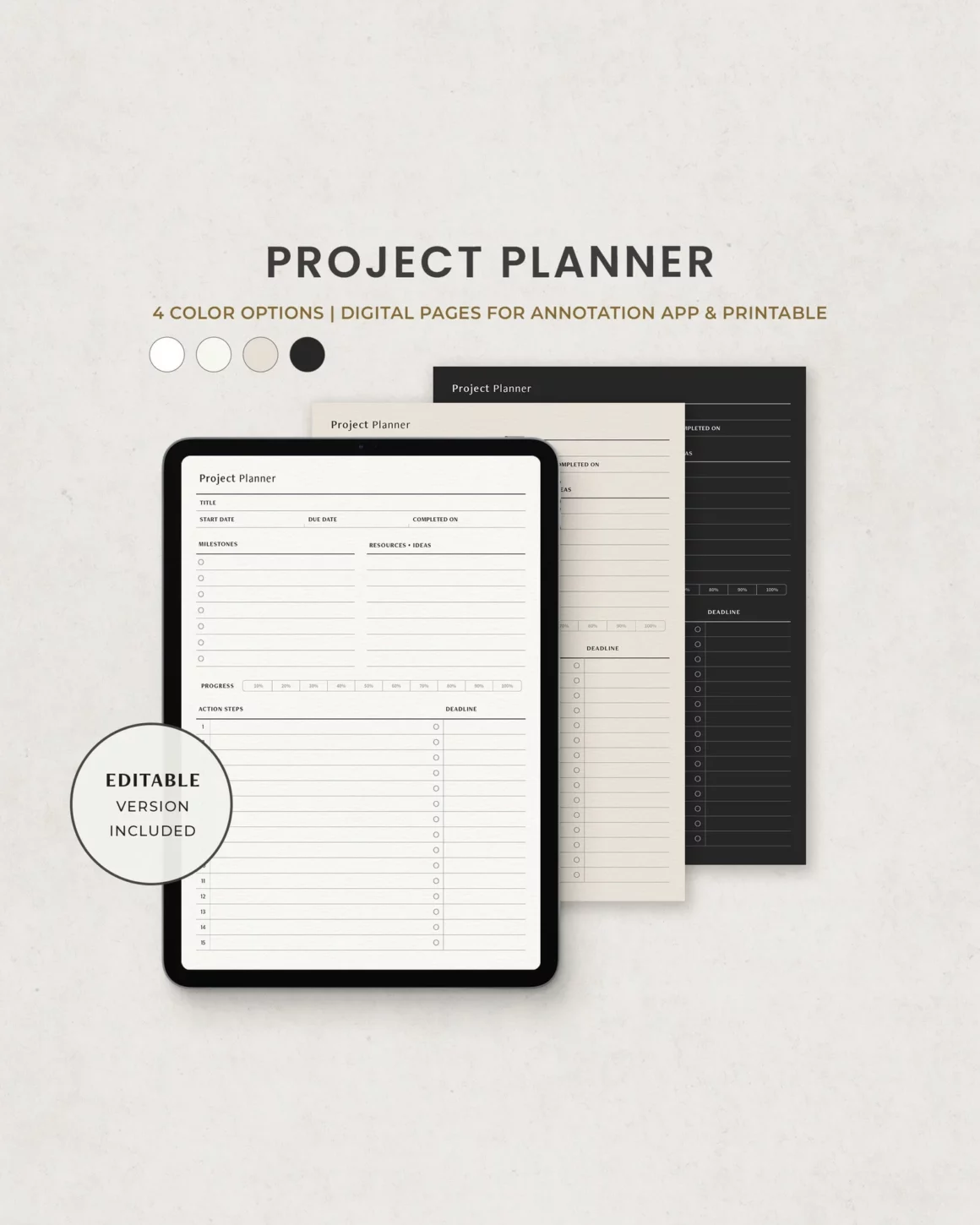 14. Undated Digital Planner for Goodnotes
This Undated Planner is designed to be used on any PDF annotation app such as GoodNotes, Notability etc, on your IPad or tablet device. However, I would personally recommend usage on an IPad with an apple pencil and Goodnotes App. You will receive a PDF with Instructions on how to install your Planner.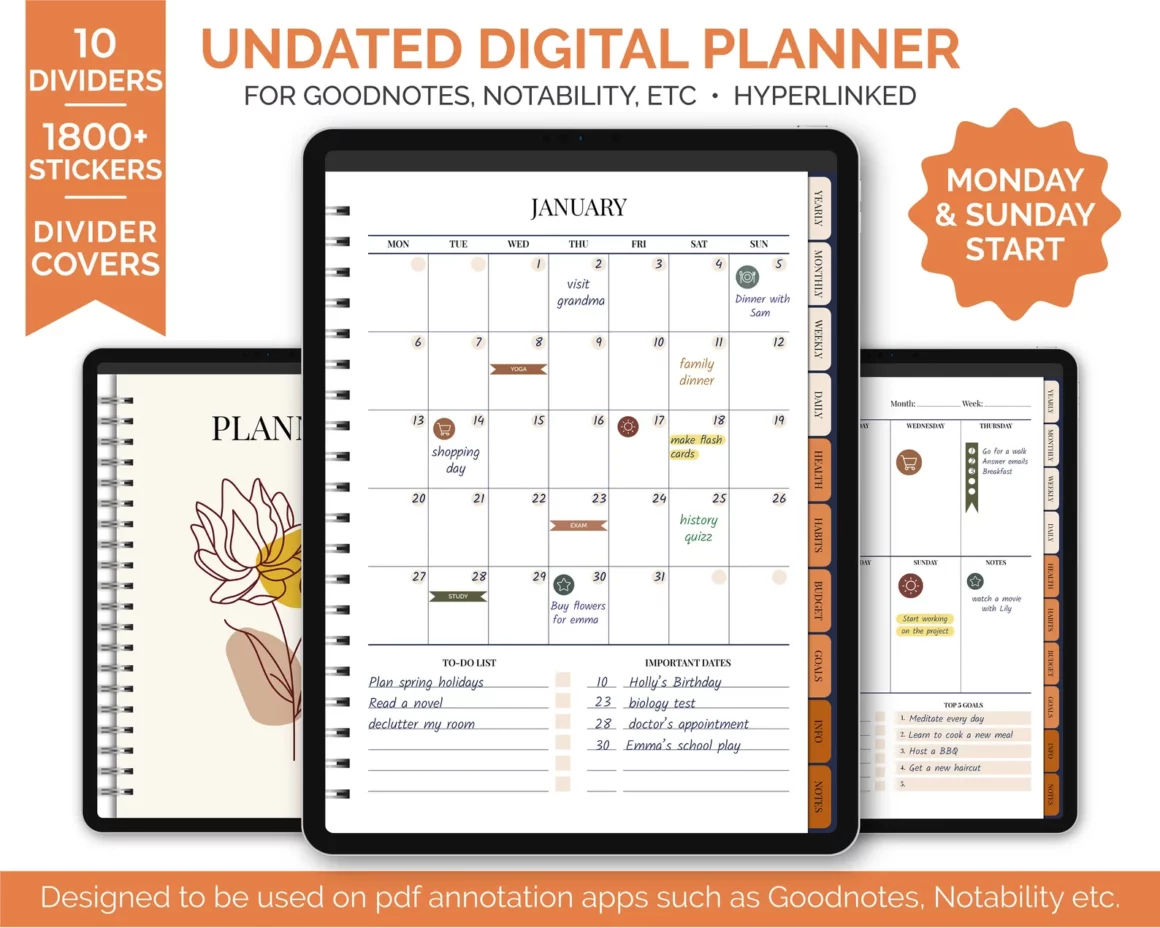 Features:
10 Hyperlinked Divider Pages
Yearly Overview
12 Monthly Planner Pages
4 Weekly Planner Pages
7 Daily Planner Pages
Mood Tracker
Meal Planner – GoodNotes
Fitness Planner
Body Progress Page
Weekly Habit Tracker
30 Day Habit Tracker for GoodNotes
Expense Tracker
Revenue Tracker
Monthly Budget
15. Digital Planner Boho BUNDLE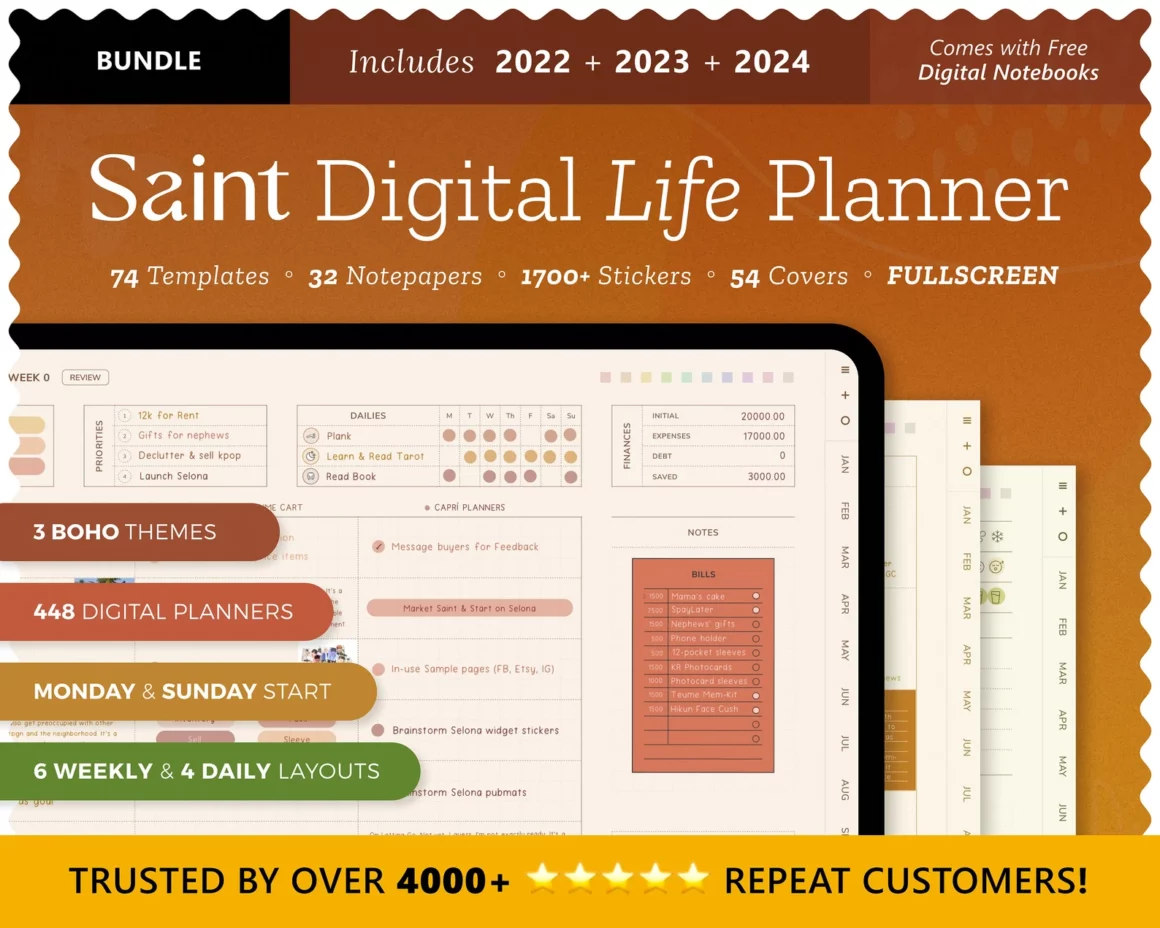 FEATURES OF DIGITAL PLANNER
Minimalist and functional design for maximum productivity
wider dimensions to fully fit the screen and for more space to write on
3 Boho Themes (Autumn, Huntress, Ochre) [only 2023 includes White]
6 Weekly Layouts (Dashboard, Horizontal 3 Divisions, Horizontal Notes, Vertical Scheduler, Vertical Tasks & Vertical Basic) [2023 does not include Vertical Basic]
4 Daily Layouts (Standard, Productivity, Wellness, Canvas)
Sunday or Monday Week start
• 1334 PNG Stickers
• 454 pre-cropped Stickers for Goodnotes
includes editable SMART Stickers
• 54 Digital Covers
• Instruction Manual for Goodnotes
16. iPad Planner for GoodNotes
This digital planner was designed to be the ultimate general purpose productivity and lifestyle tool. Whether you are setting goals, tracking lifestyle elements, or simply just trying to stay organized, this planner will help you do it.
17. The Ultimate GoodNotes Digital Planner
The Ultimate Digital Planner has been created with maximum productivity in mind while maintaining a clean and minimal design layout making it feel just like a real planner and giving you loads of space to write all your plans.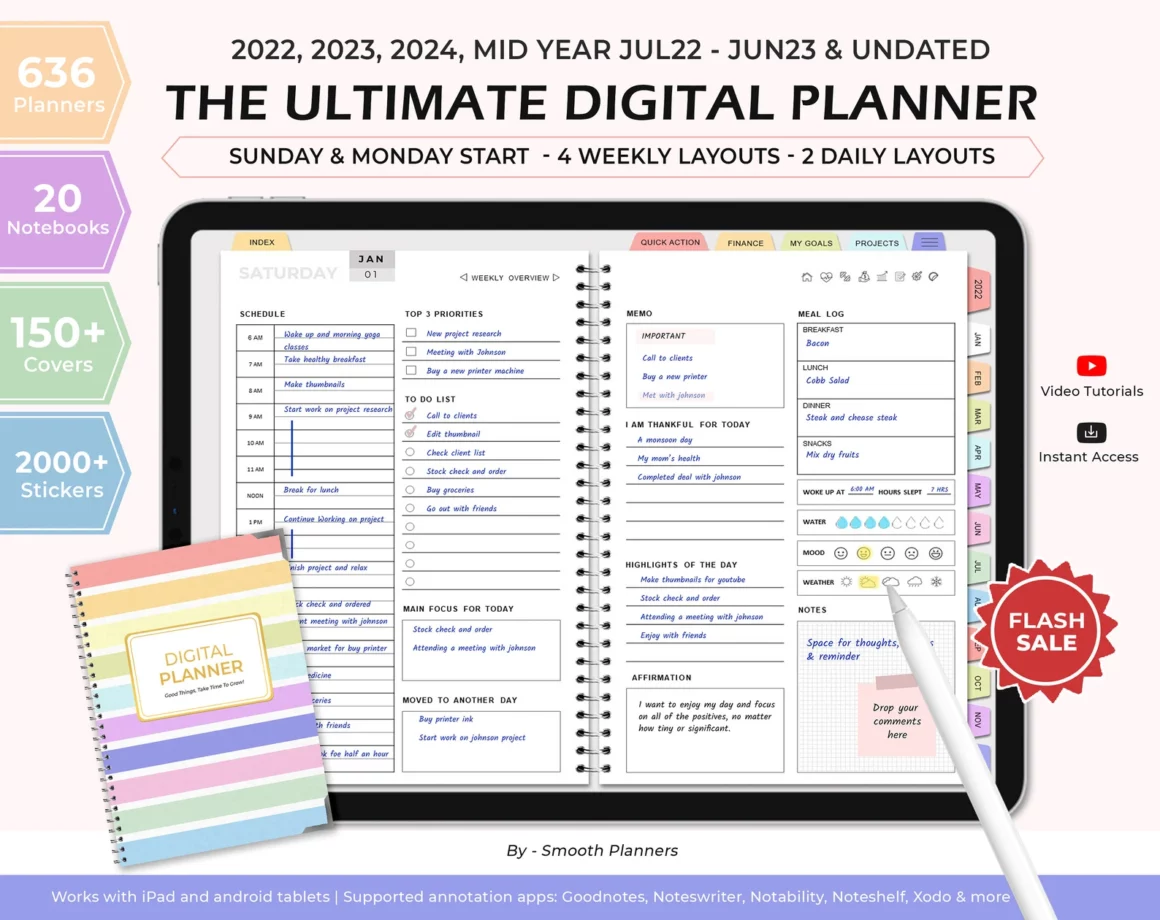 Key Features:
Rainbow Tab colors
4 Weekly Planner page options (Boxed, Horizontal, Vertical & Scheduled)
2 Daily Daily Planner page options (Structured & Minimal)
Week starts with Monday & Sunday.
18. Free Self Care Tracker for GoodNotes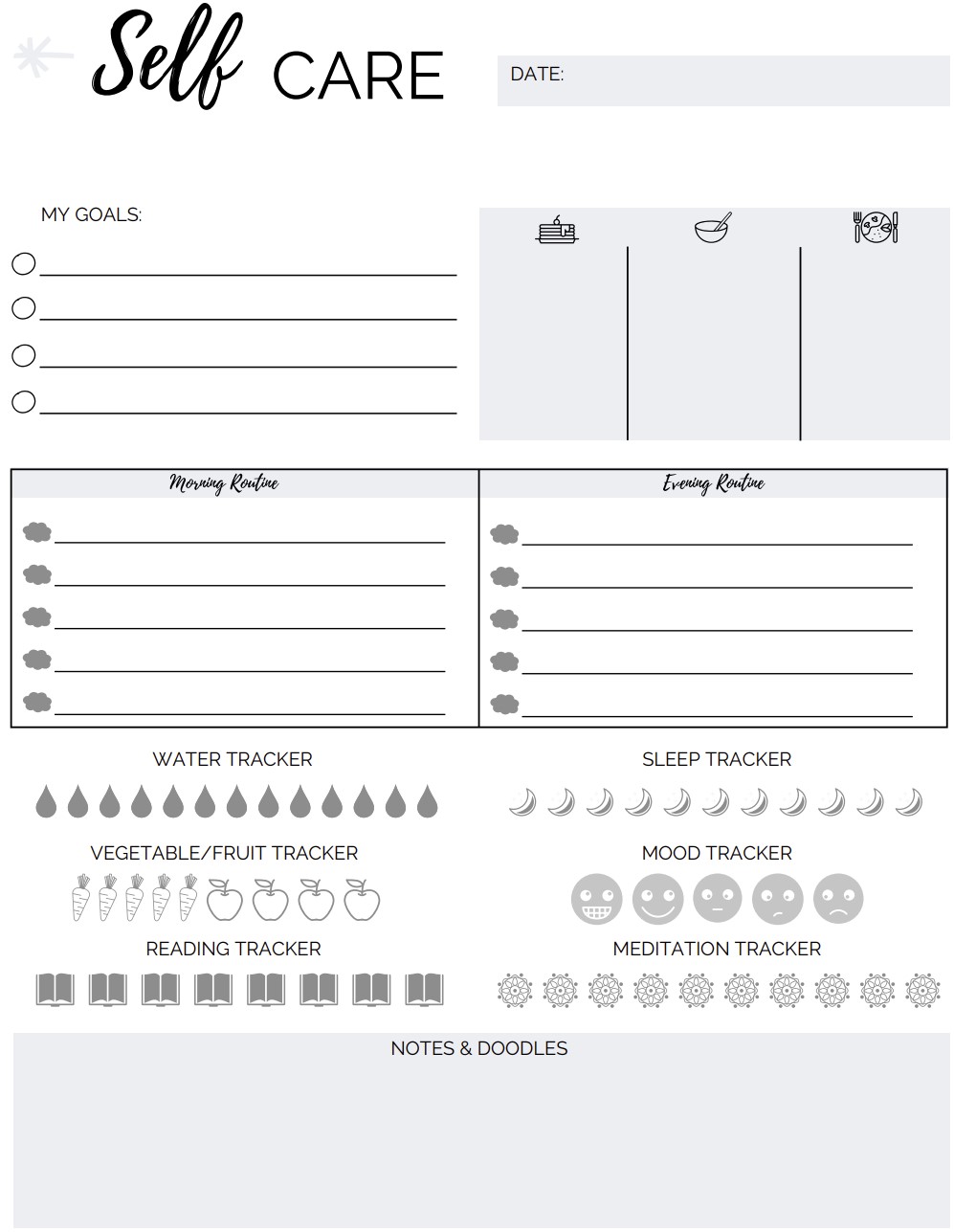 is for focusing on your nutrition and eating healthy.
you can write out your morning and
consists of various self-care trackers you can use to track your reading goals, water goals, meditation goals, etc.
is simply for writing notes.
19. Digital Cream Notebook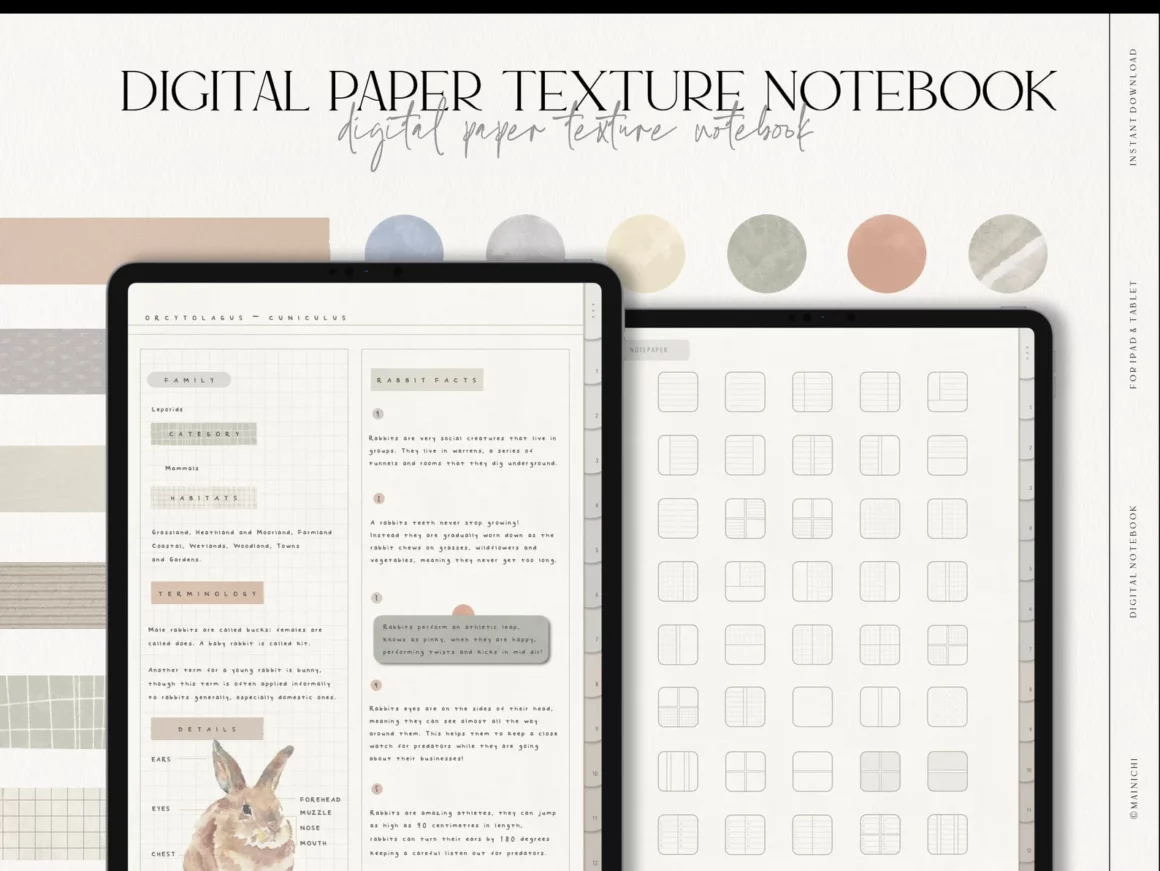 Mainichi Notebook allows you to create and organise your notes efficiently. Divided into 13 hyperlinked sections for quick access by simply tapping the section you wish to view, each section has 3 sheets of lined paper pre-installed. Multiple paper options are also provided and you can add unlimited amount of sheets per section as required!
20. Retro Daily Digital Stickers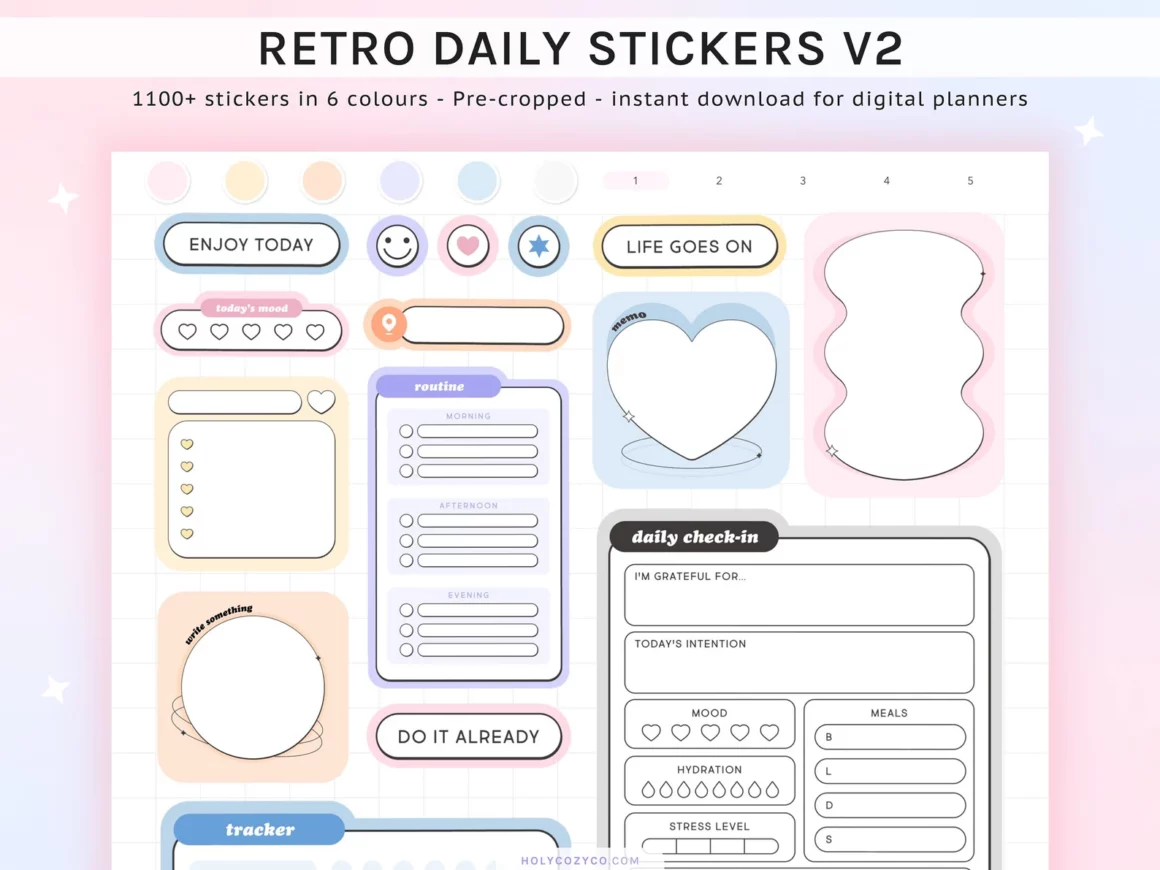 Hyperlinked Digital Sticker Book , 1100+ stickers in 6 colors. Decorate your digital planner with these cute 90s pre-cropped goodnotes stickers, included PNGs for notability and other note taking apps.
21. Portrait Digital Planner RAINBOW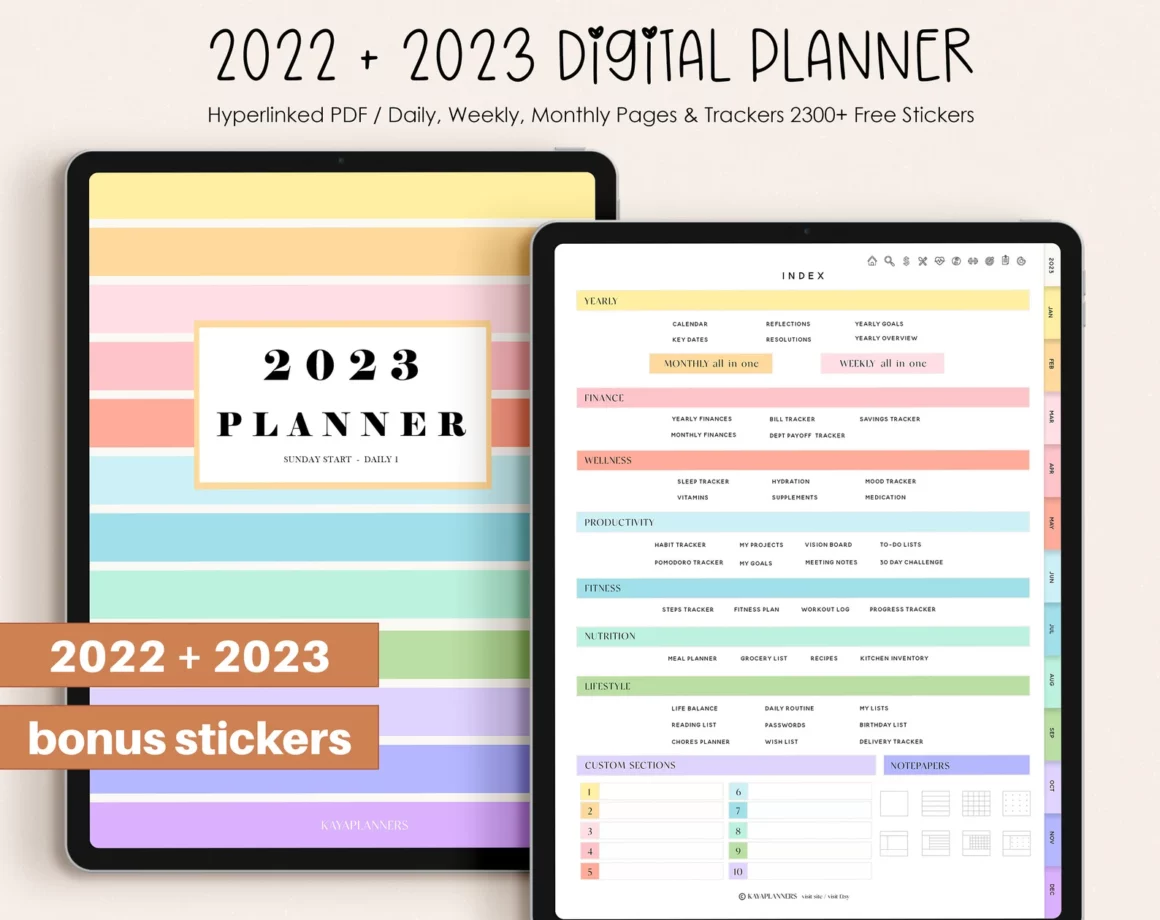 Key Features:
Professionally designed in Adobe Suite
Fully hyperlinked for easy navigation
2022 and 2023 Full Year Planners
Sunday or Monday start options
Each weekly layout is linked to weekly schedule, weekly review and weekly meal planner for that particular week
2 Daily page layouts options
All-in-One Monthly Index to access all your monthly pages, trackers at a glance
All-in-One Weekly Index to access all your weekly pages, trackers at a glance
12 Custom Sections
9 Projects Sections to keep track
9 Goals Sections to keep track
Recipe section hyperlinked to 40 recipes
8 notepaper templates that you can copy and paste endlessly according to your needs
6 main categories (finance, wellness, nutrition, fitness, productivity, lifestyle)
22. 12 Tab Digital Notebook Minimalist for GoodNotes
This digital notebook will be the best notebook to help your study.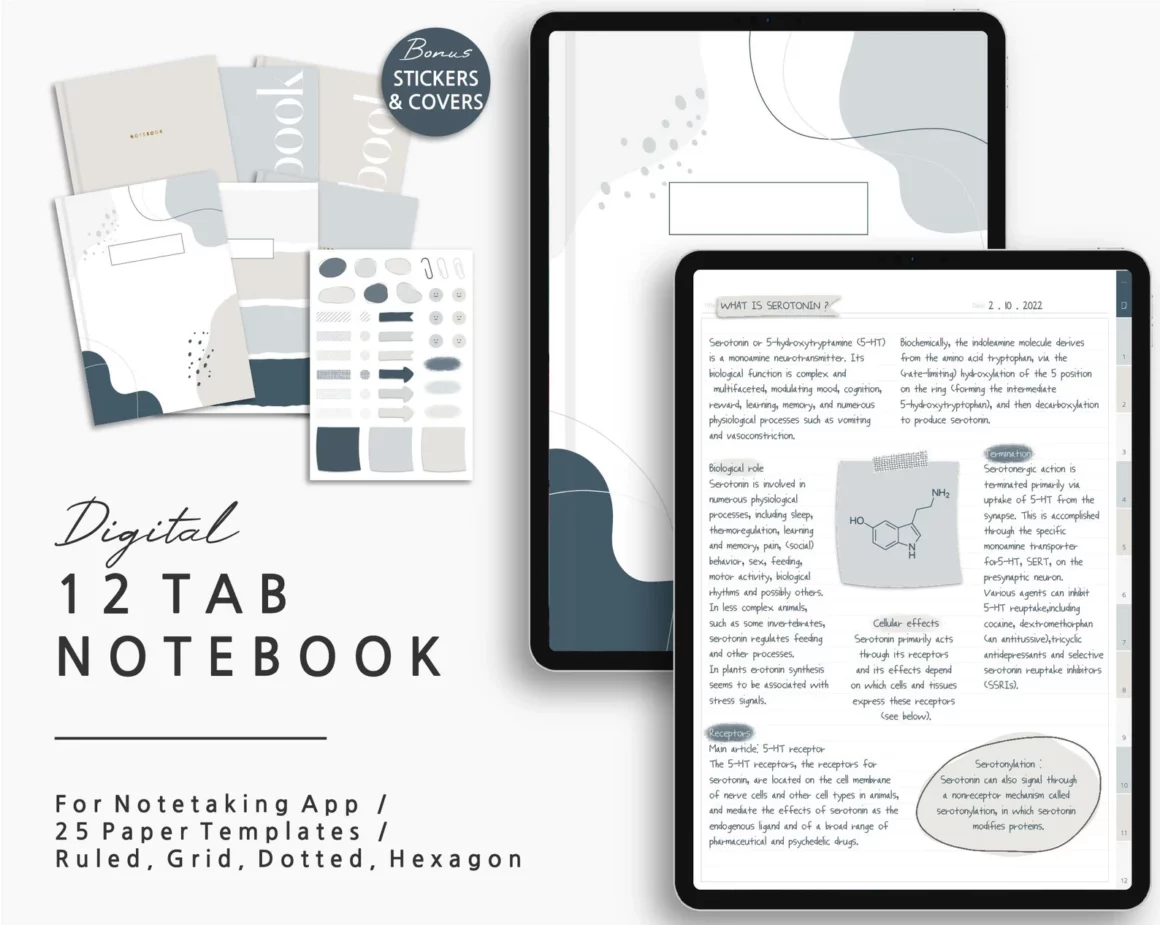 You can select 22 note templates as needed.
3 types planners are included, so you can write your learning plan.
It is divided into 12 sections, making it easy to organize notes and easy to move.
2 colors, version with and without a background color, you can use a total of 4 types of notes.
Stickers and covers are provided
23. UNDATED ACADEMIC PLANNER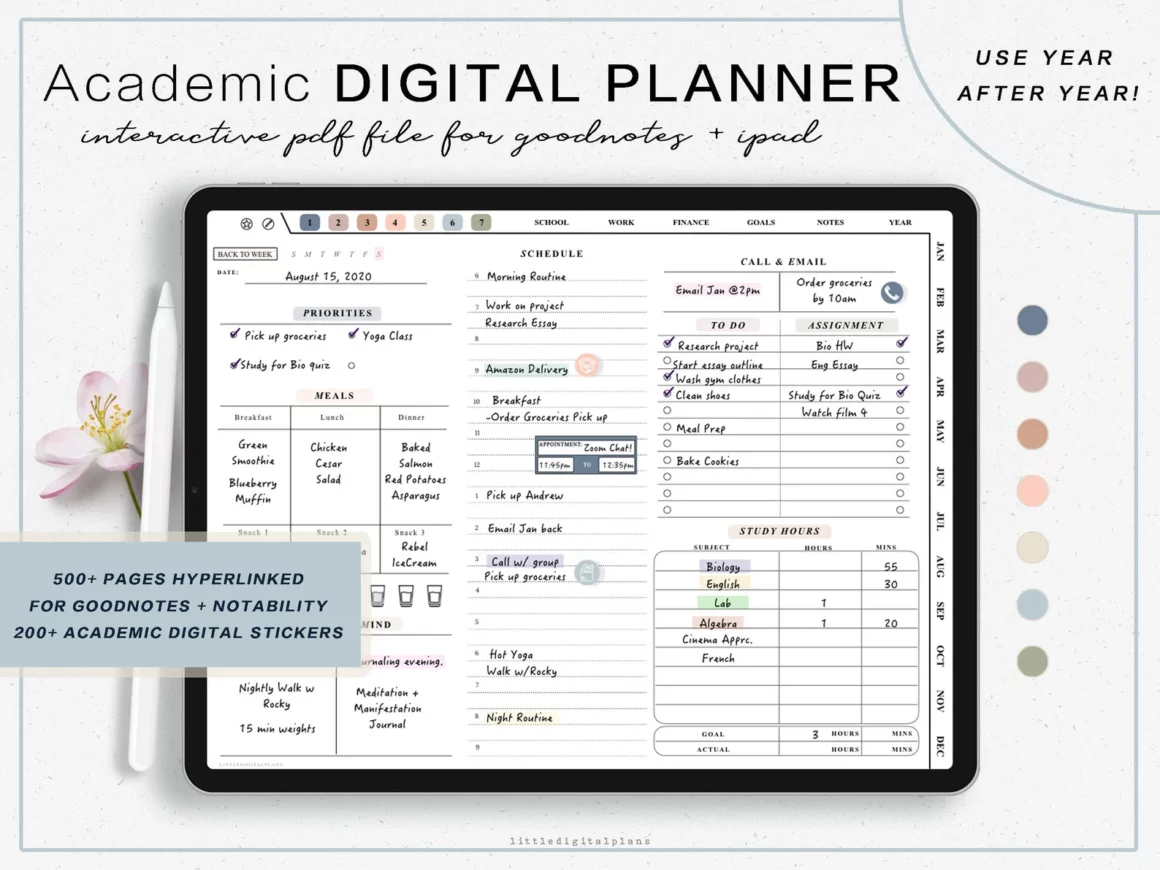 The Undated Academic Digital Planner features over 650 pages to help you organize, plan out and take control of your life and studies all in one place!
Increase your productivity and set your goals on a monthly, weekly and daily basis all while tracking the most important habits and information about you.
This Digital Planner covers school schedules, essay planners, note taking pages, finance, health, fitness, mindfulness, yearly goals, monthly goals, meal planners, lists and so much more!
24. Minimal Planner for GoodNotes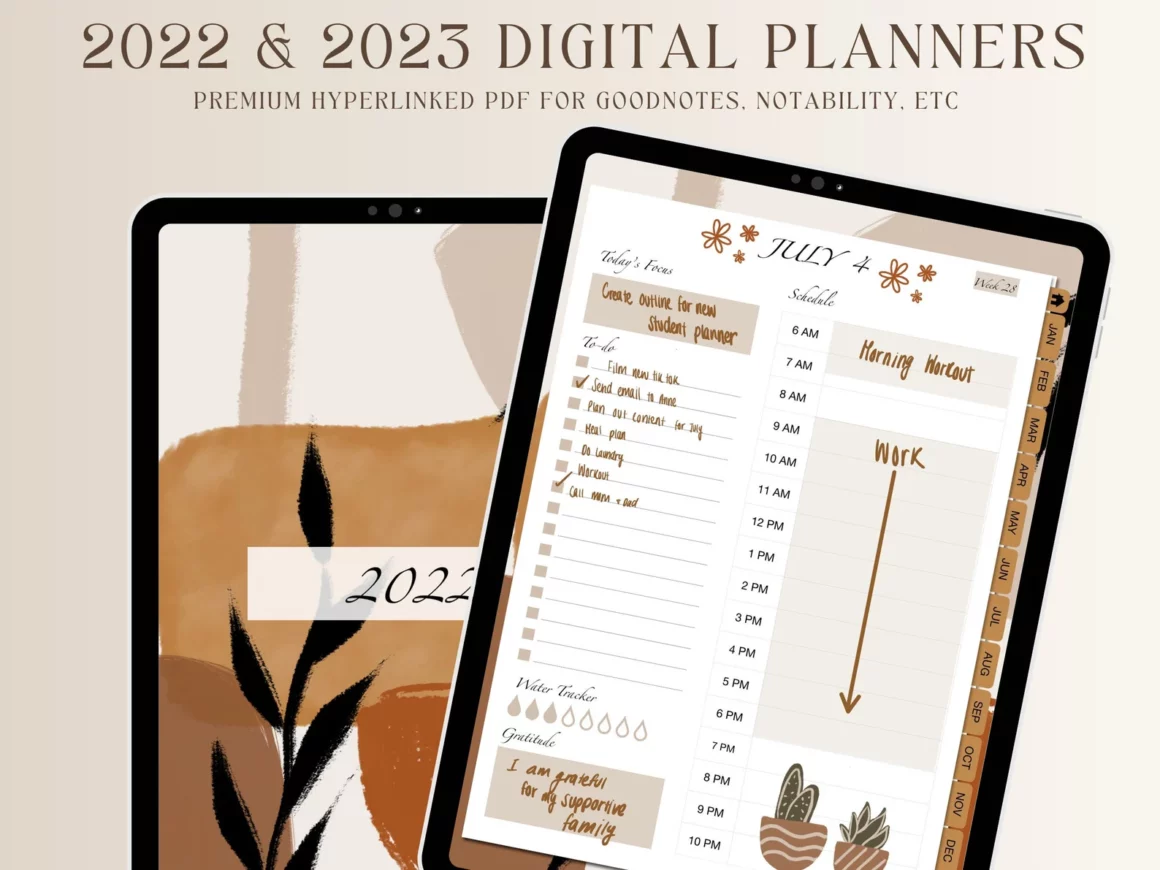 Key Features:
Kitchen Inventory
Meal Planner
Recipe Card
Grocery Lists
Expenses Tracker for GoodNotes
Bill Tracker
Project Planner
Project Tracker
Notes pages
Hand Drawn Digital Sticker Book
25. Friendly digital planner – GoodNotes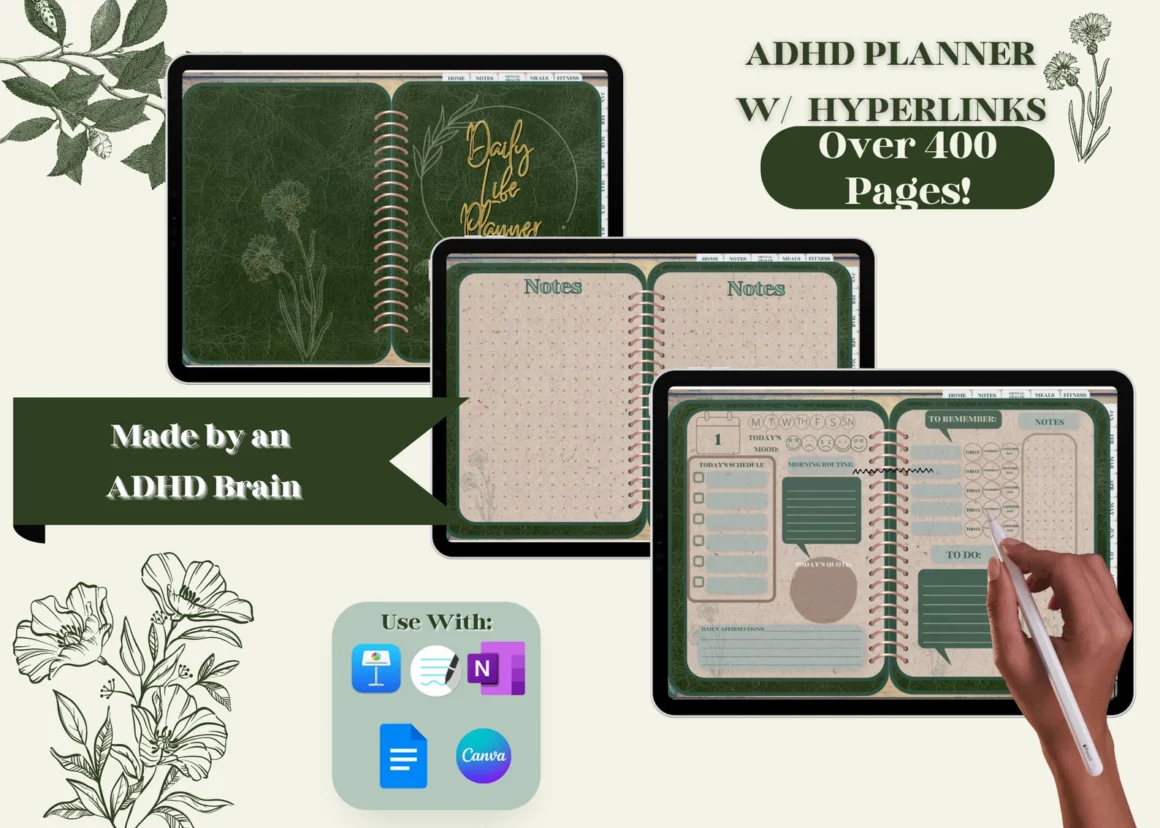 Do you find yourself struggling to keep up with daily life? This beautiful emerald and botanical and water color planner will keep you organized all year round and the best part is that there are hyperlinks to help you quickly click through the digital planner without having to click through many pages. With a water tracker, meal tracker and monthly expense report you can gain control of your life and create good habits. Habits are the key to a great life and this digital
26. Portrait Digital Planner Floral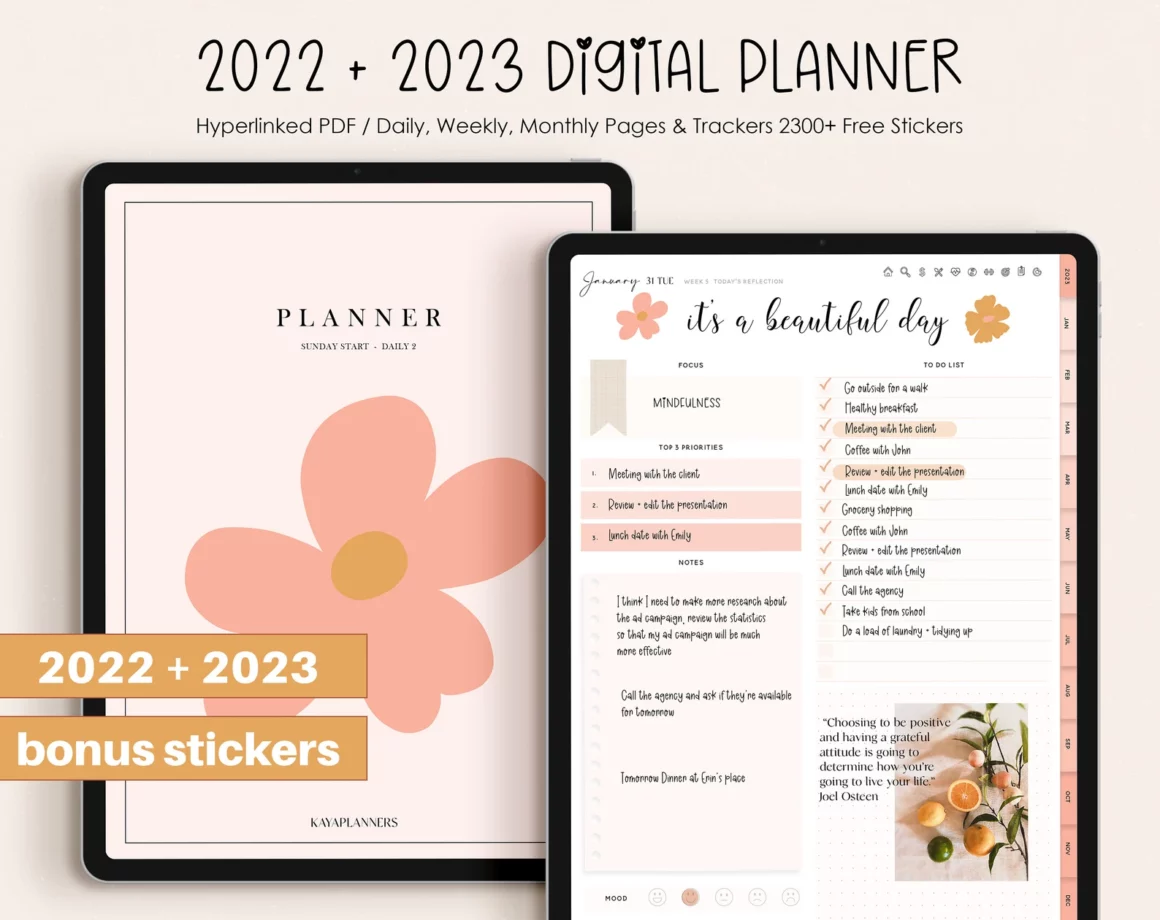 Key Features:
Professionally designed in Adobe Suite
Fully hyperlinked for easy navigation
2022 and 2023 Full Year Planners
Sunday or Monday start options
Each weekly layout is linked to weekly schedule, weekly review and weekly meal planner for that particular week
2 Daily page layouts options
• All-in-One Monthly Index to access all your monthly pages, trackers at a glance
All-in-One Weekly Index to access all your weekly pages, trackers at a glance
12 Custom Sections
9 Projects Sections to keep track
9 Goals Sections to keep track
Recipe section hyperlinked to 40 recipes
8 notepaper templates that you can copy and paste endlessly according to your needs
6 main categories (finance, wellness, nutrition, fitness, productivity, lifestyle)
Paperless Planning Experience with GoodNotes
GoodNotes digital planners provide an eco-friendly alternative to traditional paper planners. By going digital, you contribute to reducing paper waste and the environmental impact associated with physical planners. Additionally, GoodNotes allows you to sync your digital planner across devices, ensuring you have access to your plans anytime, anywhere. Say goodbye to bulky planners and hello to a clutter-free, portable, and efficient planning experience.
Frequently Asked Questions (FAQ) about GoodNotes Digital Planners
Can I import my own templates into GoodNotes?
Yes! GoodNotes enables you to import custom templates. You can create your own personalized templates in popular design software or download templates from various sources online.
Are these digital planners compatible with other note-taking apps?
The digital planners featured in this post are specifically designed for GoodNotes. However, you can explore options to convert or adapt these planners for other note-taking apps based on their compatibility and file format requirements.
Can I customize the layout and design of these digital planners?
Absolutely! GoodNotes offers extensive customization options, allowing you to modify layouts, colors, fonts, and more. You can personalize your digital planner to match your style and preferences.
Are these digital planners suitable for both iPad and iPhone?
Yes, most of the digital planners listed in this post are optimized for both iPad and iPhone devices. You can seamlessly switch between devices and continue planning on the go.
Can I use these digital planners for different purposes, such as work, school, or personal planning?
Certainly! The digital planners featured in this post cater to various planning needs, including work, school, and personal organization. Choose a planner that aligns with your specific requirements and start planning efficiently.
Digital planners have transformed the way we plan and organize our lives. With GoodNotes and the wide selection of digital planners available, you can take your planning experience to new heights. Explore our curated list of the 21 best digital planners for GoodNotes and find the perfect fit for your needs. Embrace the convenience, flexibility, and creativity of digital planning, and streamline your life one digital page at a time.