Last Updated on January 22, 2023 by Farnaz
21 Best Digital Planners for GoodNotes: Check out the best digital planners and the features you need to plan everything in style. Digital Planner is a great option if you're looking to go paperless this year, and a fun way to stay organized. Using a digital planner is no better than using a paper planner. Digital planning has many benefits. The ability to easily edit text, easily erase mistakes, and have everything you need in one place, from pages to stickers. Environmentally friendly!
Before we continue, you may like this post to:
1. Paperlike's Free Digital Planner 2022
Paperlike's free digital planner's biggest asset is their generous space allocation for daily pages.
Includes:
Visualize your week at a glance with weekly spreads with hourly breakdowns by day
Clickable tabs to navigate between months
Daily pages for each day of the year. Includes space for to-dos and notes, doodles and stickers.
Recommended for:
Minimalist planners who love simple, functional designs with lots of space
People who plan each hour of their day
People looking for a free digital planner that's still comprehensive and high-quality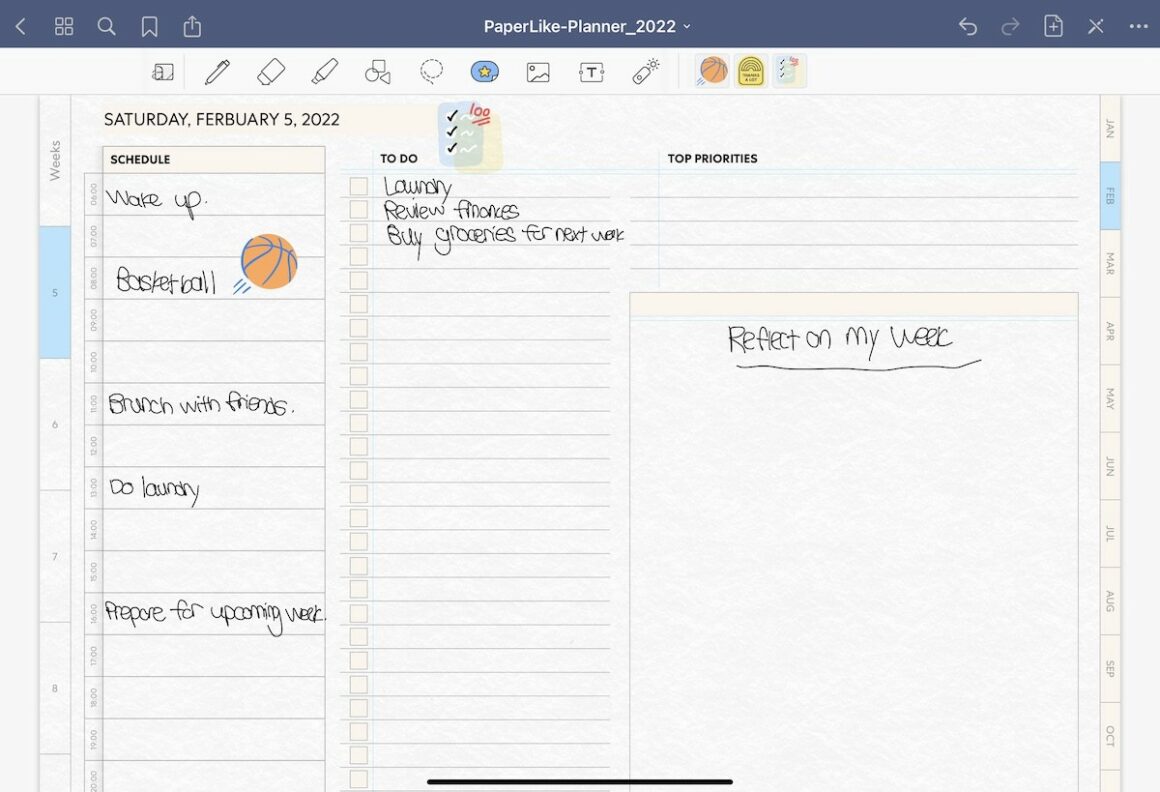 2. Free Digital Planner, with Self-Care
Features:
Weekly Horizontal Layout
Monthly Layout
"Flippable" Monthly Tabs
Navigation Links
Home button
To-Do List
Goals List
Gratitude Insert
Monday-Sunday Start
Monthly Priorities List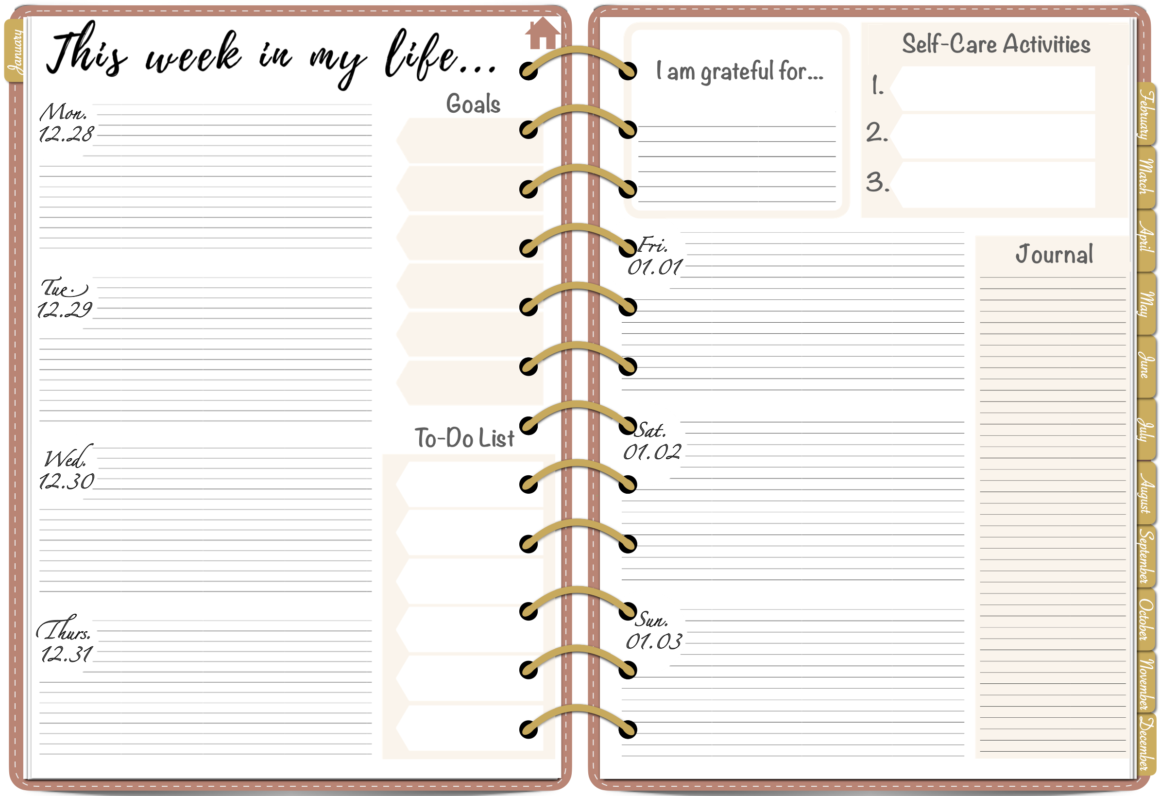 3. Free Digital Weekly Habit Trackers (8 Designs)
The weekly and daily habits I track each week include:
Exercise
Journaling
Intentional relaxation time
Cleaning / tidying my house and room
Drinking 3 cups of tea per day
Drinking three bottles of water per day
Reading for at least 30 minutes
Waking up by 7 am
Going to bed by 12am
No fast food or take out
Blogging
Studying for my law school entrance exam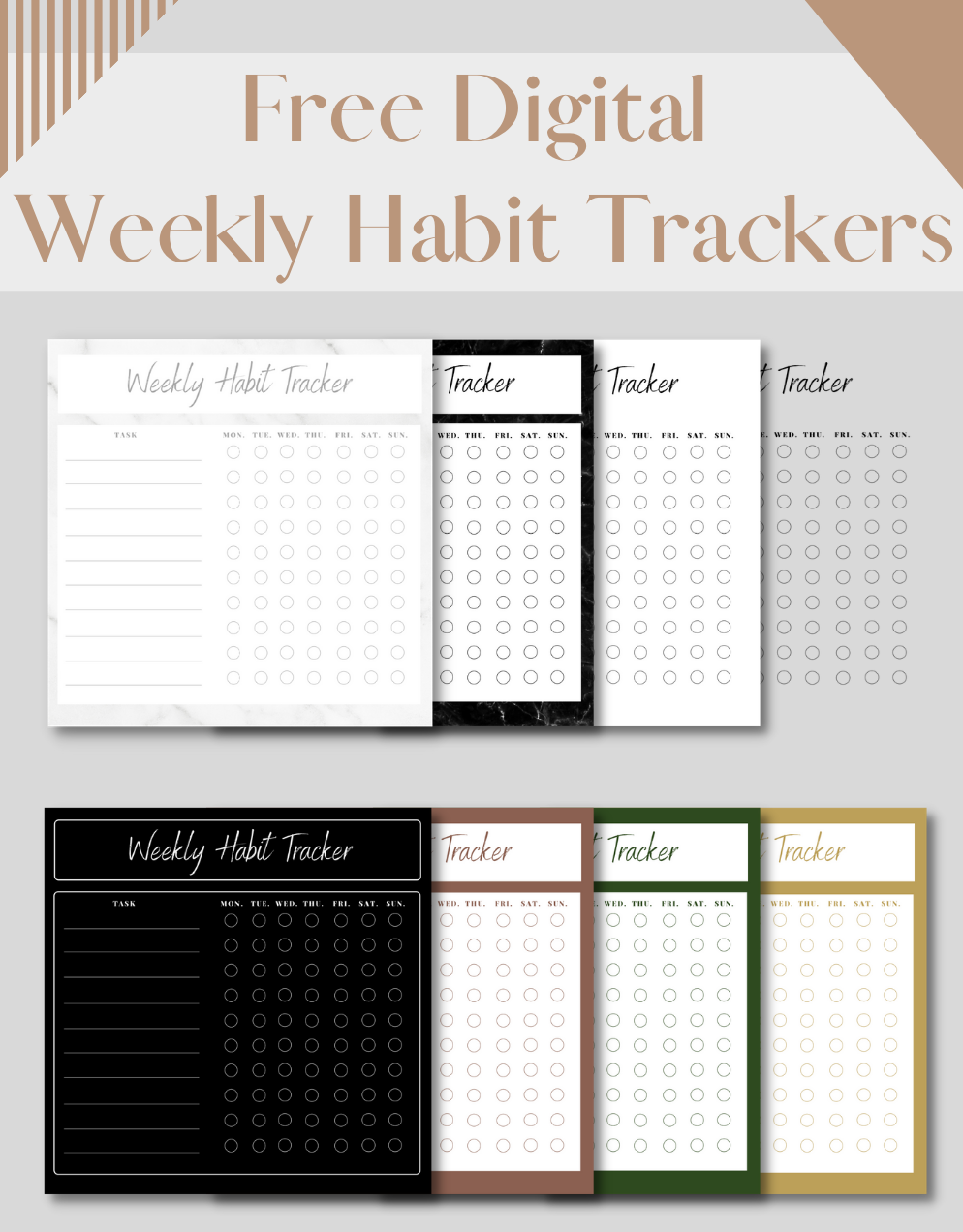 4. Daily Digital Life Planner
This digital GoodNotes planner has been carefully designed to help you to keep your life more organized, balanced and productive.
5. PREMIUM Daily Planner for GoodNotes
Premium All-In-One Digital Planner
Includes 3 dated planners
Professionally designed with thousands of hyperlinks for quick and easy navigation
Includes 64 variations of the planner (Landscape mode)
4 themes – PASTEL, BOHO, GREY & PINK
Covers everything to help you stay organized and keep track of your life and work
450+ stickers preinstalled in GoodNotes file for easy access
FREE 10000+ precropped digital stickers in varying colors (individual PNG files)
12 beautiful covers
All pages can be easily duplicated and/or removed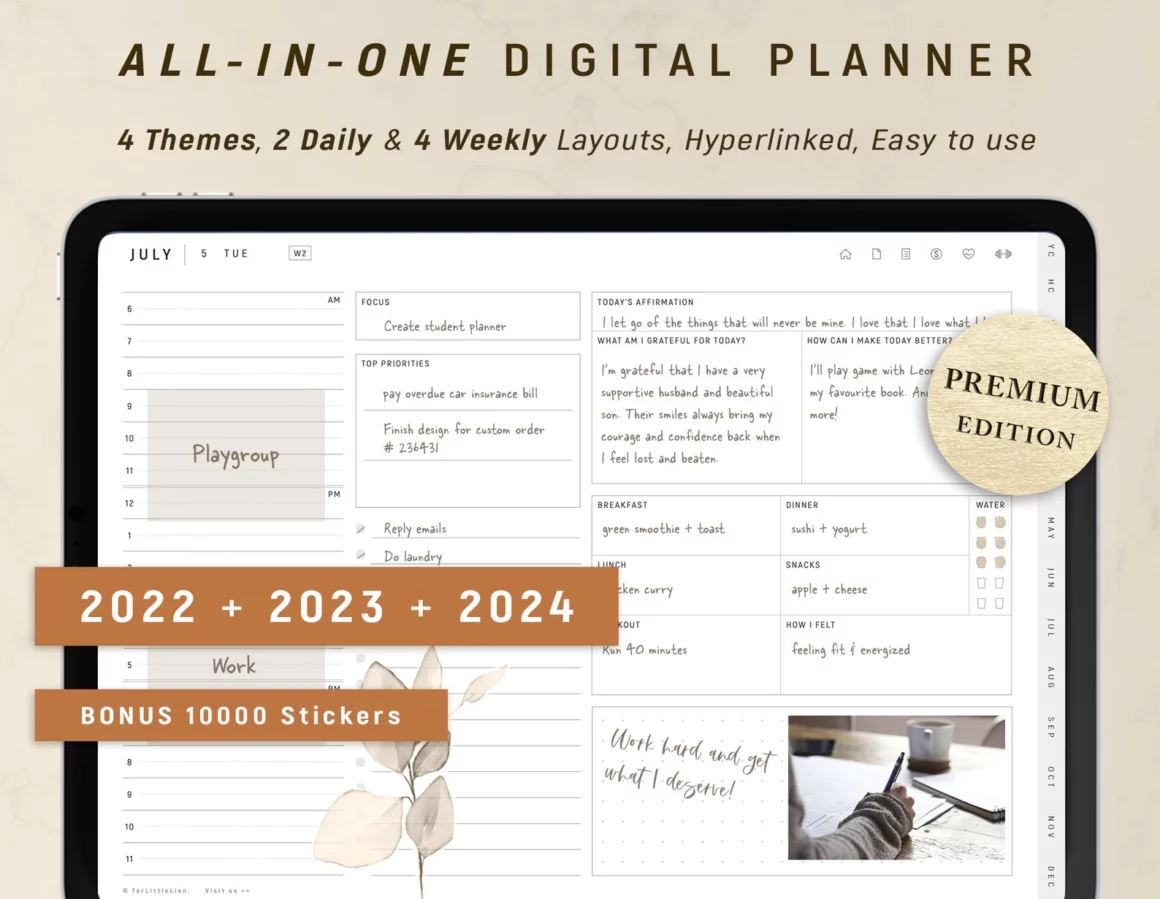 6. 12 Tab Digital Notebook for GoodNotes & Note-taking App
What's inside?
Cover page
Index page
12 Section Dividers
24 Page Templates
1000+ stickers (png files and Goodnotes sticker book)
15 different color themes, which means you're getting 15 different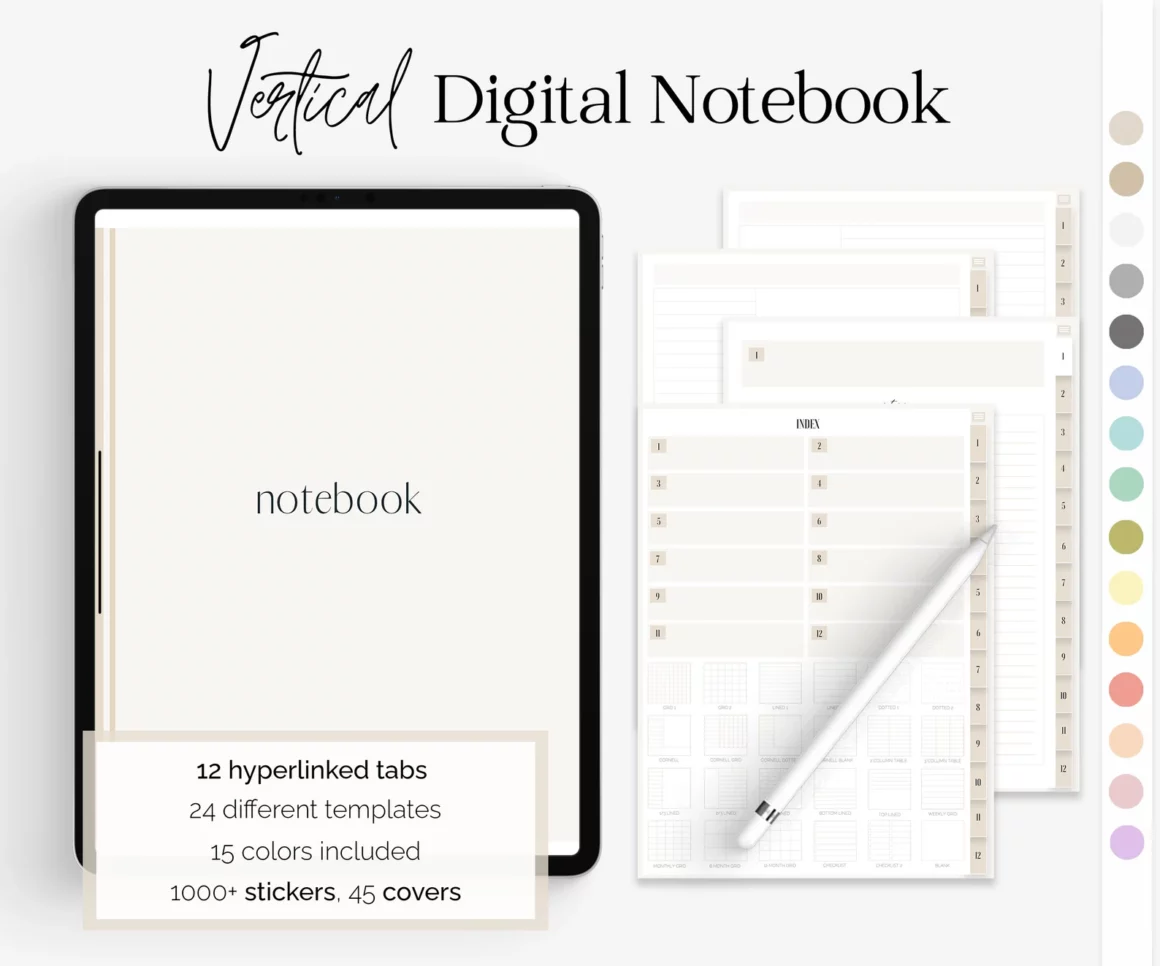 7. Undated Dark Mode Digital Planner for Goodnotes
This Undated Planner is designed to be used on any PDF annotation app such as GoodNotes, Notability etc, on your IPad or tablet device. .
WHAT IS INCLUDED
10 Hyperlinked Divider Pages
Yearly Overview
12 Monthly Planner Pages
5 Weekly Planner Pages
7 Daily Planner Pages
Mood Tracker
Meal Planner
Fitness Planner
Body Progress Page
Weekly Habit Tracker
30 Day Habit Tracker
Expense Tracker
Revenue Tracker
Monthly Budget
Goal Planner
My Goals Page
Password Tracker GoodNotes
Contact List
Birthday Tracker
Notes Pages (Lined, Grid, Doted)
Vision Board
Goodnotes Sticker Book with 1800+ Stickers
Individual PNG files of 1800+ Stickers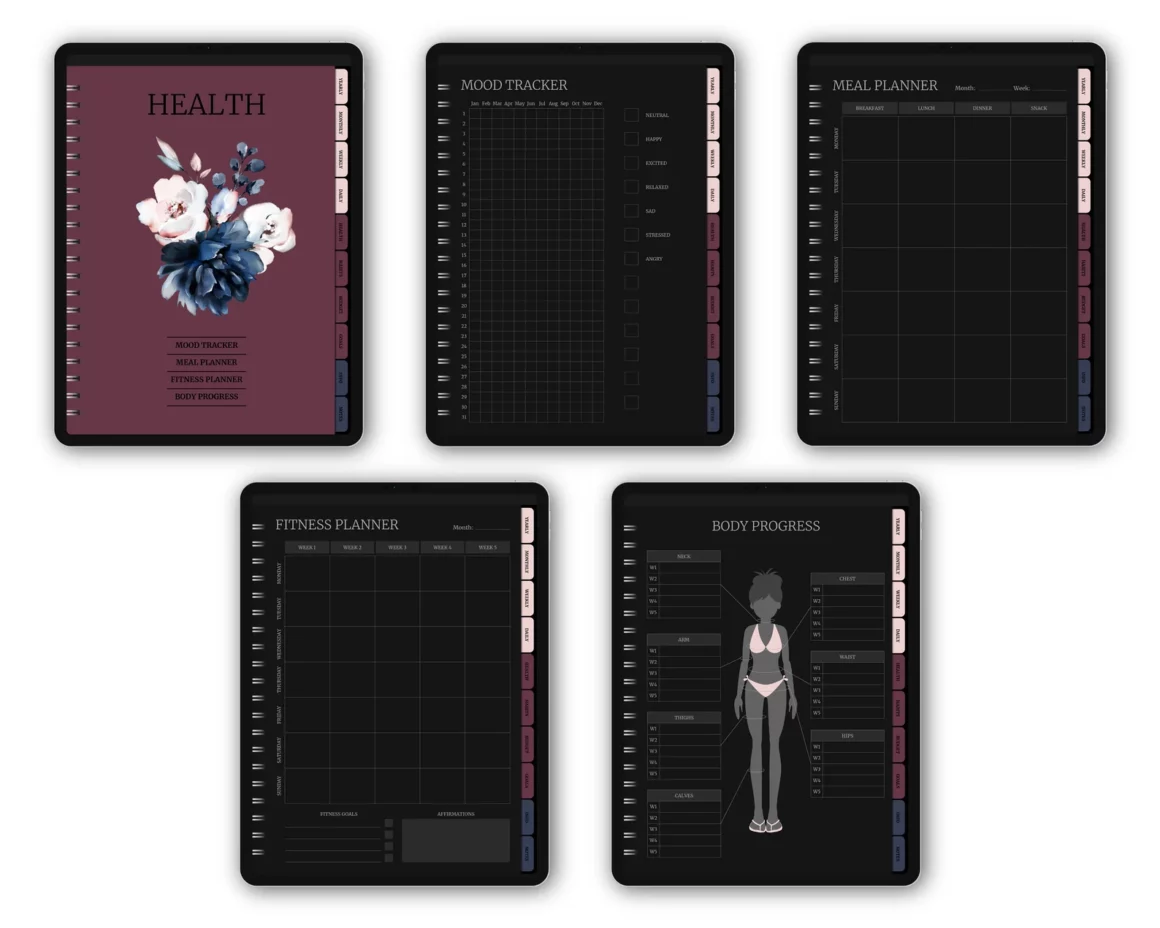 8. Project Planner Digital Template for GoodNotes
4 Colors – White / Dark / Off white (Paper texture) / Beige (Paper texture)
Modern Minimalist Design
For Digital use
+Plus Printable / Editable PDF – Letter Size (available in white color)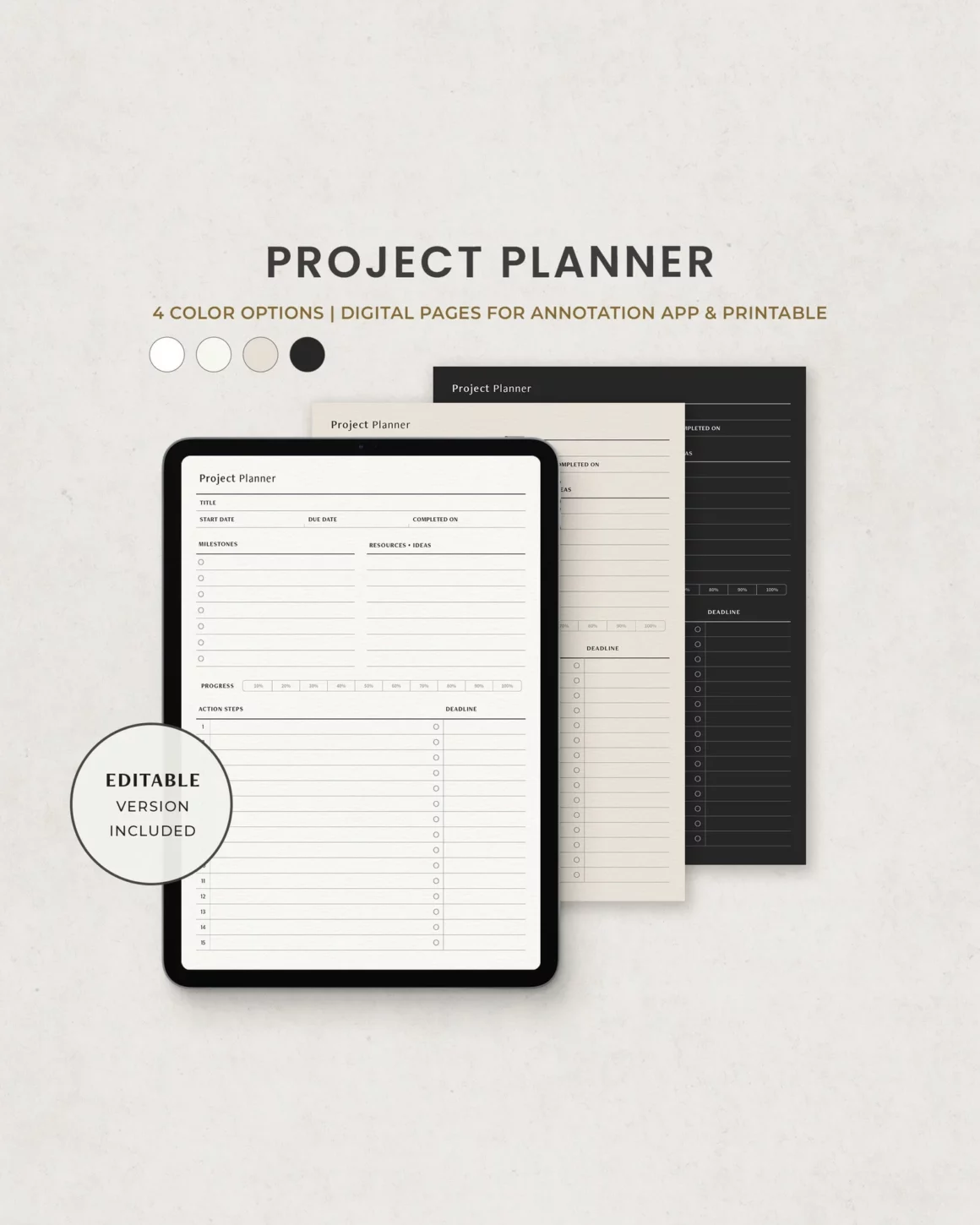 9. Undated Digital Planner for Goodnotes
This Undated Planner is designed to be used on any PDF annotation app such as GoodNotes, Notability etc, on your IPad or tablet device. However, I would personally recommend usage on an IPad with an apple pencil and Goodnotes App. You will receive a PDF with Instructions on how to install your Planner.
WHAT IS INCLUDED
10 Hyperlinked Divider Pages
Yearly Overview
12 Monthly Planner Pages
4 Weekly Planner Pages
7 Daily Planner Pages
Mood Tracker
Meal Planner – GoodNotes
Fitness Planner
Body Progress Page
Weekly Habit Tracker
30 Day Habit Tracker for GoodNotes
Expense Tracker
Revenue Tracker
Monthly Budget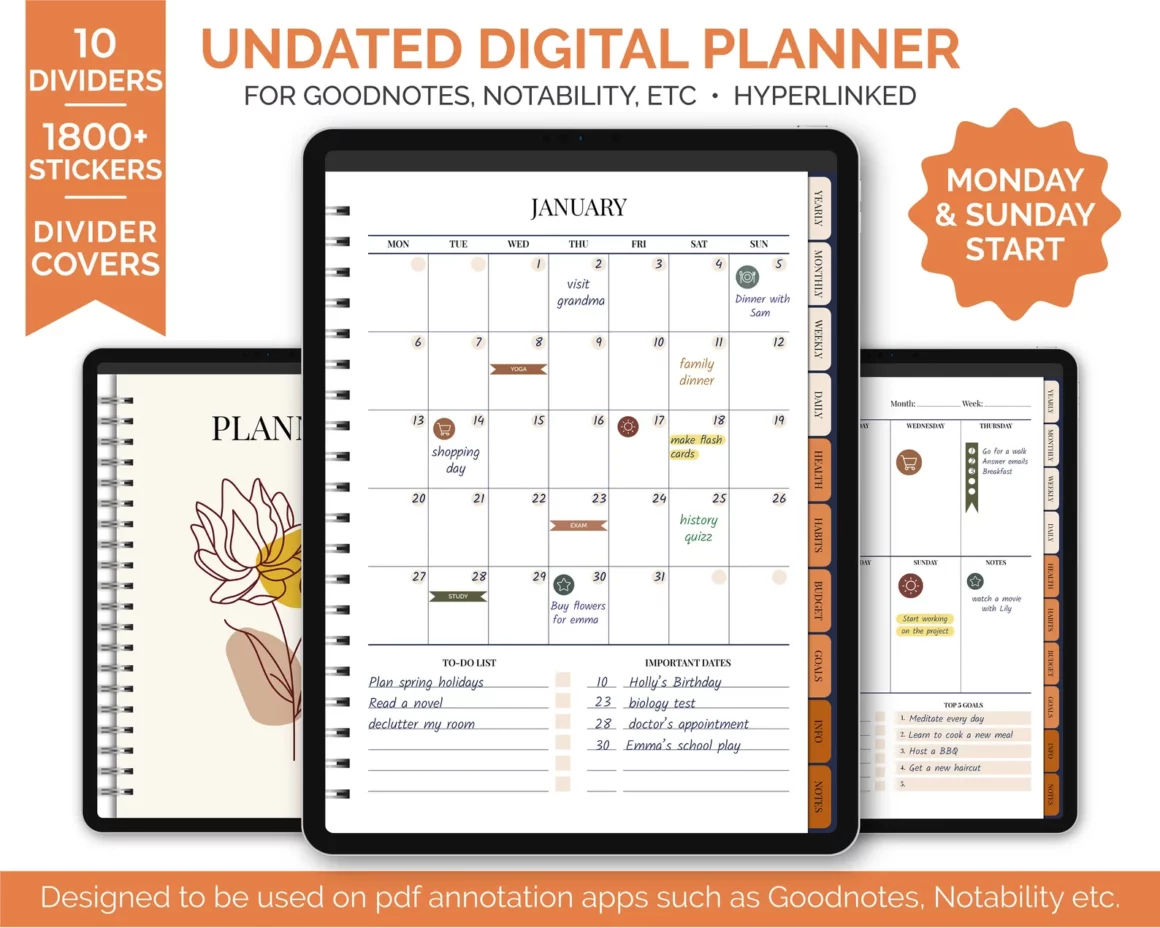 10. Digital Planner Boho BUNDLE
FEATURES OF DIGITAL PLANNER
Minimalist and functional design for maximum productivity
wider dimensions to fully fit the screen and for more space to write on
3 Boho Themes (Autumn, Huntress, Ochre) [only 2023 includes White]
6 Weekly Layouts (Dashboard, Horizontal 3 Divisions, Horizontal Notes, Vertical Scheduler, Vertical Tasks & Vertical Basic) [2023 does not include Vertical Basic]
4 Daily Layouts (Standard, Productivity, Wellness, Canvas)
Sunday or Monday Week start
• 1334 PNG Stickers
• 454 pre-cropped Stickers for Goodnotes
includes editable SMART Stickers
• 54 Digital Covers
• Instruction Manual for Goodnotes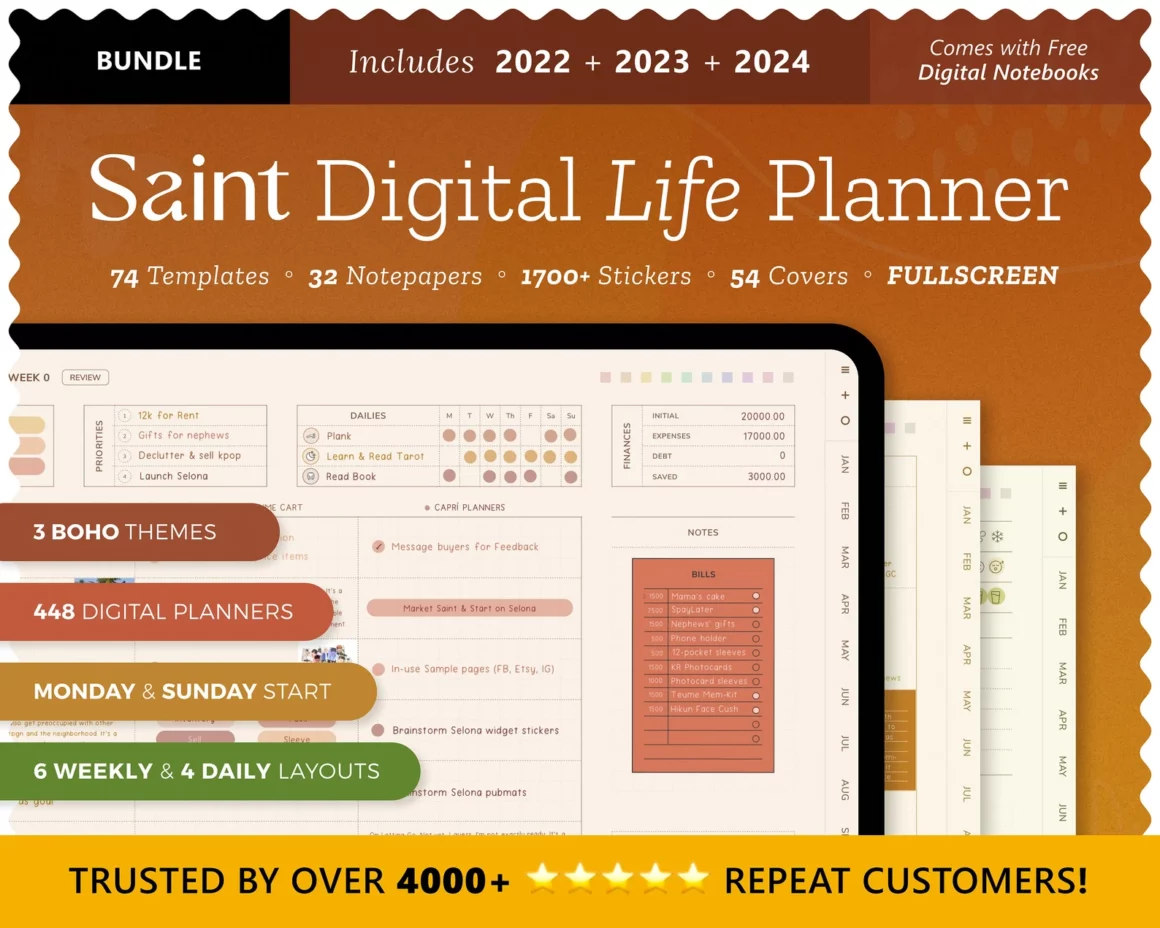 11. iPad Planner for GoodNotes
This digital planner was designed to be the ultimate general purpose productivity and lifestyle tool. Whether you are setting goals, tracking lifestyle elements, or simply just trying to stay organized, this planner will help you do it.
12. The Ultimate GoodNotes Digital Planner
The Ultimate Digital Planner has been created with maximum productivity in mind while maintaining a clean and minimal design layout making it feel just like a real planner and giving you loads of space to write all your plans.
𝗞𝗘𝗬 𝗛𝗜𝗚𝗛𝗟𝗜𝗚𝗛𝗧𝗦
Rainbow Tab colors
4 Weekly Planner page options (Boxed, Horizontal, Vertical & Scheduled)
2 Daily Daily Planner page options (Structured & Minimal)
Week starts with Monday & Sunday.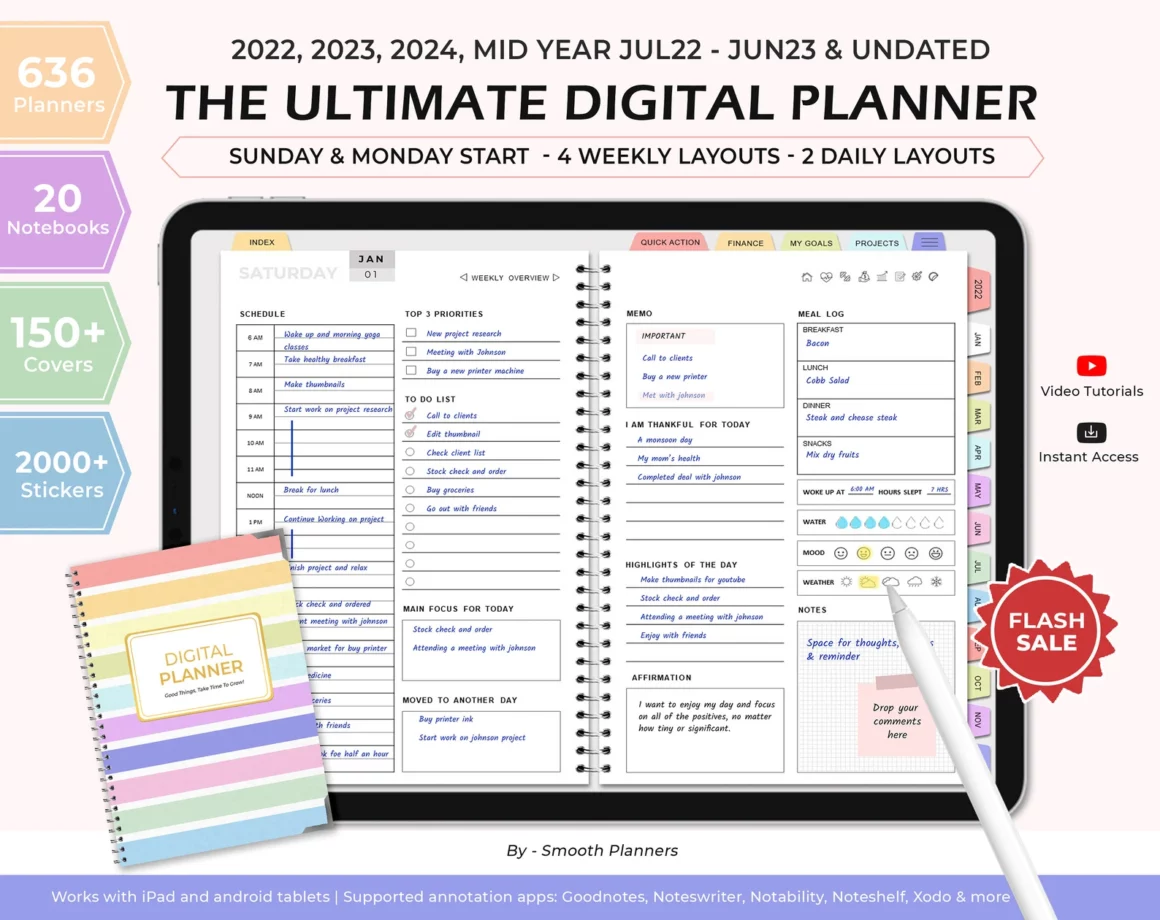 13. Free Self Care Tracker for GoodNotes
is for focusing on your nutrition and eating healthy.
you can write out your morning and
consists of various self-care trackers you can use to track your reading goals, water goals, meditation goals, etc.
is simply for writing notes.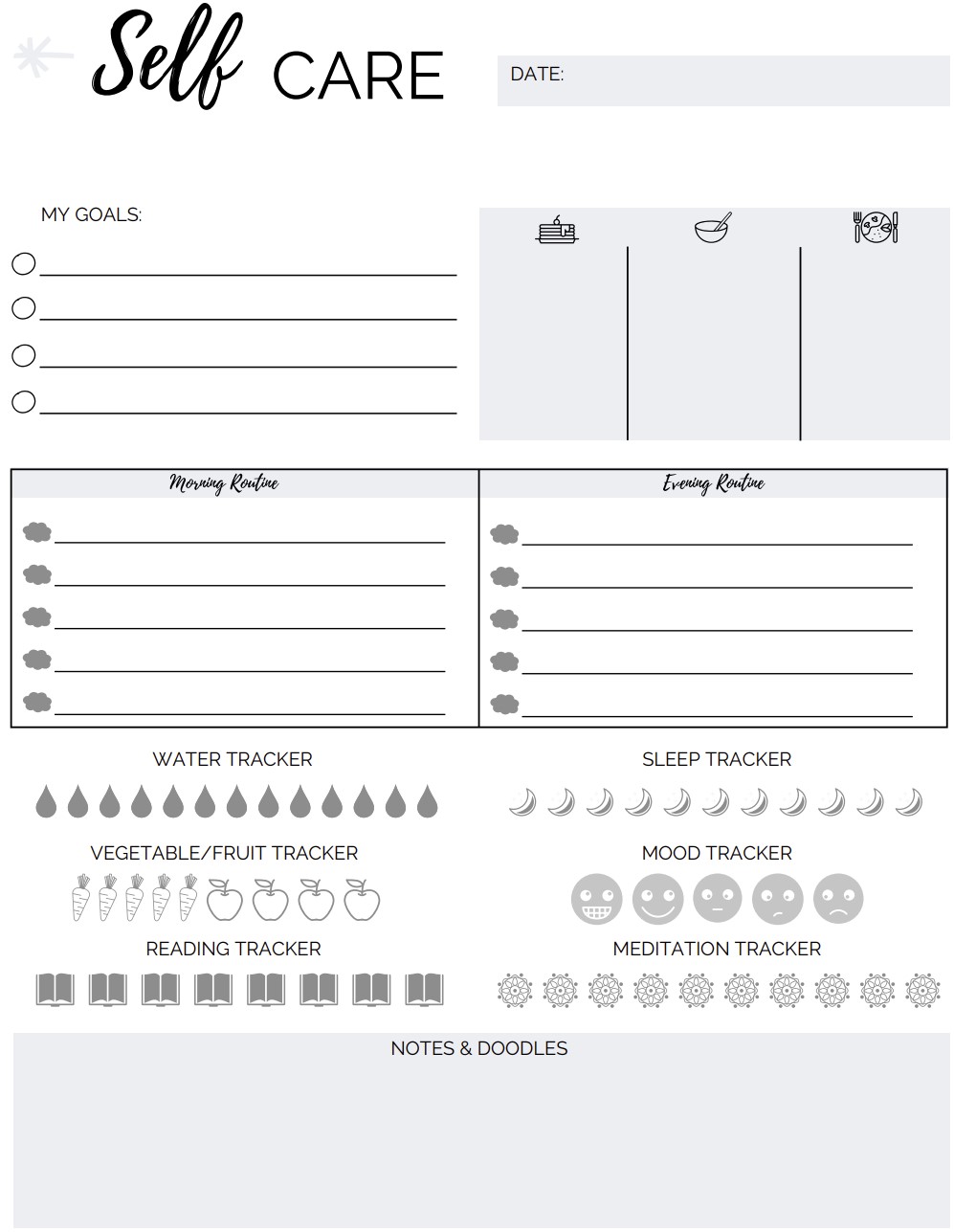 14. Digital Cream Notebook
Mainichi Notebook allows you to create and organise your notes efficiently. Divided into 13 hyperlinked sections for quick access by simply tapping the section you wish to view, each section has 3 sheets of lined paper pre-installed. Multiple paper options are also provided and you can add unlimited amount of sheets per section as required!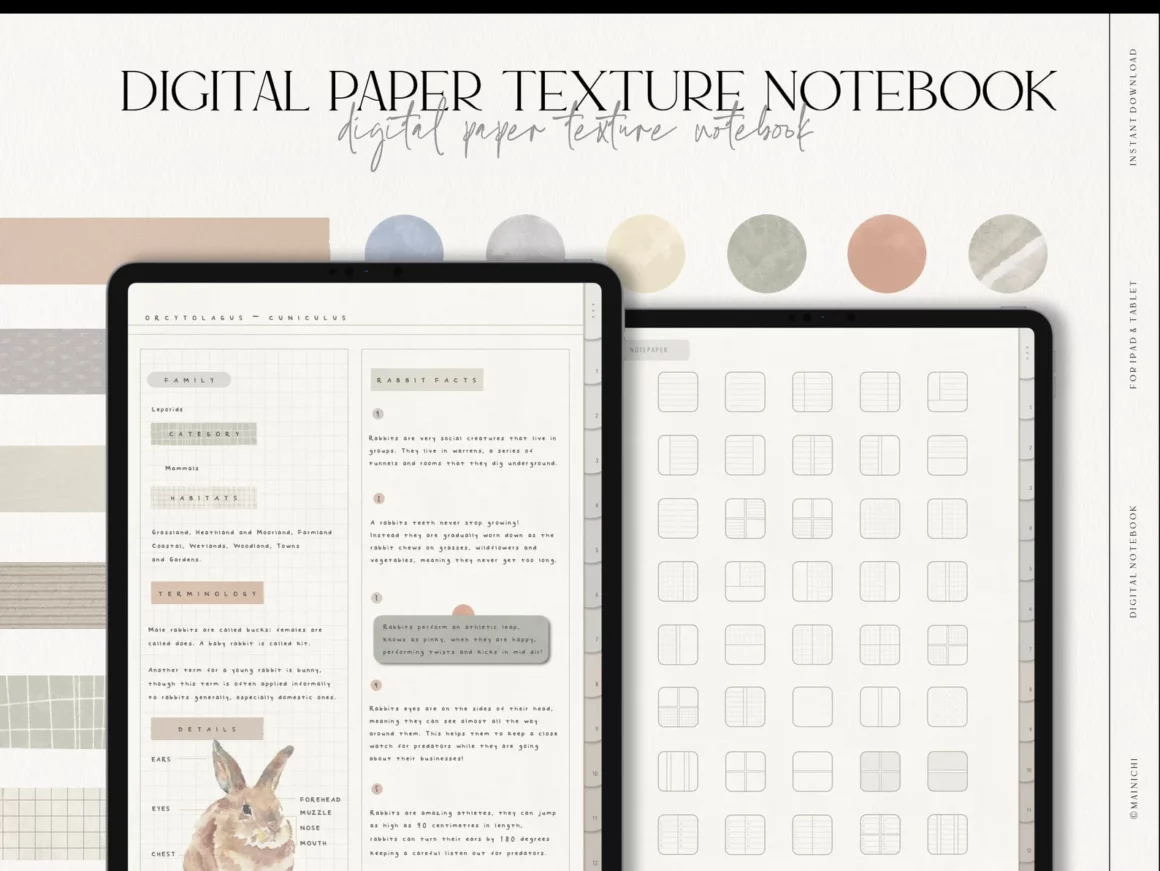 15. Retro Daily Digital Stickers
Hyperlinked Digital Sticker Book , 1100+ stickers in 6 colors. Decorate your digital planner with these cute 90s pre-cropped goodnotes stickers, included PNGs for notability and other note taking apps.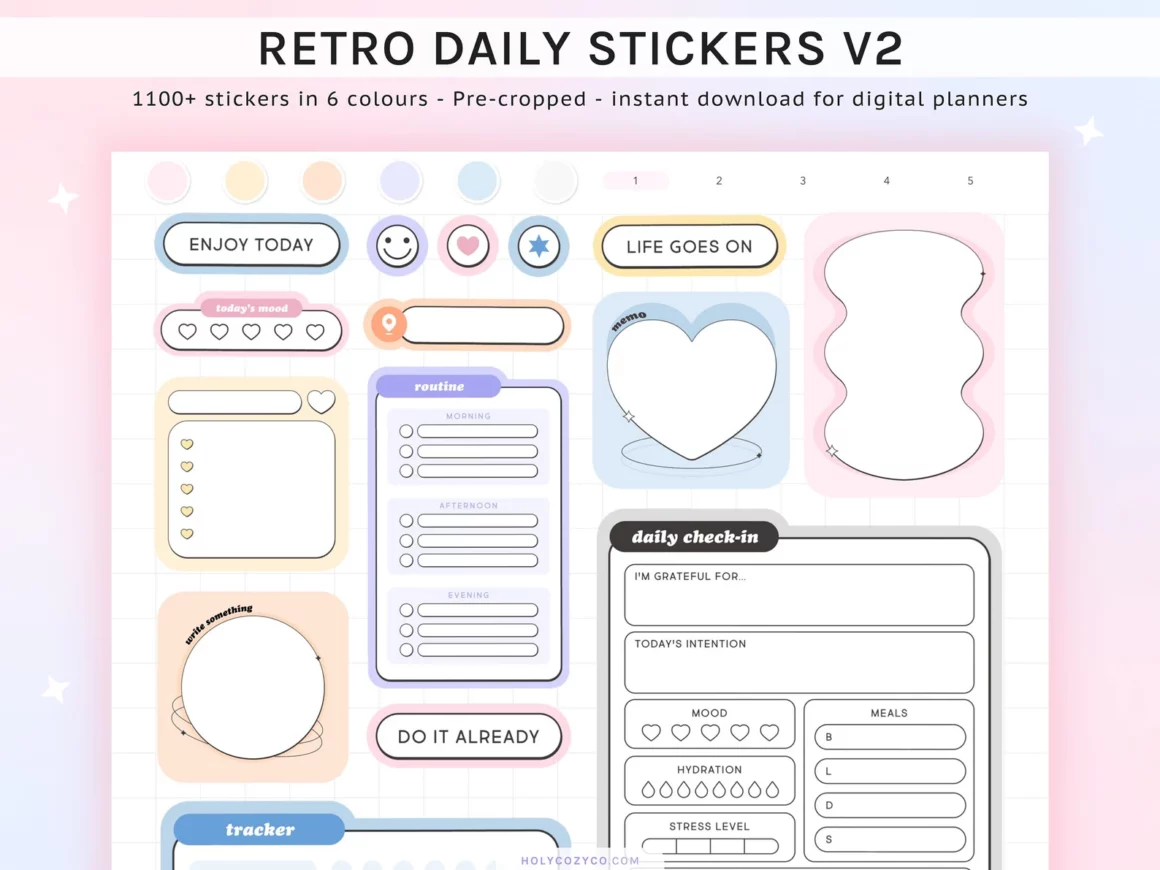 16. Portrait Digital Planner RAINBOW
PLANNER FEATURES
Professionally designed in Adobe Suite
Fully hyperlinked for easy navigation
2022 and 2023 Full Year Planners
Sunday or Monday start options
Each weekly layout is linked to weekly schedule, weekly review and weekly meal planner for that particular week
2 Daily page layouts options
All-in-One Monthly Index to access all your monthly pages, trackers at a glance
All-in-One Weekly Index to access all your weekly pages, trackers at a glance
12 Custom Sections
9 Projects Sections to keep track
9 Goals Sections to keep track
Recipe section hyperlinked to 40 recipes
8 notepaper templates that you can copy and paste endlessly according to your needs
6 main categories (finance, wellness, nutrition, fitness, productivity, lifestyle)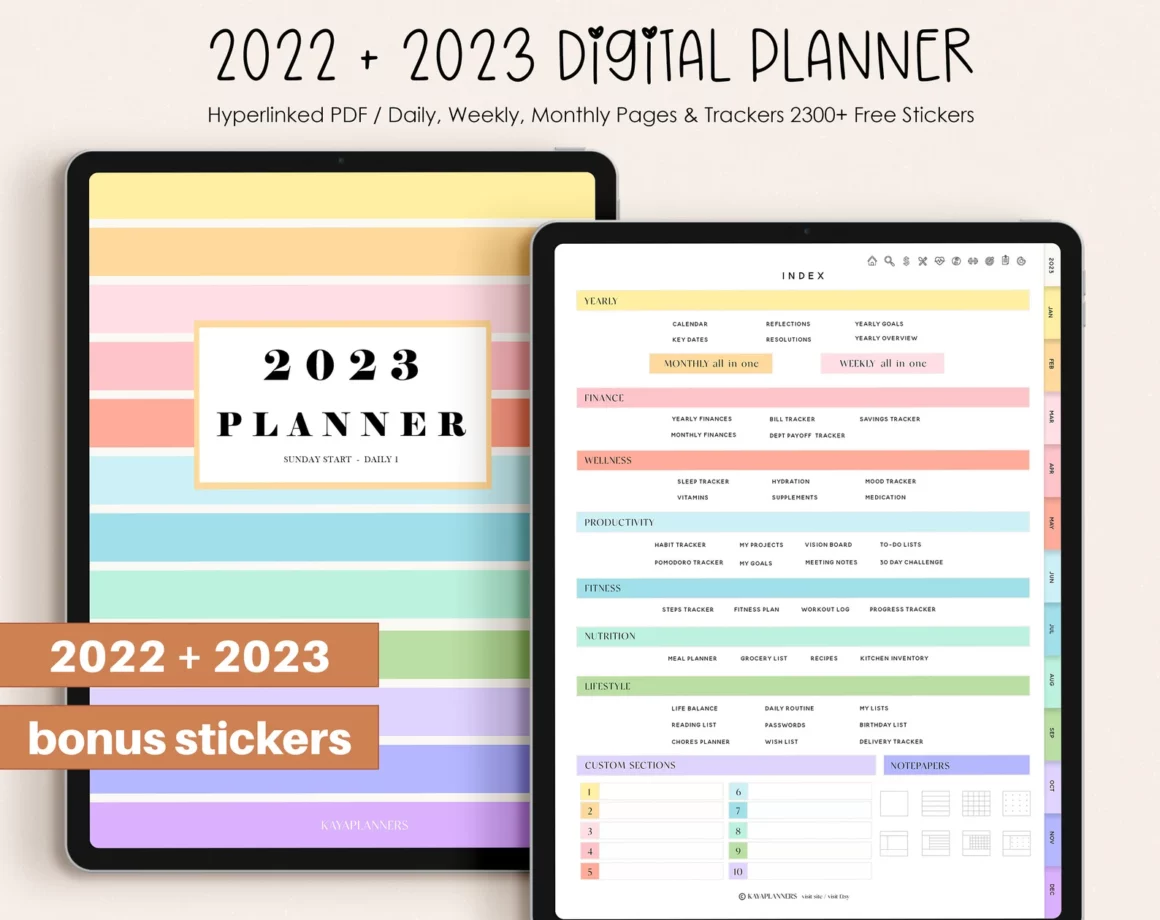 17. 12 Tab Digital Notebook Minimalist for GoodNotes
This digital notebook will be the best notebook to help your study.
You can select 22 note templates as needed.
3 types planners are included, so you can write your learning plan.
It is divided into 12 sections, making it easy to organize notes and easy to move.
2 colors, version with and without a background color, you can use a total of 4 types of notes.
Stickers and covers are provided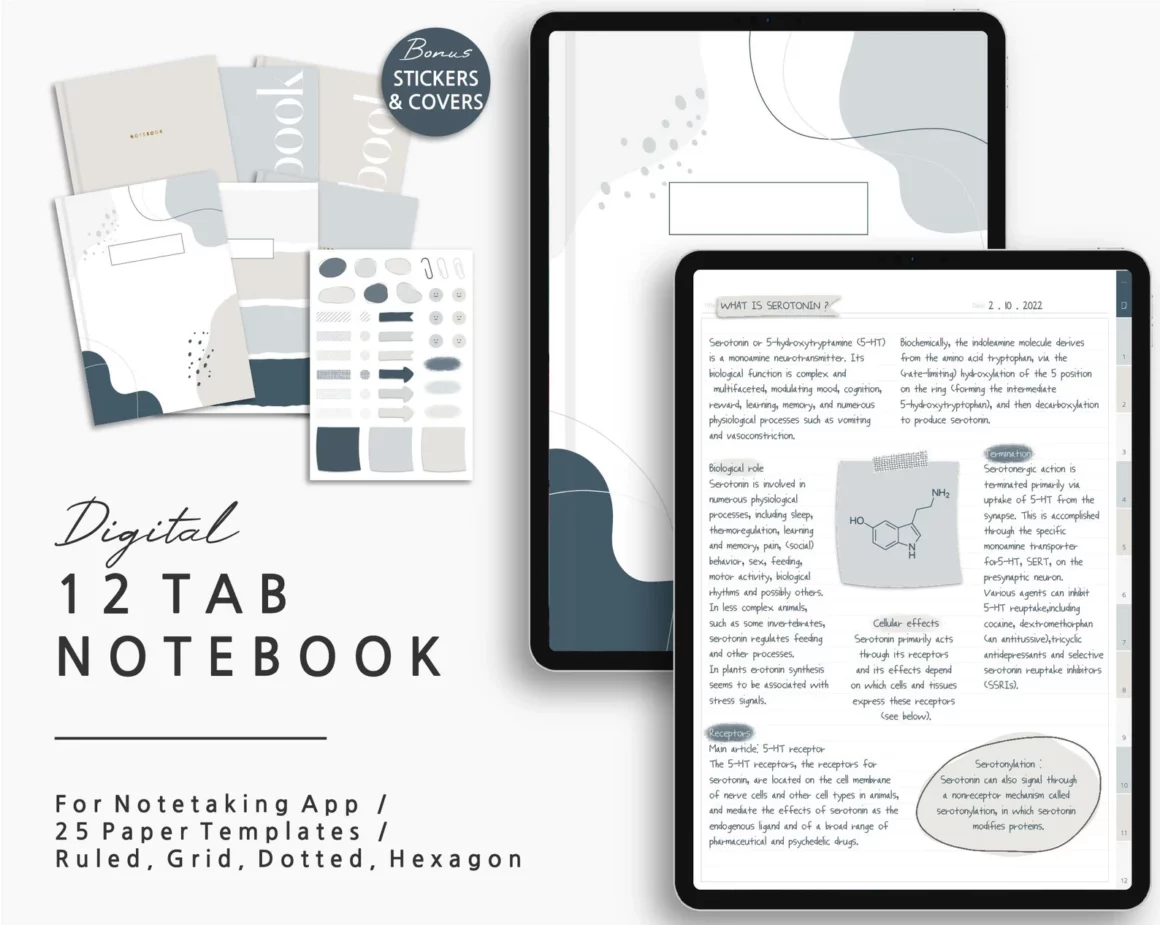 18. UNDATED ACADEMIC PLANNER
The Undated Academic Digital Planner features over 650 pages to help you organize, plan out and take control of your life and studies all in one place!
Increase your productivity and set your goals on a monthly, weekly and daily basis all while tracking the most important habits and information about you.
This Digital Planner covers school schedules, essay planners, note taking pages, finance, health, fitness, mindfulness, yearly goals, monthly goals, meal planners, lists and so much more!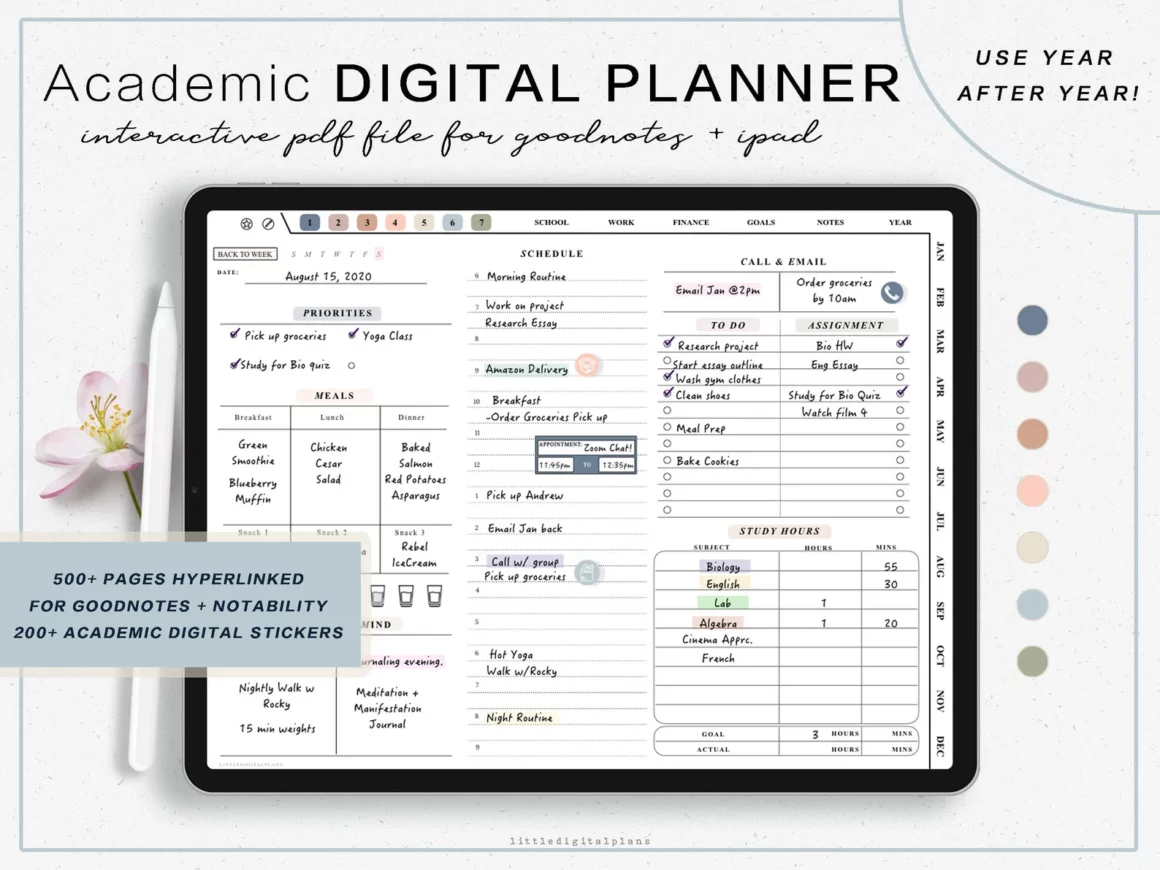 19. Minimal Planner for GoodNotes
What's Included in your planner
Kitchen Inventory
Meal Planner
Recipe Card
Grocery Lists
Expenses Tracker for GoodNotes
Bill Tracker
Project Planner
Project Tracker
Notes pages
Hand Drawn Digital Sticker Book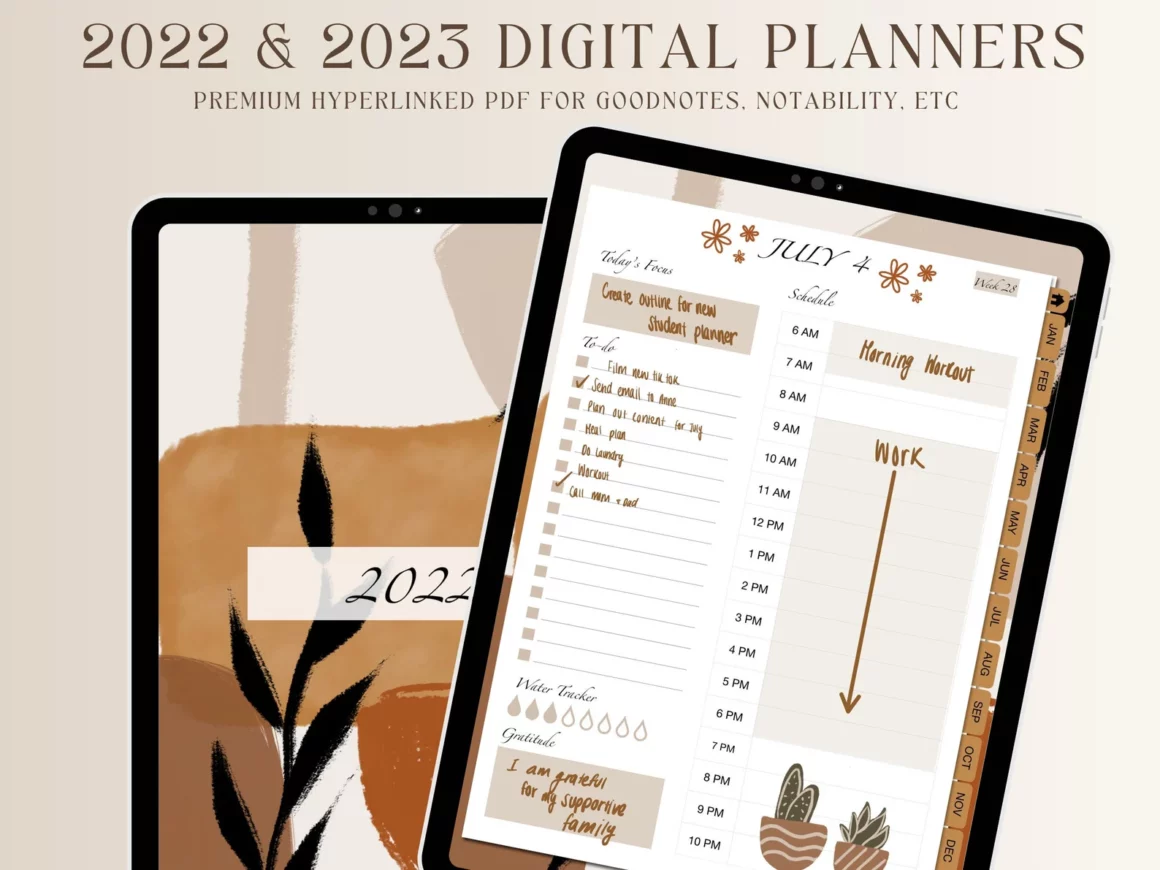 20. Friendly digital planner – GoodNotes
Do you find yourself struggling to keep up with daily life? This beautiful emerald and botanical and water color planner will keep you organized all year round and the best part is that there are hyperlinks to help you quickly click through the digital planner without having to click through many pages. With a water tracker, meal tracker and monthly expense report you can gain control of your life and create good habits. Habits are the key to a great life and this digital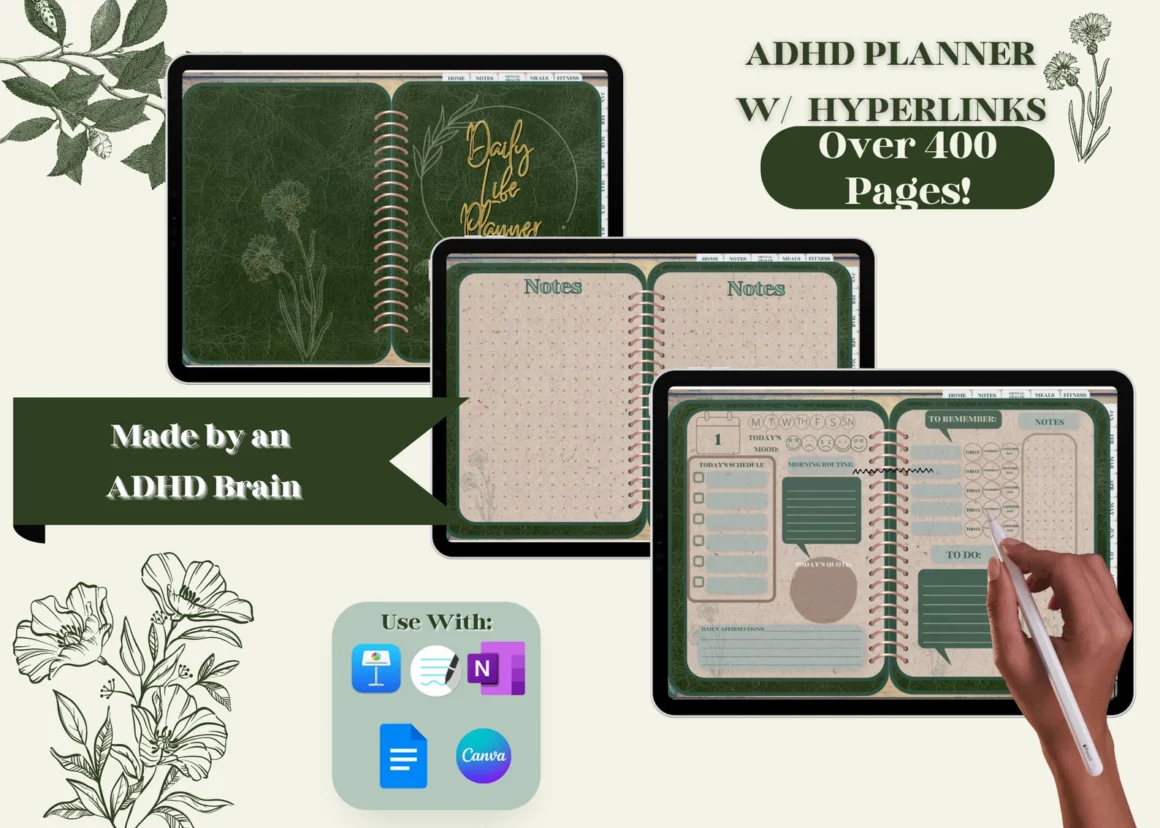 21. Portrait Digital Planner Floral
LANNER FEATURES
Professionally designed in Adobe Suite
Fully hyperlinked for easy navigation
2022 and 2023 Full Year Planners
Sunday or Monday start options
Each weekly layout is linked to weekly schedule, weekly review and weekly meal planner for that particular week
2 Daily page layouts options
• All-in-One Monthly Index to access all your monthly pages, trackers at a glance
All-in-One Weekly Index to access all your weekly pages, trackers at a glance
12 Custom Sections
9 Projects Sections to keep track
9 Goals Sections to keep track
Recipe section hyperlinked to 40 recipes
8 notepaper templates that you can copy and paste endlessly according to your needs
6 main categories (finance, wellness, nutrition, fitness, productivity, lifestyle)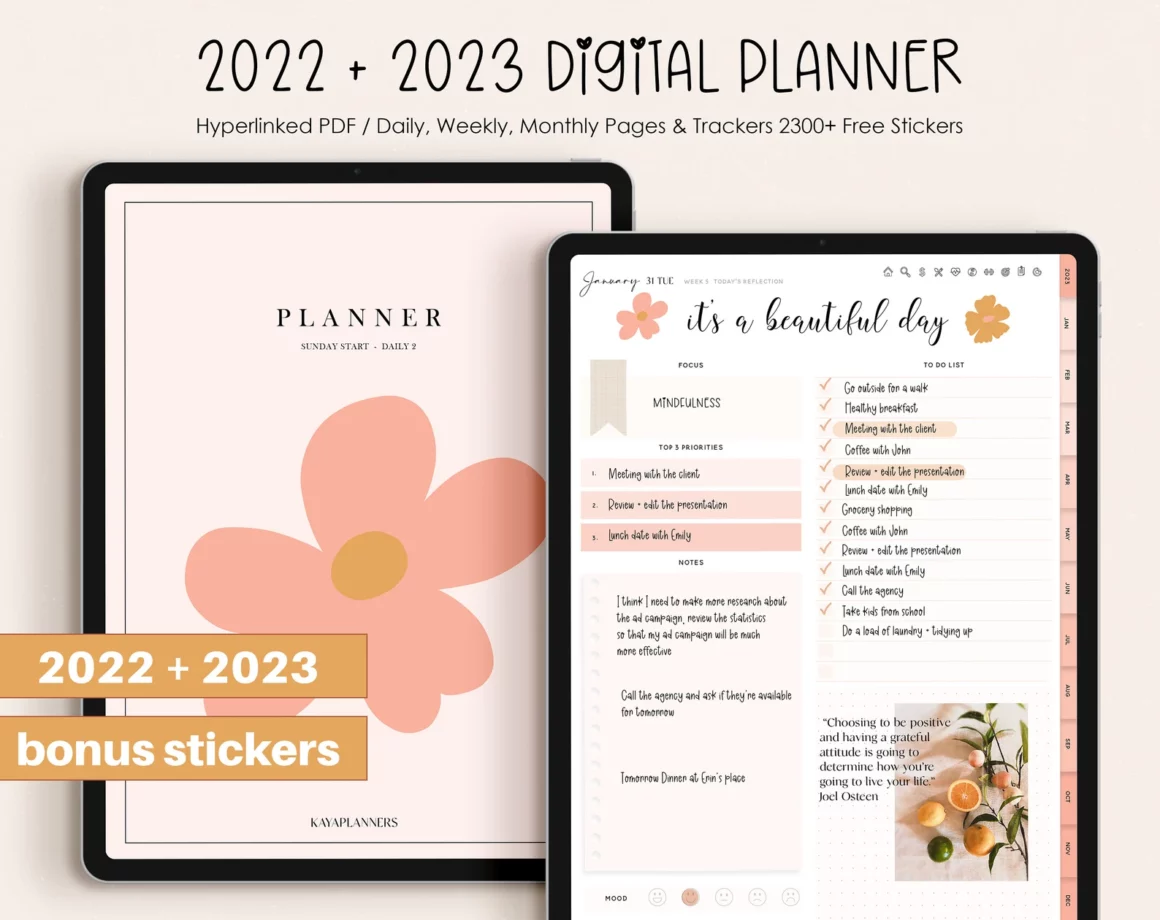 Looking for Notion templates instead of GoodNotes? then check these posts out: