Unlocking Chrome's Secret Arsenal: 25 Aesthetic Chrome Extensions for Supercharged Student Life
Hey there, tech-savvy scholars! Ever found yourself slogging through endless assignments, buried under a mountain of research, or drowning in citation formats? We hear you! But what if we told you there's a treasure trove of Chrome extensions waiting to transform your student life into a breeze of efficiency and, dare we say, aesthetics?
Picture this: Automatic citations conjured with a snap of your fingers, essays buffed to perfection by vigilant proofreaders, and a stash of infographics and memes saved for that future project spark of brilliance. It's like having your own magical toolbox right in your browser, tailor-made to supercharge your learning journey.
Now, you might be thinking, "But how do I find these gems? Do they require tech wizardry to install?" Fear not! These extensions are your digital sidekicks, user-friendly and just a click away. They'll have you zoned in on your academic groove, banishing distractions and turbocharging productivity.
So, before you wrap up your afternoon "study" session, we're unveiling 25 game-changing Chrome extensions that can be installed faster than you can say "class dismissed." Whether you're deep into research, streamlining your study routine, or simply adding a pinch of fun to your browser, we've got something for everyone.
From soothing timers to note-taking ninjas and everything in between, join us on this journey as we uncover the secret arsenal of Chrome extensions, tailor-made for students like you. Get ready to level up your student life with these aesthetic extensions, designed to simplify your academic adventures and make learning a work of art. 🚀💡🎓
1. Dopely Colors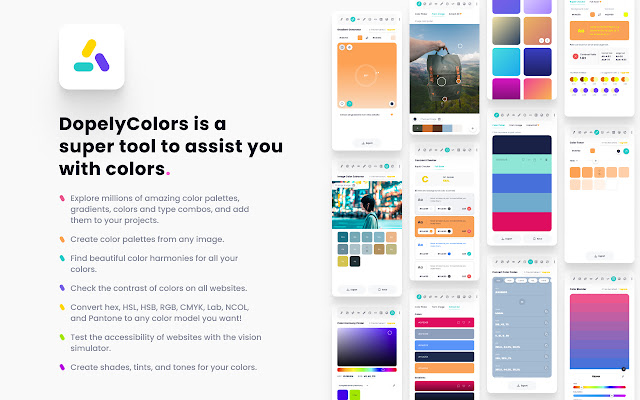 Dopely Colors is a must-have for any student with an eye for aesthetics and a need for color management. This extension offers a suite of advanced color tools that can be essential for any creative project. Features include a color picker to identify the color of any pixel on a page, a color gradient generator, a color tab that fills your screen with an inspiring color palette, a color contrast checker, a color blindness simulator, and more. It even allows you to export your color schemes in various formats. Whether you're designing a presentation or simply want to add some color inspiration to your online experience, Dopely Colors is a versatile choice.
➜ Dopely Browser Extension Contains:
Color Picker: Get the color of any pixel on the page, Make a color palette or generate the color scheme of your tabs.
Color Gradient Generator: Make linear or radial color transitions between any two colors randomly or manually selected! You can open it in Doeply's color gradient generator too!
Color Tab: Fills up your screen with a fresh color palette, color gradient, or both each time you open a new tab to stay inspired! You can share, save, like, or edit too!
Color Contrast Checker: Check the contrast between any two colors on your screen according to WACG and check the accessibility.
Color Blindness Simulator: Experience the web with 8 stimulated eye disabilities as a sighted user.
Color Toner: Choose a color on your tab randomly or manually to see its shades (black added), tints (white added), or tones (gray added) with adjustable amounts.
Save & Export: Export your colors, schemes, and color transitions in PNG, JPG, SCSS, SVG, PDF, or URL. Also, it is possible to login into your Dopely account to save them forever.
2. Todoist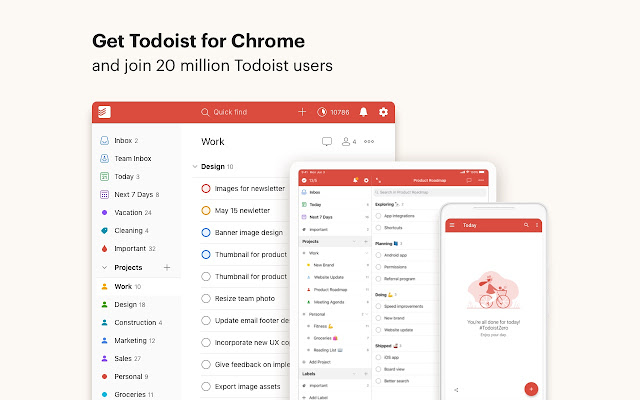 Todoist is your go-to task management extension, perfect for students looking to organize their assignments and stay on top of their to-do lists. With Todoist, you can seamlessly integrate websites and tasks, plan your daily activities, and even complete tasks without leaving your browser. Its user-friendly interface simplifies the process of adding and managing tasks, making it a valuable companion for busy students.
➜ Use Todoist for Chrome to:
Add websites as tasks: Add a blog post to your reading list. Save an item to your wishlist. Add work tasks to follow up on.
Plan your day: Quickly organize your tasks for the day right from the extension.
Complete tasks from the browser: Once your tasks are done, check them off without switching context.
➜ Do more with Todoist on desktop and mobile:
Capture and organize tasks the moment they pop into your head.
Remember deadlines with reminders and due dates.
Build lasting habits with recurring due dates like "every Monday".
Collaborate on projects by assigning tasks to others.
Prioritize your tasks with priority levels.
Track your progress with personalized productivity trends.
3. Otto – Pomodoro Timer and Website Blocker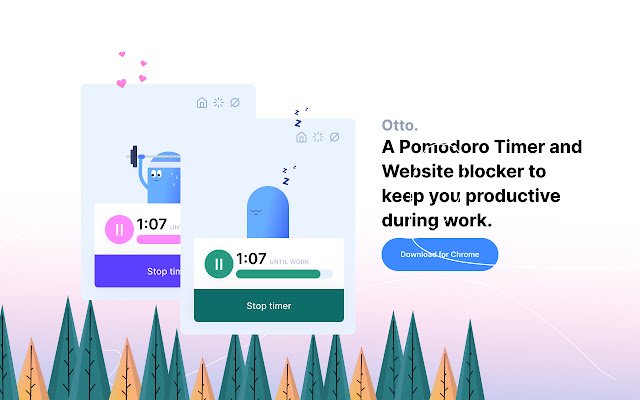 Otto combines time management and website blocking in a fun and engaging way. This Pomodoro timer is your digital tamagotchi, and you need to look after it. When you visit a blocked website during a work session, Otto's health depletes. To regain health, stay away from blocked sites and complete a work session. It's a gamified approach to focus and productivity, perfect for students seeking a more engaging way to study.
➜ Features:
Work/Break timer
Block websites
Point-based reward system
Autoblock websites (Pro)
Hard mode (soon)
Insights (Basic, working on advance insights)
Notifications
Break mode (websites are unblocked during a Pomodoro break)
Advanced Insights (Pro)
4. Dualless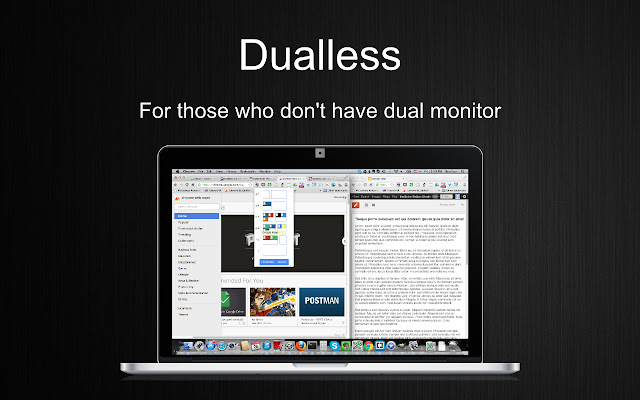 Dualless is a handy extension for students who could use a second monitor. It splits your browser windows into two with just a couple of clicks. You can adjust the ratio according to your needs, effectively creating a dual-monitor setup. This feature is particularly useful for multitasking, whether you're researching, writing, or working on group projects.
5. Memorize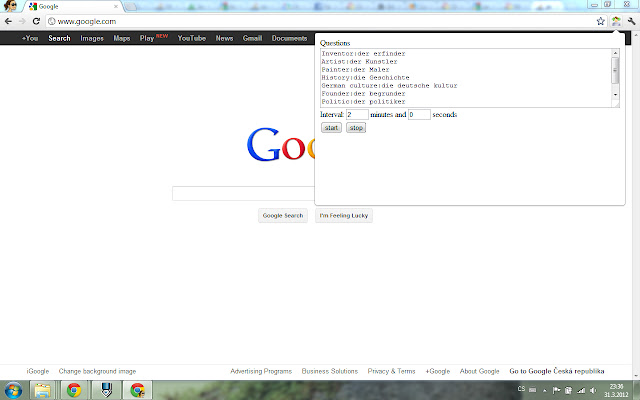 Memorize is a lightweight extension designed to help you learn and memorize answers to specific questions. Whether you're preparing for exams, quizzes, or need to retain extensive information, Memorize simplifies the process. You can enter questions and answers, set intervals between questions, and begin the memorization process. The extension tracks your progress and ensures you master the material efficiently.
➜ Here is how it works:
you enter a list of questions and answers in the following format:
Set the interval between asking each question.
Click start. Questions are shuffled. When you answer correctly on the first or second try, the question will be removed from the list of asked questions. Questions will be asked until you are able to answer every single of them correctly, or until you click stop.
6. Kluk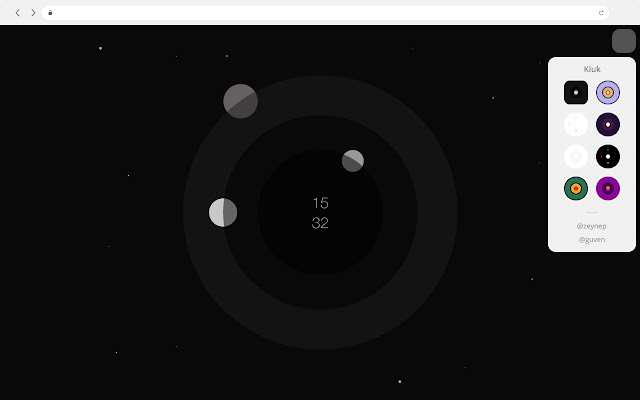 Kluk is a new tab clock extension that adds a touch of elegance and functionality to your browser. It transforms your new tab page into an analog clock, making it visually appealing and practical. With a choice of clock themes inspired by galaxies and orbits, Kluk brings a sense of cosmic beauty to your browsing experience.
7. Kami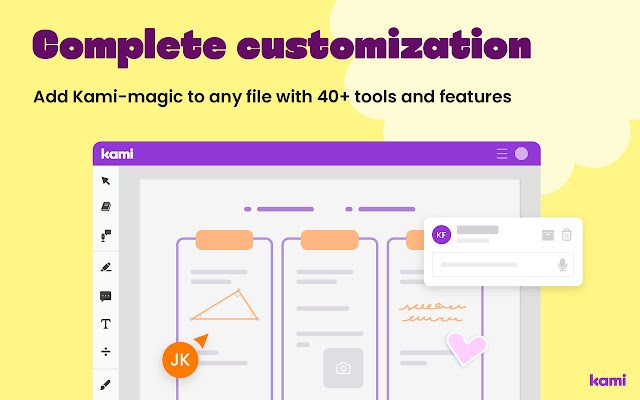 Kami is an interactive learning platform that empowers both students and teachers. With full integration into popular platforms like Google Classroom, Canvas, Schoology, and Microsoft Teams, it simplifies collaborative learning. Kami provides features like text detection on scanned documents, document splitting and merging, an in-app dictionary, text-to-speech, and even the ability to sign documents digitally. It's an all-in-one tool for students and teachers, perfect for enhancing the way you learn, provide feedback, and assess.
➜ Features:
Full integration with Google Classroom, Canvas, Schoology, and Microsoft Teams
Auto-sync and save files to Google Drive
Detect text on scanned files with built-in OCR
Split and merge documents with ease
In-app dictionary
Text-to-speech: Loop, Read Page, Change Voice, and Adjust Speed
Speech-to-text
Markup: Text highlight, box highlight, strikethrough, underline
Feedback: Leave a comment using text, voice, video, or screen capture
Equation: Insert math and music symbols
Drawing: Adjust stroke, color, and transparency
Shapes: Insert shapes and adjust their stoke, color, and transparency
Eraser: Remove all annotations or drawings/shapes only
Add Media: Provide extra learning materials by inserting an image or video from your computer, Google Drive, Google Search, or YouTube
Sign any document with the signature feature
Exceptional online support
8. Taskade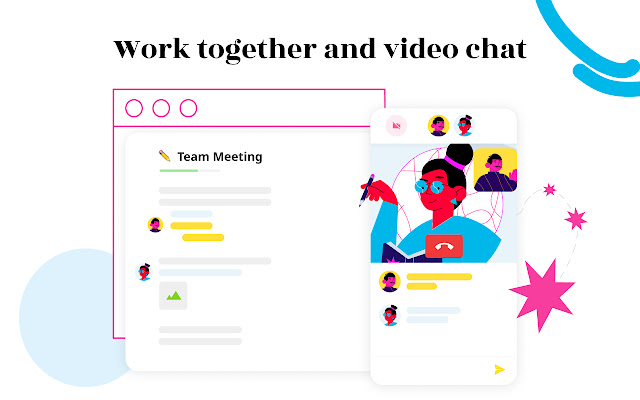 Taskade is a versatile team task list and notes extension that's perfect for students looking to stay organized. It allows you to create task lists, notes, and outlines, and you can easily share and collaborate with others in real time. The extension syncs across all your devices, making it an ideal choice for remote teams. Whether you're working on a group project, managing your tasks, or simply brainstorming ideas, Taskade has got you covered.
➜ Features:
Create beautiful task lists, notes, and outlines
Share and collaborate with others instantly
Invite team members to workspaces
Chat and work together in real time
Create unlimited nested outlines with infinite hierarchy
Tag and filter tasks using #hashtags and @mentions
Real-time syncing across all your devices
Beautiful and minimal interface
Simple, fast and easy to use
9. Tide – Focus Timer & White Noise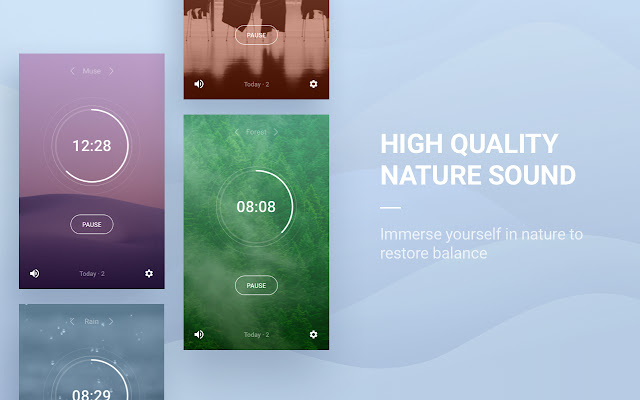 Tide combines the power of a focus timer with soothing white noise to help students stay focused and productive. With the option to use a focus timer, track your focus statistics, and enjoy natural sounds, Tide is designed to help you achieve optimal productivity while maintaining a sense of calm. It's an excellent choice for students who need to maintain a balance between focused work and relaxation.
➜ Features:
Focus Timer:
Focus Statistics:
Natural Sounds:
10. Thyself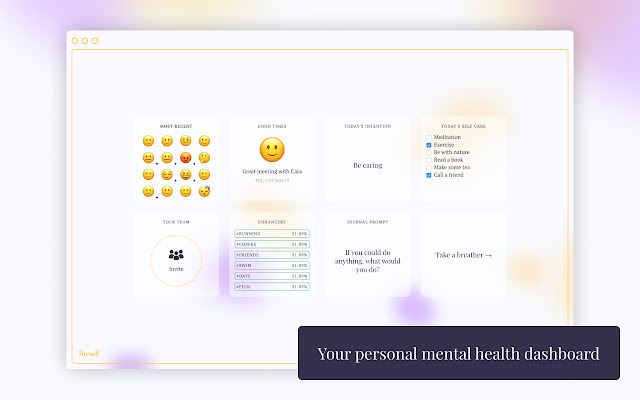 Thyself is a mindfulness extension that prompts you to reflect on your emotions throughout the day. It asks you to select an emoji that reflects your current mood several times a day. The extension encourages self-awareness and positive thinking, making it a valuable tool for students who want to stay in tune with their emotions and overall well-being.
➜ Features:
Reflective mood tracking
Calming breathing exercises
Uplifting affirmations
Mindful emotional labelling
Positive mindset journal prompts
Supportive personal dashboard
Tailored mood selection
Forgiving self-care checklist
Powerful intention setting
Learn insights about your mood
11. Noisli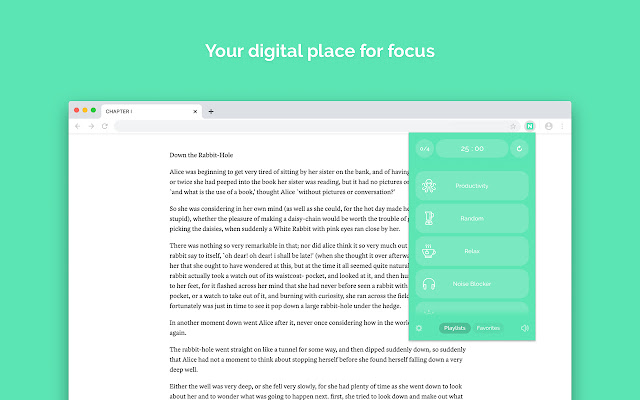 Noisli is your digital sanctuary for focus. It allows you to listen to background sounds that mask distracting noises and help you concentrate while you work or study. With curated playlists, quick access to favorite combos, and even a timer for work sessions, Noisli is a versatile tool for creating an optimal work environment, especially if you're in a noisy or distracting setting.
➜ Features:
Get inspired by our curated Playlists
Quickly access and play your Favorite Combos
Timer to work in sessions (advanced features for Pro and Business users only)
Master volume control
Easily share your Combos with your friends and co-workers
Shuffle and Oscillation
Unlimited streaming
Completed sessions are added to your daily Timer stats
12. Momentum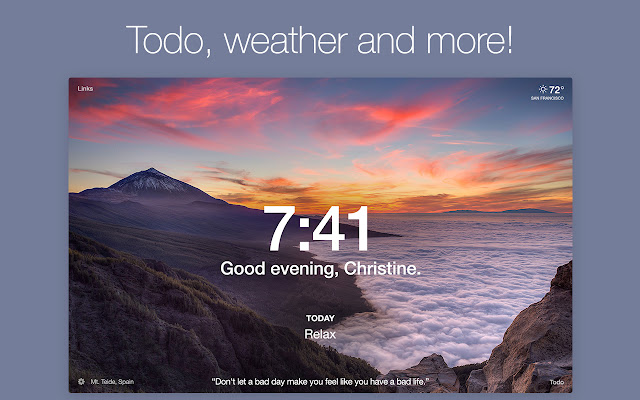 Momentum is a new tab replacement extension that transforms your browser into a personal dashboard. It offers an inspiring daily photo, quote, and mantra. It's packed with features to help you organize your tasks, access shortcuts to favorite websites and apps, check the weather, and perform efficient searches. Momentum helps students start their day with focus and motivation, making it an essential part of their study routine.
➜ Key Features
New inspiring photo, quote, and mantra each day
Friendly reminders of your most important task
Easy to use to-do list manager
Shortcuts to your favorite websites and apps
Local weather info
Google/Bing/DuckDuckGo/Ecosia search options
Customizable — show/hide features as you like
Private and secure — we don't share or sell your data
13. Tabby Cat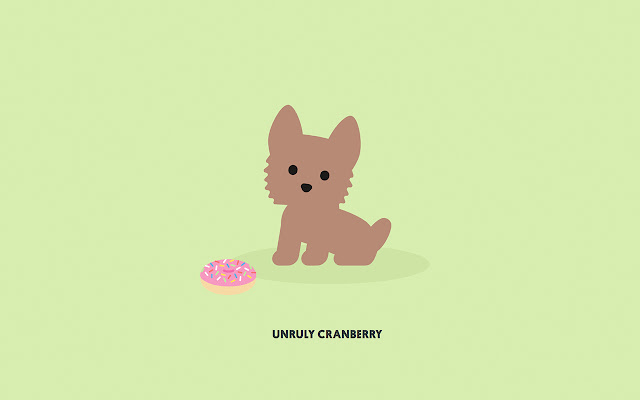 Tabby Cat is a delightful extension that adds a touch of fun to your browsing experience. It introduces virtual cats that blink, sleep, and even allow you to "pet" them. Some toys attract combo kitties, which are cute little baby cats that only appear for specific combinations of goodies. If you're not a fan of cats, you can even switch to other pets like Doggos, Penguins, Bunnies, Pigs, and more. Tabby Cat is a lighthearted way to brighten your day while you work or study.
14. Power Thesaurus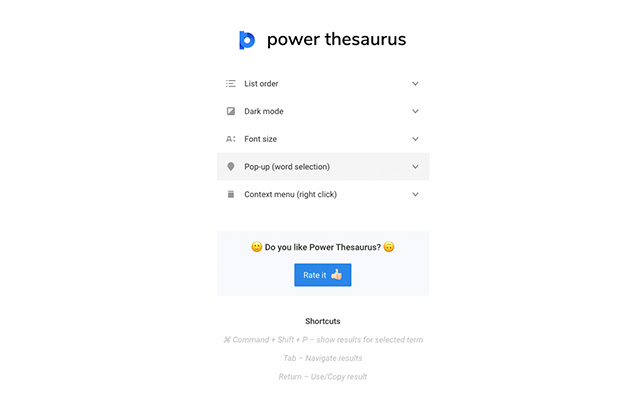 Power Thesaurus is a handy extension for students who need a quick reference for synonyms and antonyms while writing essays or reports. It offers the power of synonyms by allowing you to access synonyms, antonyms, definitions, and more for any word. With the ability to rephrase texts on various websites, it enhances your writing and language skills. It's a valuable tool for expanding your vocabulary and making your writing more diverse and engaging.
Do more with handy tools
Toolbar button
Shortcut in context menu
Synonyms on term selection
Get extra results in Chrome toolbar
Synonyms and Antonyms
Definitions and Sentences
Related terms, Narrower and Broader terms
Similar terms, terms with similar pronunciation
Rhymes
Use Keyboard shortcuts
Results for selected term
Navigate results
Use/Copy result
15. Workona Tab Suspender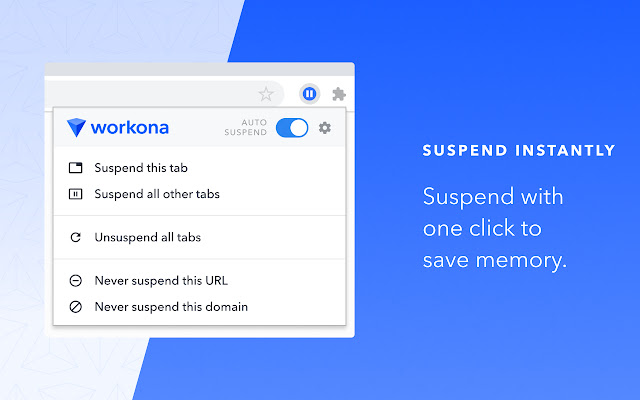 Suspend your browser tabs to save memory.
Workona Tab Suspender is an extension designed to help students manage their open tabs more efficiently. By suspending tabs, you can save memory and keep more tabs open without overloading your browser. This extension is perfect for students who multitask or keep multiple tabs open for research and studying.
➜ Features:
Save memory
Keep more tabs open
Auto-suspend tabs
Never lose tabs
PRIVACY & SECURITY
16. Forest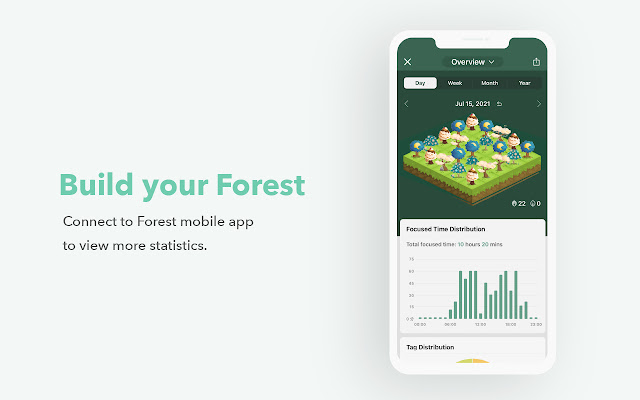 Forest is a unique productivity extension that encourages you to stay focused by gamifying your work routine. It challenges you to cultivate a forest by focusing for a specific time, which helps beat internet distractions. By staying focused, you can grow your virtual forest, making it a motivating tool for students who struggle with distractions while studying.
➜ Features:
A self-motivated and interesting method to help you beat Internet addiction
Cultivate your personal pattern of time management: make good use of 30-minutes to fully concentrate on your work and finish it effectively
Share your trees with friends
17. InsertLearning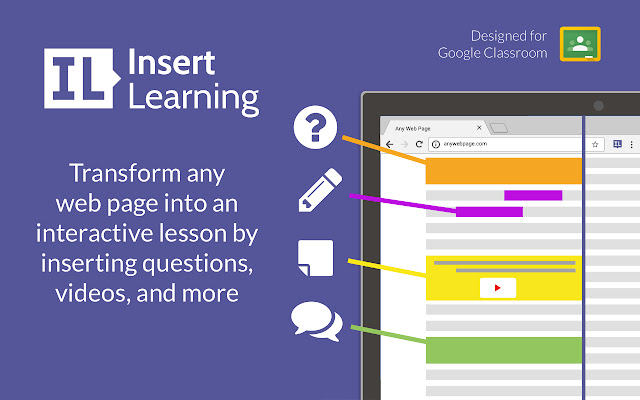 InsertLearning is an interactive learning extension that empowers teachers and students by providing tools for creating notes, asking questions, pinning videos, starting discussions, and highlighting text. It's an excellent choice for teachers conducting online classes and for students who want to engage more deeply with their coursework. This extension streamlines the learning experience and encourages interactive study.
➜ Features:
Insert notes,
Ask questions,
Pin videos,
Start discussions with students, and
Highlight text you want everyone to see.
Each feature is assigned with a specific icon and is controlled from the extension bar. It's very intuitive and it helps teachers conduct classes in a quick and efficient way.
18. Evernote Web Clipper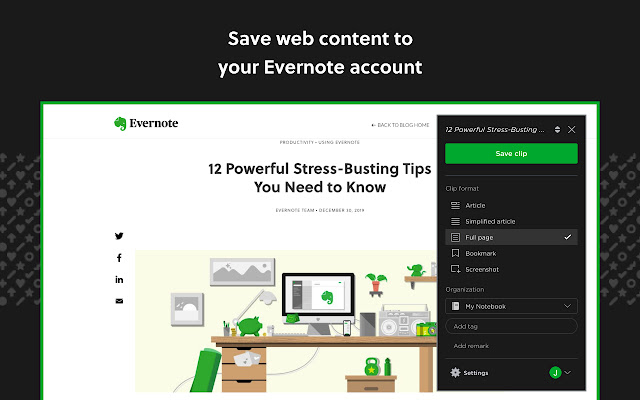 Evernote Web Clipper is a versatile extension for students who want to organize and collect information from the web. It allows you to capture notes, articles, or any content from web pages and save them to your Evernote account. This is particularly helpful when you come across valuable information that you want to reference later in your assignments or research projects.
19. uTab – Unlimited Custom Dashboard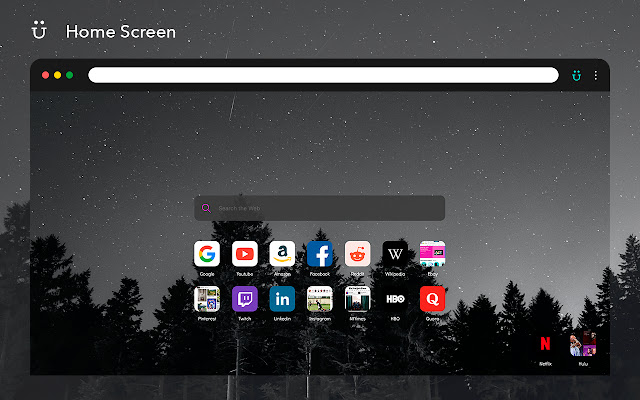 uTab is the ultimate extension for customizing your new tab experience. It allows you to create folders with different bookmarks right on your new tab page. You can choose between dark and light modes, change your background, and even access clocks from various time zones. For students who like to keep their browsing organized and personalized, uTab is a must-have.
➜ Features:
make as many folders with different bookmarks as you need right on the new tab
apply dark/light mode
opportunity to change the background of a start page
support clocks from 10 time zones
20. Lightshot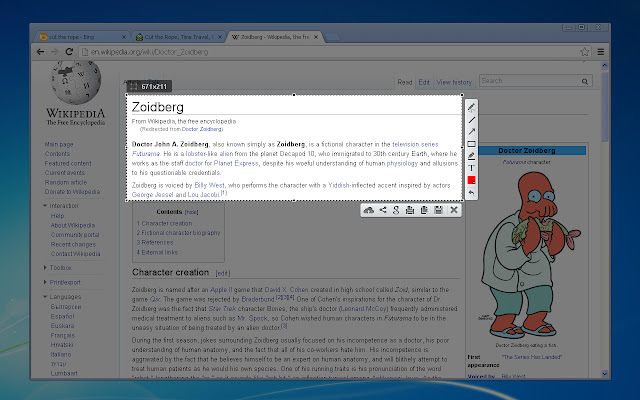 Lightshot is a simple yet powerful screenshot tool that lets you take customizable screenshots. You can select any part of a webpage, edit your screenshot in place, save it to your disk, or upload it to the cloud. This extension is perfect for students who need to capture specific parts of a webpage for their research or projects. It also allows you to search for similar screenshots and share them with ease.
➜ Features:
take screenshot and share it in few clicks
select any part of the page
edit screenshot in place
save on a disk or upload to the cloud
search for similar screenshots
copy screenshot in clipboard
21. Weava Highlighter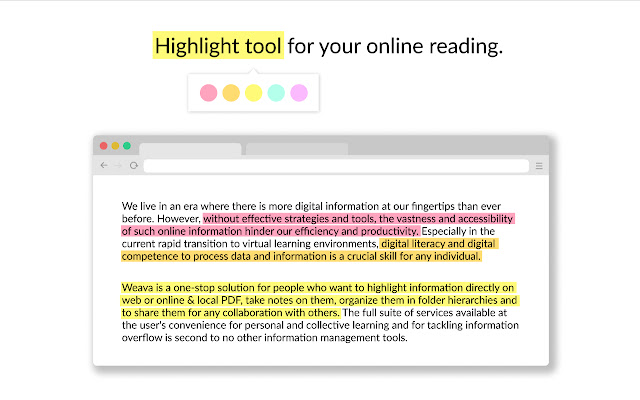 Weava Highlighter simplifies the research process for students. You can highlight websites and PDFs with multiple colors and annotations. The extension also organizes your highlights into folders and sub-folders, making it easy to revisit and reference your research. Additionally, Weava creates citations automatically for your highlights, saving you time on proper citation formatting.
➜ Features:
Highlight websites and PDFs with multiple colors, and make annotations. Revisit them with a single click.
Organise your highlights into folders and sub-folders.
Create citations automatically for your highlights.
Access your highlights anywhere. Your highlights and notes are saved in the cloud.
22. Custom Progress Bar for YouTube
Custom Progress Bar for YouTube lets you personalize your YouTube experience by changing the progress bar to fun and entertaining designs. You can choose from various themes like Pikachu, Adventure Time, Nyan Cat, Batman, Super Mario, and more. This extension adds a playful touch to your video-watching experience, perfect for students who take short breaks to relax with YouTube.
➜ Features:
Pikachu;
Adventure Time;
Nyan Cat;
Batman;
Super Mario and others.
23. Pastel New Tab Clock Pastel New Tab Clock is a minimalistic extension that replaces your new tab page with a soothing clock. It randomly generates a pastel background color with each new tab, making your browsing experience more aesthetically pleasing and adding a touch of serenity to your daily routine.
24. Alpha Text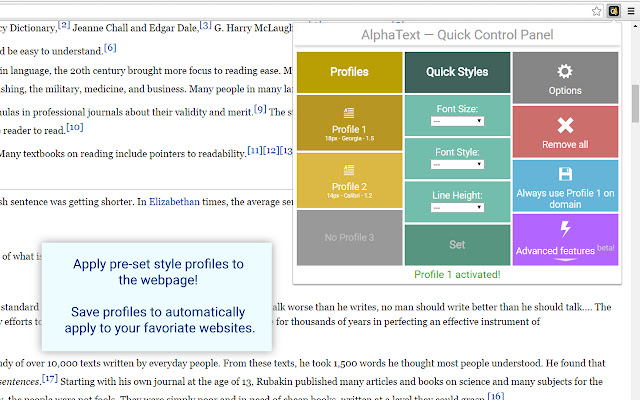 Alpha Text is an extension designed to enhance the readability of online articles. It allows you to quickly adjust font size, style, line spacing, and even optimize text and background colors for better contrast. This tool is ideal for students who spend hours reading online content, making it more comfortable and accessible.
➜ Features:
Quickly adjust font size, font style, and line spacing on websites
Save favorite style sets to apply with a single click
Automatic style adjustment on your saved favorite sites
Quick color adjustment to optimize text and background color to your liking
Clutter-clearing power tools to remove distracting multimedia (images, videos, fancy backgrounds)
25. Postlight Reader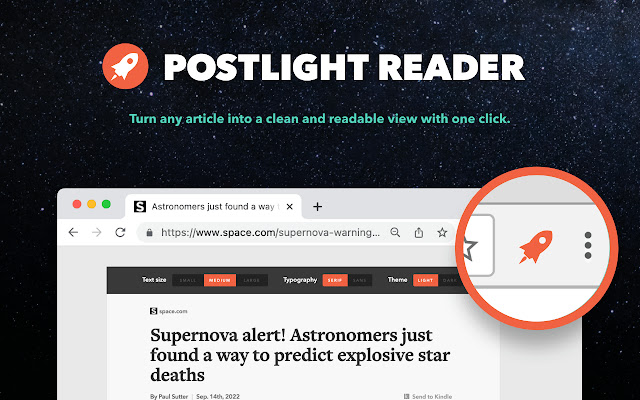 Postlight Reader is a reading optimization extension that removes ads and distractions, leaving only text and images for a clean and consistent reading view on every site. It also offers features like sending content to Kindle, adjusting typeface and text size, and switching between light and dark themes. For students who do a lot of online reading, this extension enhances the reading experience and makes it more efficient.
➜ Features:
Disable surrounding webpage noise and clutter with one click
Send To Kindle functionality
Adjust typeface and text size, and toggle between light or dark themes
Quick keyboard shortcut (Cmd + Esc for Mac users, Alt + ` for Windows users) to switch to Reader on any article page
Printing optimization
Sharing through Facebook, Twitter and Email