Last Updated on July 11, 2023 by Farnaz
As a photographer or artist, it is essential to present your work in the most effective way possible. Having a website is an excellent way to display your portfolio to potential clients and fans. It not only showcases your talent but also helps in building a brand identity. WordPress is a popular content management system that offers a wide range of themes specifically designed for photographers and artists. These themes are not only visually appealing but also help in displaying your work in a way that makes it stand out.
In this post, we will discuss the 10 best WordPress themes that we recommend for photographers and artists. Each of these themes has unique features that make it perfect for showcasing your portfolio. For example, some of these themes have built-in galleries that allow you to display your work in an organized manner. Others have customizable layouts that allow you to create a website that reflects your personal style.
Moreover, these themes are not just limited to photography and art. They are versatile and can be used by designers, writers, and other creative professionals. With these themes, you can create a website that is not only beautiful but also functional and user-friendly.
Having a website is essential for photographers and artists to showcase their work. With WordPress, you have access to a wide range of themes that can help you create a website that reflects your personal style and showcases your work in the best possible way.
Before we continue, you may like this posts to:
1. Gazette – Photography WordPress Themes
Meet Gazette, a clean and flexible theme perfectly suited for minimalist magazine-style sites, personal blogs, or any content-rich site. It allows you to highlight specific articles on the homepage, and to balance readability with a powerful use of photography — all in a layout that works on any device.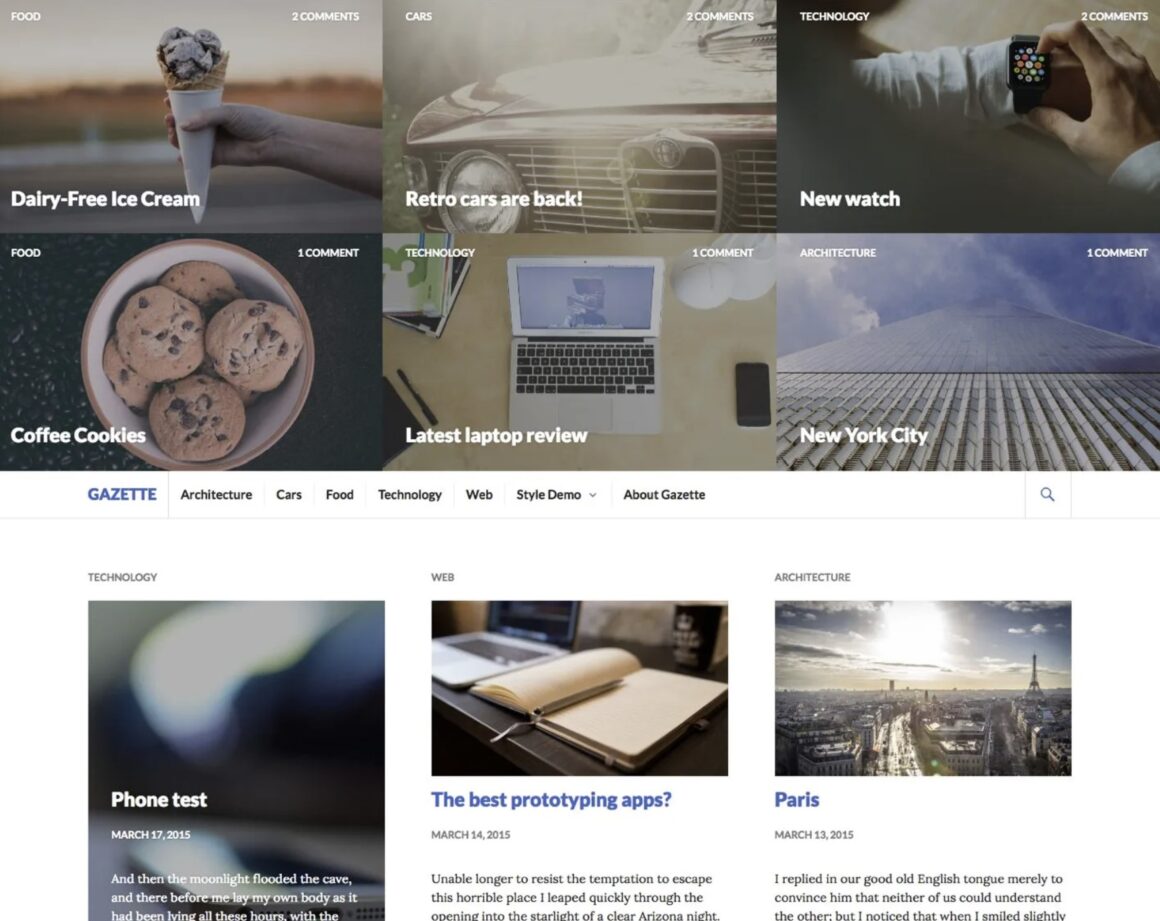 2. Photos WordPress Themes
Photos is an image-centric WordPress theme with a clean layout, designed to help you showcase your favorite images.
If you're a photographer looking for a canvas on which to display your work, Photos — a free WordPress theme — is an excellent choice. Highlight your photographs with a theme that eliminates distraction. The clean design is an ideal option to showcase and sell images from your professional photography portfolio.
Photos is mobile-friendly, and offers an excellent online photo viewing experience, regardless of whether your clients and fans visit your website on a laptop, smartphone, or tablet.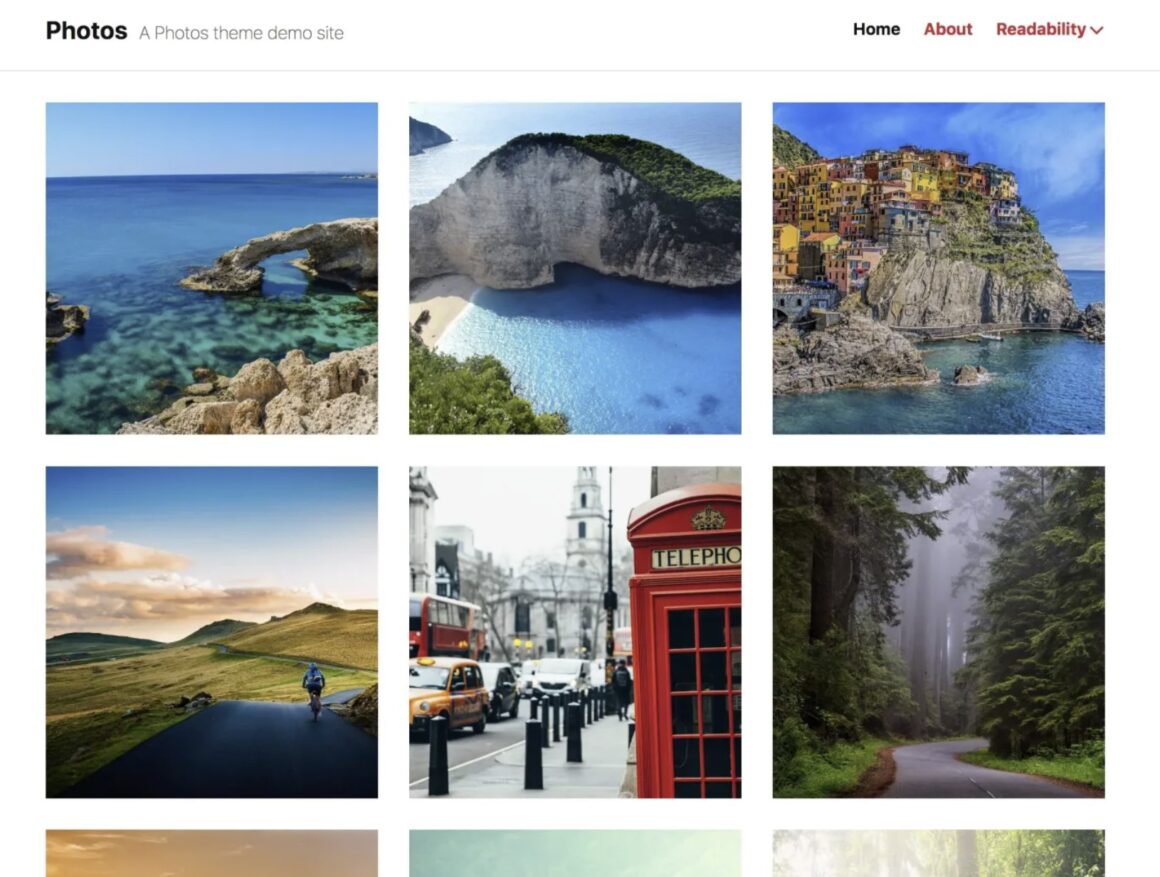 3. Photographer
Professionally showcase and sell your photography. Photographer is a clean and minimal block theme with a focus on the images. It's an excellent solution for professional photographers or hobbyists.
A photography website should focus on, well — photography. It's important that the design only serves to enhance the imagery on the site without being a distraction. As a result, the Photographer theme design is clean and minimal, so your photographs are the star of the show.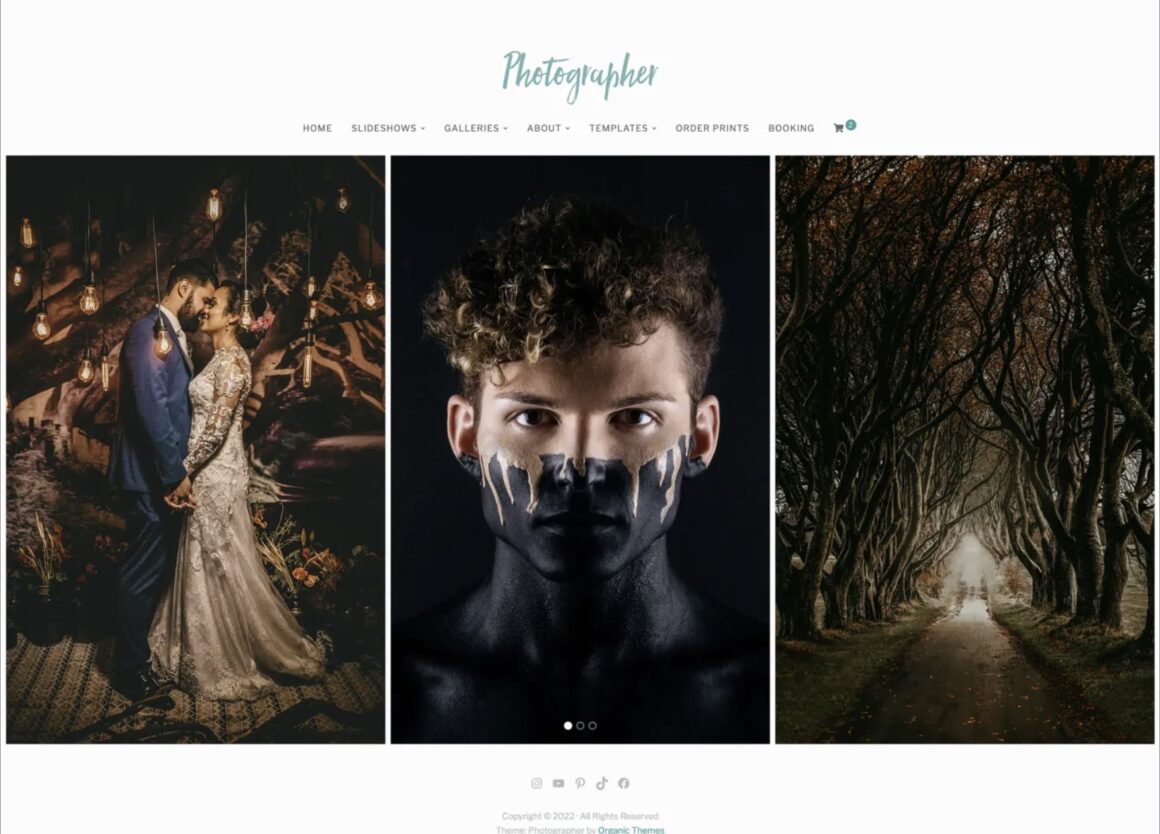 4. Free WordPress theme – Mayland
Mayland is a free WordPress theme. The clean, tasteful design highlights all your writing and photography projects.
The best WordPress photography themes showcase your creativity and Mayland does exactly that. This flexible photography theme works perfectly for landscape, commercial, and portrait photographers, as well as photojournalists and visual artists. Use Mayland for your portfolio website and an online store, where you can post images for sale to clients, customers, and fans.
Mayland's tiled galleries open up into an immersive slide-viewing experience that allows website visitors to enjoy your work. Publish additional content to your blog to tell the stories behind your photoshoots.
Whether you're a freelancer, a seasoned professional, or want to turn your picture-taking hobby into a source of income, this free WordPress photography theme puts the focus on your creativity.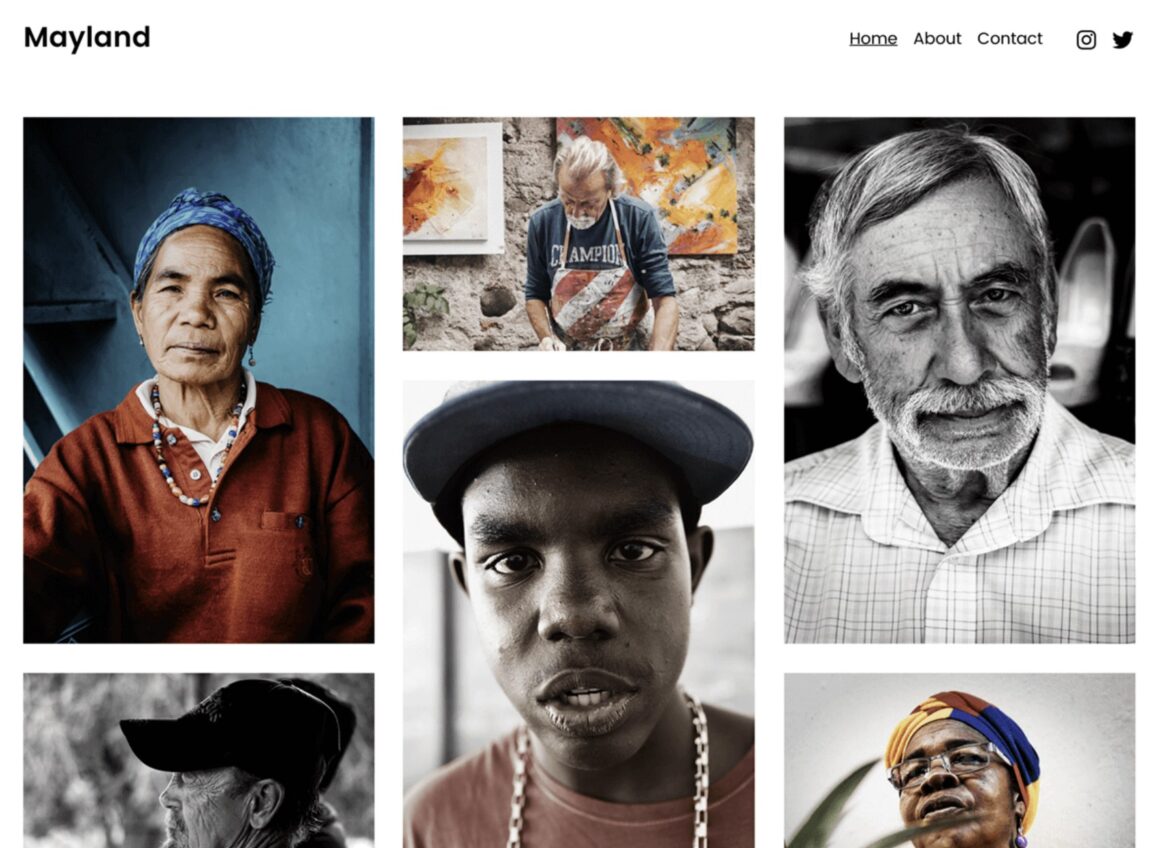 5. Photography WordPress Themes – Boardwalk
Boardwalk allows you to have two Custom Menus: one in the theme's slide-out sidebar (Primary Menu) and one in the footer (Social Menu), which can be setup through the dashboard, or the Customizer.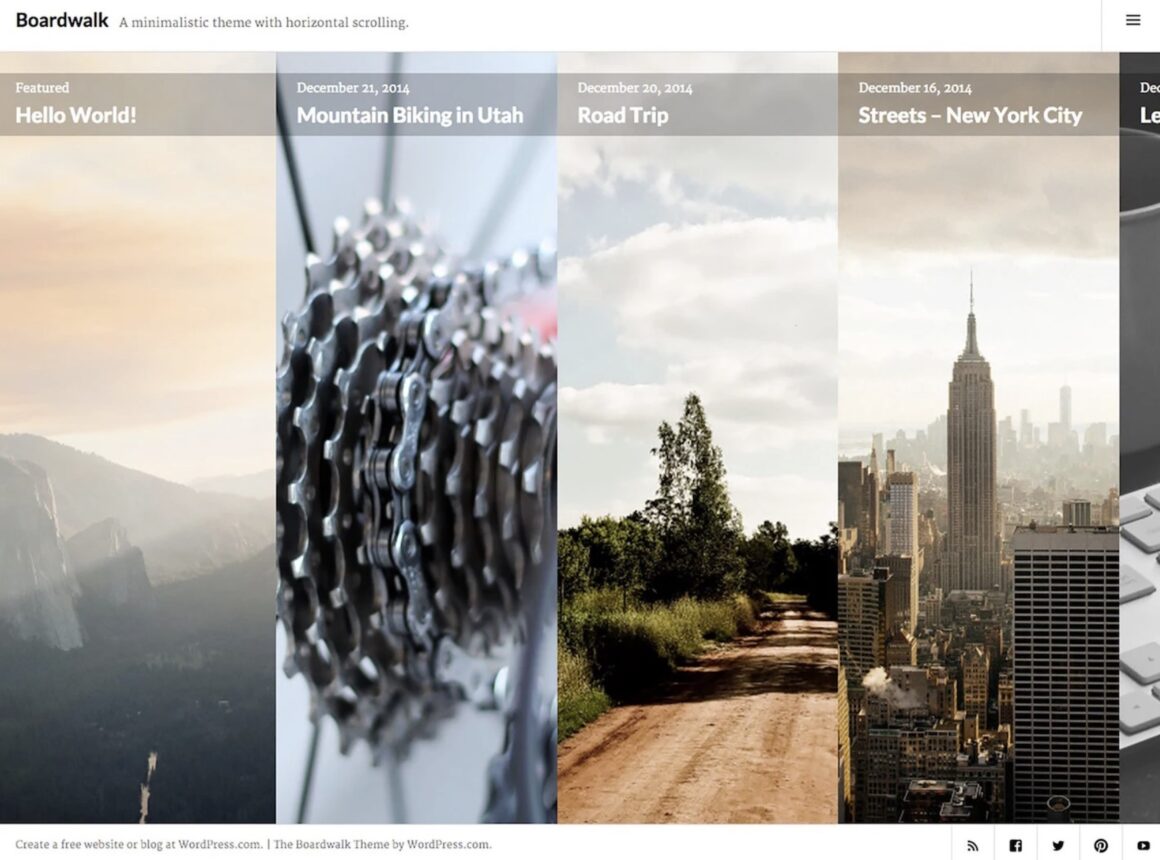 6. Inspiro – WordPress Themes
A professional Photo and Video focused theme with a modern design. With features including a fullscreen slideshow that supports YouTube, Vimeo & self-hosted videos in the background, Elementor integration, and a gallery module, Inspiro is perfect for showing off your portfolio, images, and videos.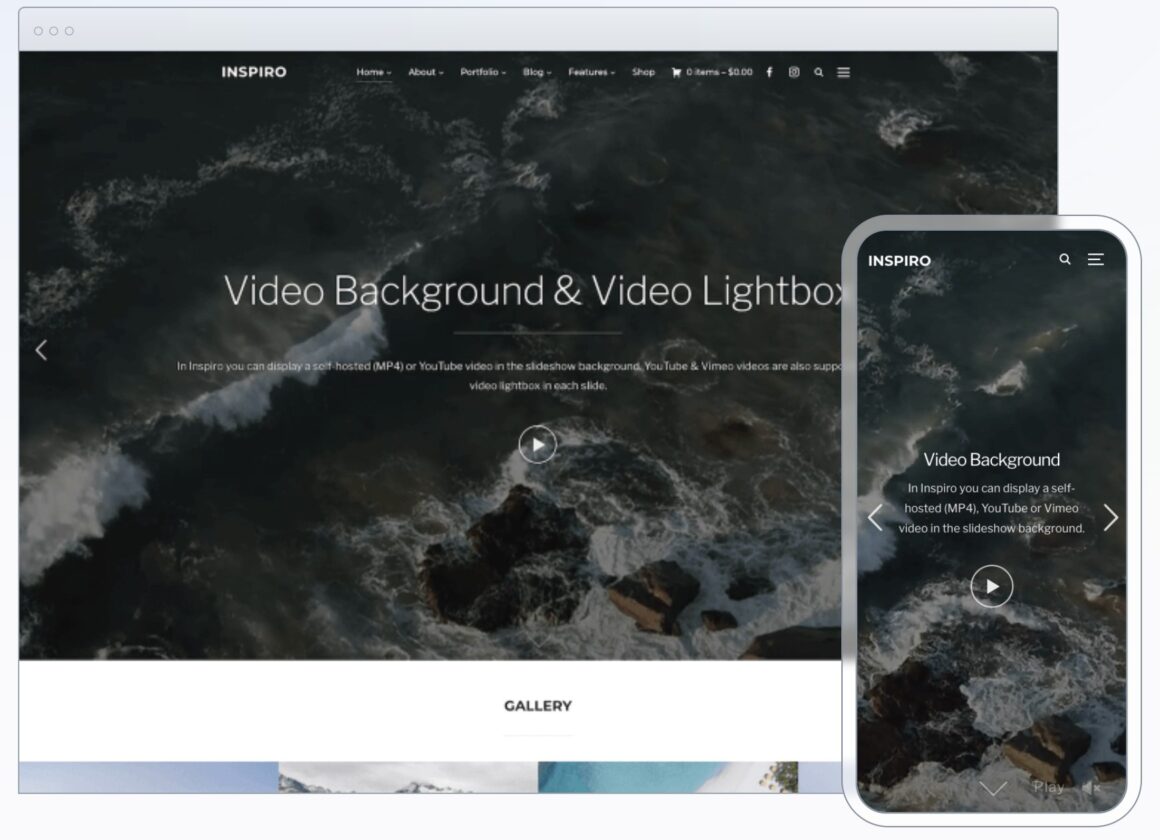 7. Tempo
Tempo is a minimal portfolio WordPress theme that will make your work look beautiful. Choose between a grid or masonry layout, light or dar skin, multiple header layouts and WooCommerce integration.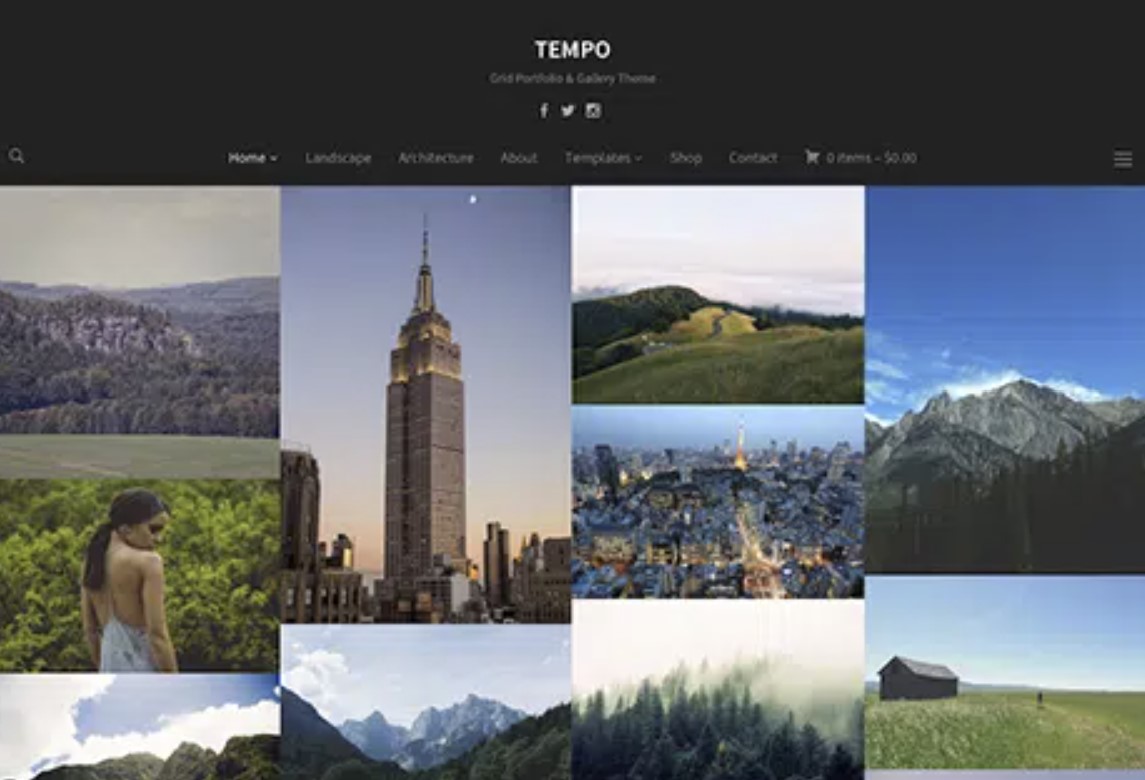 8. Fargo 
Fargo is a wedding photography WordPress theme great for visual artists who want to inspire the world with their work.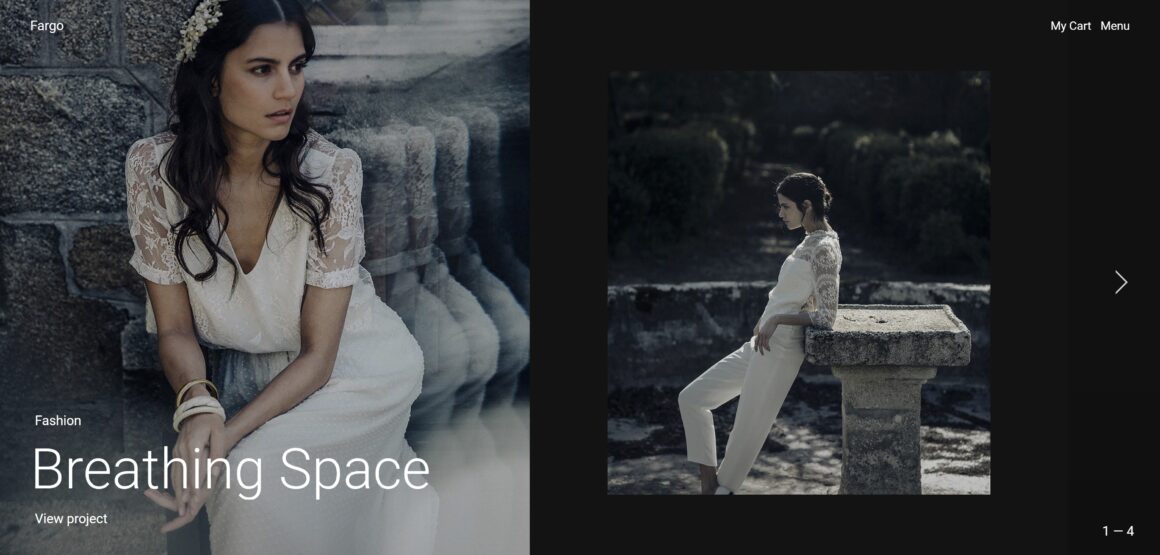 9. Lense
Multiple gallery layouts: Use the GutenBee gallery block to create stunning photo grids, masonry and justified galleries. Promote your work in the easiest and most beautiful way possible.
Portfolio custom post type: The portfolio custom post type is the perfect host for all your different photography projects. Easy to use with full block editor and page builder support, categorization through a custom taxonomy and flexible portfolio listing options.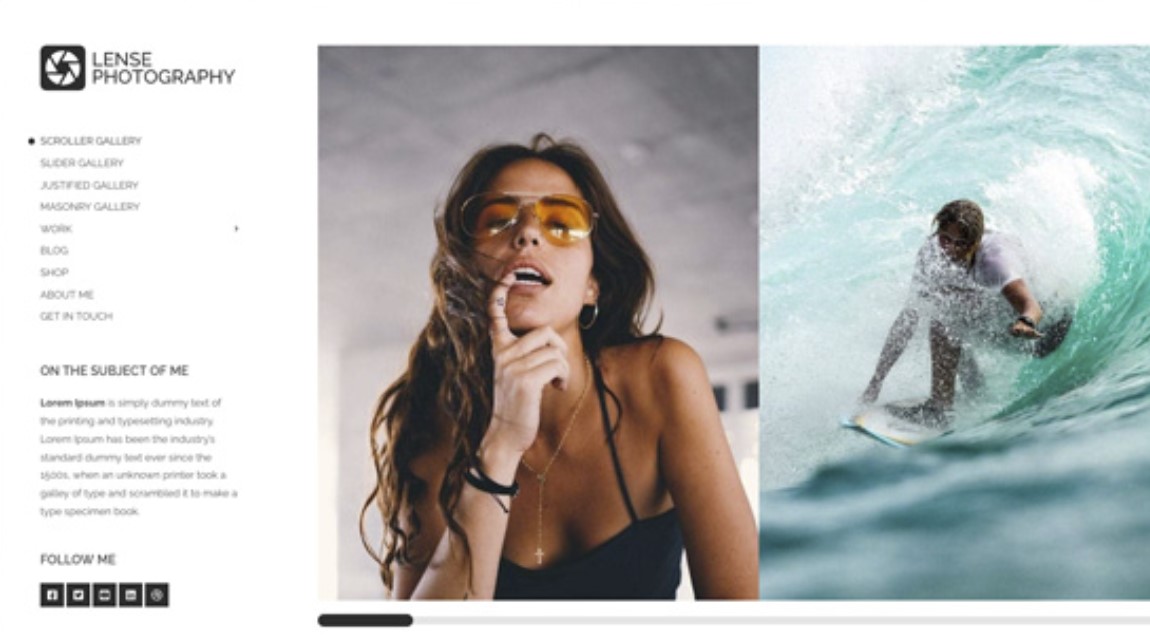 10. Boldlab
Boldlab is a smart option for photography portfolios and art shops. Its design is a lot more modern than most of the other themes on this list. That makes it an excellent choice if you want your portfolio to look unique.
Using Boldlab, you can experiment with different portfolio layouts, depending on how you want to show off your photos. This theme also includes a lot of microinteractions, which make it feel more dynamic without bogging the navigation down.