Last Updated on June 25, 2023 by Farnaz
Tracking your finances is an essential aspect of managing your personal finances. It enables you to be more mindful of your spending habits and take full control of your money. By tracking your spending, you can make informed decisions about your finances, save money, and achieve your financial goals.
The Best Notion Finance Tracker is a powerful tool that can help you manage your budget more efficiently. It provides you with the tools you need to track your income, expenses, and overall financial health. With the Best Notion Finance Tracker, you can easily monitor your spending and identify areas where you are overspending.
Not only does the Best Notion Finance Tracker help you track your spending, but it also gives you access to a wide range of budgeting templates. These templates are designed to help you manage your finances more effectively and achieve your financial goals. Whether you are looking to save money, pay off debt, or invest in your future, the Best Notion Finance Tracker has a template that can help you achieve your goals.
Some of my favorite Notion budgeting templates include the monthly budget tracker, the debt payoff tracker, and the savings tracker. These templates are easy to integrate into your current workflow and can help you stay on top of your finances.
This post has some of my favorite Notion budgeting templates. You can easily integrate them into your current workflow.
Before we continue, you may like this posts to:
Introducing Financial Buddy, your ultimate companion for tracking and managing all your finances in one place. With Notion Finance Tracker, you can take control of your finances with centralized tracking and management, and simplify your financial life.
Keeping a handle on your finances can be overwhelming, but Financial Buddy simplifies the process. Our comprehensive operating system empowers you to effortlessly track your income, expenses, and create automatic reports for a clear overview of your financial health. Say goodbye to the stress of not knowing where your money goes – Financial Buddy is here to help.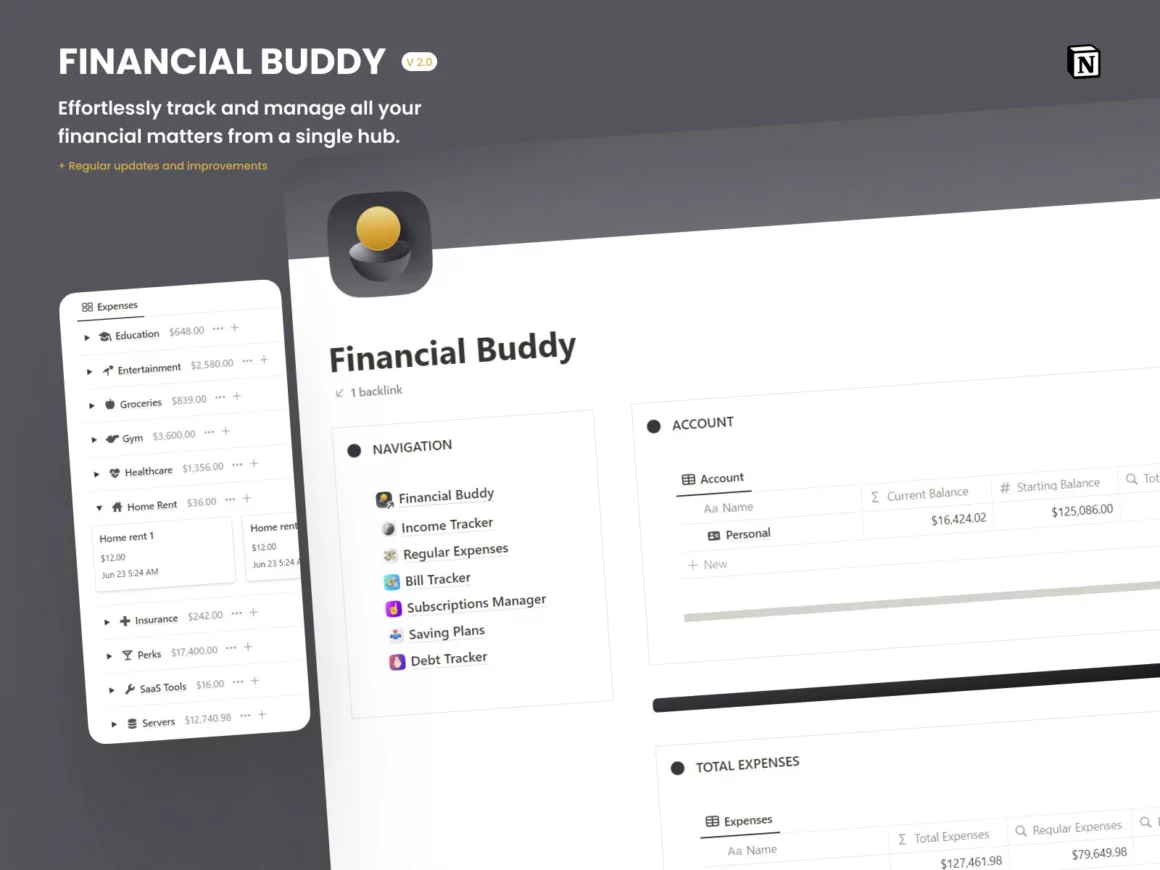 2. Notion Finance Tracker
Juggling your finances can feel like a full-time job. Our Notion solution makes it easy to manage all your finances in one place.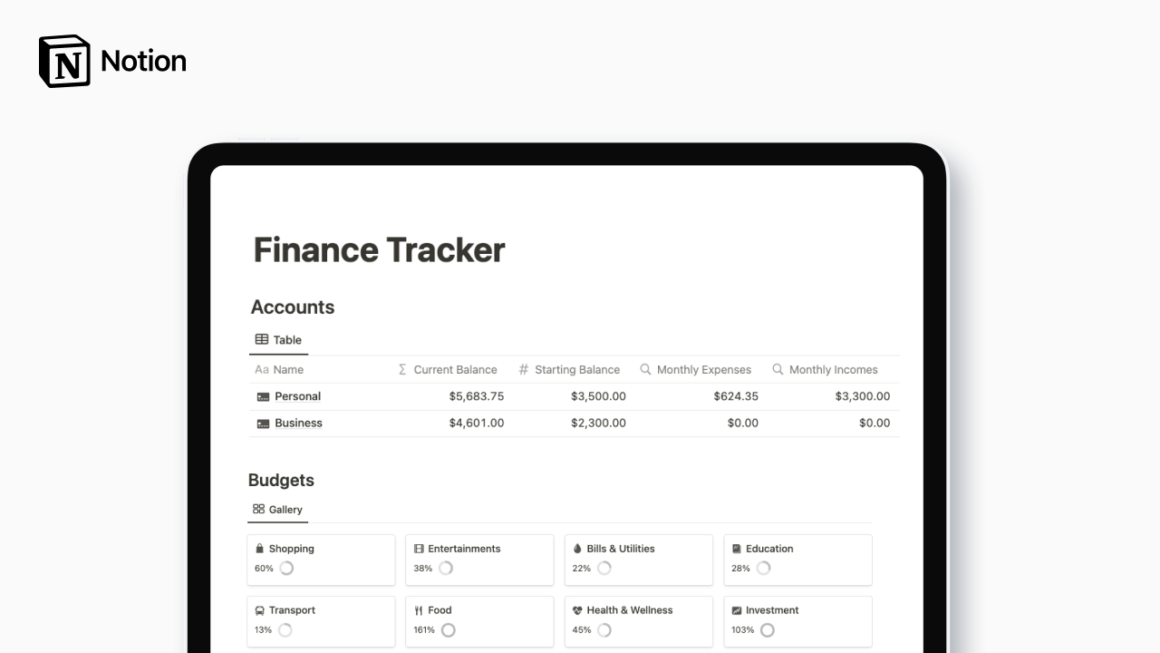 3. Subscription tracker
it's really difficult to stay on top of my finances, so I created a little subscription tracker with monthly/yearly cost overviews and renewal alerts.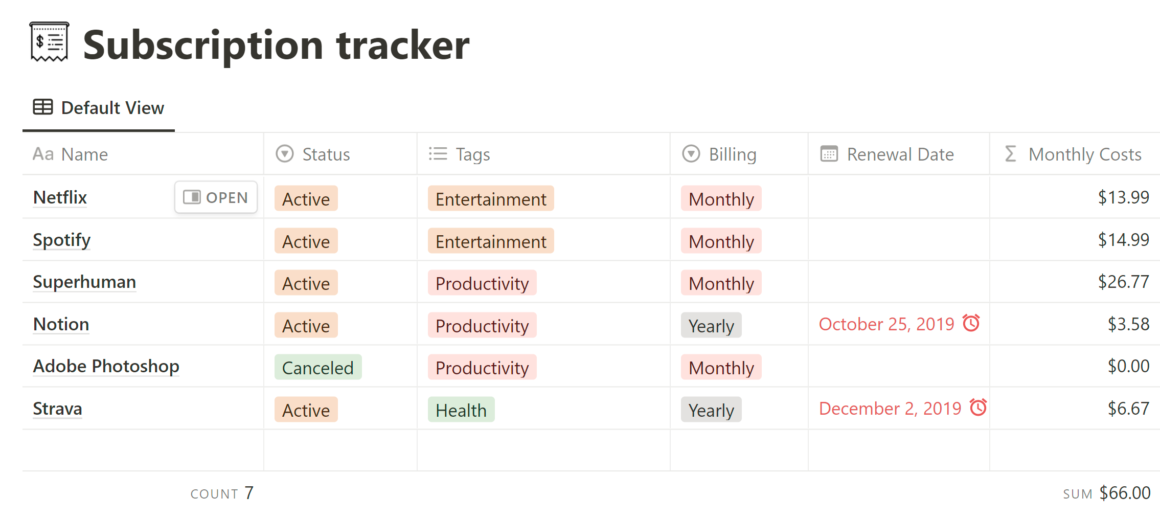 4. Recurring Transactions Tracker – Notion Template
Bill and Subscription manager to save money each month on subscriptions you no longer use
"Single database with multiple views" setup to keep track of all your recurring charges in one place
Aggregations to see exactly how much you're spending each month on subscriptions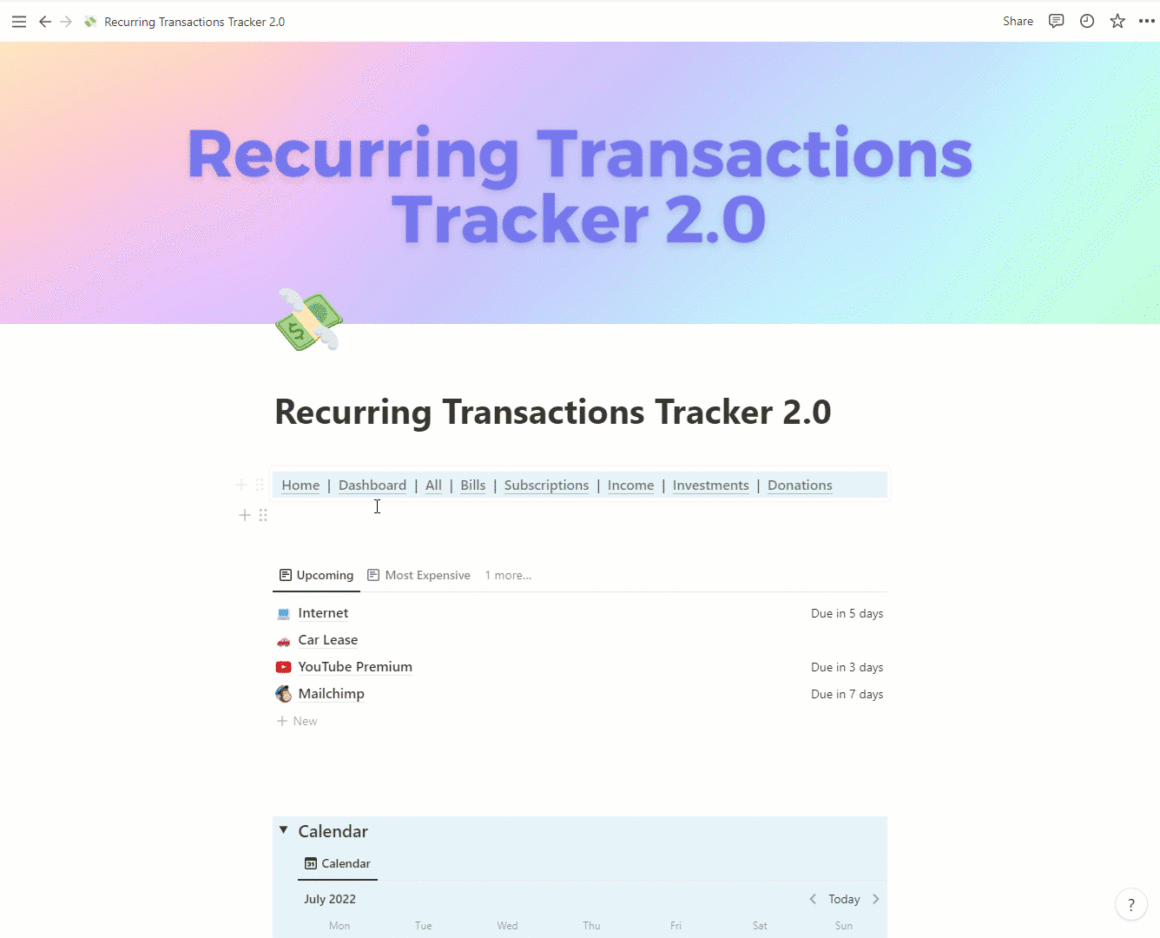 5. Personal Finance Tracker
Start your journey to financial freedom without ever leaving Notion. This template provides a framework for everything you need to start managing your finance.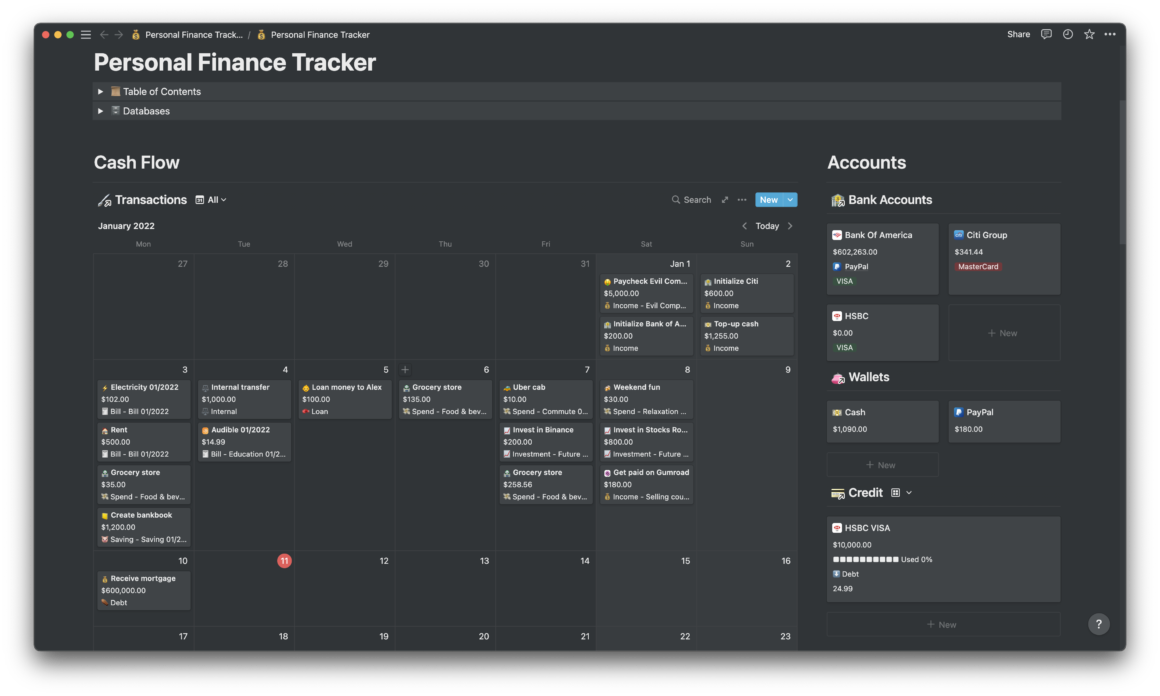 6. budget tracker for Notion
Notion Complete Bundle includes a Finance Tracker template that can help you keep track of your budget. With this template, you can log your income and expenses, categorize transactions, and monitor your spending habits. Additionally, you can view your financial data using charts and tables, which can help you identify trends and make informed decisions. Overall, the Finance Tracker is a valuable tool for managing your finances within Notion.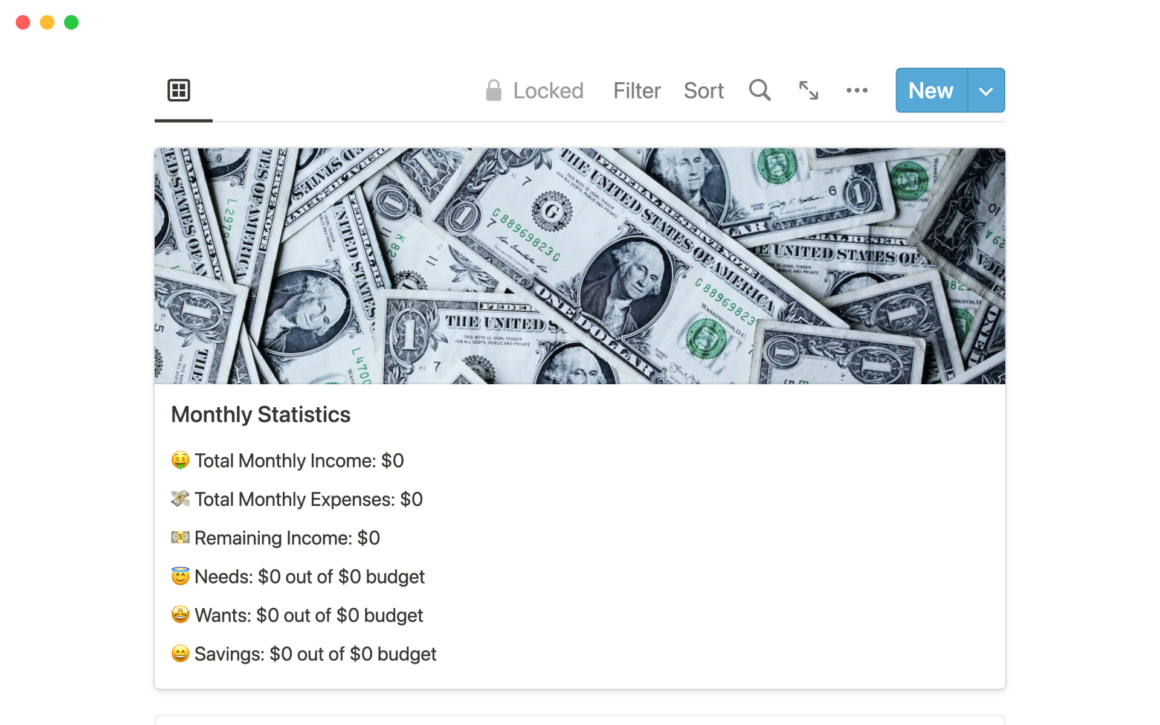 7. Notion Complete Bundle
If you need a productivity tool, Notion Complete Bundle might be what you're looking for. It includes all the features of Notion, such as task management, notes, calendars, databases, wikis, and more. Notion is very flexible, which means it can be used for personal organization, team collaboration, project management, and even customer relationship management. Notion Complete Bundle also provides access to exclusive templates and tools, such as Freelancer OS, Finance Tracker, Investment Tracker, Social Media Planner, and OKRs Tracker, which can help you get started quickly and make the most of Notion's capabilities. Overall, Notion Complete Bundle is an excellent option for creating a workspace that works for you.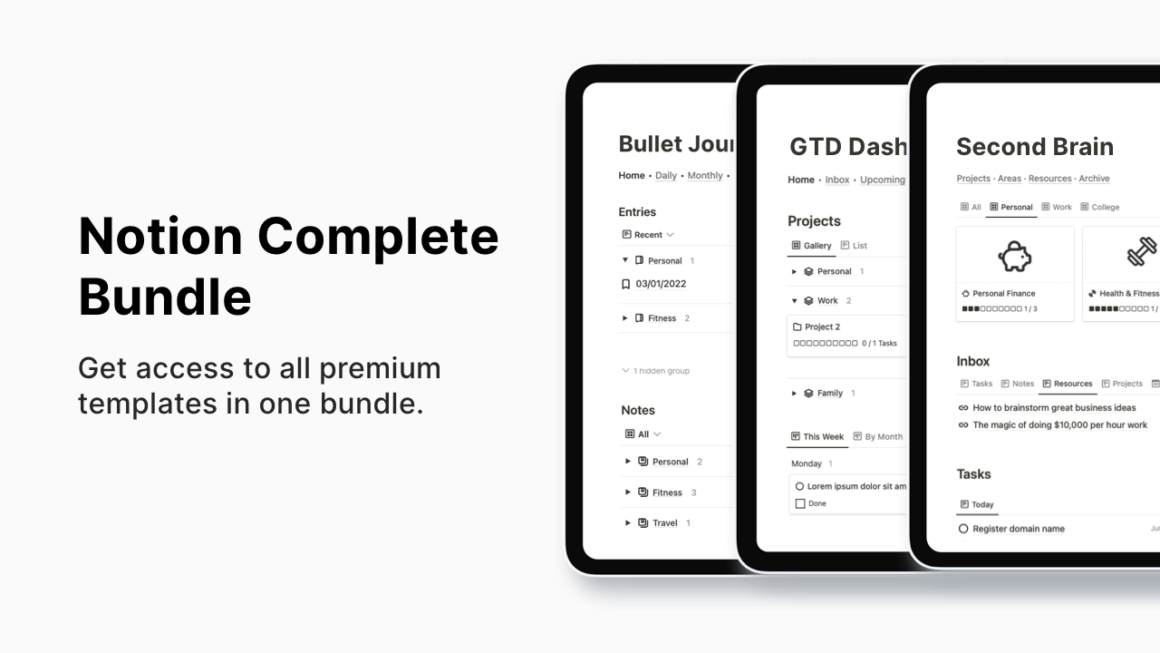 8. Notion Finances Tracker
a space to track all your income streams
a space to track all your expenses
and automatic financial summaries every month
9. Financial tracker for Notion
Quickly log and track automatically dated income and expenditure, linking it to clients, and categories.
Capture monthly expenses as one-off, variable or fixed entries and simply reset it each month.
Create monthly fixed & variable expense budget items using the template generator for quick account management
View rolled-up income, expenditure and profit/loss reports in the Balance Report database.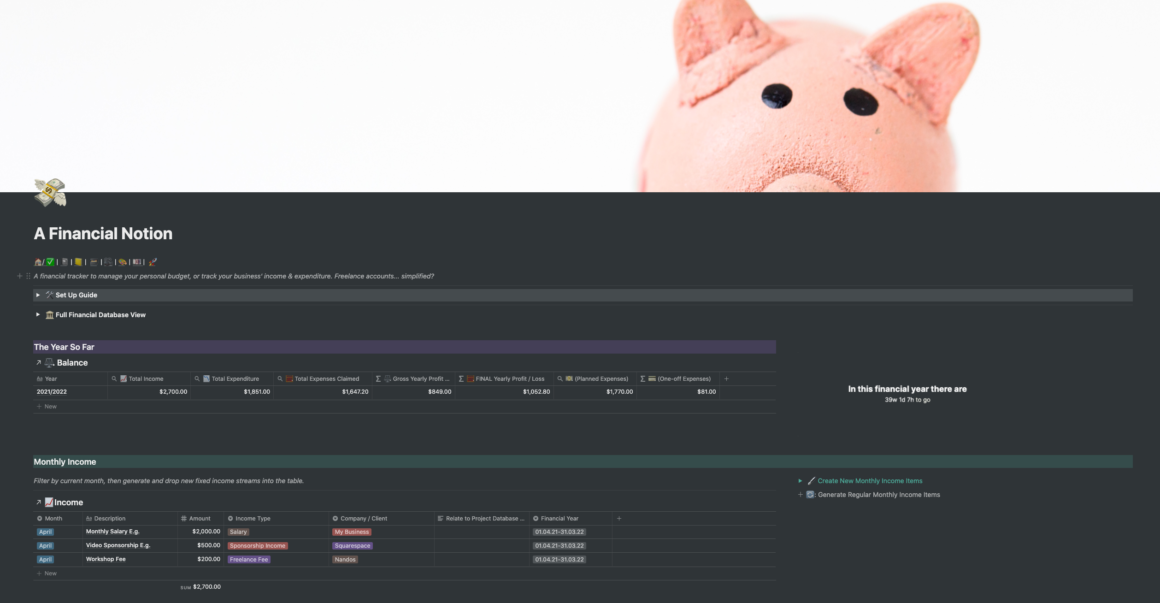 10. Finance Tracker Notion
Bills Tracker is an essential tool for anyone who wants to get their finances in order. It is a simple, easy-to-use app that helps you keep track of your bills and expenses, so you can stay on top of your budget and avoid late payments.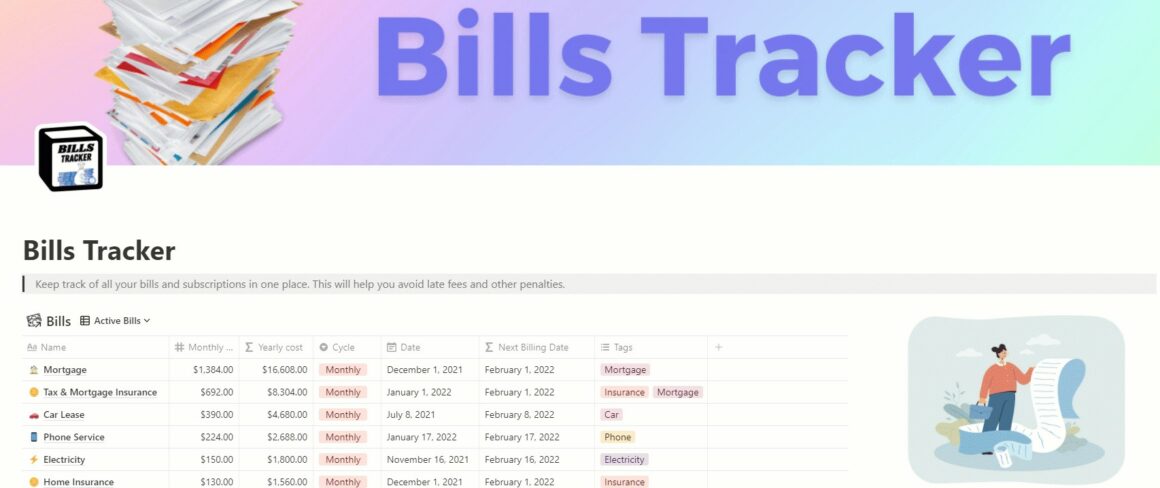 11. Finance Tracker & Budget Planner
Have everything for your finances in one full fledge Notion dashboard and start keeping your finances on track!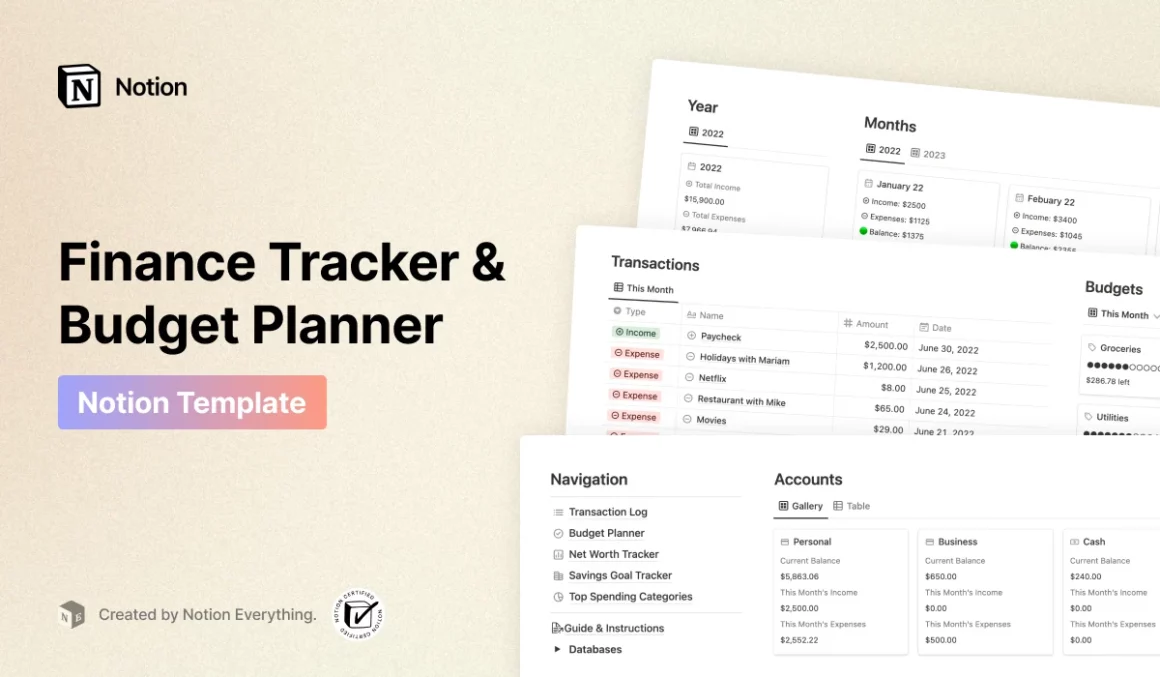 12. Notion Template for Finance tracker
Notion's Finance Tracker template helps you manage your finances effectively by logging income and expenses, categorizing transactions, and analyzing spending habits. The template features budget tracking, debt management tools, and charts that provide insight into financial health. It's an excellent tool for anyone looking to take control of their finances and achieve their financial goals.