Last Updated on August 21, 2023 by Farnaz
Notion is a powerful productivity tool that can be used to streamline sales processes. Sales teams can use Notion to manage leads, deals, and customer relationships. One of the best things about Notion is the ability to create custom templates that suit your specific needs. In this post, we'll discuss the 10 best Notion sales templates that can help you boost your sales productivity.
Elevate Your Sales Management Game to Unprecedented Heights.
Future of sales management for Notion with SalesPro Suite! This all-in-one solution is designed to revolutionize how you handle every aspect of your sales process. Whether you're a solo entrepreneur or leading a dynamic sales team, SalesPro Suite empowers you to streamline operations, boost efficiency, and supercharge your revenue growth.
What's Inside – Features that Elevate Your Sales Game
Lead Management
Sales Pipeline Visualization
Task and Activity Management
Communication Log
Analytics and Reporting
Support and Help Desk Integration
Notes and Documentation
Customization
Getting Started
Your Business Hub, ENTIRELY in Notion.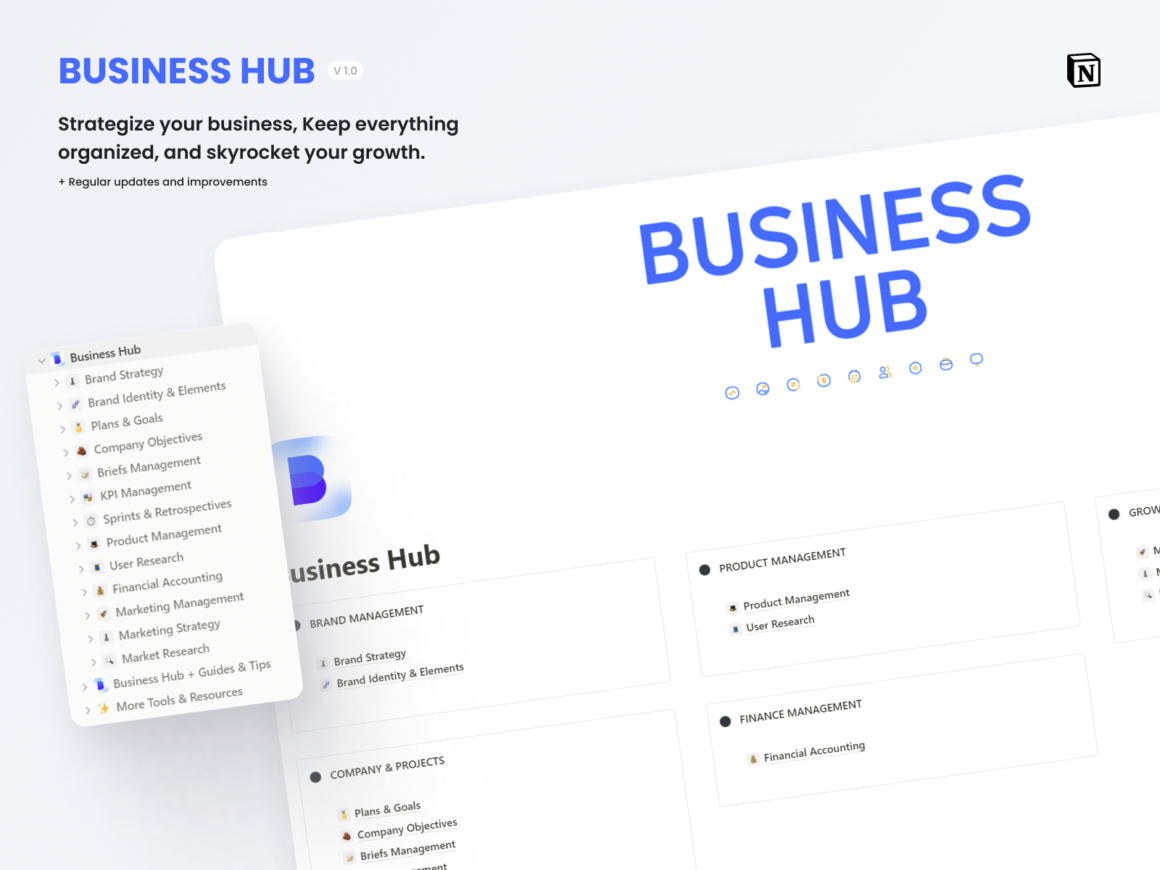 One place for Everything in your Business.
Tired of cobbling together multiple apps to form your Business? Me too. Business Hub lets you capture and organize everything inside of Notion – turning it into an all-in-one workspace.
Business Hub is the most advanced business & startup Notion template that helps you manage every aspect of your SaaS product, Digital product, Startup, and in general your online business.
What's Inside:
Brand strategy
Brand Identity
Product management
User research
Marketing
Marketing strategy
Market research
Plans & Goals
Company objectives
Briefs management
KPI management
Sprints & Retrospective
Financial accounting
Tips, guides, and articles to help you get started.
CRM + Invoice Tracker
With our Notion template, managing your customer relationships and tracking your invoices has never been easier.
Simple CRM – Notion template
Easily manage all your business contacts and accounts, track your leads and organize your pipeline to make more sales.
Ultimate Clients CRM
The Ultimate Clients CRM template provides valuable assistance to individuals, teams, and companies by simplifying the management of projects and customer relationships. It enables individuals to efficiently track and organize their tasks, communicate with clients, and stay on top of project deadlines. Teams can collaborate effectively, share project updates, assign tasks, and streamline customer interactions, leading to improved productivity and smoother project workflows. For companies, the template enhances overall customer relationship management, promotes team coordination, and fosters a more efficient and organized work environment.
Sales Tracker
Keep track of all your sales and customers from Gumroad, Shopify, LemonSqueezy and Stripe in one simple database.
Client Management Notion Dashboard
Sales CRM
Advances Sales CRM optimized for export sales. Suitable for every salesman, freelancer or startup who wants to grow their customer base and keep track of their progress.
Notion Sales Page Template + Course Vault
Sales CRM
CRM system in Notion
Here are more paid and free Notion Templates and Resources: