Last Updated on July 26, 2023 by Farnaz
Notion is a powerful productivity application that has become very popular among users across the globe. With its ability to provide a wide range of productivity features, Notion has become a one-stop-shop for all your productivity needs, regardless of whether you're a student or a professional. If you're looking for a way to stay organized and efficient, Notion is definitely worth considering.
In this post, we will be discussing ten Free And Aesthetic Notion templates that are not only functional. These templates are perfect for students who want to improve their productivity and stay on top of their studies. From study planners to project trackers, these templates are designed to help students stay organized and focused.
The Super Life (Ultimate Life Planner) is one place to manage everything in your life entirely in Notion.
It brings tasks, notes, plans, health, plant care, travel plans, finance, and more together in your favorite tool.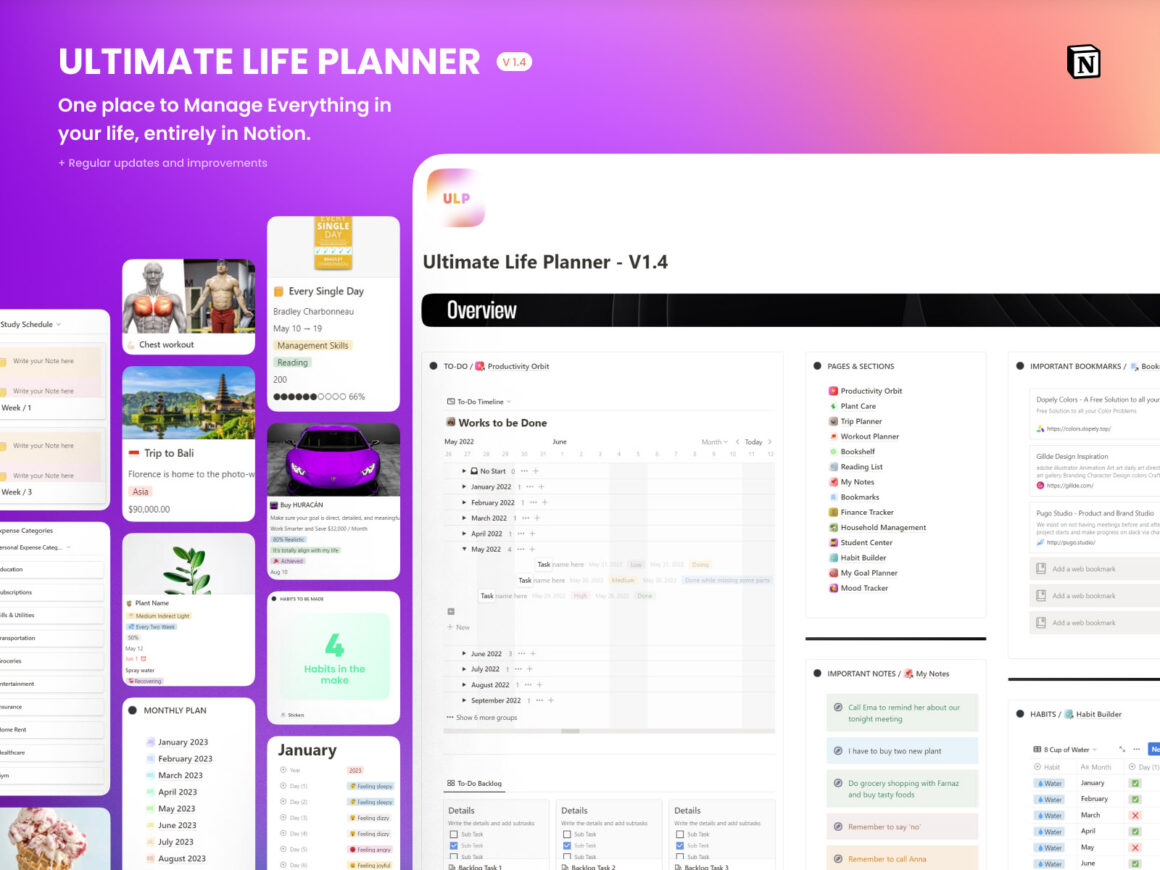 Here's a snapshot of what it covers:
Dashboard
Finance Tracker & Planner
Monthly planner
Personal & work daily planners
Student Center
Bookmarks
Bookshelf & reading list
Workout planner
Plant care
Trip planner
And many more…
Student Center
Streamline your academic life with a student center. Stay on top of assignments, manage deadlines, and ace your studies with ease.
2. Notion Student Organisation Template
As a student, being organised is essential in being productive and acing your exams. This is a tried and tested template that I used when I was a student and it made sure that I never missed a deadline and kept me up to date with all the tasks that needed to be handed in.
3. ALL-IN-ONE Student Planner
4. Computer science student dashboard – Free
Studying computer science in college means constantly dealing with deadlines, internship opportunities, side projects, and more. Stay focused and organized with one dashboard that shows you your courses, homework, code snippets, personal projects, and more.
5. Notion School Dashboard
Whether you're in high school, college, or university this Notion template will help you keep track of your day to day tasks and subjects all in one place. Created to be both aesthetic and functional, this Notion template is the only resource you need to organise your academic life and achieve your goals
6. Dark Green Student Theme
Minimalistic student template with dark & green theme. It's just does one job very well, organize your student life! You can create lectures with custom svg cover images and take notes inside this lecture.
7. The Student Planner
Notion can help you keep all of your coursework, schedules, and other academic-related information in one place. This makes it easier to stay organized and reduces the risk of losing important information.
8. Free Aesthetic Matcha Student Planner
If you're a student who wants to use Notion to keep track of your student lifestyle, use this simplistic Student Planner to help manage your student workload and to help you have a matcha-better day!
9. To-Do List for students
10. Notion Templates for Students
11. Notion Student Dashboard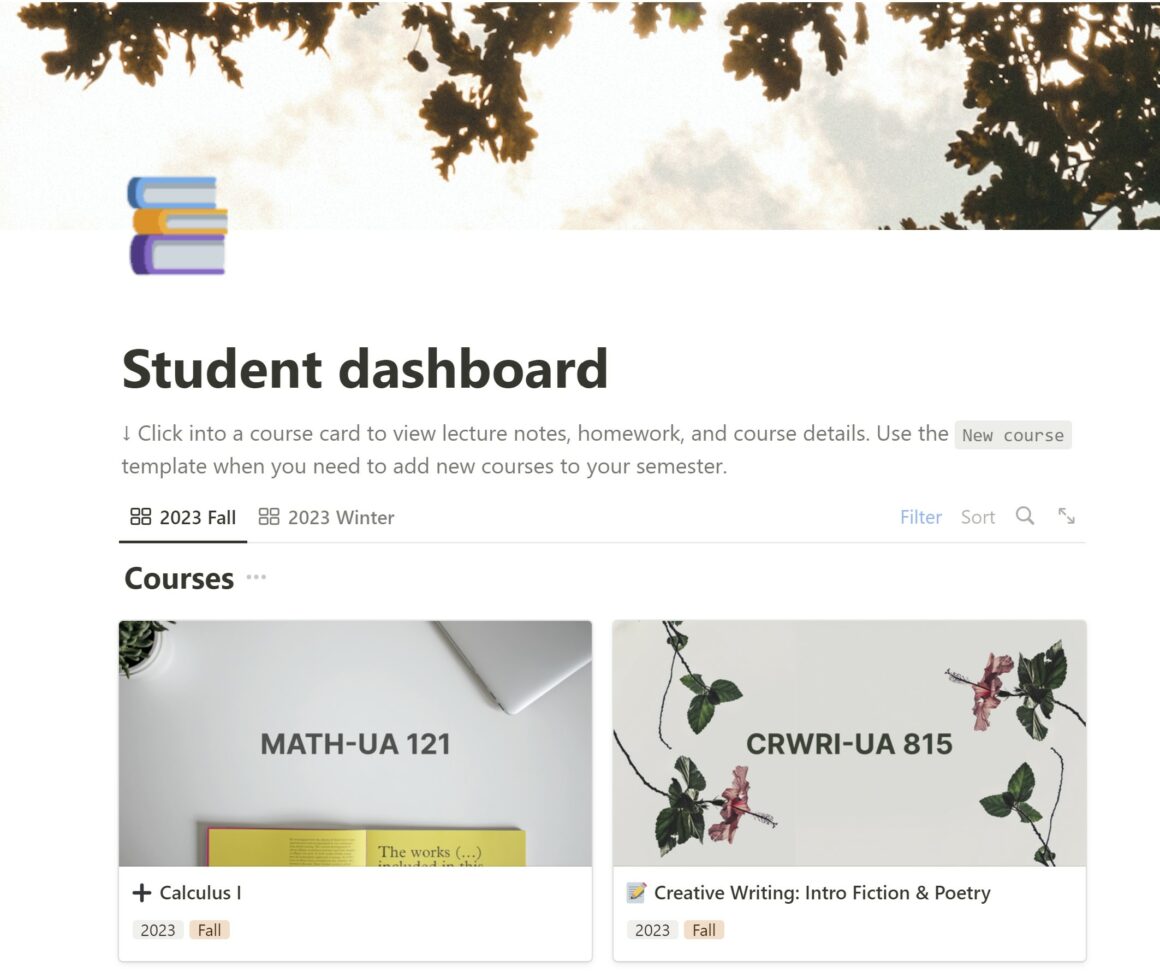 12. Notion Janice Studies' student dashboard
Plan, organize and track all your school activities from one easy-to-use central dashboard. Keep up with daily tasks and to-dos, track and take notes for all your courses and be alerted of any upcoming assignments and exams.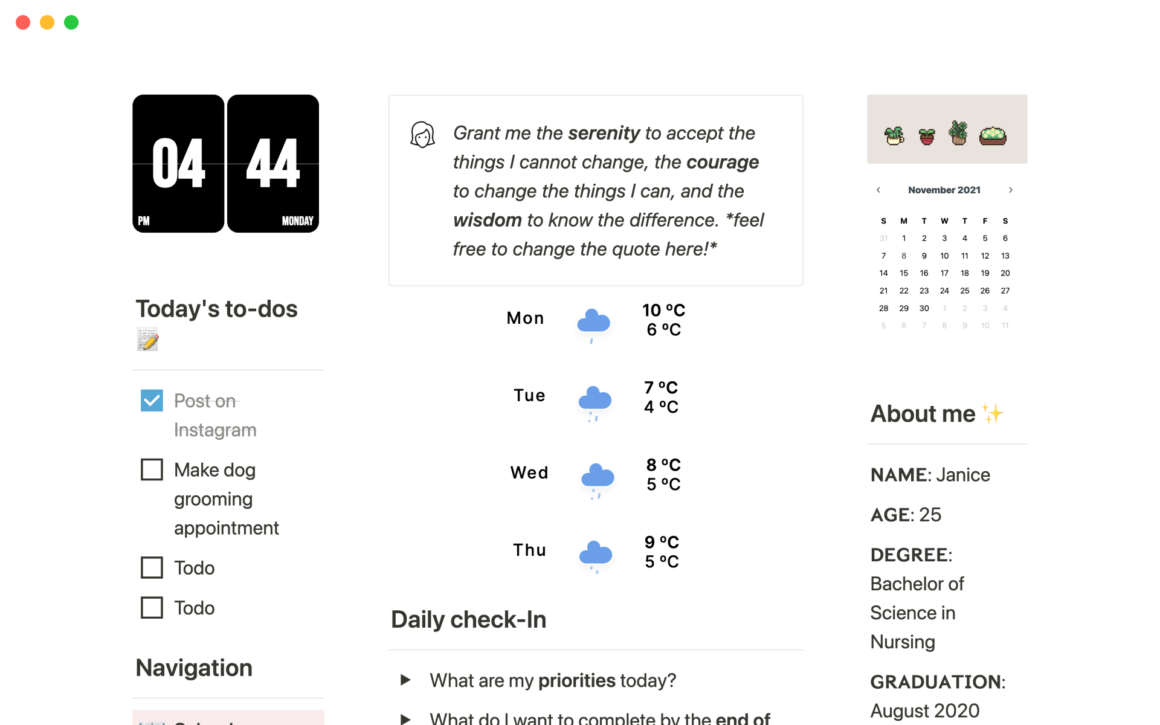 13. Notion College Degree Course Tracker
This notion template is inspired by a more basic spreadsheet I used before Notion came about. It includes:
GPA Calculator
Course Tracker
Degree Requirements Tracker
Multi-Year Planner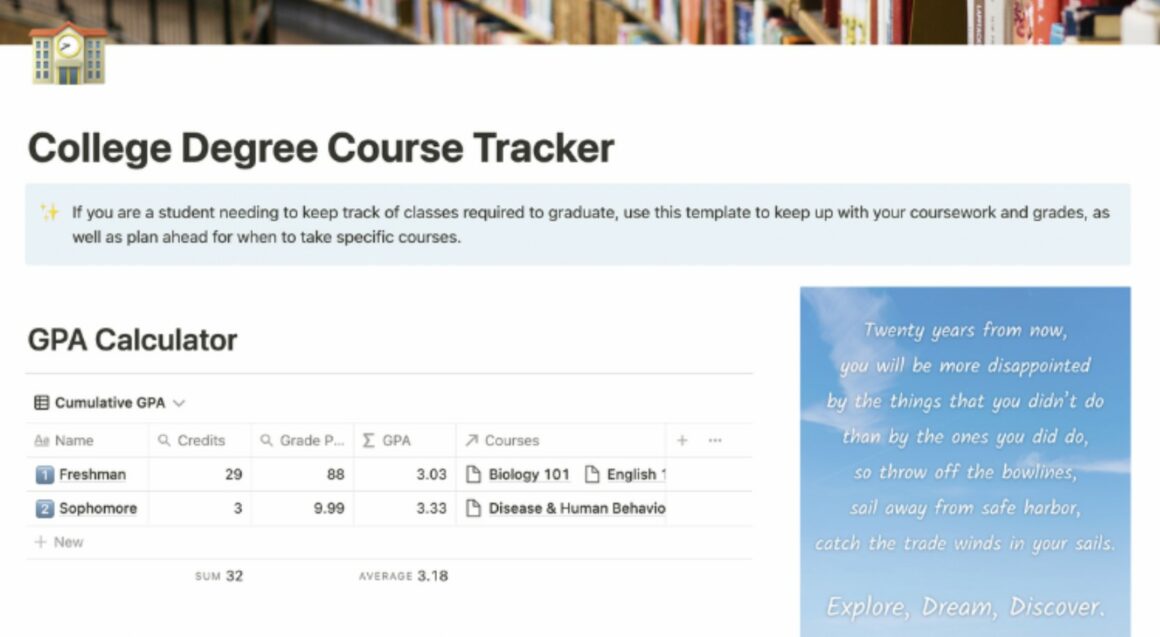 14. Aesthetic Notion Student Life Dashboard
Aesthetic Student Life Dashboard Notion Template to give your student life and task a home. This student notion template helps you to organize your life as a student in an aesthetic and beautiful way.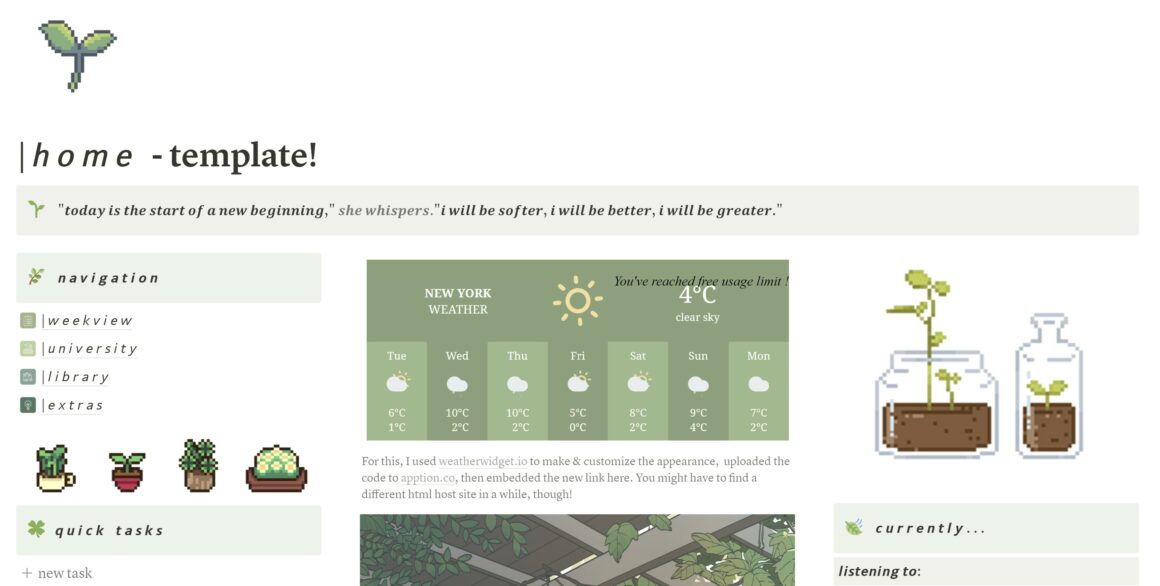 15. Notion Template for Student Dashboard
Student dashboard notion template is here to help you with your student works, tasks, exams, and more all in Notion for Free!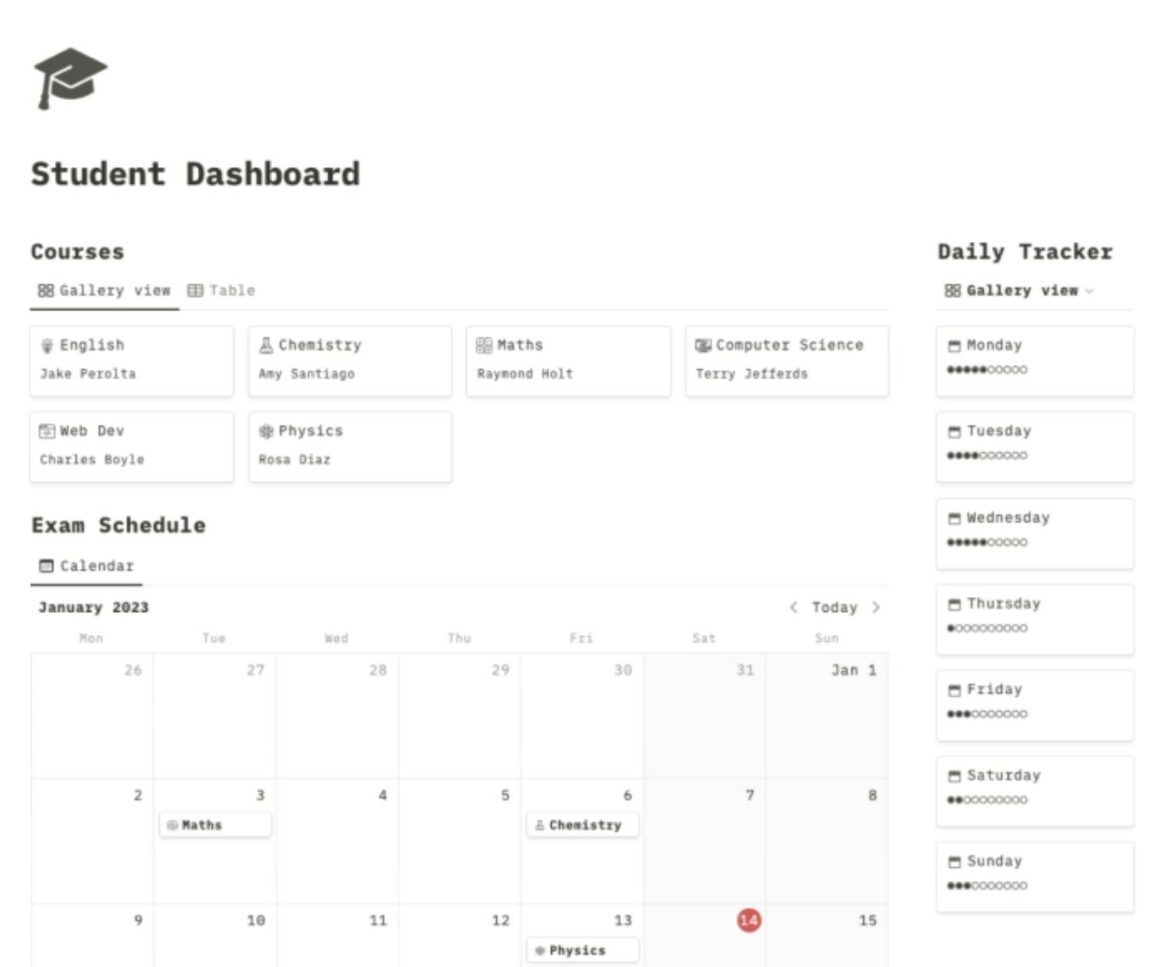 16. University hub Notion Template
This is a template for students to keep track of their university studies by giving them a central place for their assignments, uni events, notes/active recall questions, course material, and more.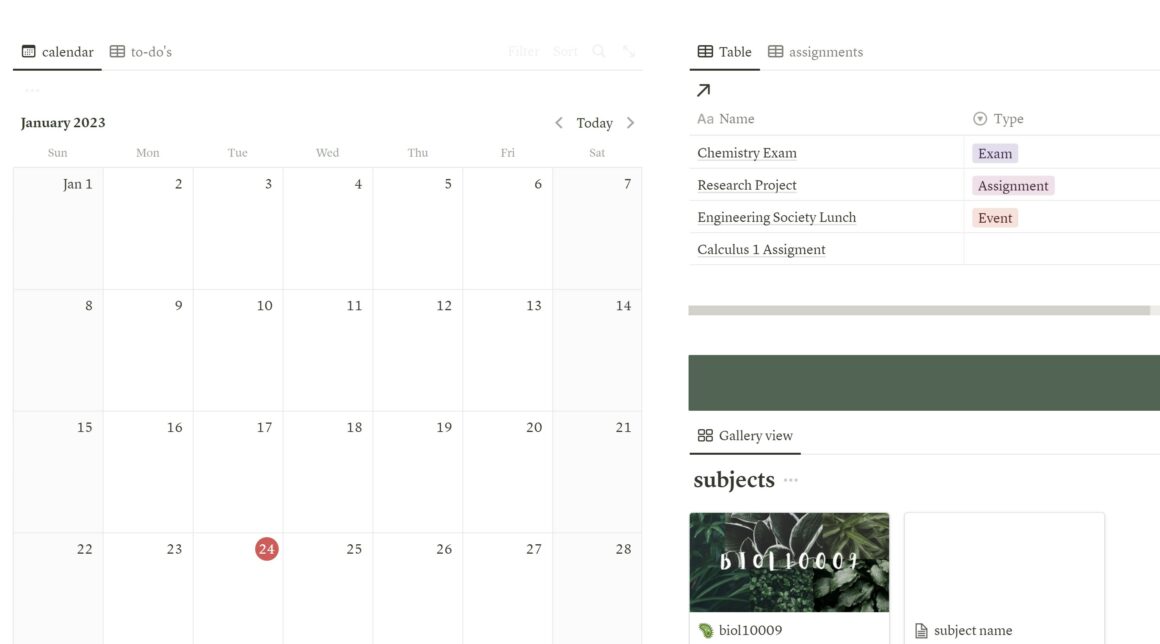 Here are more paid and free Notion Templates and Resources: