Last Updated on April 21, 2023 by Farnaz
Writers Notion Templates: With so many apps and documents out there, it's easy to lose track of writing ideas, fresh concepts, storyboards, and the writing process.
Whether you're writing short stories, novels, articles, blog posts, or stories, you need a system to keep you organized and productive.
To streamline your writing process and bring your ideas to life, we've rounded up his best Notion templates for writers.
What is Notion?
If you're looking for a tool to organize your life, Notion is a great option to consider. Notion is an all-in-one workspace that allows you to plan, organize, and collaborate on projects all in one place.
Notion has a simple and intuitive interface, which makes it easy to use for both personal and professional purposes. It offers a variety of templates and tools to help you get started, and you can also create your own templates to suit your specific needs.
Notion is a powerful tool that can help you become more organized and productive. Give it a try and see how it can transform the way you work and manage your life.
Before we continue, you may like this posts to:
1. Free Blog post
Did you know you can build your entire blog on Notion? Use this template as a format for your posts. You can include writing and images in many different configurations.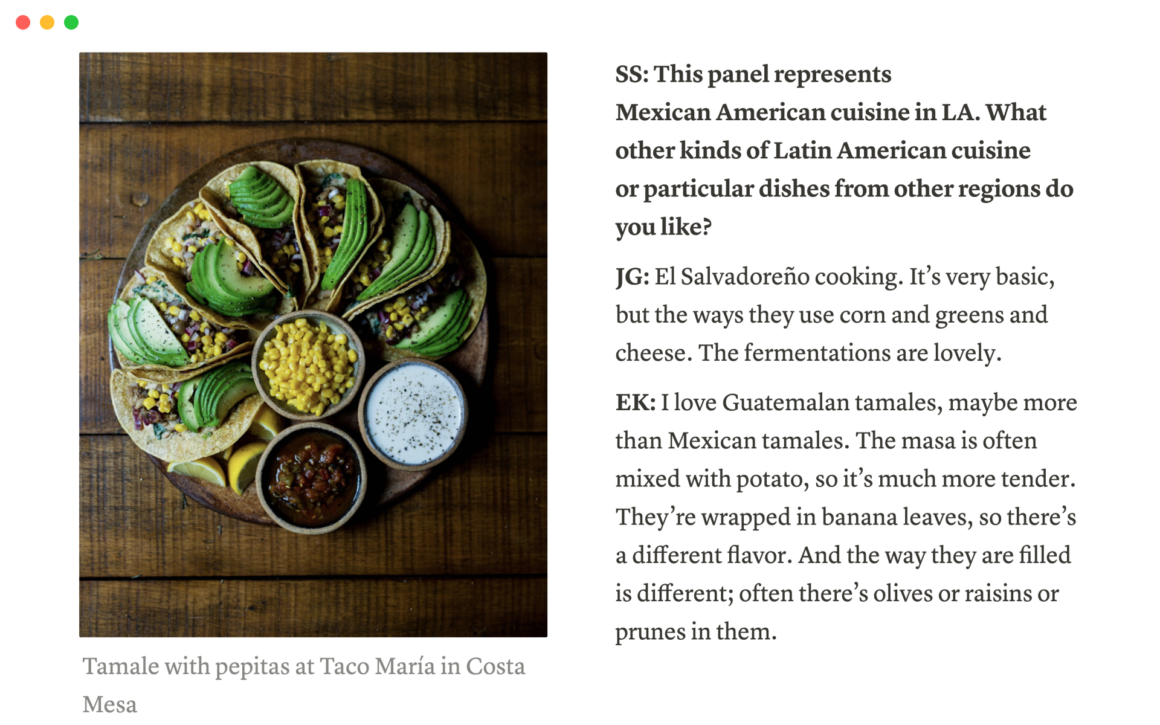 2. Writers Template for Notion
Storybook pro is a Notion Template built for writers by writers! Writing a single book, book series or large fantasy epic is a lot of work. This Notion Template for writers is how to keep everything straight.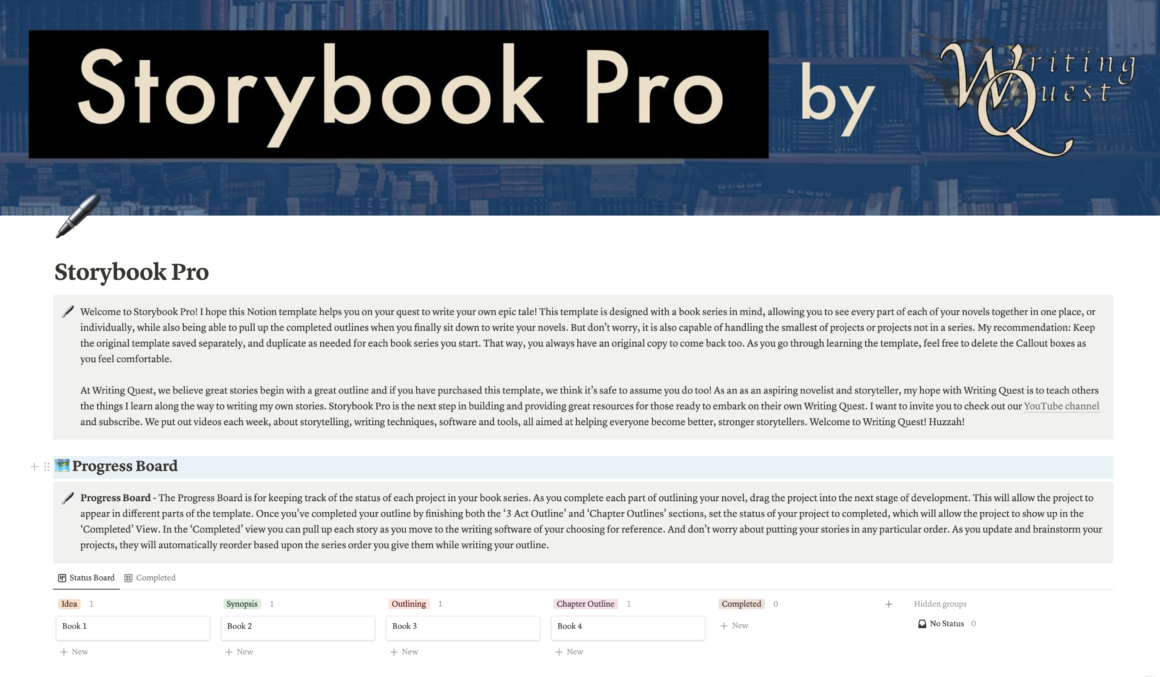 3. Free Content brief
This content brief template helps all stakeholders — SEOs, writers, and marketing leads — align on things like keyword requirements, brand & audience settings, content structure, visual elements, and more.
4. Aesthetic Writers Notion Templates
Looking for an aesthetic Notion template to enjoy writing even more? Here is a collection of 6 FREE templates with beautifully designed dashboards.
This bundle features Notion templates with different aesthetic styles (cyberpunk, cotton candy and more) for drafting, revising, tracking progress and much more.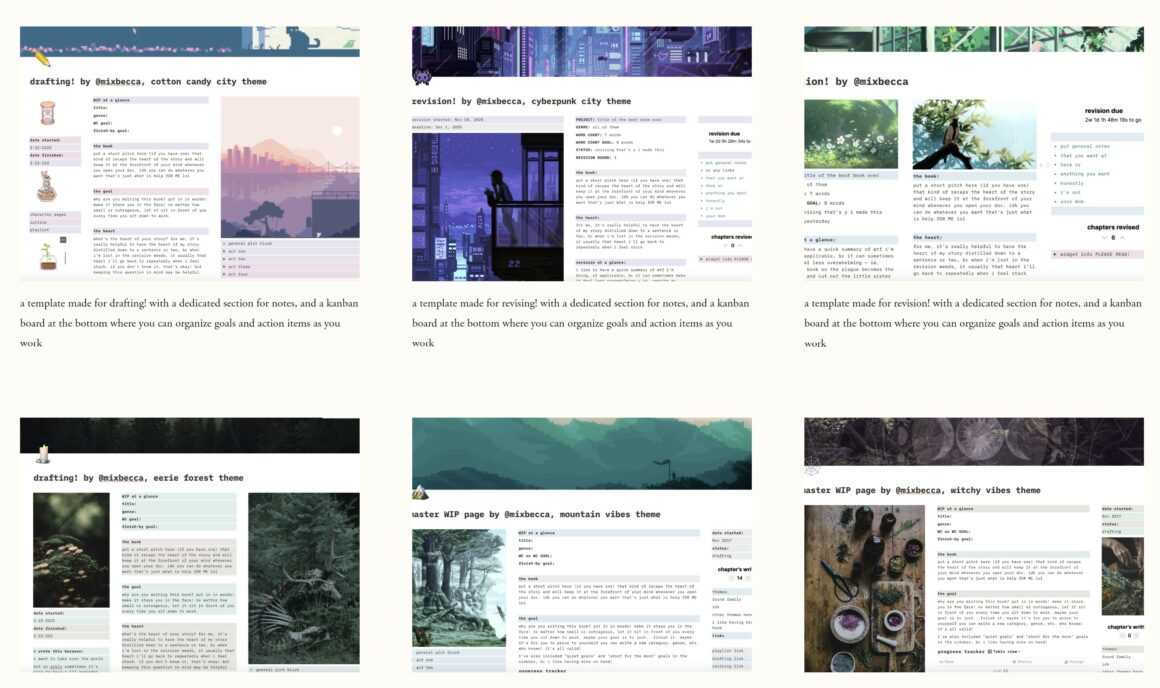 5. Fictional History Timeline
A Notion Template great for storytellers looking to build out their world and organize its history and story's plot. Keep track of events, characters, locations, and chapters for your story.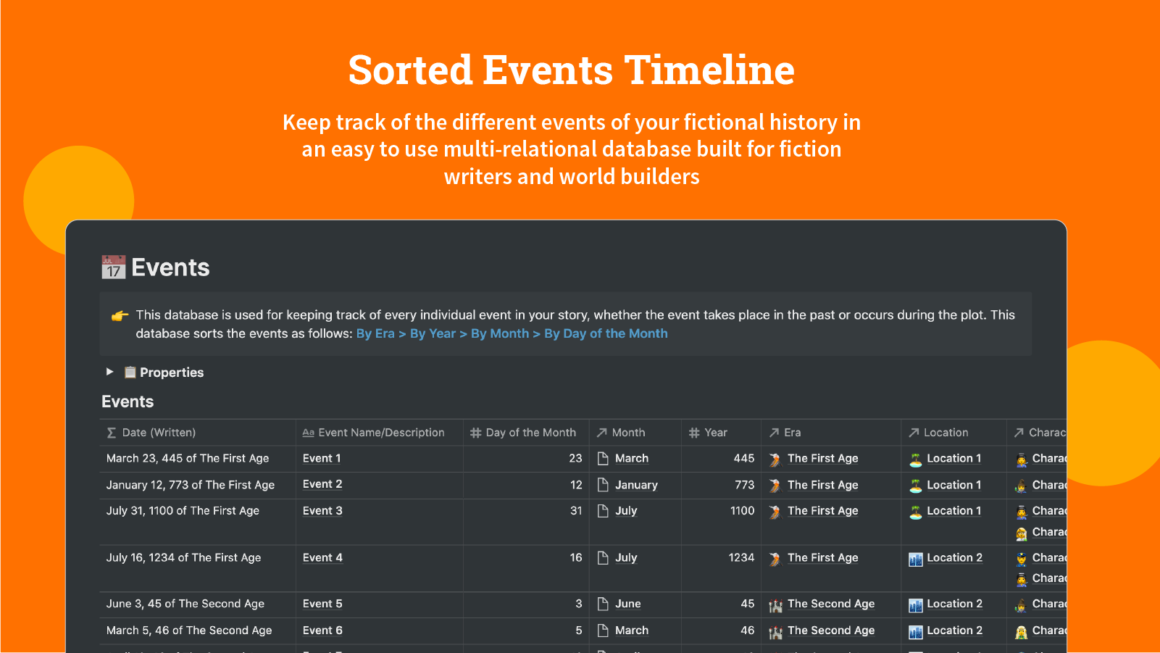 6. The Modern Writer
A workspace for collecting and refining all your writing ideas and concepts, organized by chapters. The Modern Writer template focuses specifically on book writing and storytelling. Create timelines, compendiums and moodboards as you write your stories without leaving your desk!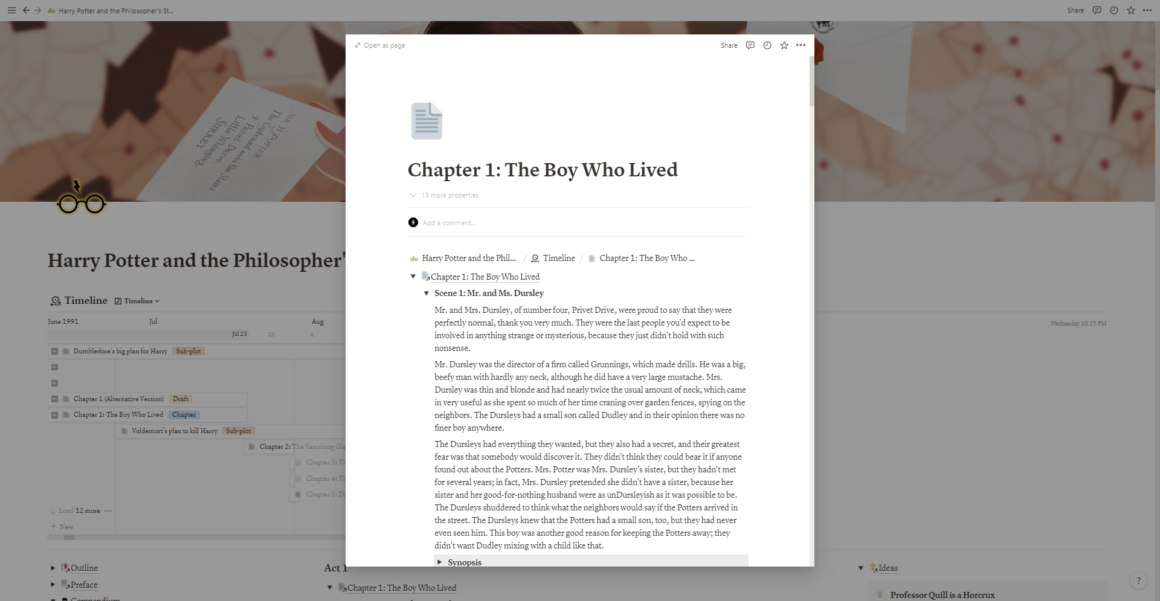 7. Writers Notion Templates
A story-writing workspace that is clean and distraction-free, where the words on the page are what are on display.
Use this clean and minimal interface to move your story through stages of draft, edit, and finalization. Organize research for your writing projects and design character personas.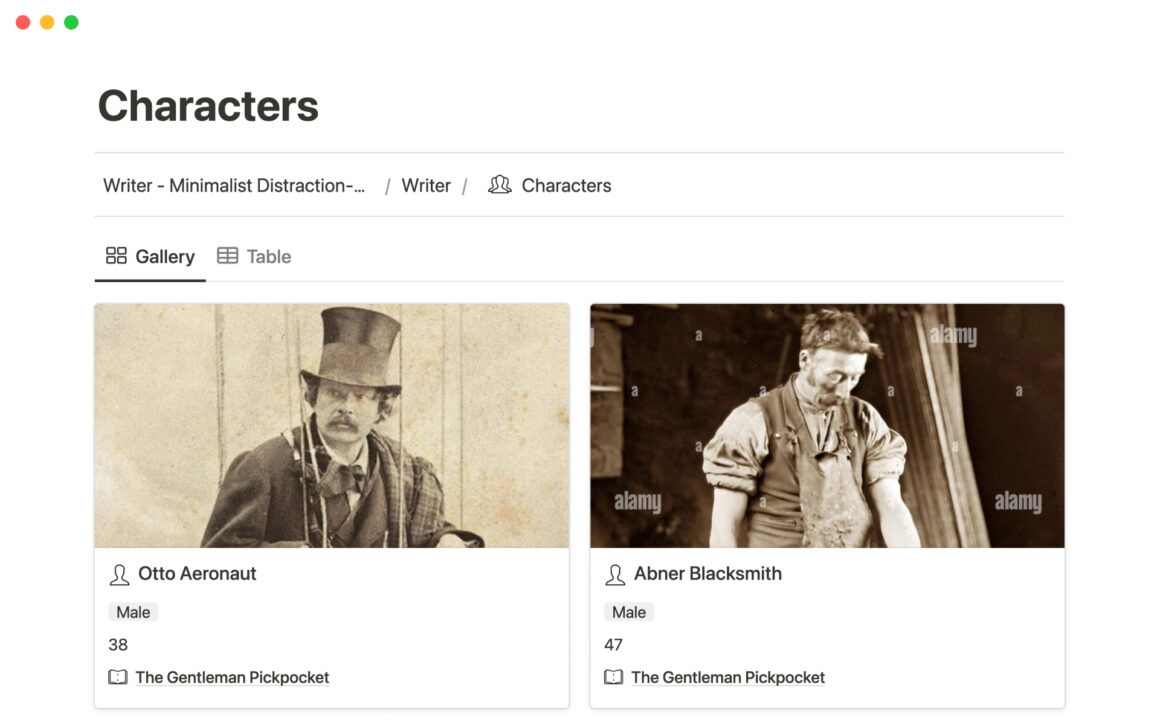 8. Free Simple notebook
One place for all the notes you take throughout the day. Just click "New" and start typing. Create views to see separate notebooks for different parts of your life. Invite friends or your team, and see who added what and when — all at a glance.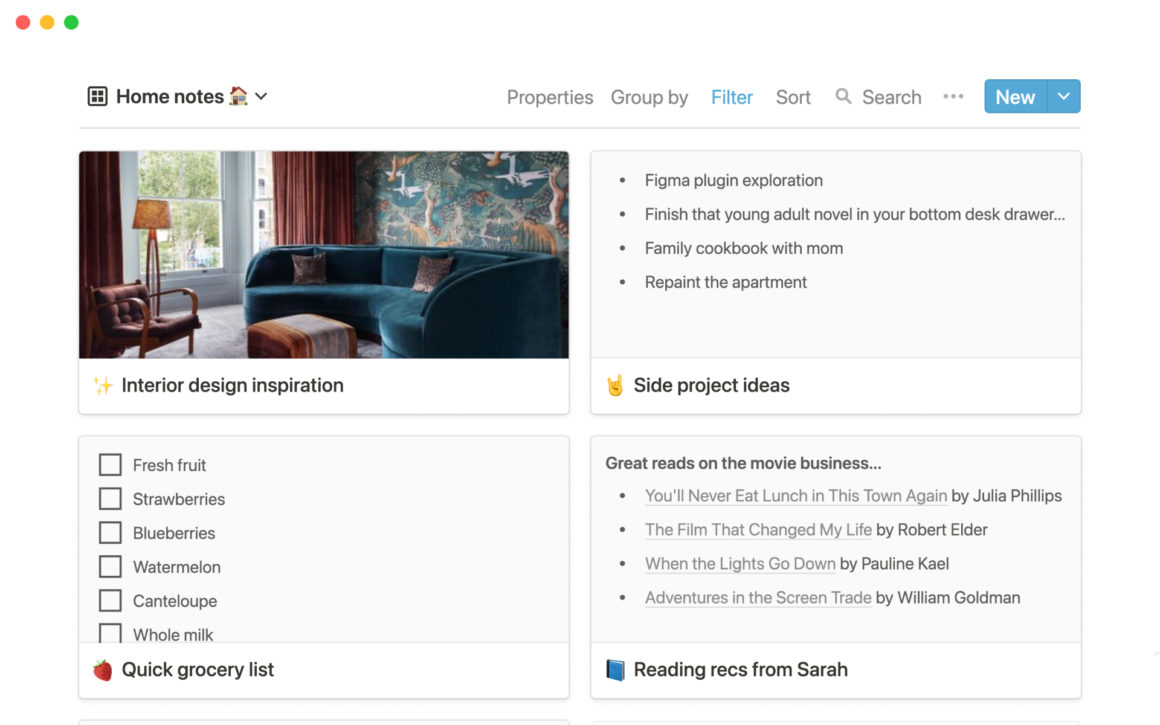 9. Advanced System for Novel Writers
As an advanced expansion to the minimal Writer template, this template allows you to manage all aspects of multiple writing projects in Notion – including research, world-building, character-building, storyboarding, tasks, revisioning, and editing.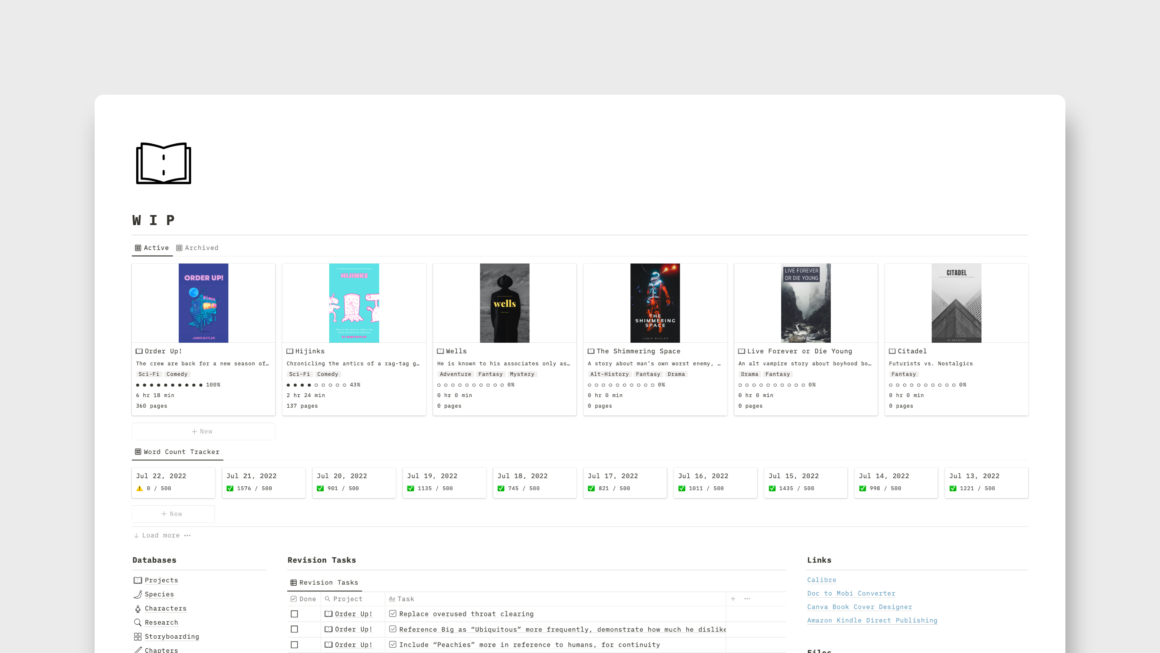 10. Free Blogging manager
Manage all stages of writing posts with a comprehensive blogging manager. Plan posts using templates, manage guest posting, and keep track of progress and upcoming posts.