Last Updated on September 22, 2023 by Farnaz
Getting Things Done Notion Templates, The GTD (Getting Things Done) method is a productivity system created by David Allen that provides a framework for organizing and managing tasks, projects, and ideas. It helps individuals increase productivity and reduce stress by capturing all their to-dos, breaking them down into actionable items, and organizing them into a system. GTD is the ultimate productivity tool because it provides a clear and systematic approach to managing one's workload, enabling individuals to focus on their goals and priorities. By implementing the GTD method, individuals can enhance their productivity, reduce stress, and achieve greater success in both their personal and professional lives.
Want to learn more about this GTD method and how to it works? then check this post too: What is GTD – Getting Things Done and how to use it + GTD planner
Here are 12+ free and paid Notion templates specialized for the Getting Things Done (GTD) method to boost your productivity. We also have a more diverse post for productivity notion templates which you can find more productivity systems than only GTD (in case you don't like the GTD method). Make sure to check that post too here: The Best Notion Productivity & To Do List Templates
Okay, without further ado, let's start the list of the Getting Things Done Notion templates.
From Overwhelmed to Organized.
Are you tired of feeling overwhelmed by your to-do list? Do you struggle to keep track of all your tasks and projects? Look no further than our "Getting Things Done" Notion template.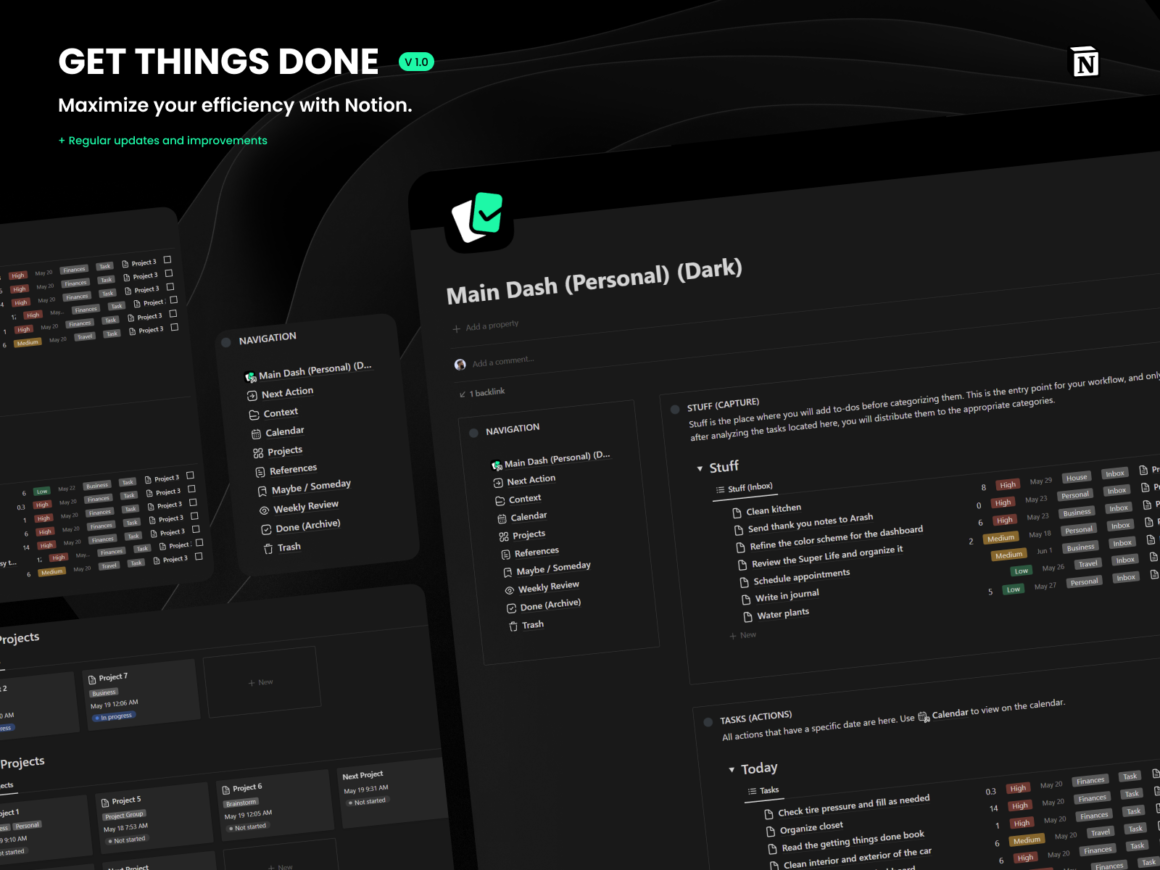 Are you tired of drowning in a sea of digital chaos? Are you seeking a powerful method to conquer the information overload and reclaim control of your digital life? Look no further, because PARA Powerhouse is here to revolutionize the way you manage tasks, projects, and information.
With PARA Powerhouse, we bring you the cutting-edge PARA (Projects, Areas, Resources, Archives) method in an all-in-one, meticulously crafted template.
Ultimate Organization
Effortless Access
Unleash Productivity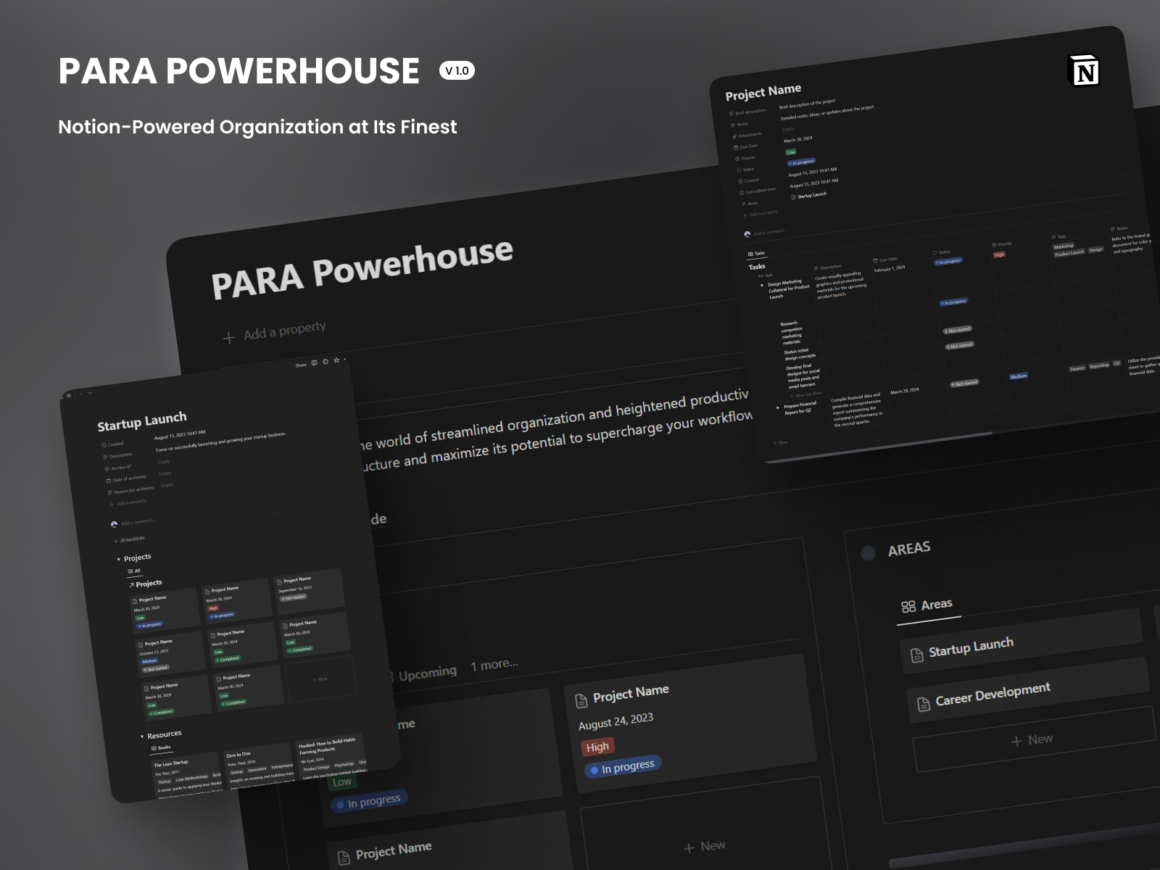 GTD for IT Projects Notion Template
This Notion template combines tasks, projects, notes, and Agile methodology to turn Notion into your all-in-one task manager. Inside, you'll find advanced features such as:
GTD-style task capture and processing.
A page to manage projects, control the hours consumed, and track progress within the life cycle.
A complete dashboard for perfectly planning out your day using the Kanban methodology.
This template is for you if:
You want to rely on a tool to manage your tasks and projects.
You want to provide your team with a rich, efficient, and scalable project manager.
You want to organize your daily tasks within the life cycle of the entire project.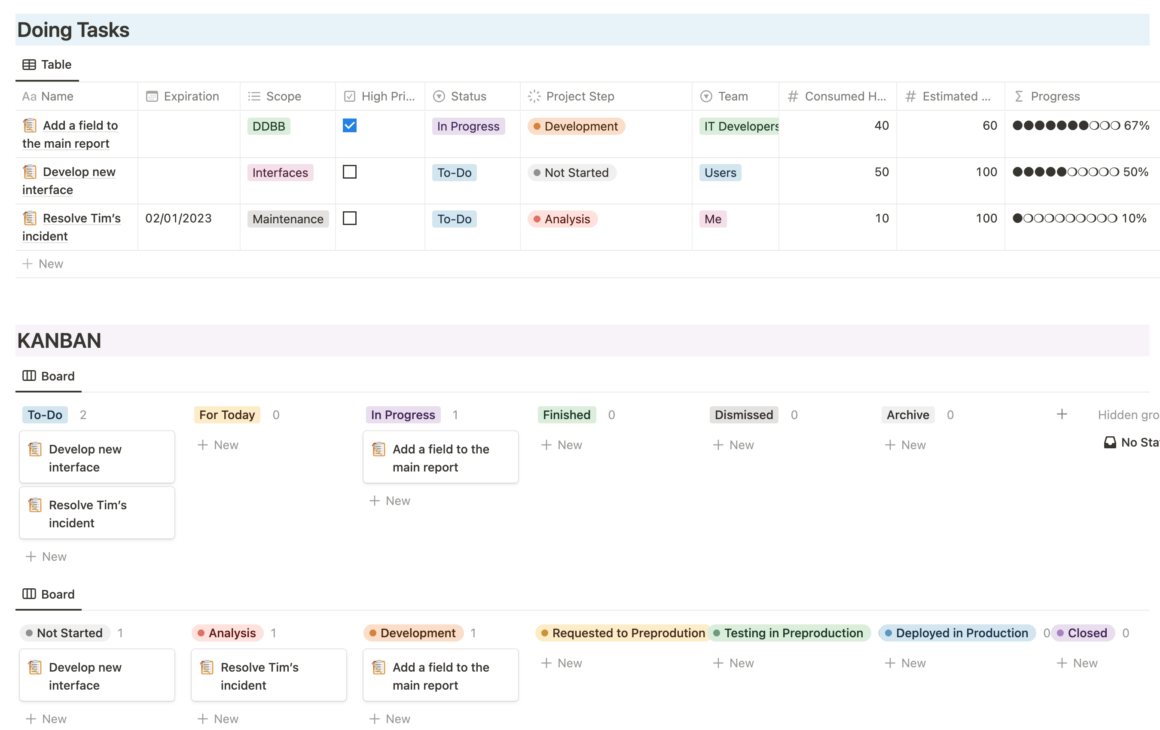 The BrainBoost System: GTD + P.A.R.A Methods for Notion
"The BrainBoost System: Your Productivity & Creativity Solution" is a personal organization system designed to improve users' productivity and organization in their daily tasks. This system offers a unique approach that combines the GTD method and "Build a Second Brain" methodology, providing users with a complete set of pages that work together to provide an overview of all available functionalities.
The Dashboard provides a complete view of the platform, while the Journal acts as a daily guide to help users stay on track. The Landing Page captures tasks and notes in an organized manner, and the Task Manager and Notes Manager help users manage tasks and information relevant to their second brain. The Areas and Resources page helps organize all the information managed by the Task Manager and Notes Manager, while the Project Hub allows for managing and visualizing all ongoing projects.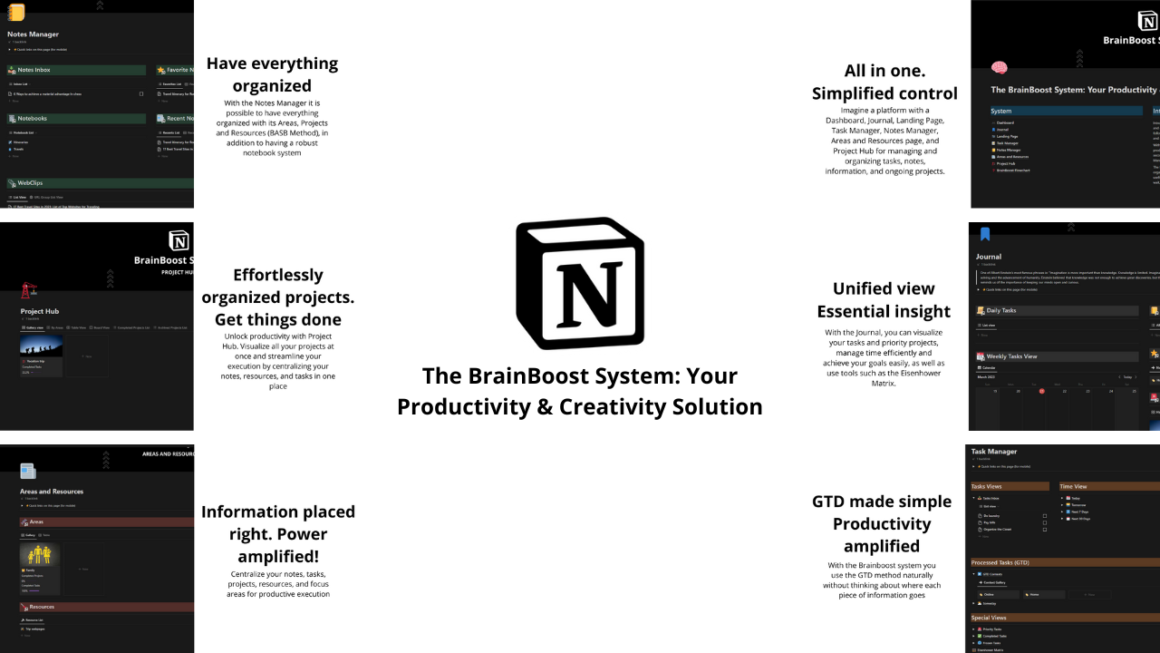 GTD Dashboard Notion Template
Capture, organize, and prioritize your to-dos. Become more organized and productive in your daily life. Use this Notion Task Manager to become more organized and productive in your daily life. Create and assign your task, and get things done.
Capture anything quickly into your inbox to process later. Organize and sort by dates, projects, or contexts. The process if it's the next action, project, or reference. Review and update your task lists and references.
Inbox captures your thoughts and ideas
Weekly View get an overview of your tasks
Calendar View manages your scheduled tasks
Project List related tasks by projects and measure your overall progress.
Someday list everything that you are not committed to achieving
Assignee a team member to action to clearly
Reminders for your scheduled actions or project deadlines.
Navigation Bar to quickly jump to the different pages
Priority Levels assign and view your tasks based on priority levels.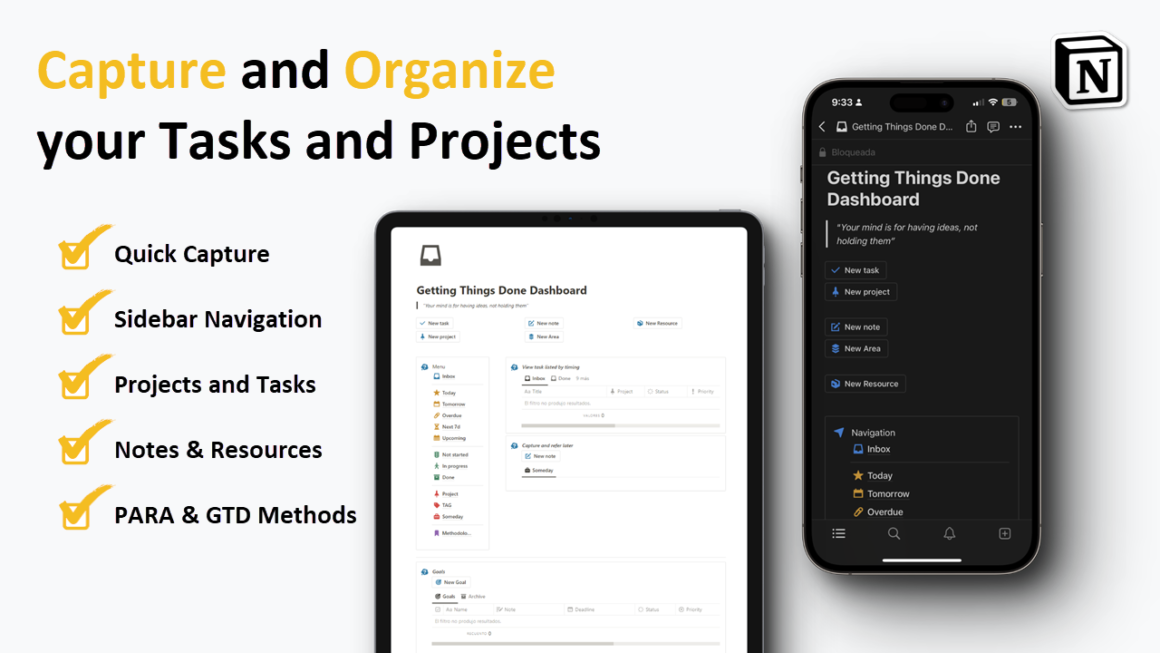 Notion Template Getting Things Done GTD Dashboard
This notion dashboard is designed to help you increase productivity and achieve your goals with David Allen's popular productivity system.
It works perfectly as ADHD digital planner as well and provides step-by-step guidance for implementing GTD in your daily life.
It's a user-friendly editable digital download that will keep you focused and organized. Let's get started and get things done with my Notion GTD template!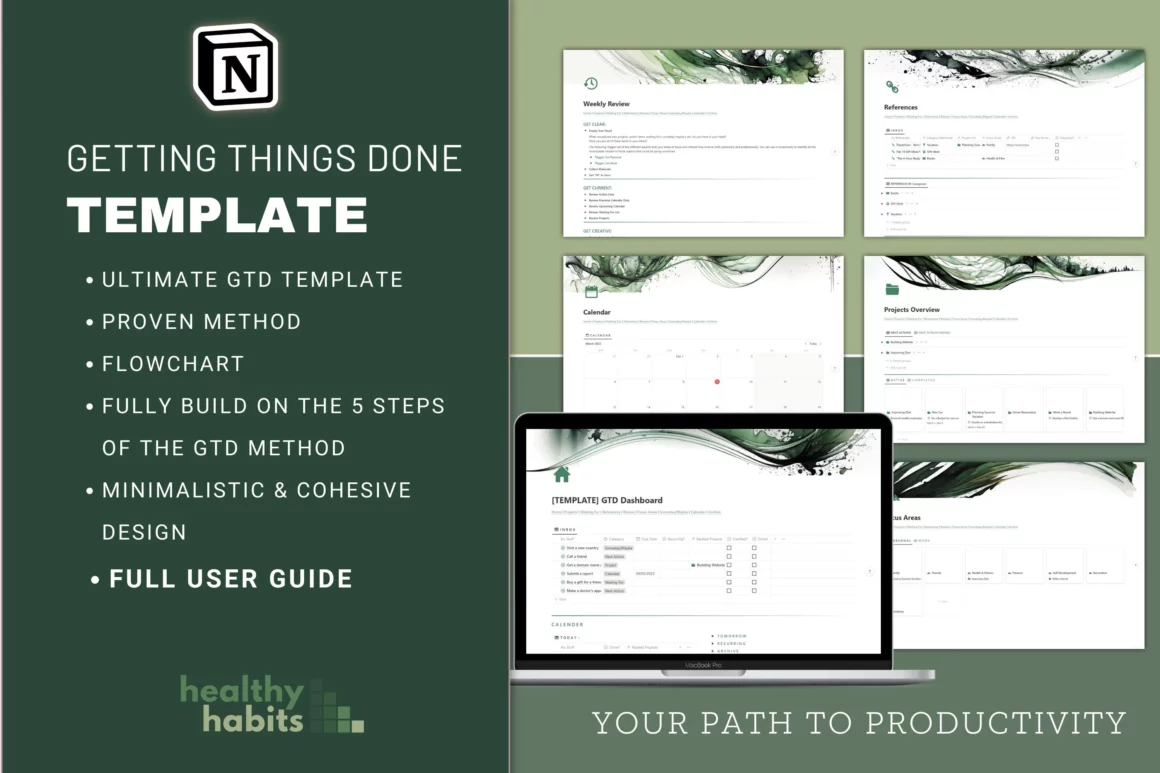 GTD-based task database template for Notion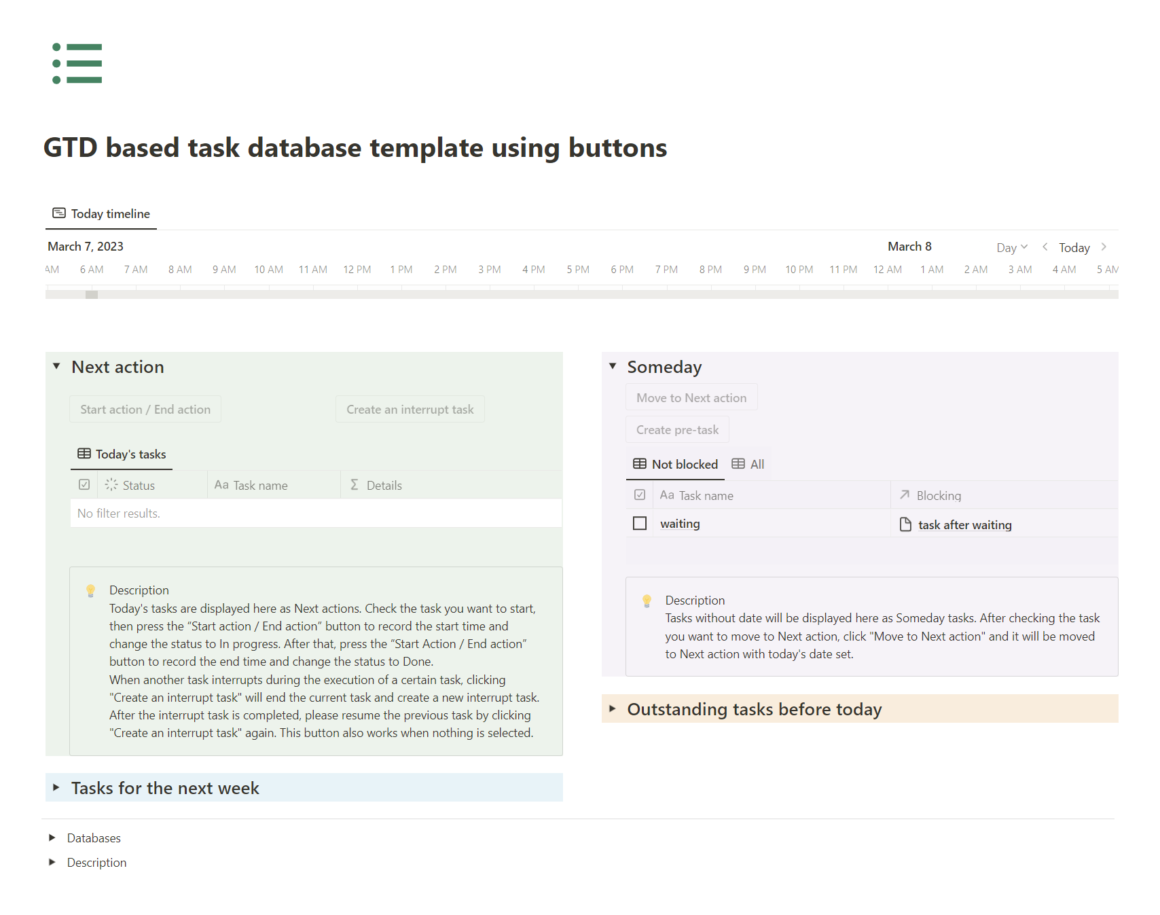 Notion GTD Dashboard
This comprehensive template 📚 provides a system for managing all your tasks, projects, and goals in one place, using the popular Getting Things Done (GTD) method 📈.
With the Notion GTD Dashboard, you'll be able to keep track of all your tasks 📝, prioritize them 📊, and mark them as complete when they're done 🎯. You can set due dates 🗓️, add attachments 📎, and leave notes for each task, making sure you have all the information you need at your fingertips 💻.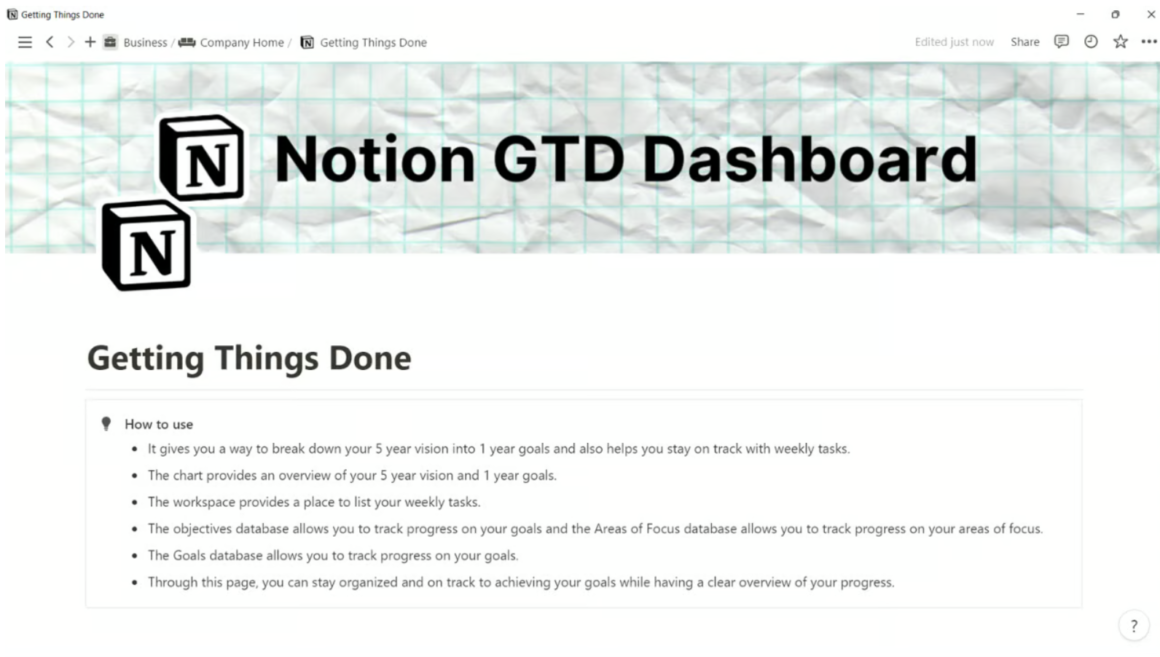 Free Notion GTD Dashboard, Project And Task Management (GTD)
The fastest way to store your ideas and start planning to get it done.
The GTD Weekly Review Template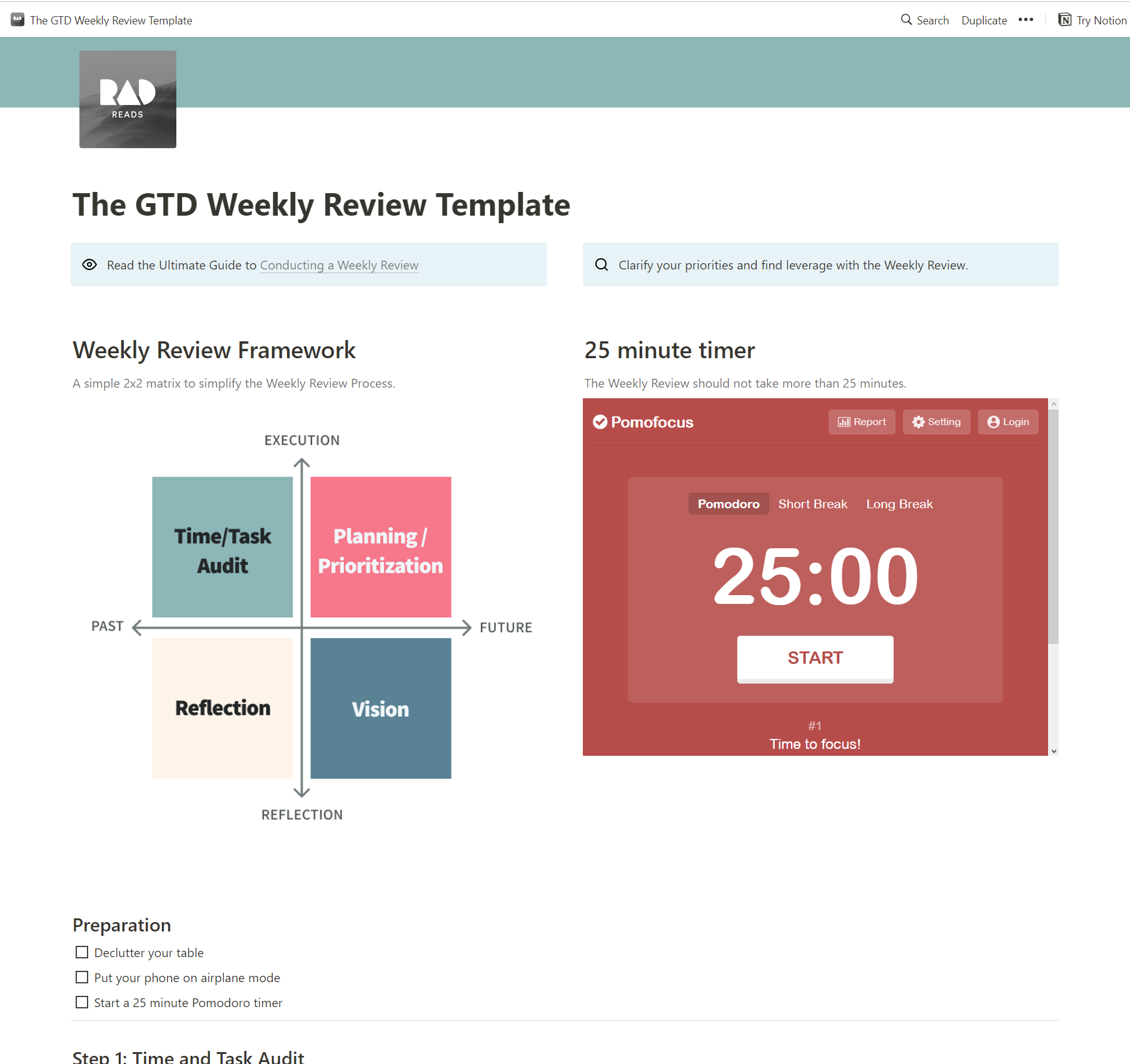 The Ultimate Notion Template for Getting Things Done
Discover the best Notion template to capture, organize, and prioritize your to-dos, designed for users seeking an effective productivity system, to-do app, task manager, or project manager. Our ready-to-use template offers a proven task management solution based on the GTD® method, empowering you to streamline your work and get things done effortlessly. Created by renowned productivity consultant David Allen, the Getting Things Done® (GTD®) system has gained widespread popularity for managing tasks, projects, and overall productivity.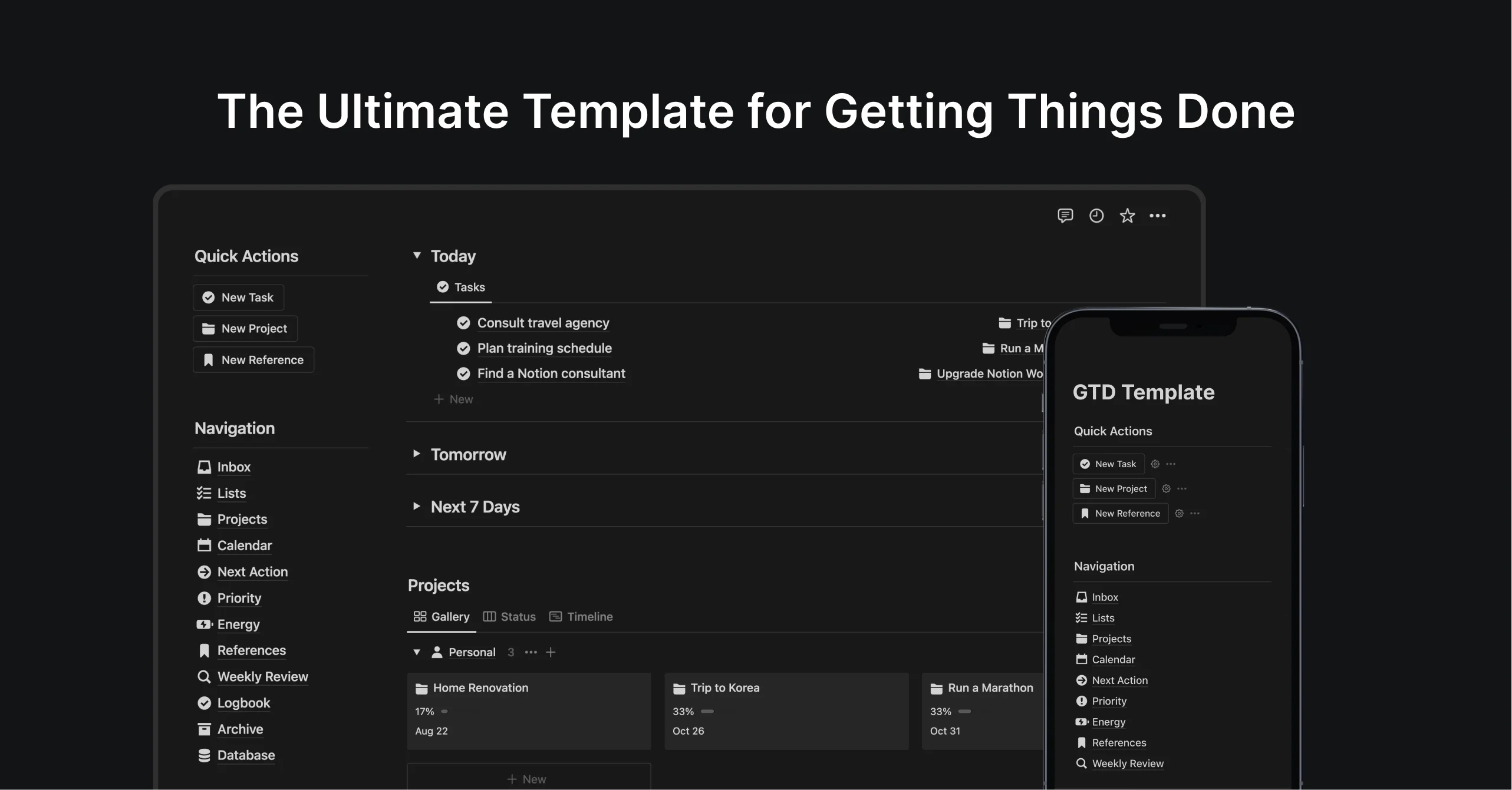 GTD Mindsweep Notion Template
Follow the path that will guide you to get stuff done. Get access to the growing library of templates. This Notion library includes the GTD Mindsweep, BASB Second Brain Library, and Project Management Database plus Start Here page with the characters' paths; P.A.R.A method; Weekly, Monthly, and Quarter Planning Pages; the Habits Tracker, and more.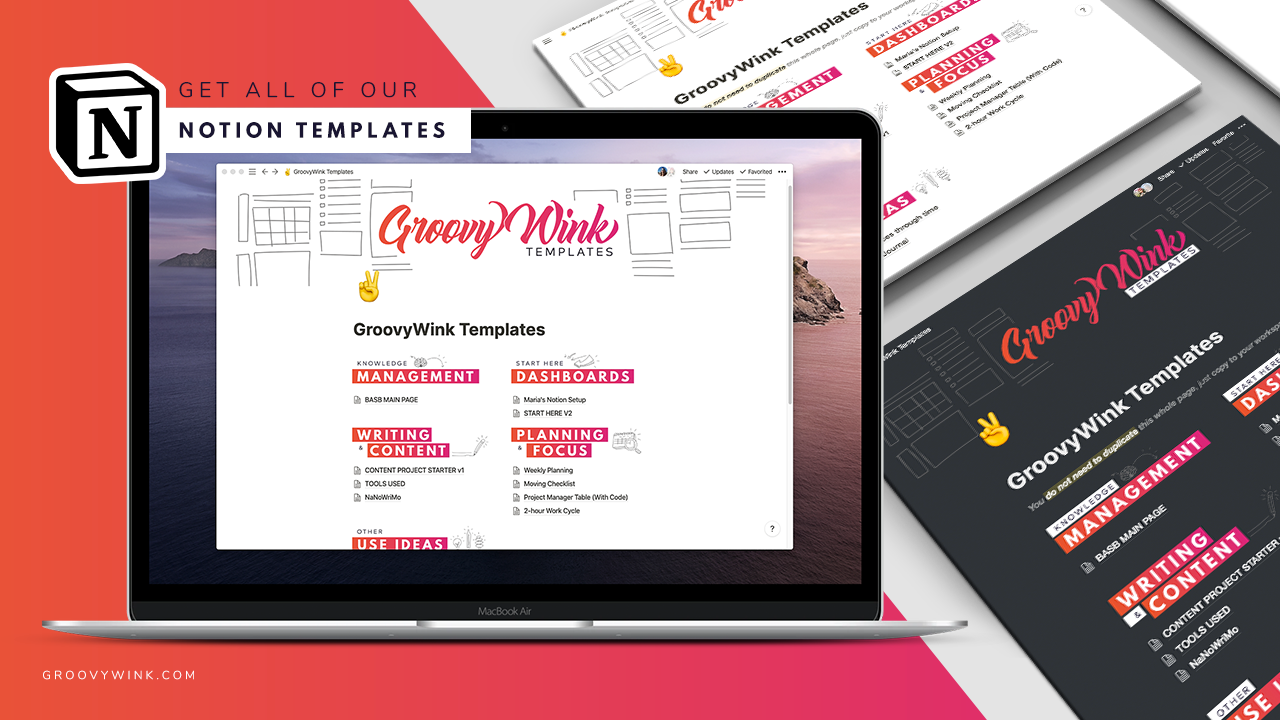 Thanks for reading till the end! It's great to have you here. If you're looking for more free Notion templates, check out these other posts too. You'll be surprised at how much great stuff is available!
Wishing you a happy planning and a successful improvement in your life and business endeavors.