Looking for the best Notion templates to act as your task manager or to-do list? This list has a variety of Notion templates for your personal or professional tasks, goals, and projects. It doesn't matter what kind of routine you want to improve or what kind of task you want to track. This list has templates for everyone.
All Notion templates here are aimed at increasing individual or team productivity, making it easier to complete tasks, and giving you complete control over project tracking. We've reviewed all of Notion's to-do list templates and picked the best ones that can simplify your task management process.
Notion's entire to-do list template revolves around categories so you can access all the tasks related to a particular project. You can add new items to projects, collections, or both. You can then create views by project or category, or filter on the fly to see all related tasks.
More Posts Related to Notion Templates:
Having a hard time getting organized and staying organized?
Make it a habit every day to capture and organize everything in your life with Super Life and see the mentioned benefits below:
Being Organized improves physical and mental health.
Being Organized allows you to sleep better.
Being Organized means less stress.
Being Organized allows you to increase your productivity.
Being Organized = More free time.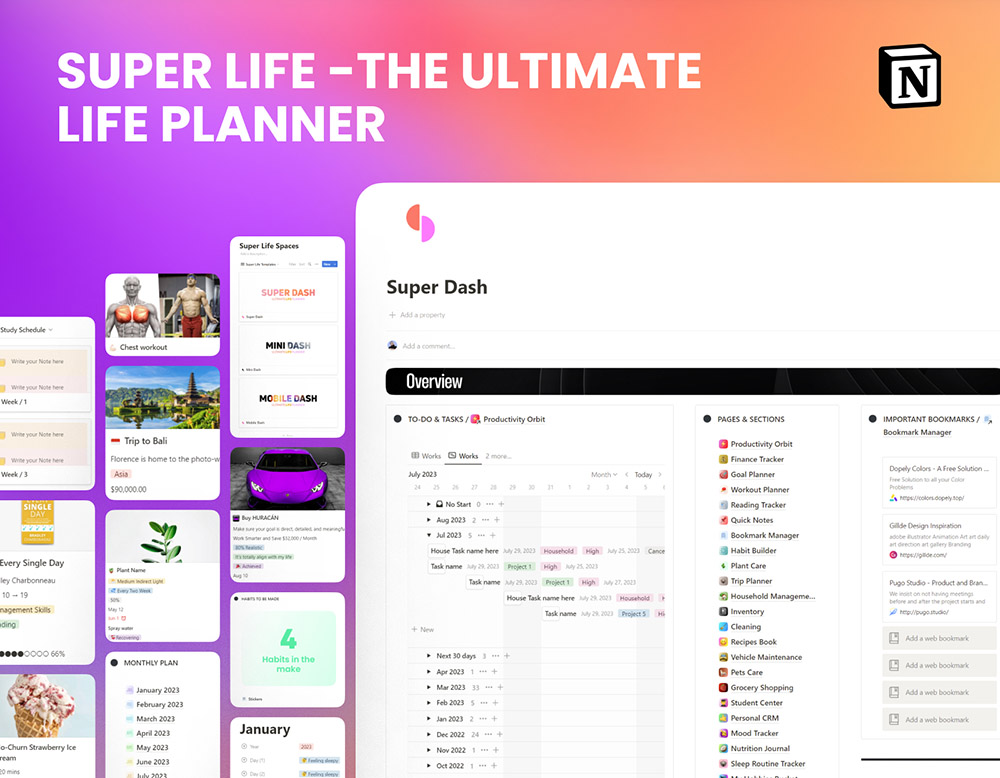 2. Getting Things Done (GTD) Dashboard
Set up your Notion with the best templates for knowledge and project management to finance and goal tracking.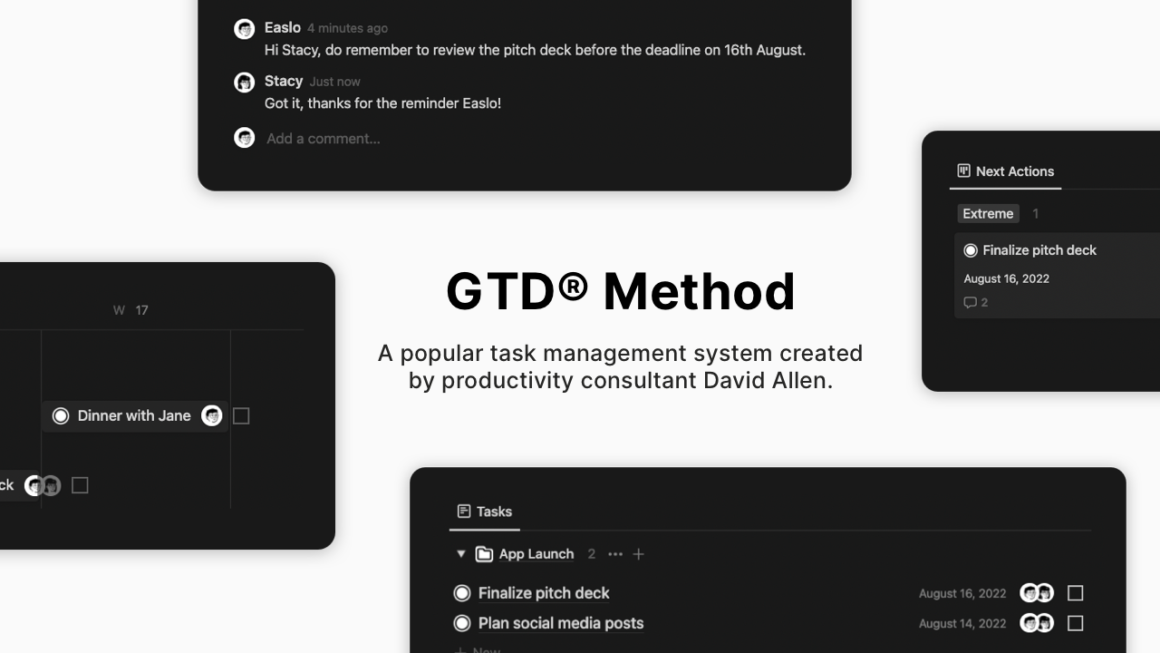 The Notion GTD Template You Need to Boost Productivity
From Overwhelmed to Organized.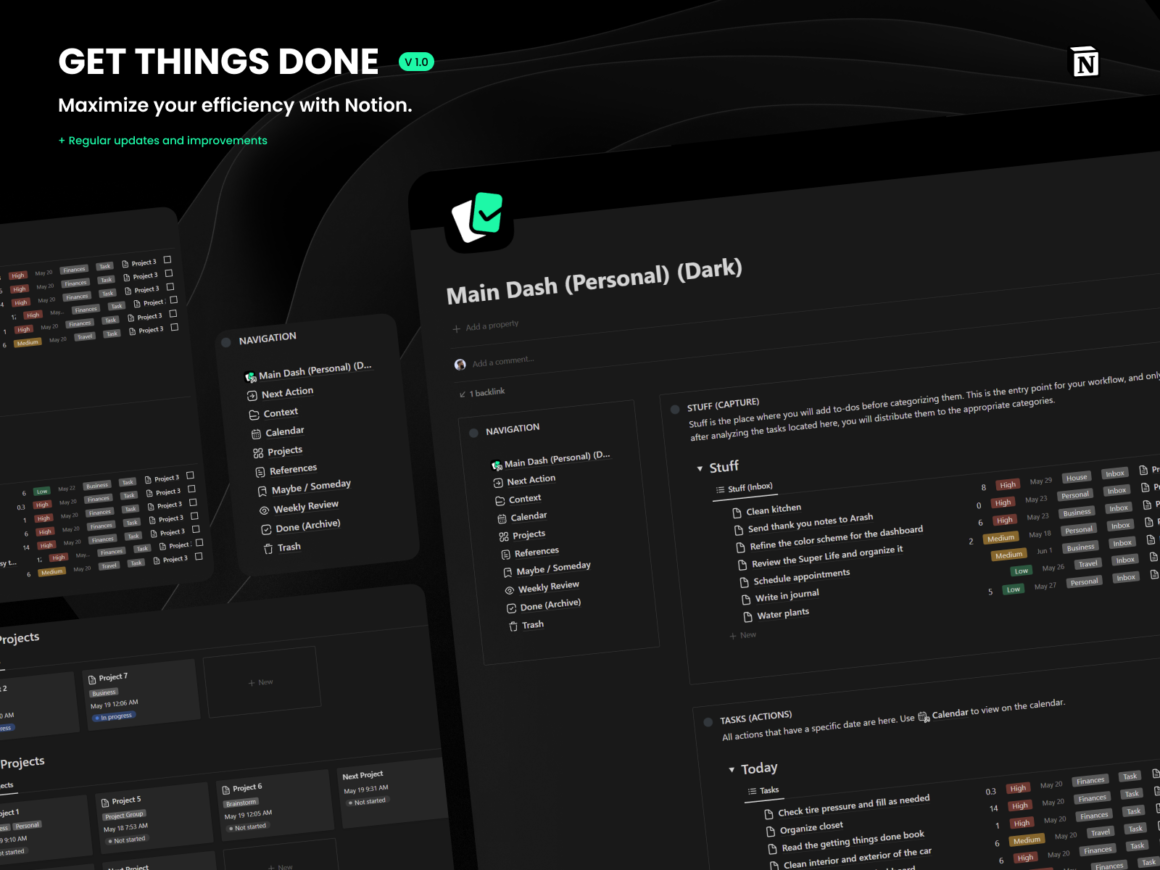 With our "Getting Things Done" Notion template, you'll be able to:
Capture all your tasks and ideas in one place, eliminating the need to juggle multiple to-do lists and notes.
Process your tasks and ideas quickly and easily, determining what needs to be done, delegating tasks to others, or deferring them to a later time.
Organize and prioritize your tasks based on urgency and importance, ensuring that you are always working on the most important tasks first.
Regularly review and update your task lists, ensuring that you are staying on track and making progress toward your goals.
Whether you're an individual looking to boost your productivity or a team seeking a more effective way to manage tasks and projects, our "Getting Things Done" Notion template has everything you need to succeed. So why wait? Try our template today and start getting things done like never before.
4. Project Management System Notion
A project management system based on the exceptional PARA system. Gain an overview of your projects and tasks to supercharge productivity and efficiency. All in Notion.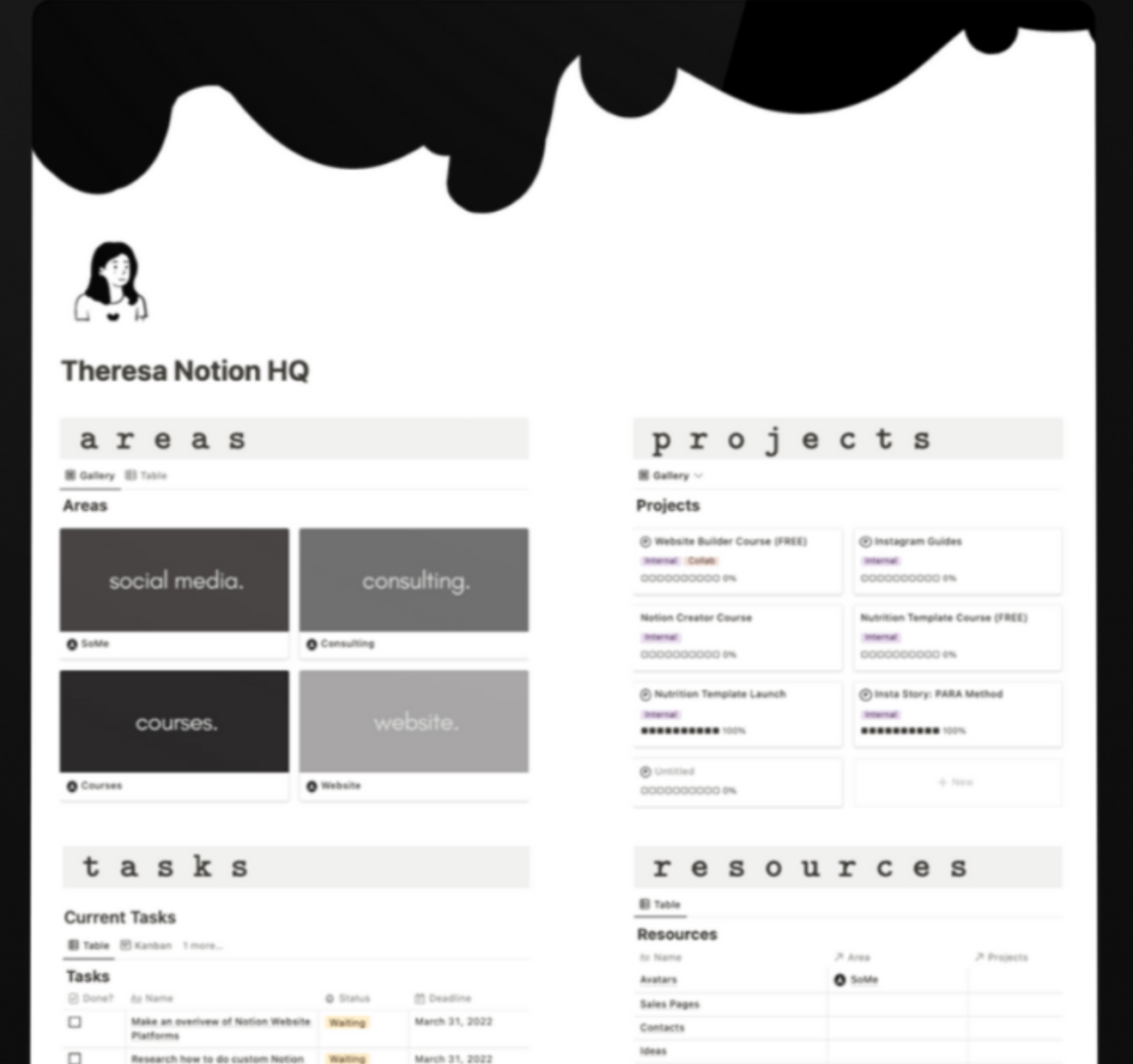 5. Spatial Task List
This tool classifies my daily tasks based on importance and effort, so I can effectively chunk my time and do the most important tasks when I am post-productive.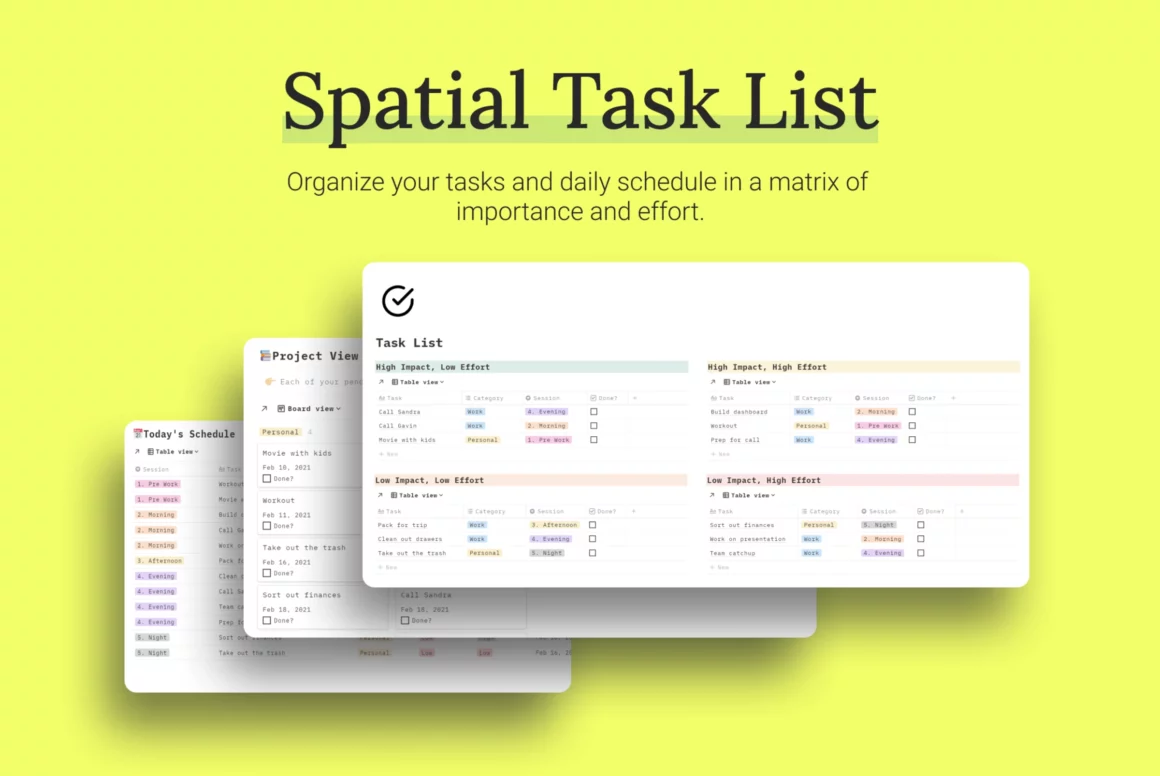 6. Free Notion To do – Notion Productivity Templates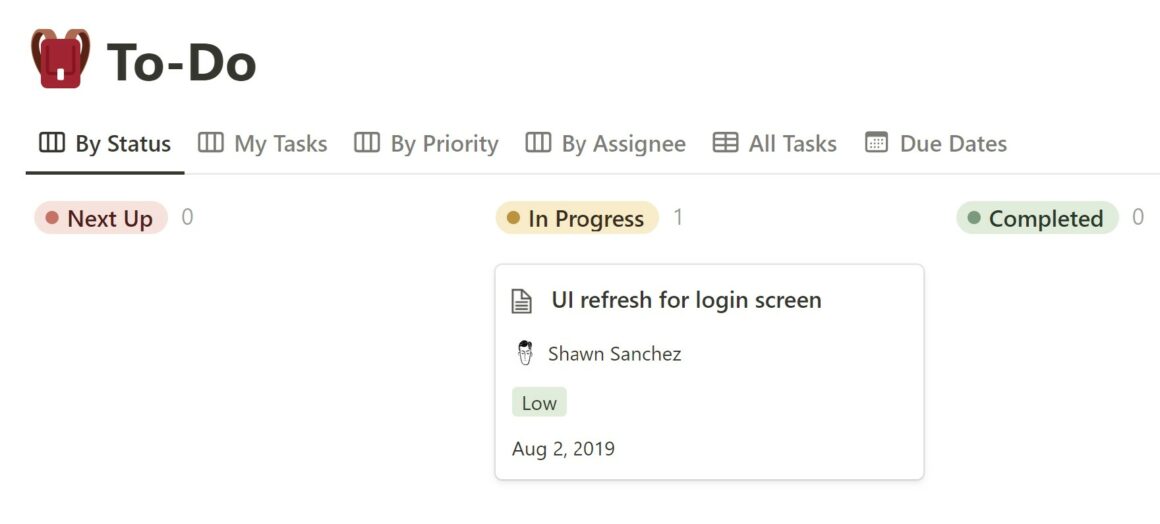 7. The Essential Notion Planner Pack: Daily, Weekly & Monthly Planners
Plan your days in detail with the Daily Planner, with hourly scheduling, priority tasks, and more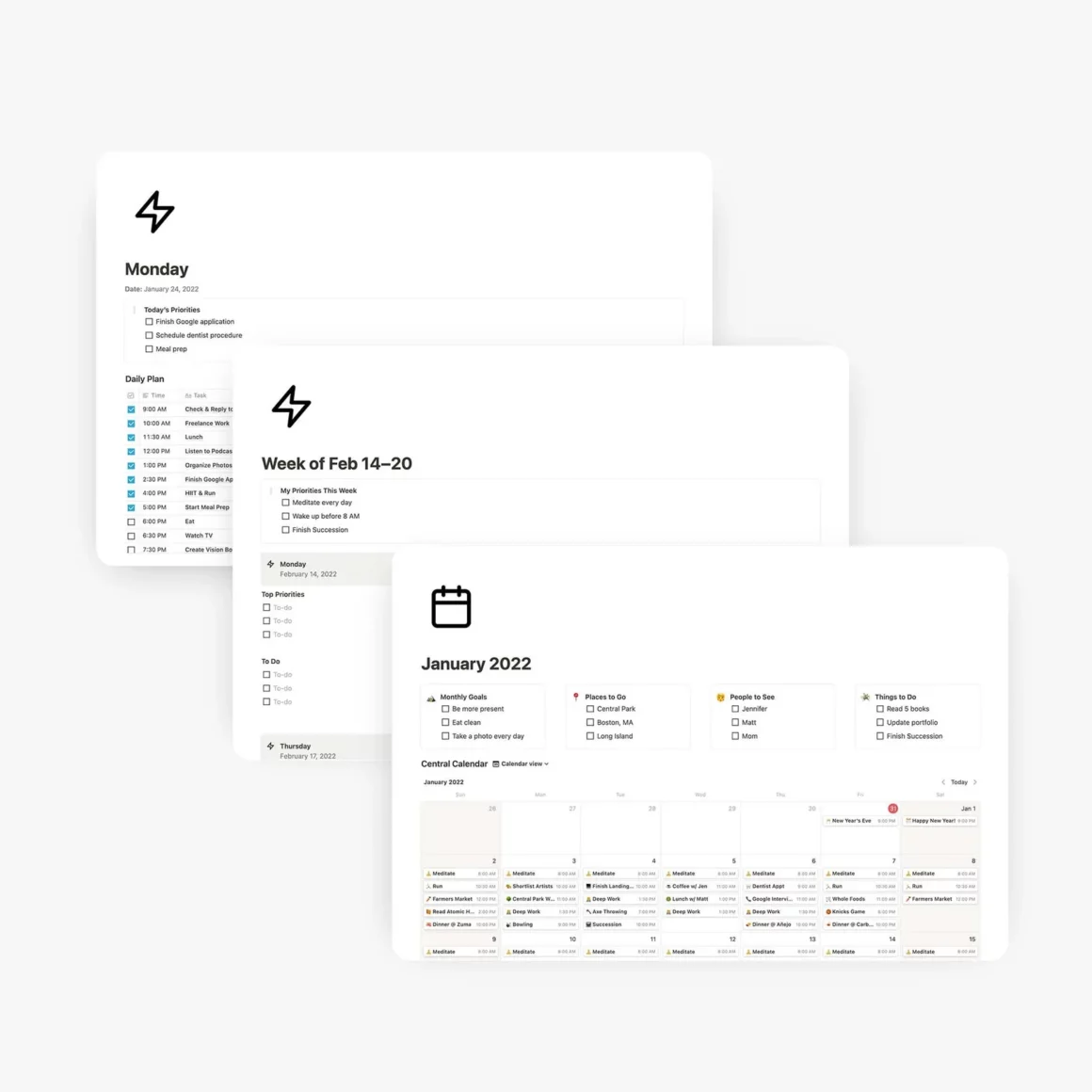 8. The Focus Hub: Daily Task Management Notion Template
Have future tasks pop up in the tickler section
Advance projects forward by always have a next up task
Plan your week with a list of all the tasks allocated as up next
This is how you move multiple projects forward at one time and not let the spinning plates slip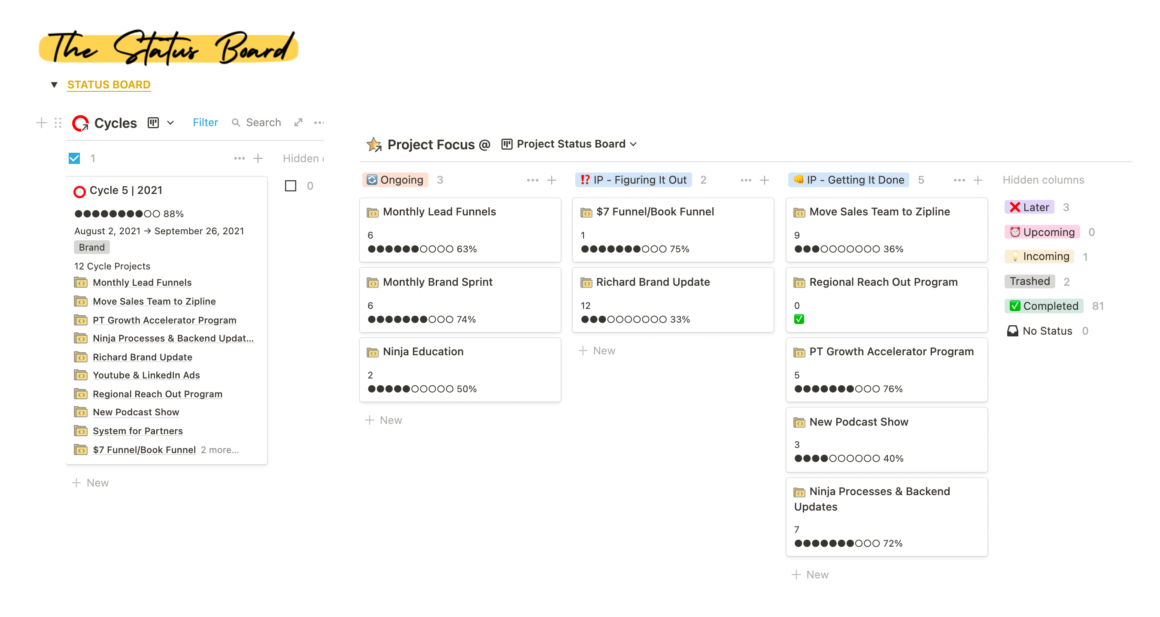 Create new tasks or copy task links from your Monthly plan and sync them inside the calendar. add workouts, plant care, and To-dos in your queue and never lose track again. With the monthly plan, you can add notes and all your tasks to keep track and have an overview of all your task and notes based on days and weeks. there are different sections to add to-dos related to home and family, freed and bound, and Misc tasks.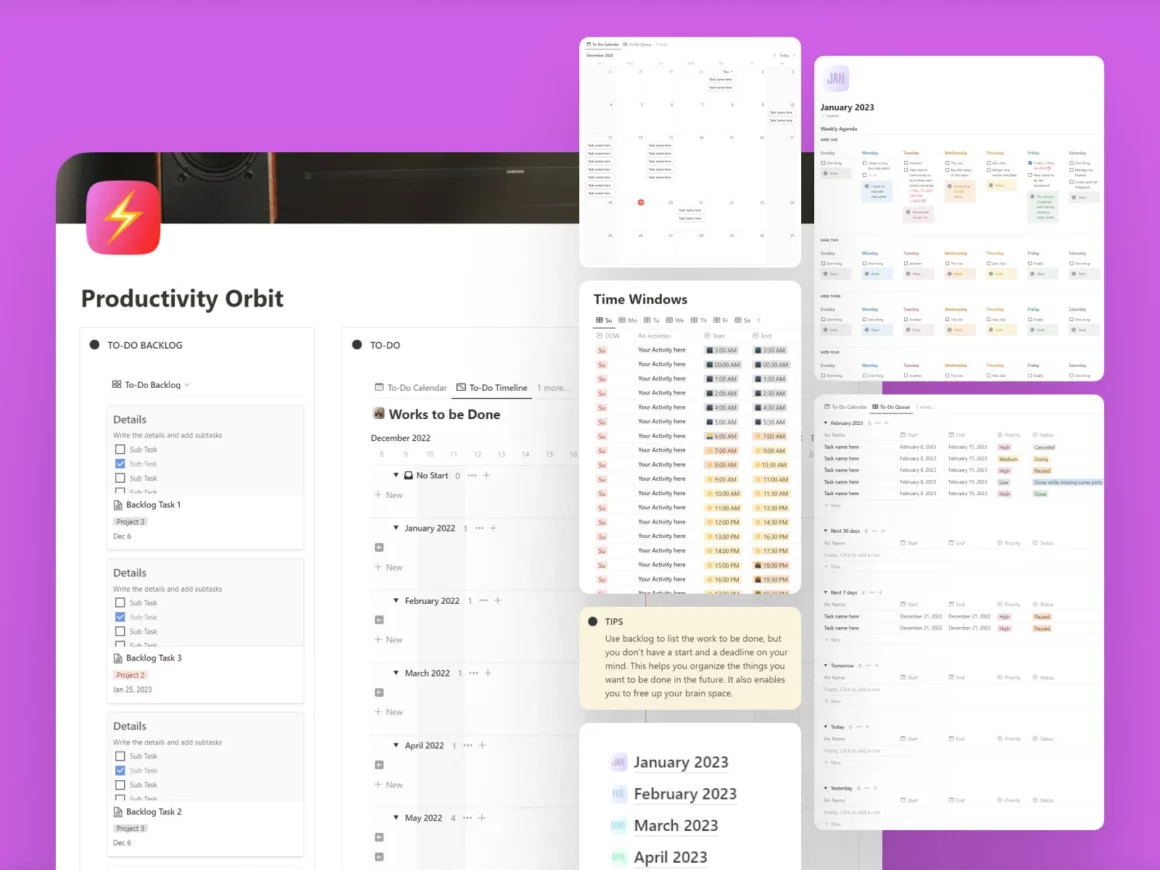 10. Simple To Do List Template for Notion
Prioritize your tasks and simplify your to-do list through Notion
Simple To Do List Template for Notion designed to help you accomplish more in less time.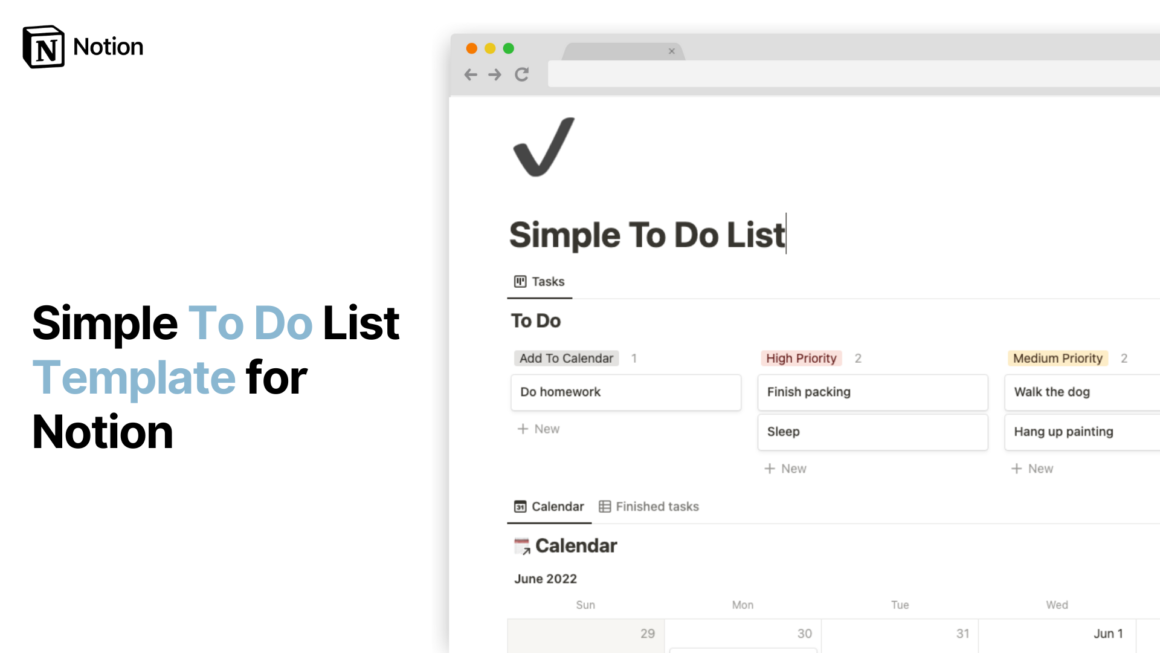 11. Client Tasks & Communication Manager – Notion template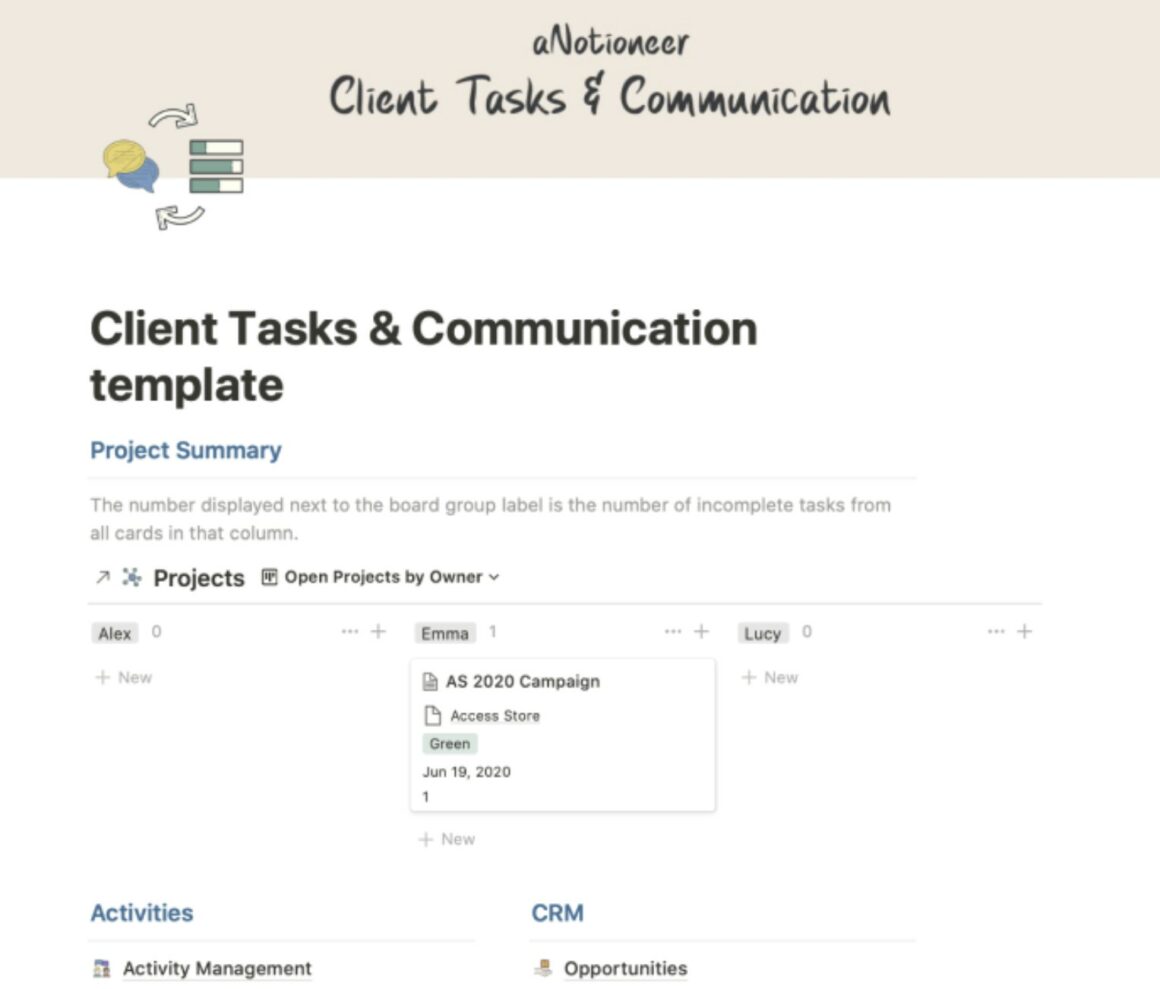 12. The Ultimate Planner Dashboard for Notion
The Ultimate Planner Dashboard for Notion is designed to help you get more done with a fully integrated system for daily, weekly, and monthly planning.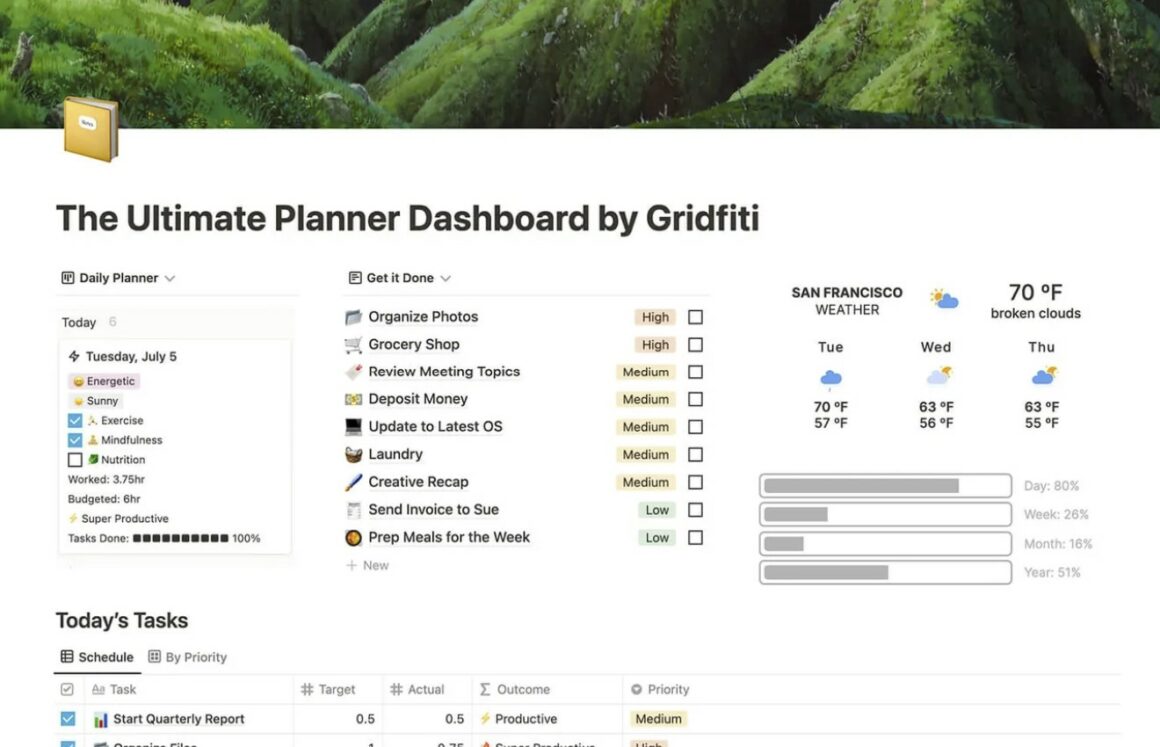 13. Ultimate Bucket List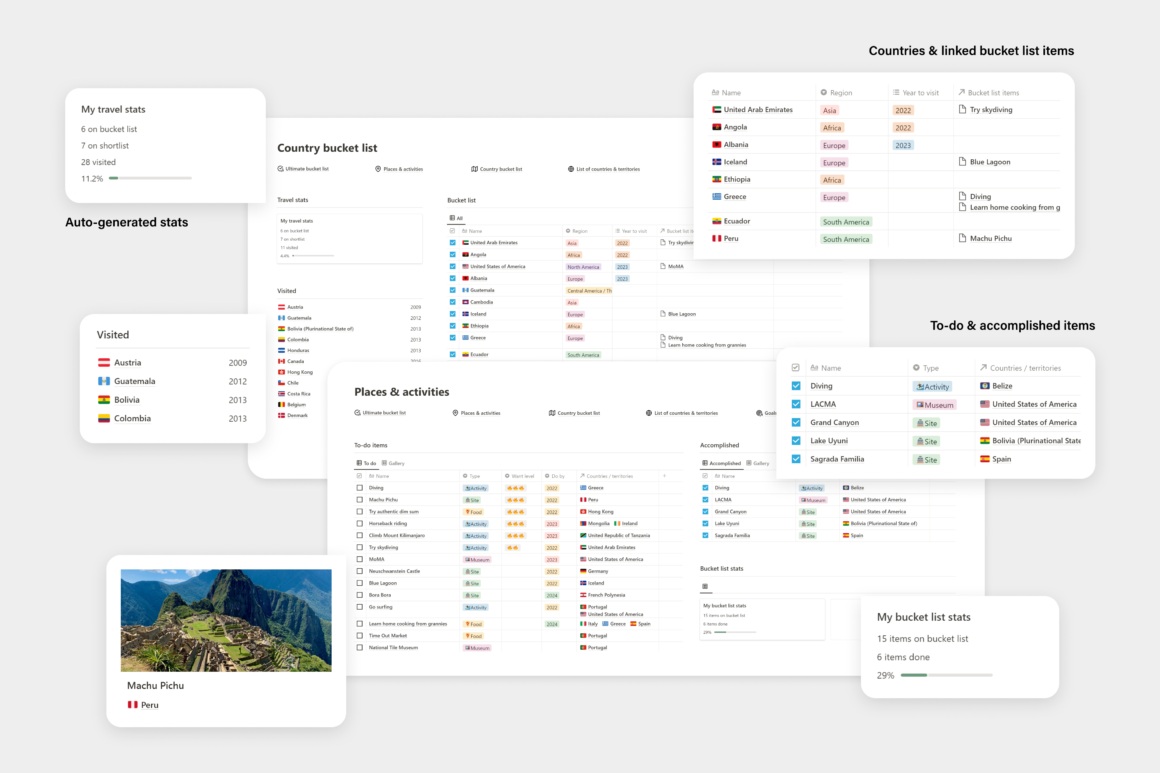 14. Zen to Done – Notion Productivity Templates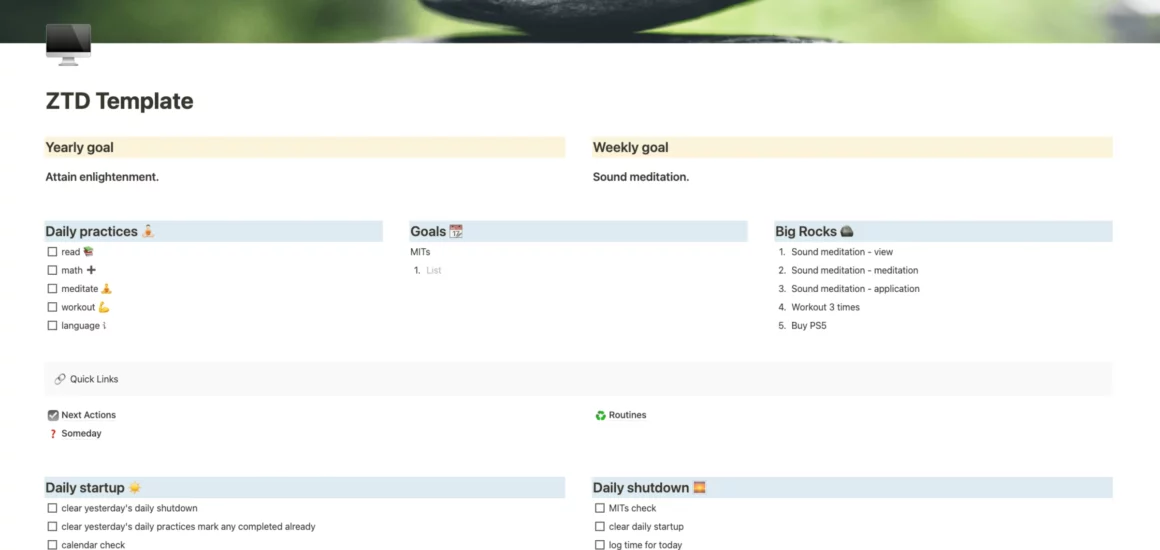 15. The Ultimate Notion To-Do List Template
Manage your habits, tasks, projects, and daily reminders all in one place.
This ultimate to-do list includes a dashboard to view only what's relevant right now, and three databases (habits, tasks, and projects) to give you a big-picture perspective.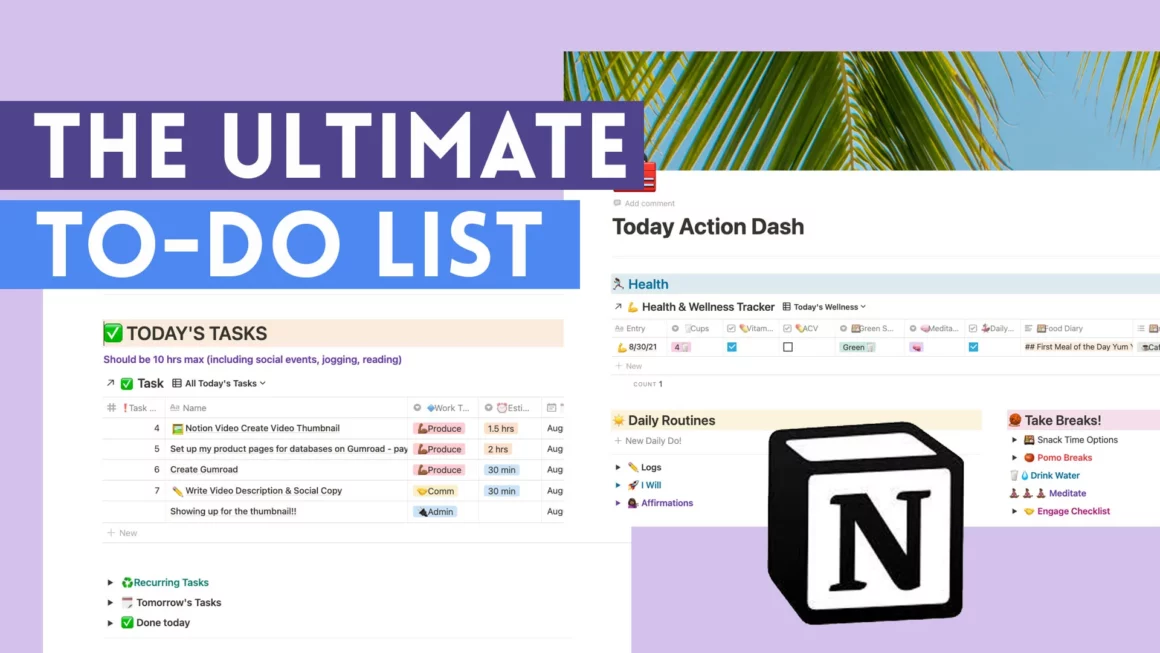 16. Notion Tasks Hub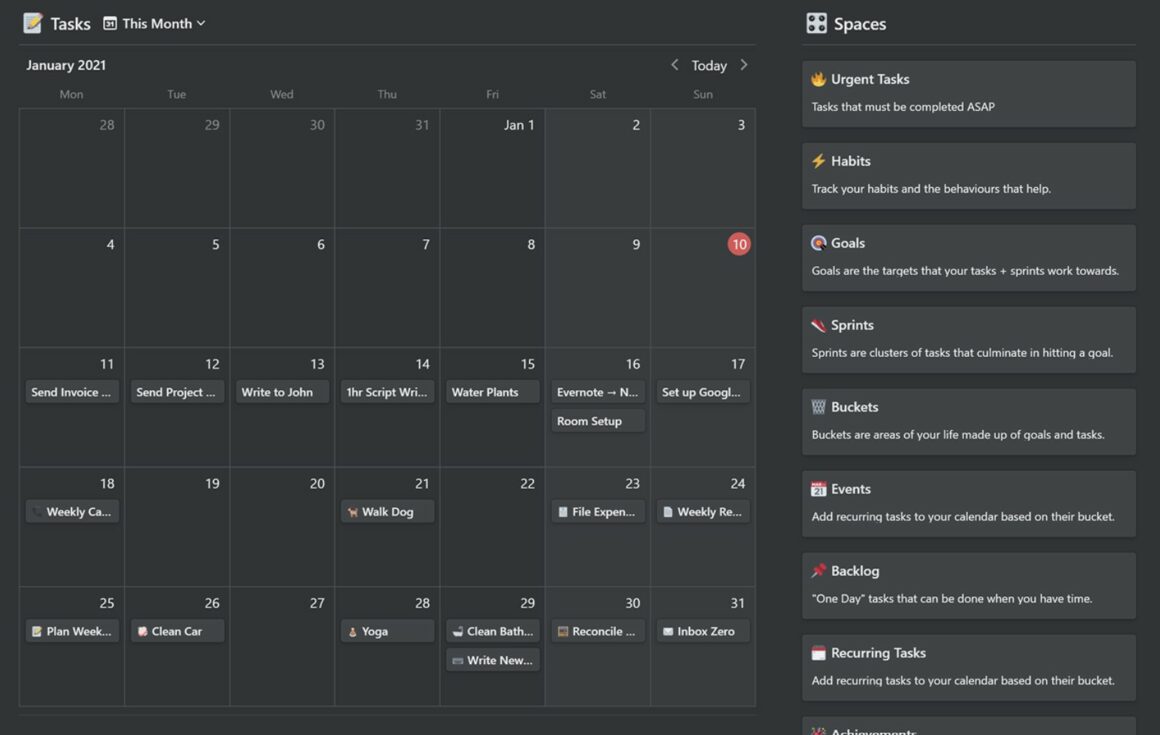 17. Free Prioritization to do list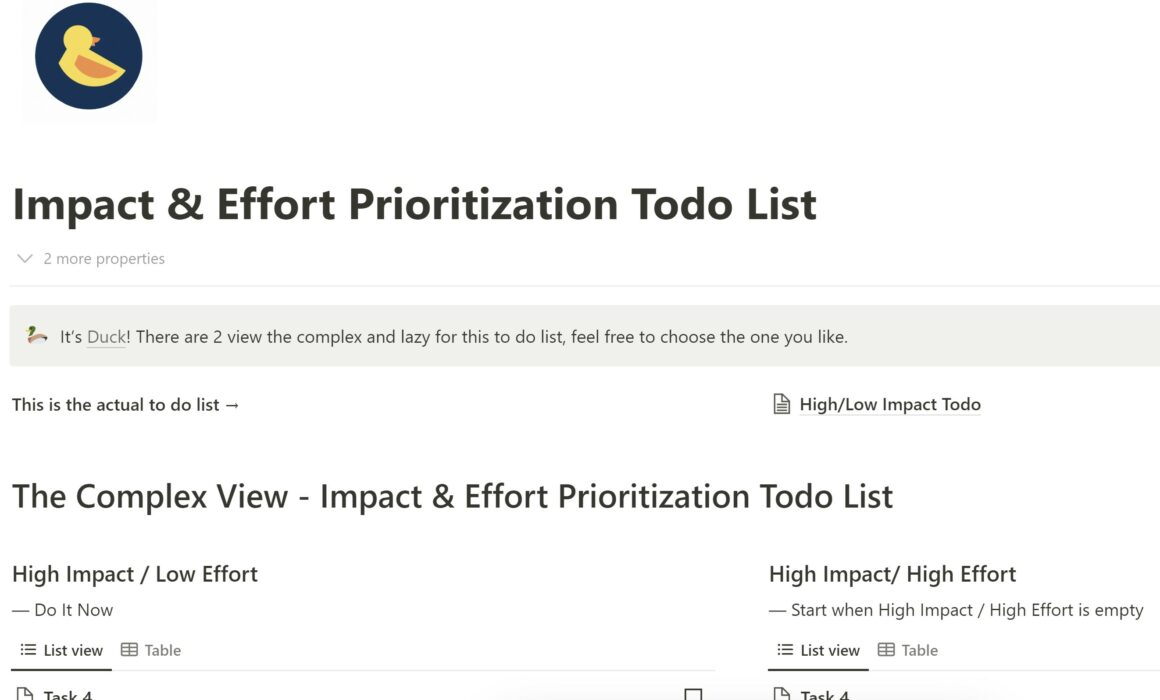 18. GTD System Dashboard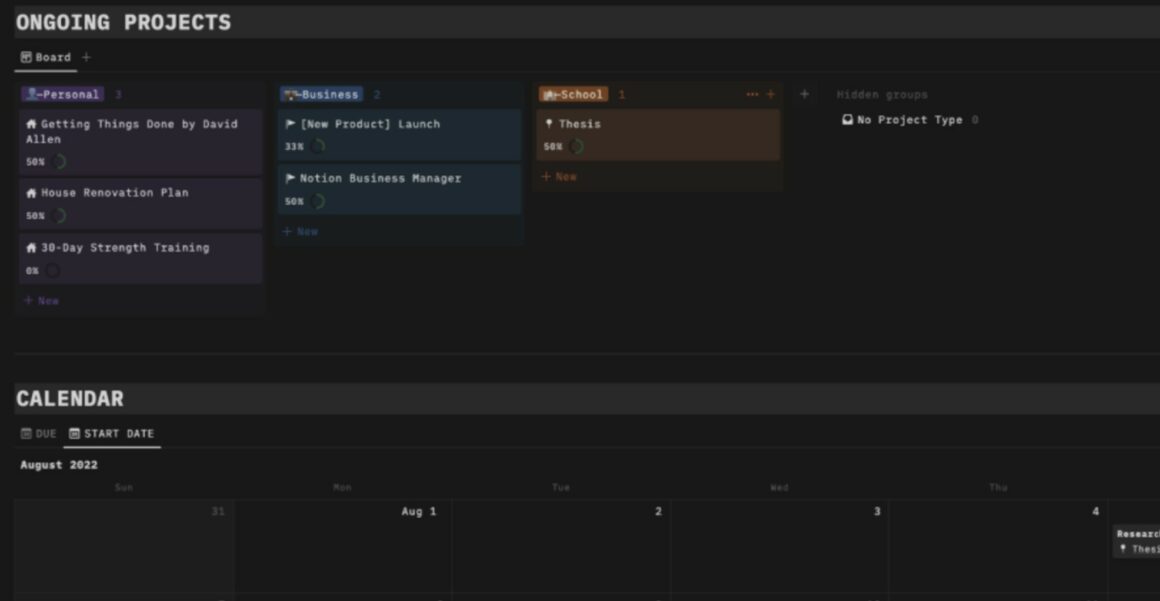 Want to Discover More Templates? We've got you covered! A Wealth of Notion Templates Awaits
For every conceivable template aspiration, Gillde stands ready. Dive into our trove for a spectrum of Notion templates that cater to your every whim. Embark on your quest for structured creativity with a mere click. Uncover even more enticing lists on our blog!
We've unleashed an array of 50+ Notion templates and guides within our archive on Gillde. While we'd love to list them all here, we've made it effortless for you. Simply head over to our dedicated Notion Category page, and explore this treasure trove at your leisure!