Last Updated on August 27, 2023 by Mr.Pugo
In the swirl of information that engulfs us daily, brilliant insights and ideas often flicker and fade before we can grasp them. But fear not, for this curated collection of Second Brain Notion templates is here to rescue those gems from oblivion, ensuring they're never lost again!
Imagine having a digital haven where every insight, every idea, and every plan you've ever had is not only housed but also easily retrievable. This concept, the notion of a Second Brain, aligns seamlessly with the diverse capabilities of Notion. It's almost as if Notion was designed with the sole purpose of being the ultimate Second Brain – an intuitive canvas where your notes, ideas, and concepts can be not just organized, but interwoven and refined to brilliance.
Naturally, embarking on your journey with a Second Brain Notion template is the smartest step. The prospect of creating such a comprehensive system from scratch might seem like a time-consuming odyssey. Don't fret, though. You can dive into the depths of this template-driven personal knowledge management solution right away. The best part? You'll have the flexibility to tailor and elevate this system to perfectly match your unique needs and aspirations as you go along. So let's embark on this journey of information mastery and creativity together!
Discover the perfect Second Brain Notion templates to organize your ideas, tasks, and insights effortlessly. Unleash the power of structured creativity and enhance your productivity. Explore Gillde's curated selection of templates and find the ideal companion for building your second brain system.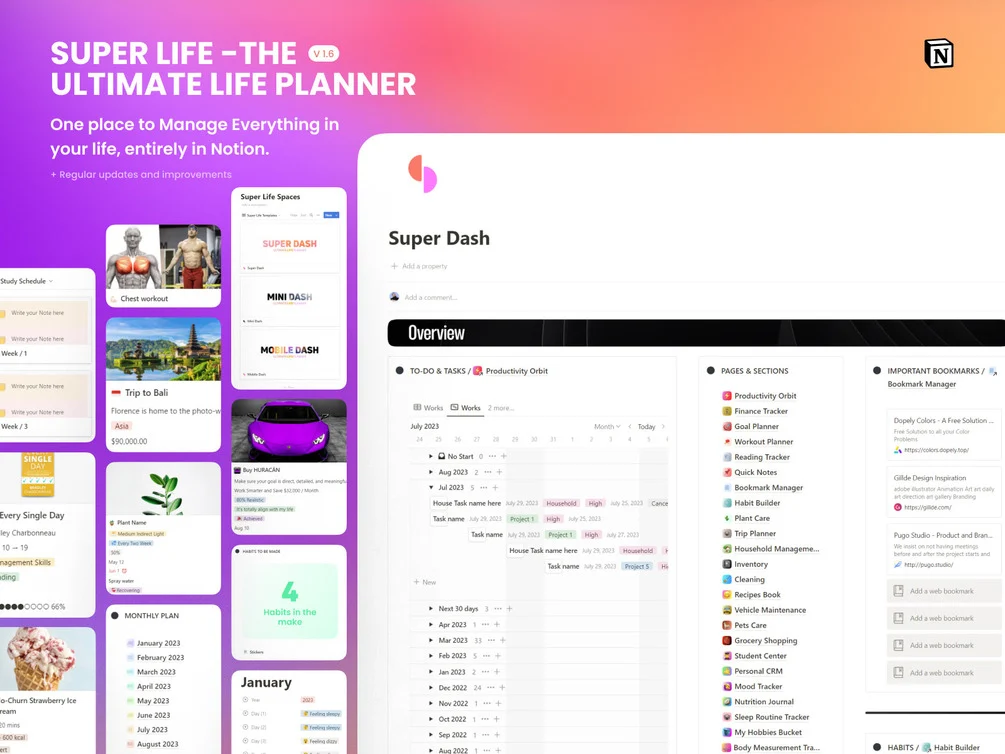 One place for Everything in your life, entirely in Notion.
Organize and supercharge your entire life with Super Life notion template.
Super Life (Ultimate Life Planner) brings goals, tasks, notes, plans, health, workouts, household, habits, plant care, travel plans, finance, and much more seamlessly together in Notion.
With Super Life, everything in your life has a home, you will be more organized, and productive.
Freeing up some space in your brain led to gaining your focus back and enables you to accomplish your goals quickly.
Price: $39!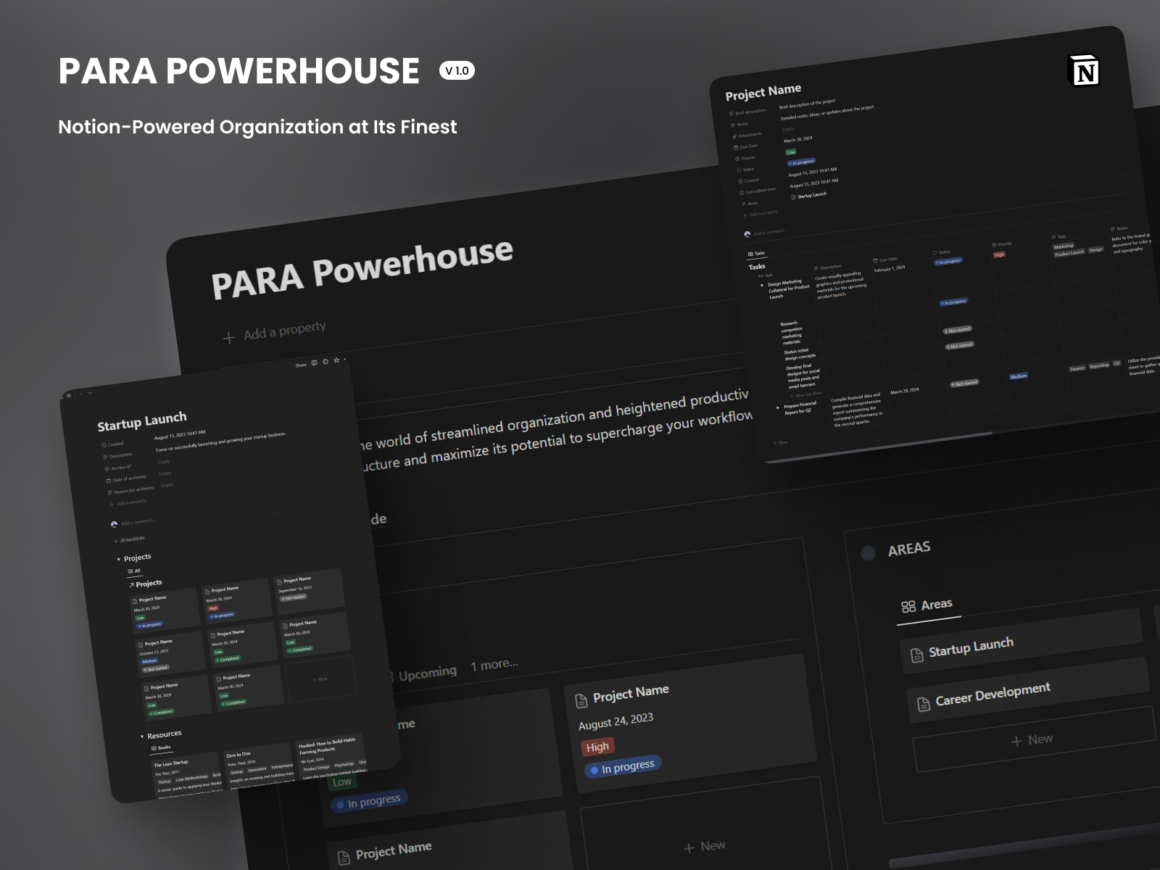 Unlocking Notion's Full Potential With PARA Powerhouse
Are you ready to take your Notion usage to the next level? Look no further than PARA Powerhouse—a comprehensive template designed to supercharge your organization, project management, and overall productivity within Notion's versatile workspace.
Price: FREE!
Second Brain Template by Easlo
Get Your Life Organized with a Second Brain
Unlock a powerful Notion system that centralizes tasks, projects, notes, resources, and everything in between.
Building upon Tiago Forte's PARA method, we've expanded its principles to offer a comprehensive productivity and knowledge management system.
Price: $99 and $199!
Ultimate Brain Notion Template by Thomas Frank
Ultimate Brain brings tasks, projects, notes, and goals seamlessly together in Notion – creating a truly all-in-one second brain.
The ultimate productivity system and second brain for Notion, combining tasks, projects, notes, PARA organization, GTD, and more.
Price: $129!
Academic Second Brain by Aliyar Azimov
By taking a systematic approach to managing knowledge, the workspace enables the user to work more efficiently and effectively while enhancing creativity. You can easily track progress on research projects, while also keeping track of notes and materials related to specific courses you are taking (or teaching). This workspace has been (and still) an invaluable tool for me as a PhD researcher, and I firmly believe that it could also be an asset to others who seek to optimize their work and manage their personal and professional lives more efficiently.
Price: $30
Notion Second Brain by Matt
Organize every aspect of your life and plan your days with the Notion Second Brain template. This dashboard will help you save time and get more things done by allowing you to prioritize tasks, manage your projects, track your goals, save important resources, etc.
Price: $24 and $134
Notion Second Brain by Temply
The only Notion template you need to use Notion as your Second Brain
Notion second brain is a personal knowledge management system that helps you manage and organize your life from one place. Second Brain builds on a proven organization method, P-A-R-A, developed by leading productivity expert Tiago Forte.
Price: $49, $69 and $129
Unlocking Your Ultimate Second Brain with Notion
In a world teeming with information consumption, our minds are brimming with insights and ideas. Yet, all too often, the blink of an eye leads to distraction, and those fleeting gems slip away. Enter the realm of Second Brain Notion templates – your ticket to a realm where forgetfulness is banished, and ideas are never lost again!
Why Notion Reigns Supreme as Your Second Brain
Picture this: a virtual sanctuary where all your insights, ideas, and plans find a home, carefully cataloged and effortlessly searchable. Notion is tailor-made for this purpose, harmoniously accommodating an intricate dance of notes, ideas, and even topic-based grouping. Its multifaceted features create the ultimate haven for nurturing your second brain.
Your repository for brilliance awaits, fortified by Notion's remarkable features. As the ideal platform for shaping, connecting, and refining notes, ideas, and concepts, Notion stands as the unrivaled choice for birthing and nurturing your second brain. The canvas is yours – the possibilities, boundless.
The Essence of a Second Brain and Notion's Symbiotic Alliance
The notion of a second brain thrives on methodologies that liberate your mind from the burden of remembering every piece of information. Instead, it encourages you to establish an organized system that stores information, accessible on demand. And with Notion as your partner, the synergy is sublime.
Why do enthusiasts around the globe entrust Notion with their second brain aspirations? The answer lies in its capacity to be the custodian of insights, tasks, and ideas, providing a dependable reservoir for future reference. It's akin to having an external memory bank that's both accessible and intuitive.
Furthermore, Notion's mastery in search and tagging elevates the experience. Seamlessly attaching relevant keywords to your information turns searching into a breeze. Whether it's project blueprints, research goldmines, or personal musings, Notion equips you with the power to pinpoint and retrieve with ease. Time is saved, frustrations averted.
Crafting Your Second Brain Oasis in Notion
Embarking on the journey of constructing your second brain in Notion offers two routes – either beginning from scratch or setting sail with a pre-furnished template.
Opting for the template path bestows a head start. It's like receiving a map to your destination – a second brain template guides your initial steps, eliminating the overwhelming aspects of information architecture.
But perhaps the notion of creating your unique system beckons – a landscape meticulously shaped by your needs, ideas, and preferences. Notion beckons as your blank canvas, ready for your creative strokes to form a masterpiece of organization.
To Template or Not to Template – The Conundrum Unveiled
While the allure of crafting your second brain from the ground up is tempting, we recommend embarking with a template. Creating a seamless relational database that aligns with second brain methodology requires expertise, and templates provide a solid foundation.
So, whether you dive into a template's ready embrace or carve your personalized path, remember that the Second Brain Notion template opens a realm of managing and organizing your thoughts, tasks, and projects like never before. With Notion's fluidity and template brilliance, an era of streamlined, organized, and productive existence beckons.
Further Adventures in Notion Templates with Gillde
Our journey doesn't end here. While we've unveiled some of the finest second brain templates, your discoveries might be different. Don't hesitate to share your insights with us! And if your quest for the perfect template remains unfulfilled, rest assured – our realm of Notion templates is vast. Explore Gillde's curated selection on our website.
A Wealth of Notion Templates Awaits
For every conceivable template aspiration, Gillde stands ready. Dive into our trove for a spectrum of Notion templates that cater to your every whim. Embark on your quest for structured creativity with a mere click. Uncover even more enticing lists on our blog!