Last Updated on November 21, 2023 by Farnaz
The holiday season is quickly approaching, and it's the perfect time to start preparing and bringing some joyful spirit into your life. What could be more helpful and delightful than using Notion Christmas templates? Notion is an incredibly flexible and powerful productivity tool that empowers you to design and personalize templates that are tailored to your specific requirements. In this article, we will delve into a wide array of 10+ Christmas templates that are readily available in Notion, offering you a multitude of options to meticulously plan and fully embrace the joyous holiday season.
Christmas Planner Notion Template
To help you stay organized and manage all your Christmas tasks, the Christmas Planner Notion template is perfect. This template includes sections for planning your decorations, creating a gift list, organizing holiday events, and scheduling your tasks. With this template, you can ensure that every aspect of your Christmas celebration is well-coordinated and enjoyable.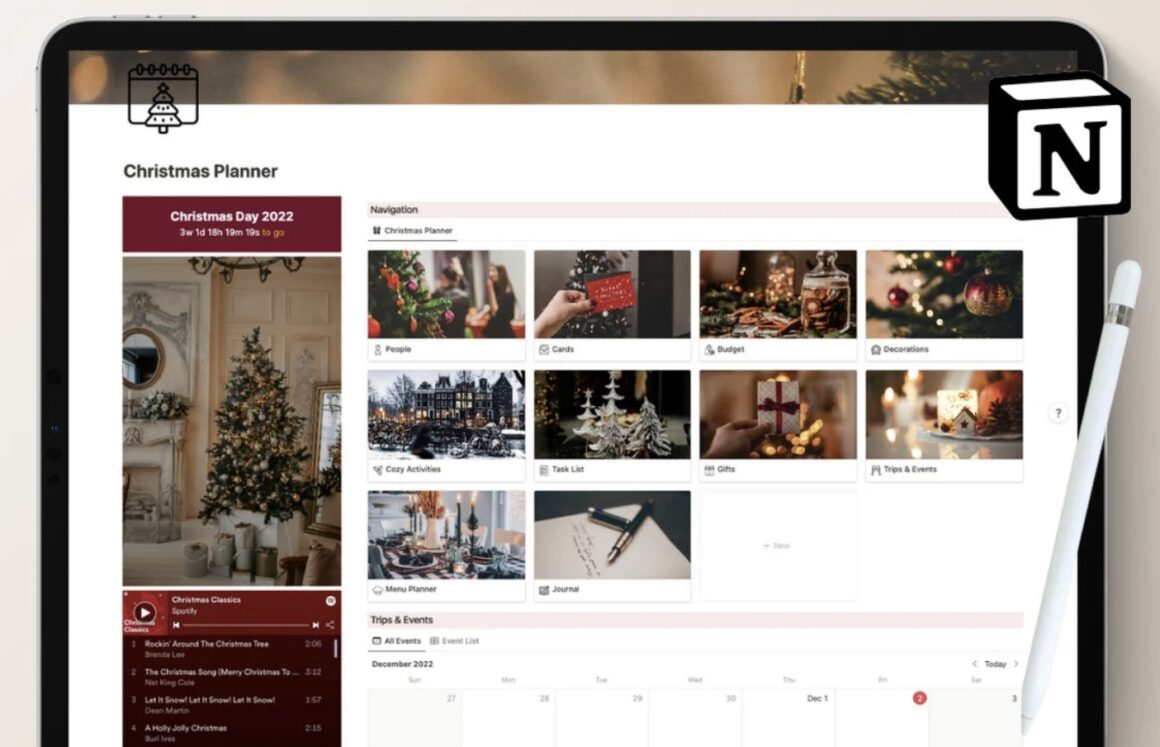 Notion Holiday Planner Template
The Holiday Planner Dashboard features various sections such as to-do lists, an event calendar, a Christmas savings tracker, a countdown to Christmas, and the ability to add your own Christmas playlist. The template also includes a budget planner to track holiday expenses, a section to add and plan traditions, a gift tracker to keep track of recipients and gifts, a shopping planner for holiday shopping, a meal planner for favorite holiday recipes and ingredient tracking, and a Christmas cards planner to keep track of cards and recipients.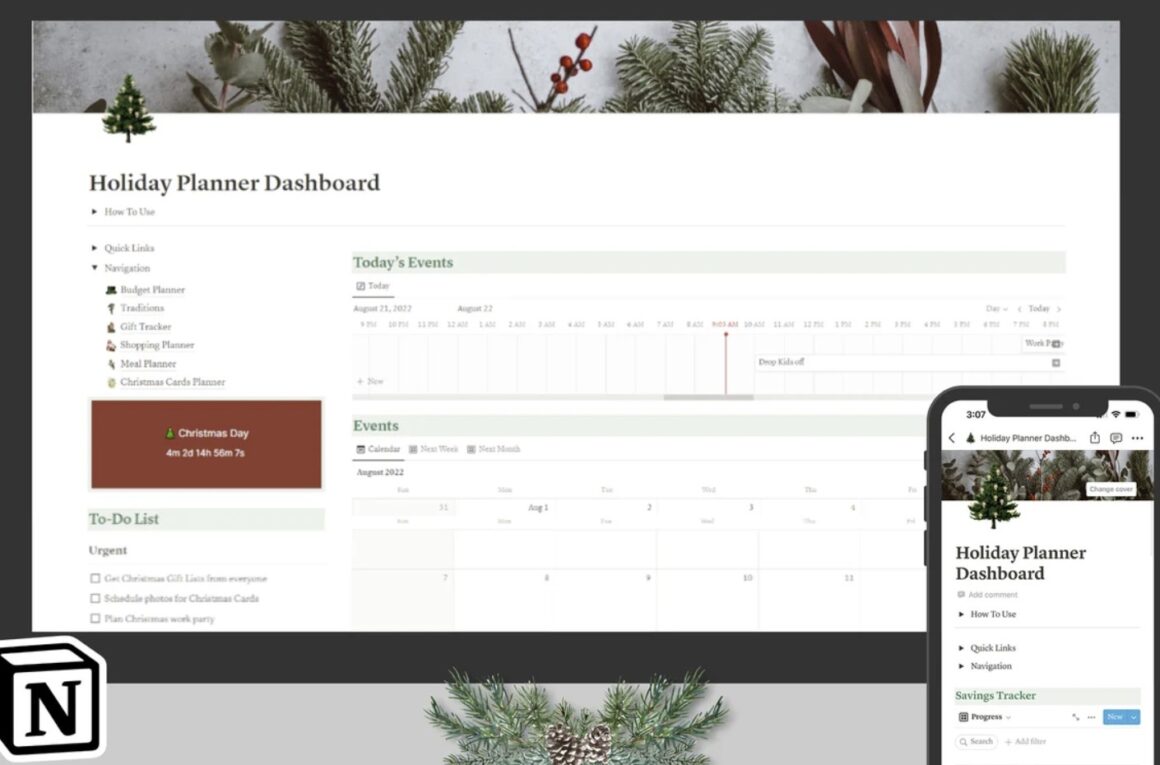 Christmas Tracker Notion Planner
The Christmas Tracker Notion Planner offers the ultimate jolly experience with its unique design and chill widgets. It allows you to schedule your post-Christmas activities, manage your budget, plan meals to cook, and organize special events. With features like a shopping list, schedule plan, meal planning, Christmas budget, to-do list, post Christmas organization, event planning, and gifts section, you can ensure that you never miss out on anything during the stressful post-Christmas organization. To add to the festive ambiance, you can relax to cozy fireplace sounds or listen to your own music while planning an unforgettable Christmas with your loved ones.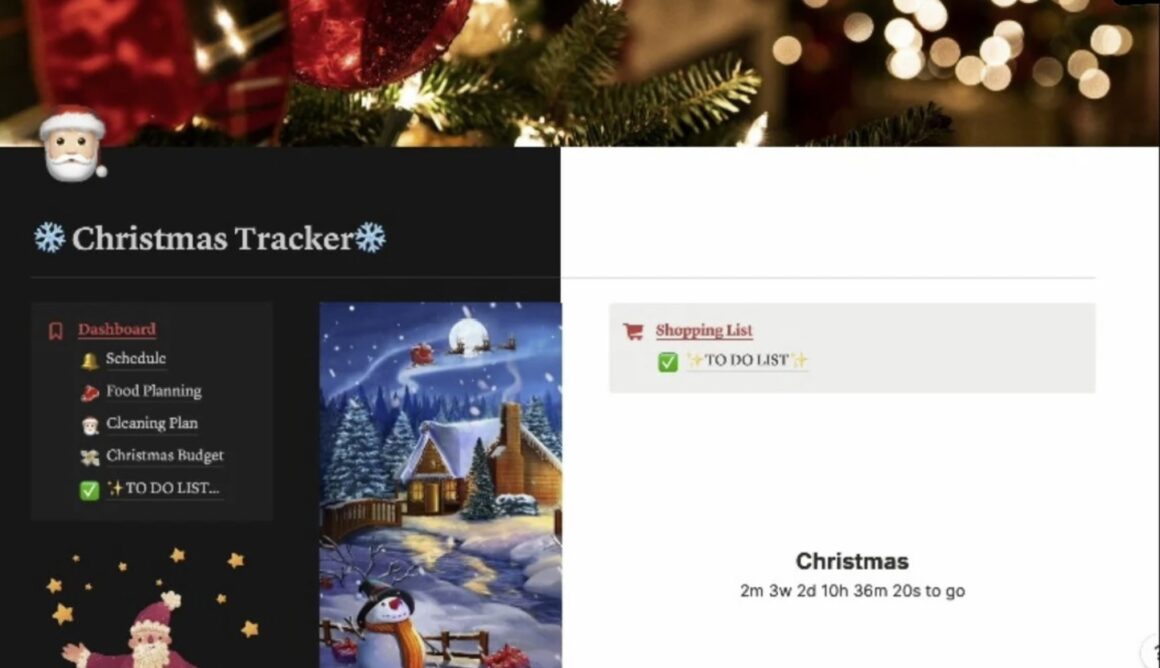 Notion Template Christmas Planner
Key features of the template include a Holiday Calendar that allows you to visualize your entire holiday schedule at a glance, making it easy to add and track events, parties, shopping days, and more. With categorized To-Do Lists, you can stay on top of your tasks and plan gift shopping, decoration setup, meal preparation, and beyond. The template also includes a Gift Tracker, which helps you effortlessly keep tabs on your gift list by logging gift ideas, recipients, budgets, and purchase status. Say goodbye to last-minute scrambles and enjoy the satisfaction of thoughtful and well-organized presents.
Christmas planner digital
A comprehensive digital solution designed to help you seamlessly organize and enjoy the holiday season. This all-in-one template offers a range of pre-designed pages, including a gifting tracker, holiday events calendar, recipe book, crafts and projects database, books to read, movies to watch, party hosting planner with guest list, meal planner, shopping list, and to-do list, as well as a holiday budget planner. With these templates, you can keep all your Christmas-related tasks and activities organized in one convenient place, ensuring a stress-free and joyous holiday experience.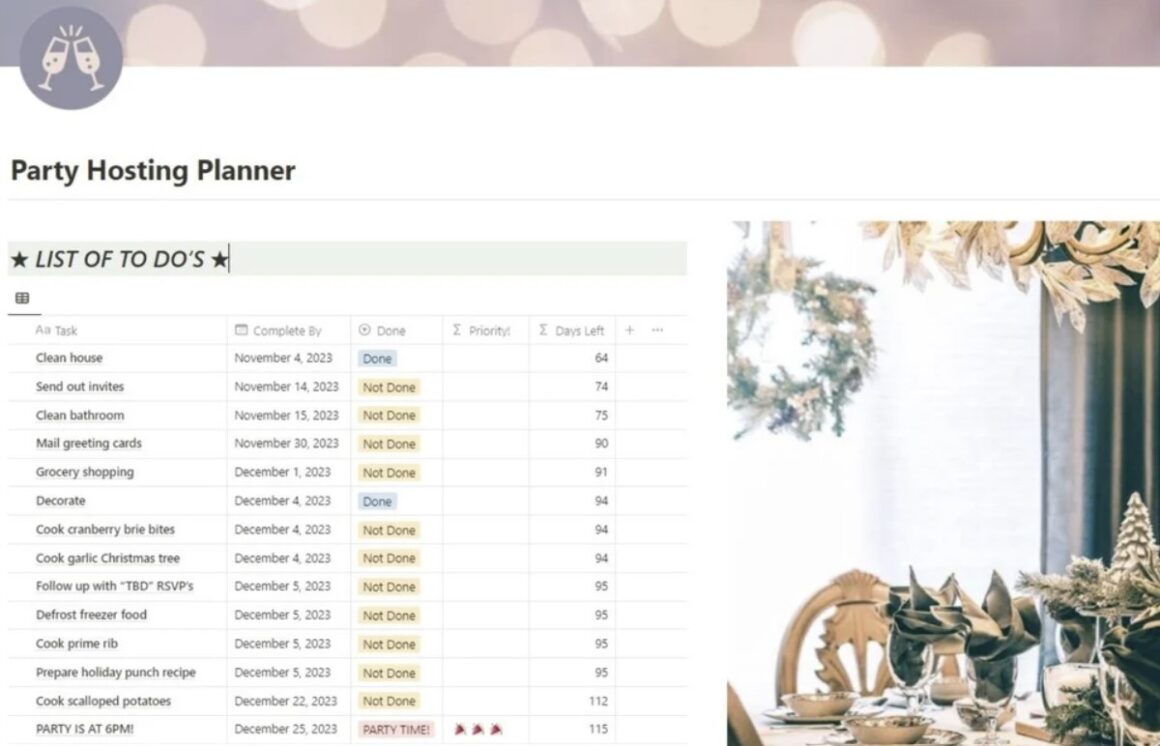 Holiday Bucket List
The holiday season is the perfect time to create unforgettable memories and try new things. The Holiday Bucket List template in Notion lets you jot down all the activities and experiences you want to enjoy during this festive period. From baking gingerbread cookies to watching classic holiday movies, this template will help you make the most of the holiday season.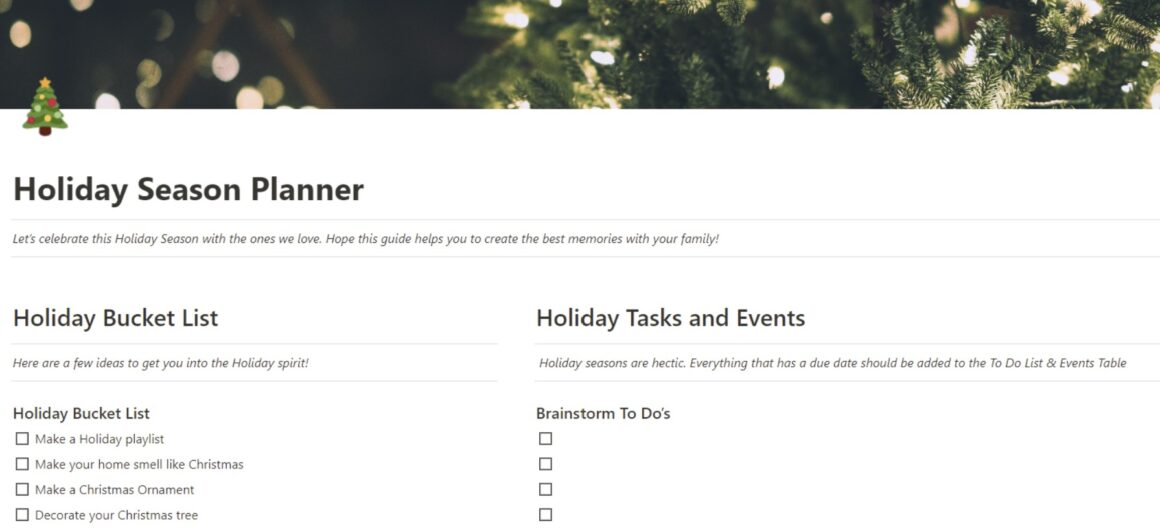 Notion Christmas Planner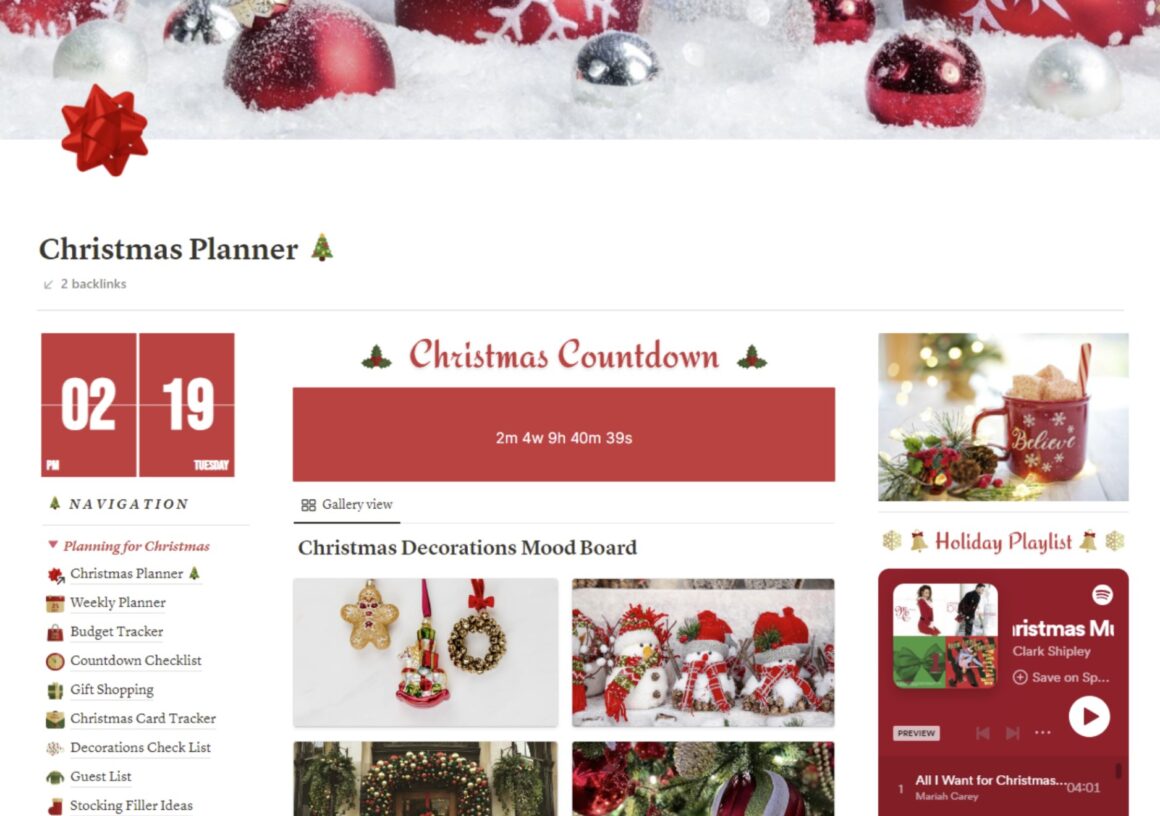 Holiday Planner Template
Holiday Planner dashboard and 4 databases for tracking tasks, charitable donations, gifts, and the people you're buying gifts for this holiday season.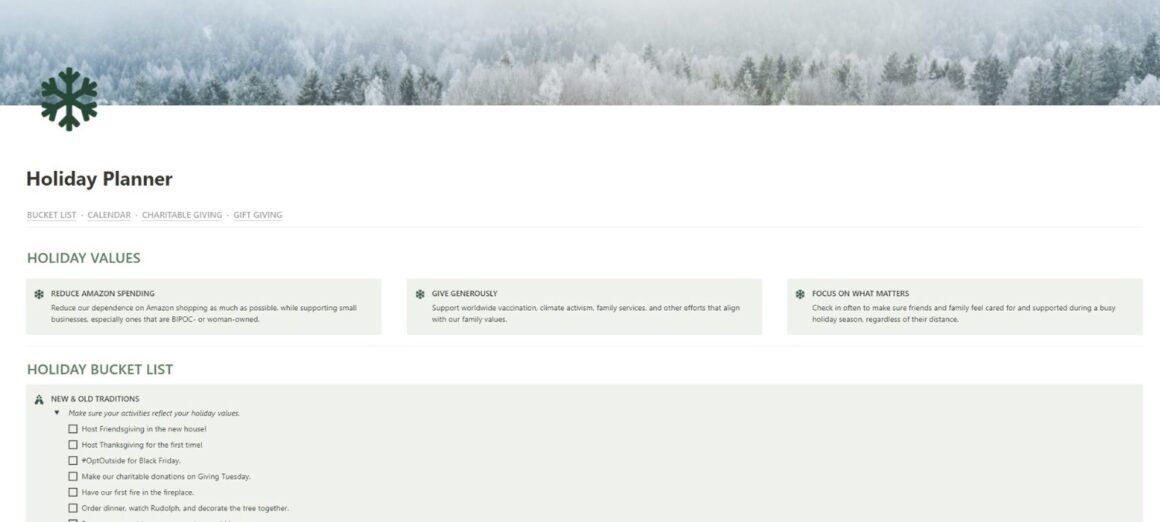 Holiday Planner Digital
The Holiday Planner
Christmas Planner Notion Template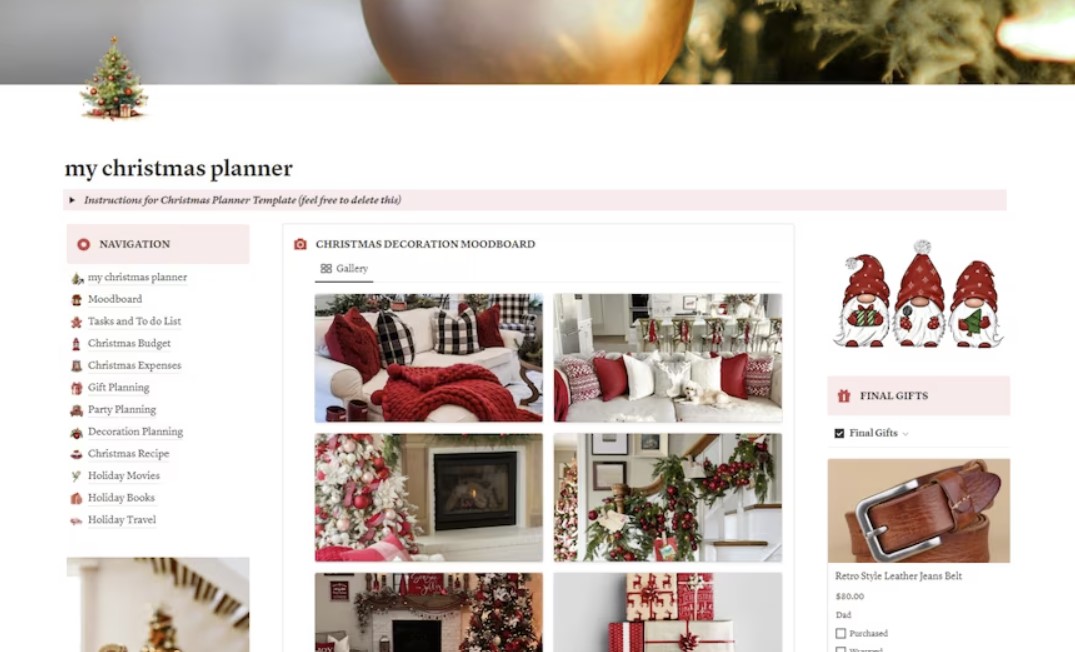 Conclusion
Notion Christmas templates provide a fantastic way to stay organized and make the most of the holiday season. Whether you want to plan your meals, keep track of your budget, or create a wishlist, Notion has got you covered. With these 10+ templates, you can truly immerse yourself in the festive spirit and enjoy a stress-free and memorable holiday season.
Want to Discover More Templates? We've got you covered! A Wealth of Notion Templates Awaits
For every conceivable template aspiration, Gillde stands ready. Dive into our trove for a spectrum of Notion templates that cater to your every whim. Embark on your quest for structured creativity with a mere click. Uncover even more enticing lists on our blog!
We've unleashed an array of 50+ Notion templates and guides within our archive on Gillde. While we'd love to list them all here, we've made it effortless for you. Simply head over to our dedicated Notion Category page, and explore this treasure trove at your leisure!