Last Updated on July 28, 2023 by Farnaz
As a pet owner, it can be quite challenging and overwhelming to keep track of your furry friend's health, schedule, and other important details. With the endless responsibilities that come with pet ownership, it's easy to forget important dates, such as vet appointments or feeding times, which can affect your pet's overall well-being. Fortunately, there is a solution to this problem, and it comes in the form of Notion, a versatile productivity tool that can help you organize your pet-related information in one convenient location.
Notion provides a variety of templates designed specifically for pet owners to help streamline their pet care and management. These templates range from simple to complex, and they can be customized according to your specific needs. Whether you need to keep track of your pet's vaccination records, grooming schedule, or training progress, Notion has got you covered.
Below, we've compiled a list of the top 10 Notion templates that pet owners can use to better manage their furry friends' care. From simple checklists to comprehensive databases, these templates are sure to make your life as a pet owner a lot easier. So, without further ado, let's dive into the world of Notion templates for pet owners!
The Super Life (Ultimate Life Planner) is one place to manage everything in your life entirely in Notion.
It brings tasks, notes, plans, health, plant care, travel plans, finance, and more together in your favorite tool.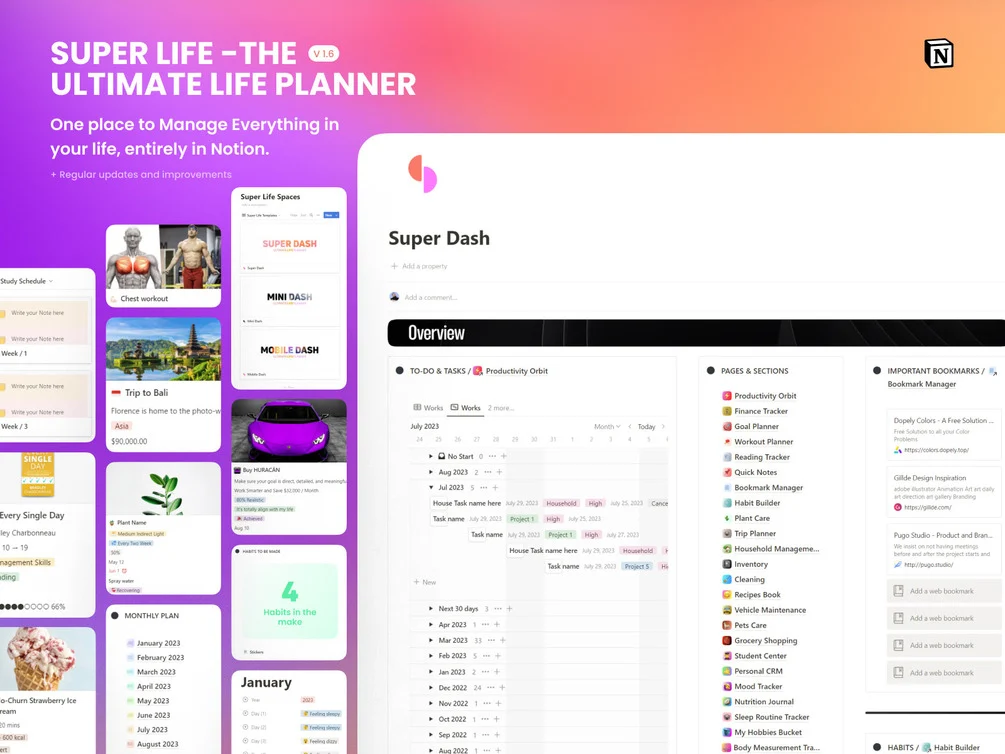 Here's a snapshot of what it covers:
Dashboard
Finance Tracker & Planner
Monthly planner
Personal & work daily planners
Student Center
Bookmarks
Bookshelf & reading list
Workout planner
Plant care
Trip planner
pet care
And many more…
2. Pet Wiki & Sitter Onboarding
The Notion Pet Wiki is an ideal platform to keep track of all your pets' details, such as medications, appointments, important documents, feeding instructions, and much more. The template comes with a Pet Wiki dashboard that displays essential information about each of your pets. It also has separate pages with tables, calendars, and gallery views to monitor medications, pet care, appointments, emergency contacts, and much more.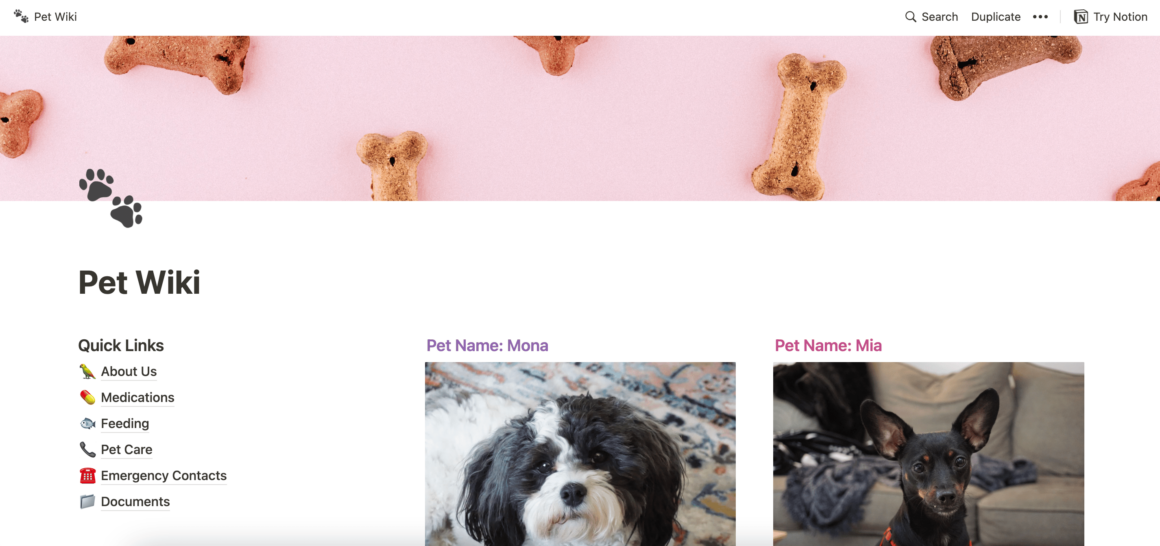 3. Dog walker onboarding manual
This template is designed for pet owners who want to stay organized and keep a comprehensive record of everything related to their pet. It can facilitate a smoother onboarding process for new dog walkers and caretakers, as well as help keep track of food, toys, vitamins, and other important information.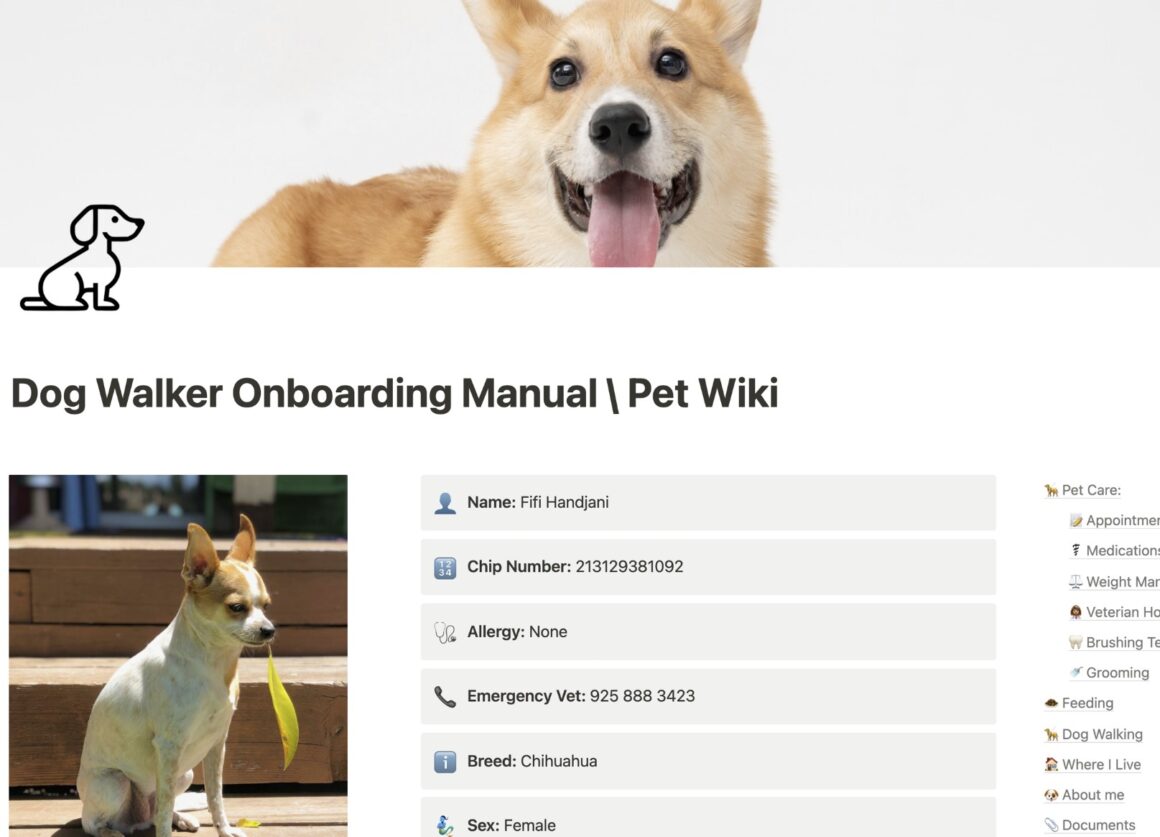 4. Aquarium Management Notion Template
The Aquarium Management Template is a digital tool designed to help aquarium hobbyists keep track of important information and tasks associated with their aquariums. This template is built on the Notion platform and includes many customizable pages and databases that can be tailored to meet the needs of different types of aquariums and their owners. By providing task lists, feeding schedules, water quality logs, and equipment inventories, the Aquarium Management Notion Template simplifies aquarium maintenance, ensuring that your fish and other aquatic pets thrive in a healthy and well-maintained environment.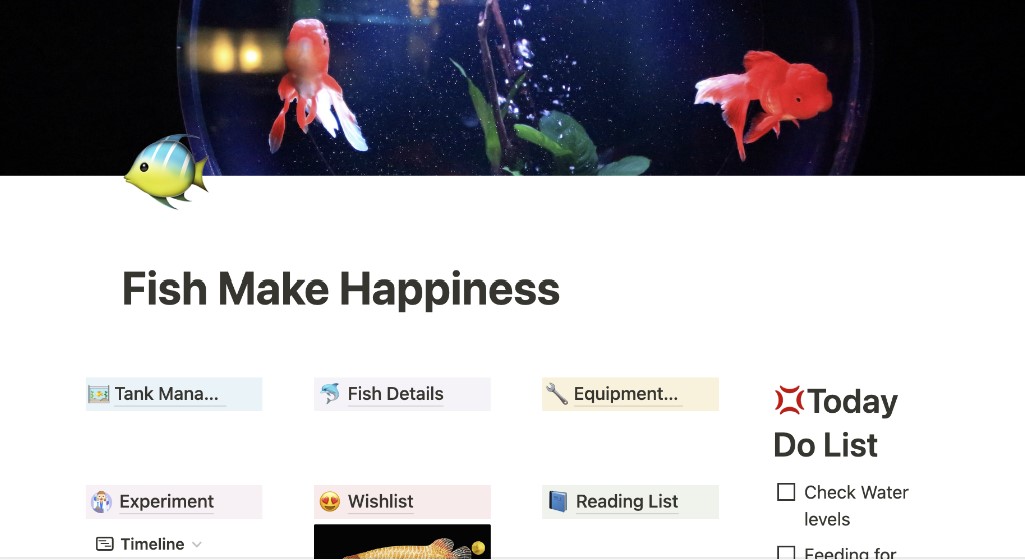 5. Digital Pet Book Notion Template
To keep track of your pet's health, it's important to maintain a bio card for each pet. Be sure to monitor when your pet received its last booster shot and when its next one is due. Regularly log notes on your pet's health, including visits to the vet. Additionally, consider maintaining a directory of different pet services for easy reference.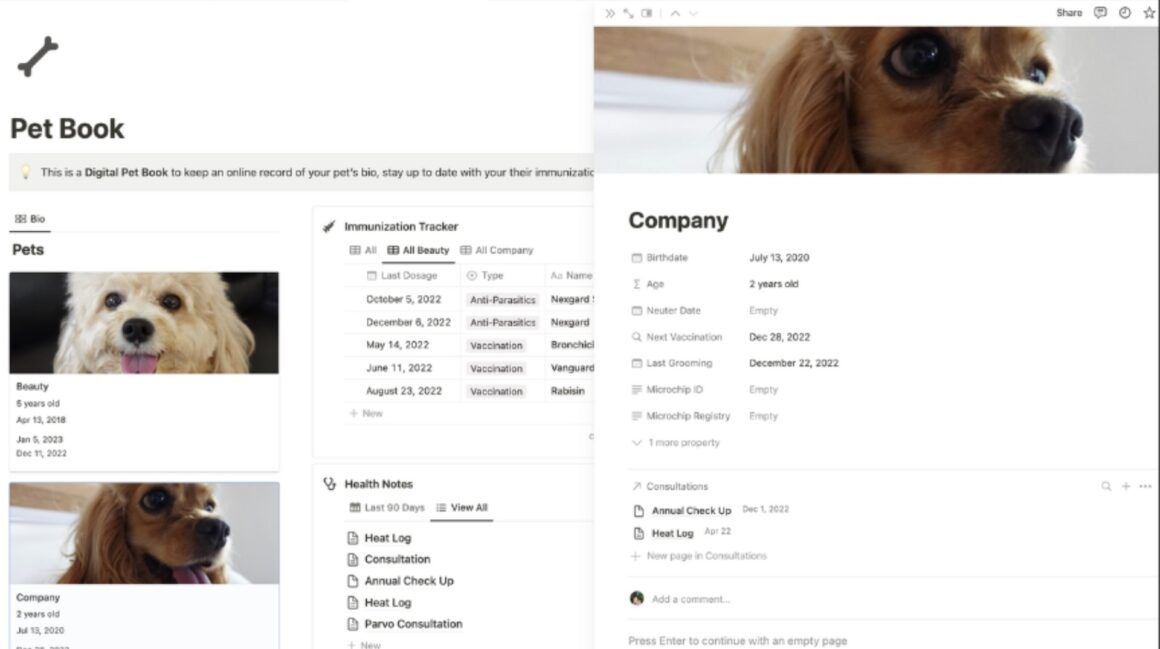 6. Pet Parenting Toolkit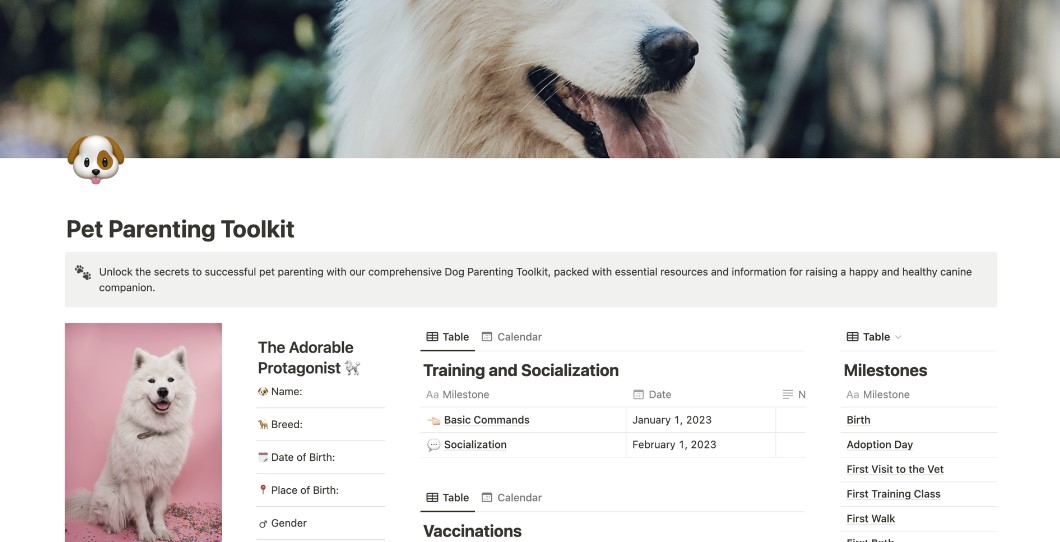 7. Pet Planner Template for Notion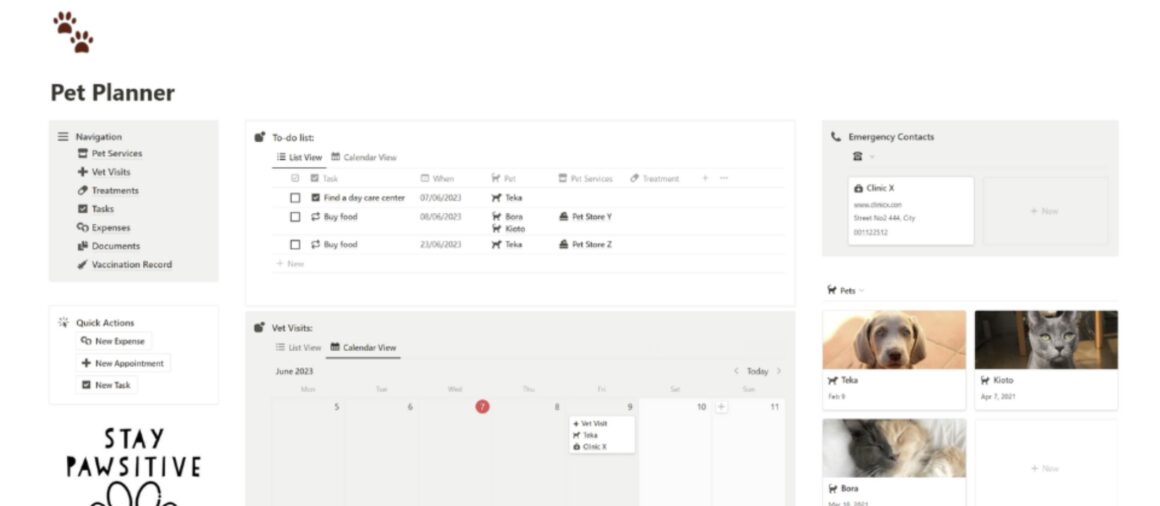 8. Notion Pet Template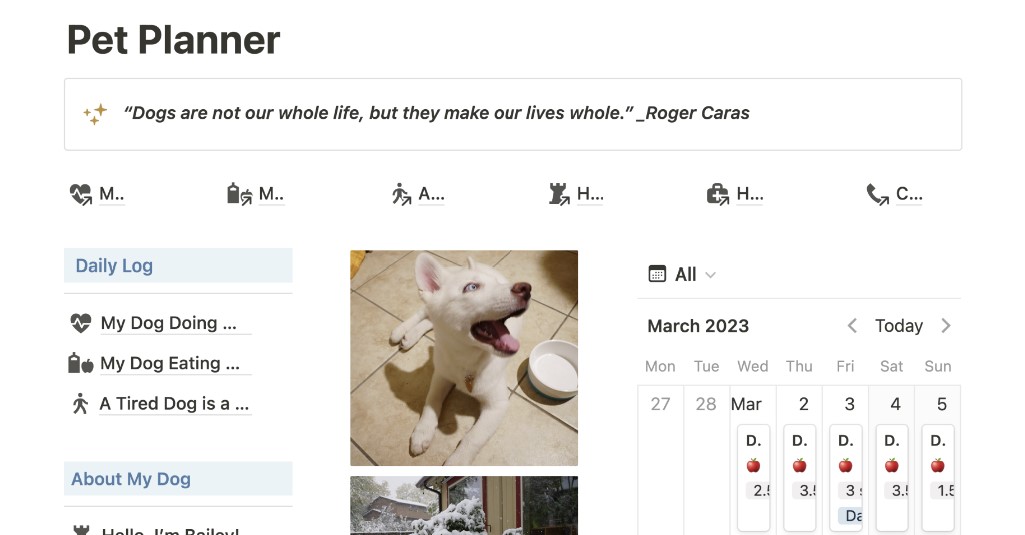 9. Pet Tracker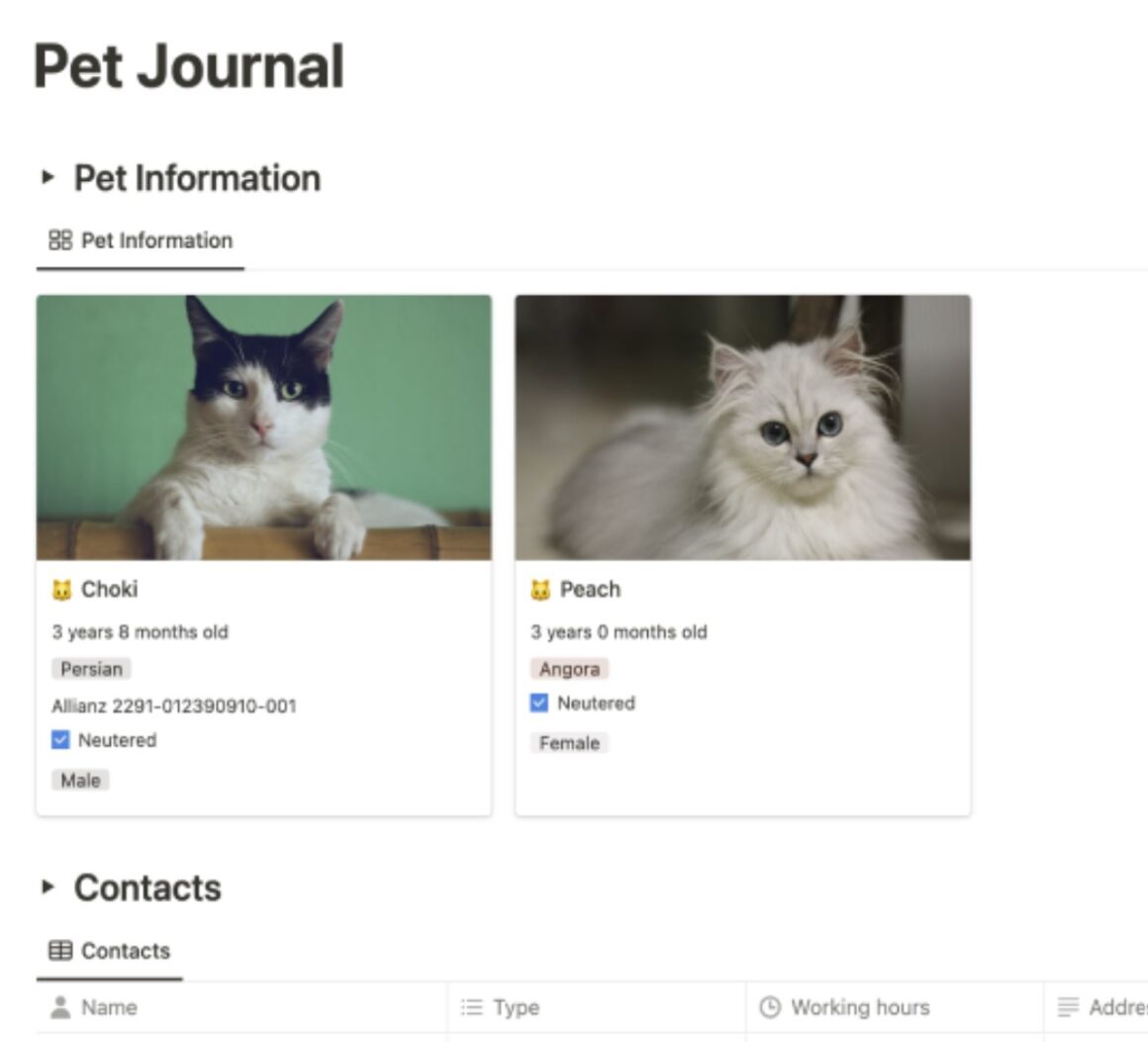 10. Pet Care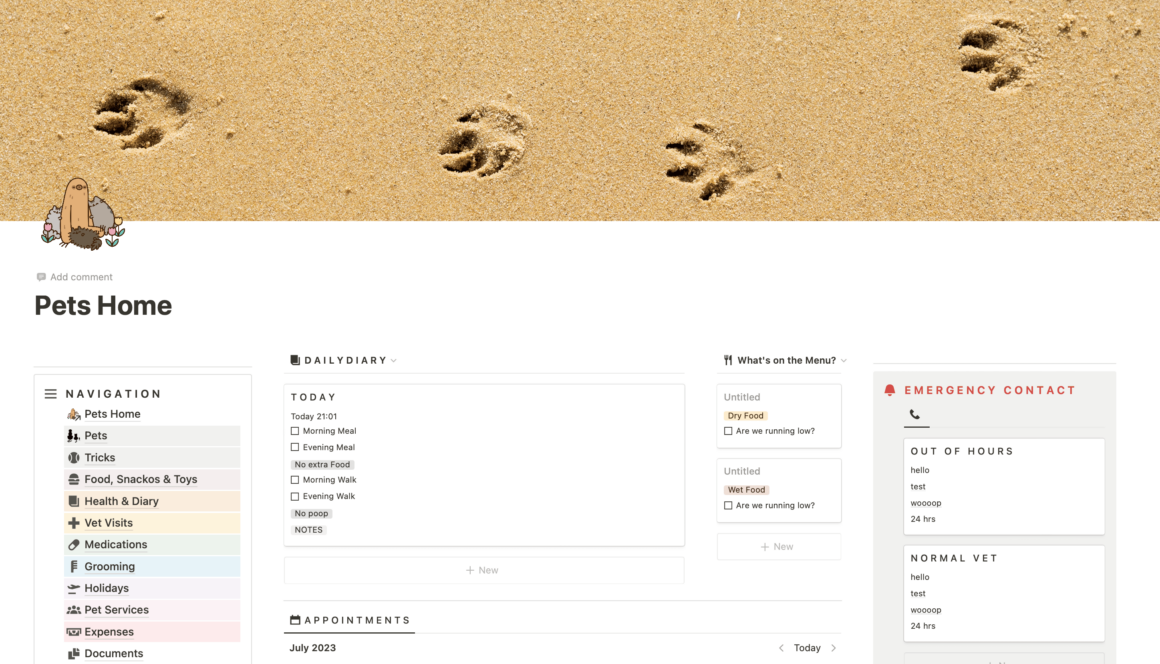 11. Pet Care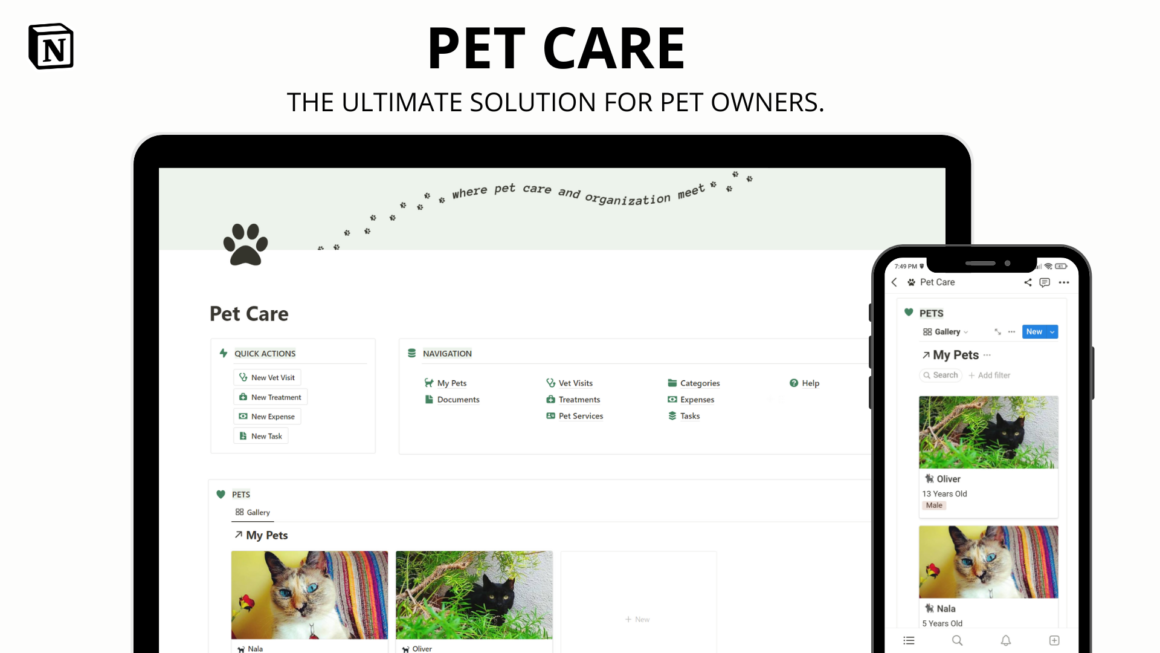 Here are more paid and free Notion Templates and Resources: