Last Updated on November 1, 2023 by Gillde Team
Are you an Airbnb host looking for a way to streamline your hosting duties, stay organized, and enhance your overall hosting experience? If so, you're in luck! Look no further than Notion, a highly versatile productivity tool that can revolutionize the way you manage your Airbnb listings. With Notion, you can take your hosting game to the next level.
Notion offers a wide range of templates that are designed to cater specifically to the needs of Airbnb hosts like yourself. These templates can be easily customized to suit your unique requirements and preferences. Whether you're a new host or an experienced one, Notion has got you covered.
In this post, we will delve deep into the world of Notion Airbnb templates and explore the top ten templates that are guaranteed to make your hosting experience an absolute breeze. From managing reservations to tracking guest communication, these templates will help you stay on top of your hosting game effortlessly.
Notion Airbnb Manager
Introducing a user-friendly tool for Airbnb hosts and property rental managers. Our All-in-One solution simplifies property management tasks, saving time and prioritizing guest experience. Experience the ultimate tool for Airbnb hosts and property rental managers with the Airbnb Manager Notion Template. It provides resources to effectively manage your rental business.
Features:
Multiple Properties
Finance Management
Reservations & Task Management
Inventory and Cleaning
Guest Experience
Digital Welcome Book
Vendor Coordination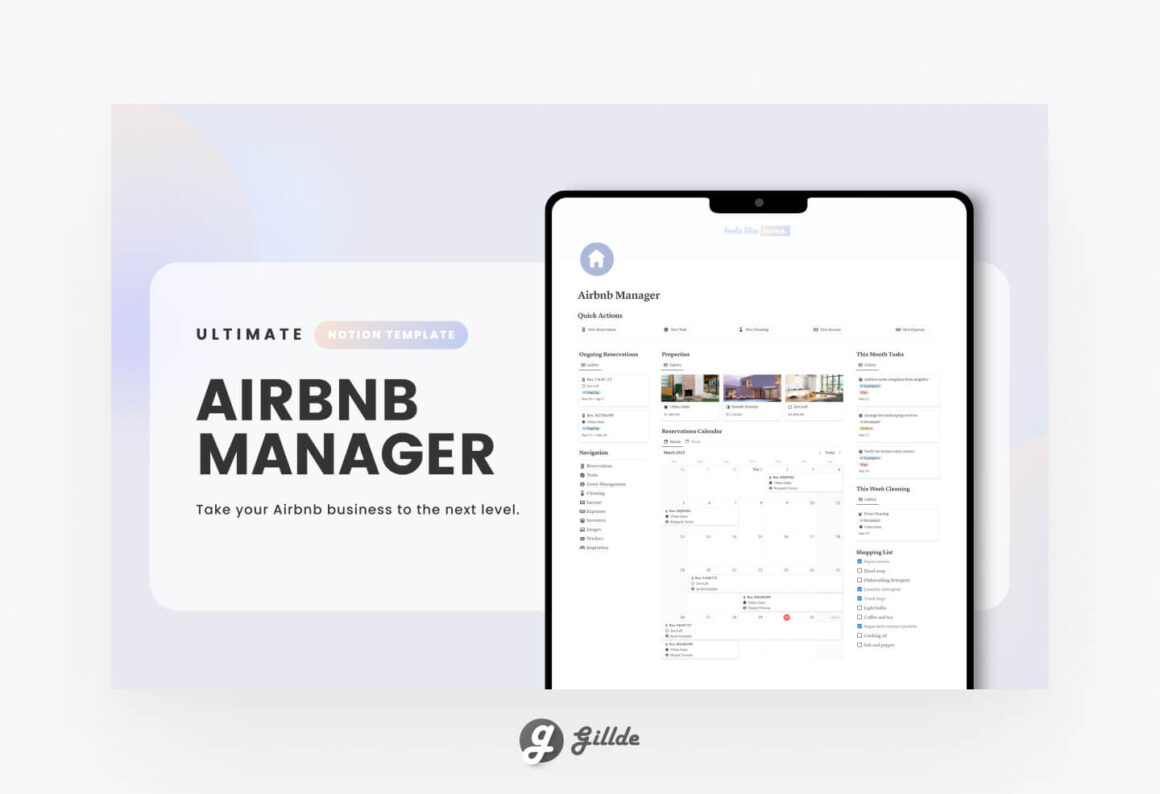 Airbnb Host Guestbook Notion Template
Airbnb Guidebook makes communication with your guests simple & comfortable. Achieve a SUPERHOST badge and increase your rental income.
Features:
Welcome page
Map
Routes from Airport or Train station
Equipment instructions
House rules
Emergencies numbers
Things to do in your city
Food & Drinks around your home
Transportation instructions
Check-in & check-out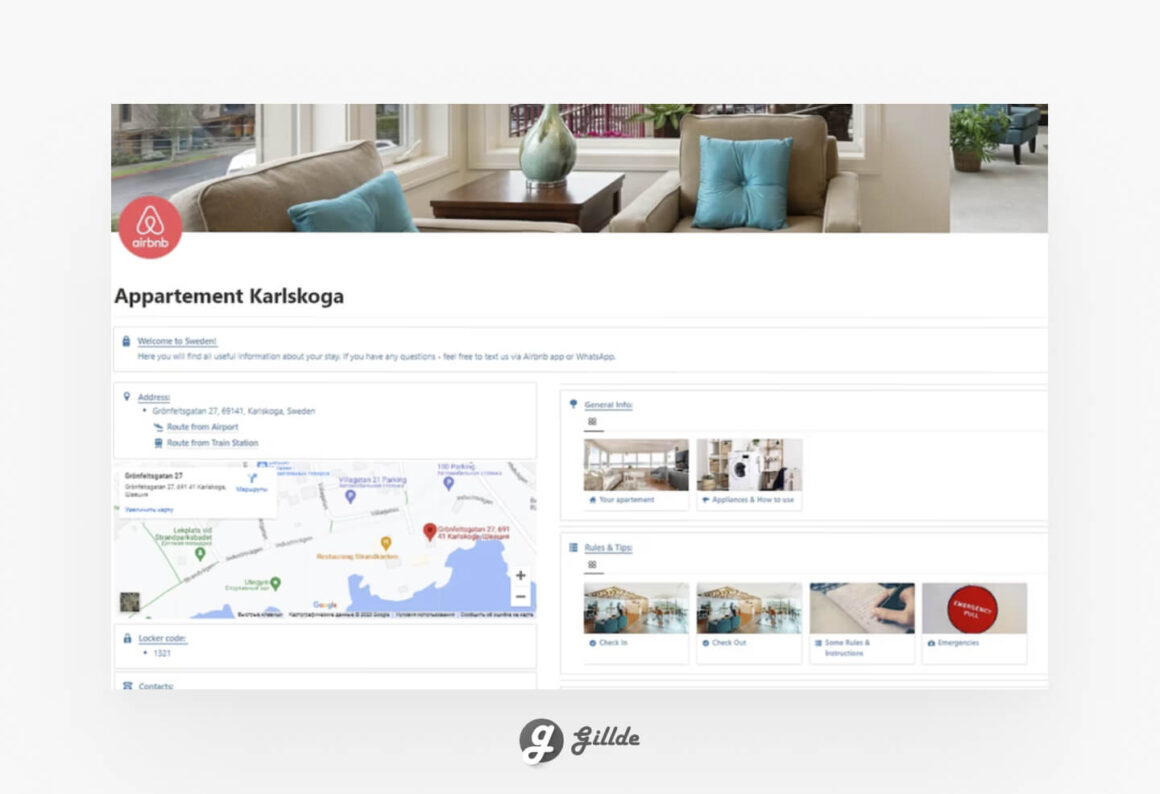 Notion AirBnb Welcome Book Manager
Welcome books are essential for short-term rental hosts, but they can be time-consuming to create and manage. This template makes the process of creating and managing your welcome books a breeze.
Features:
Easy creation and management of custom welcome books.
Both printed and digital versions available for sharing with guests.
Includes unit information, house rules, check-in/out instructions, thank you note, discount code, and review request.
Provides all essential information in one convenient place.
Saves time on managing welcome books.
Customizable template for easy addition of unit information, house rules, and instructions.
Simple process for adding new units.
Suitable for Airbnb hosts, property managers, and short-term rental owners.
Notion Template Airbnb Tracker
Efficiently manage your Airbnb business with our Notion Template. Keep track of one or multiple properties, optimize your business, and receive 5-star reviews. Also, provide your guests with a memorable experience using our Airbnb Welcome Book.
Features:
Manage an unlimited number of Airbnb properties
Monitor inventory & supplies per property
Automatically be alerted when supplies run low
Manage directory of suppliers
Monitor insurance policies and their expiries
Record current and former guests and their identification
Manage bookings across multiple properties
See all upcoming check-ins and check-outs
Automatically calculates your net income
and more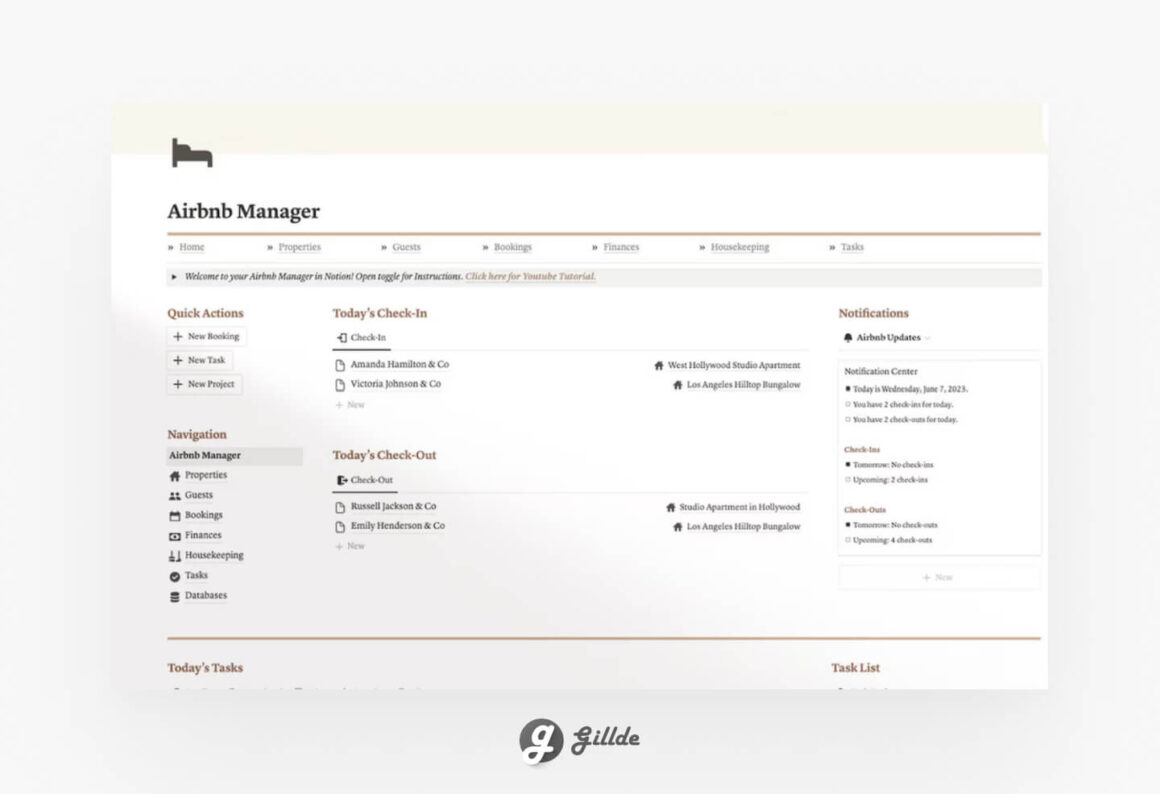 Property rental website template
A simple, clean and functional site template built using Notion. Menus available are:
Home
Gallery
Pricing
Testimonials
Contact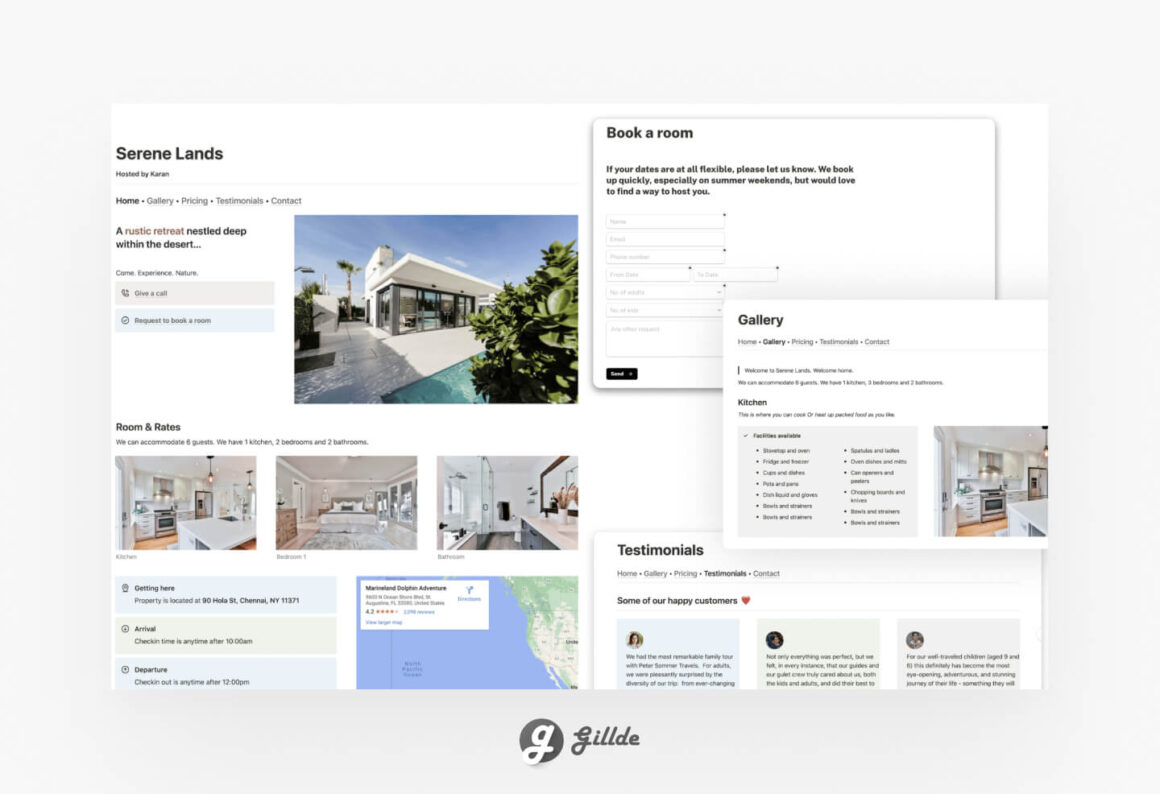 Airbnb Super Pack For Notion Template
Features:
Effective management space for bookings, calendar events, supplies checklists, and more.
One-time payment, unlimited rentals, and an all-in-one management space.
10+ databases, including a pre-built page for gathering guest feedback.
Booking Management System, inventory and supplies control, and Finance Hub for income and expenses.
Task Management System and 50+ hand-curated resources.
Can be used as a website if connected with Super.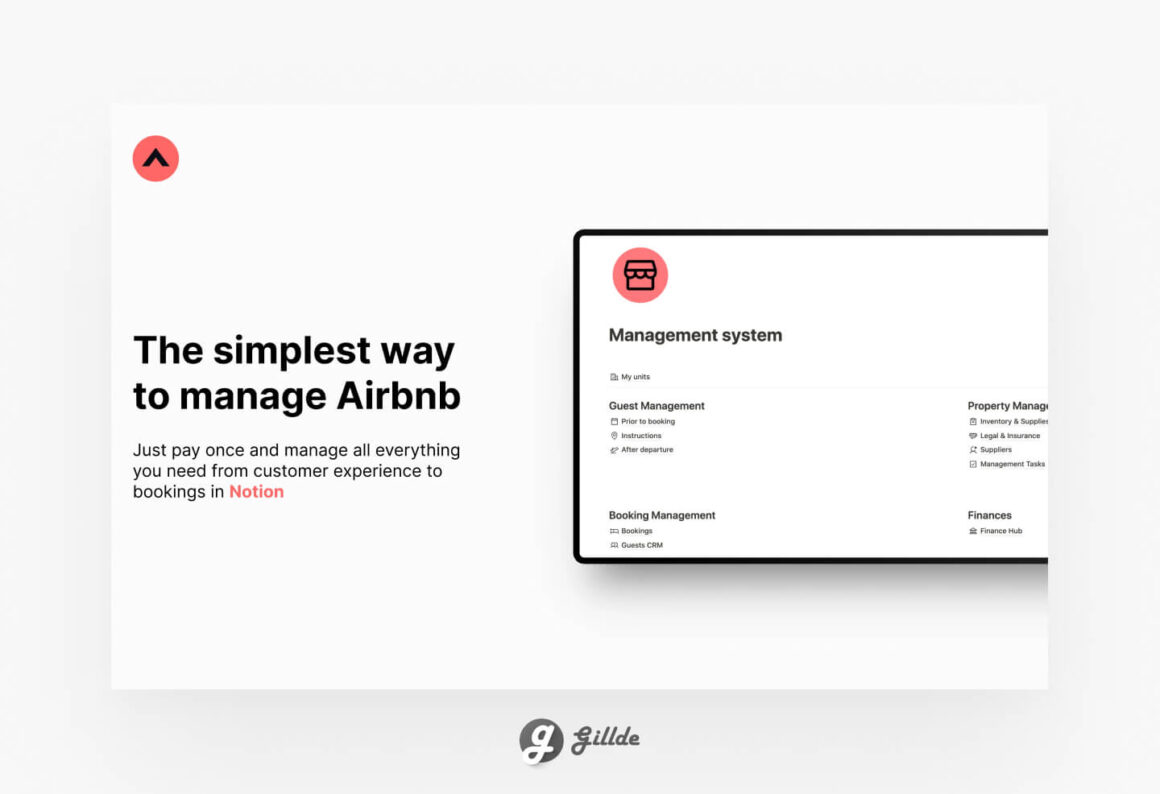 Notion Airbnb Tracker
Organize your Airbnb Business with this Notion Airbnb Tracker. It is designed with minimalist and chic fonts and colors for a distraction free planning experience.
Features:
Color Coordinated Notion Template
Aesthetic Design
Multiple Page Notion Planner
Automated Calculators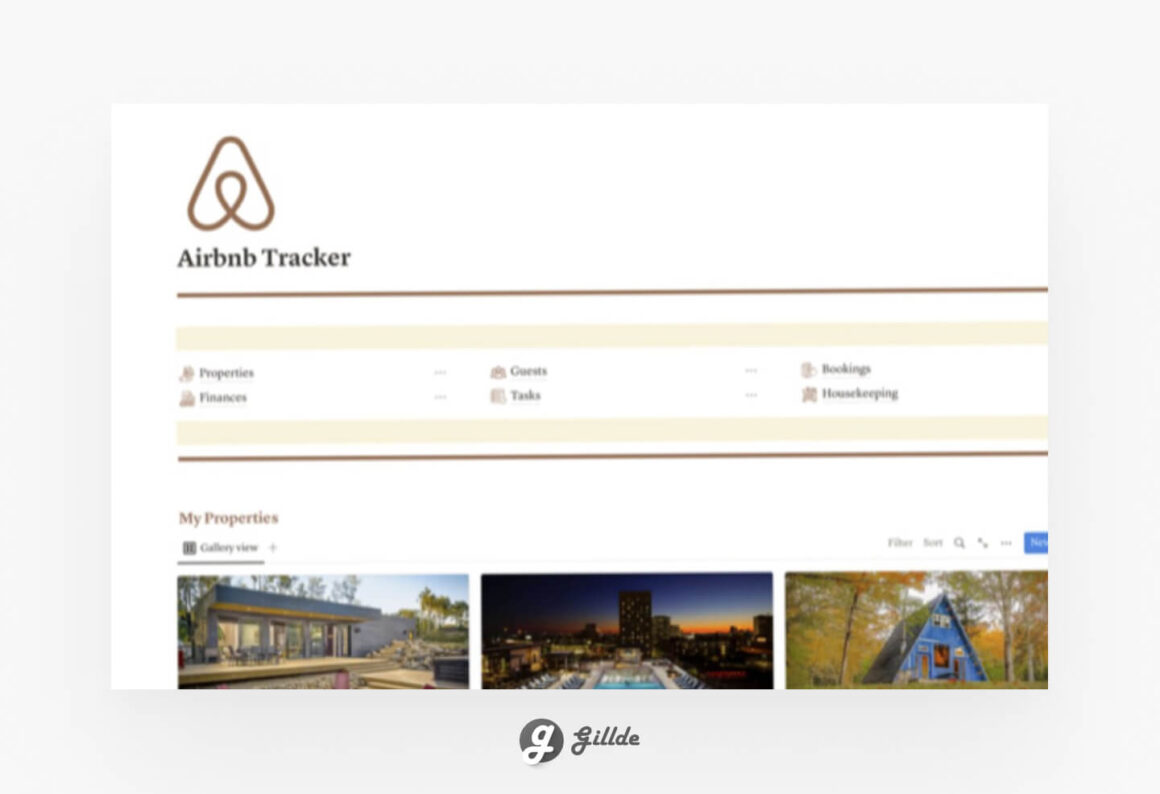 Airbnb Super Host
Take your hosting to the next level with the Notion Airbnb Super Host digital template.
Features:
All-in-one asset tracking solution for easy navigation
Task management system to keep admin and relational tasks in check
Inventory management tool to prevent supply shortages
Booking management feature to stay on top of reservations
Financial management tool for revenue and profit tracking
Contact management system to manage contractors efficiently
Housekeeping checklist creation for clear points of attention
Collaborative template to streamline teamwork and communication.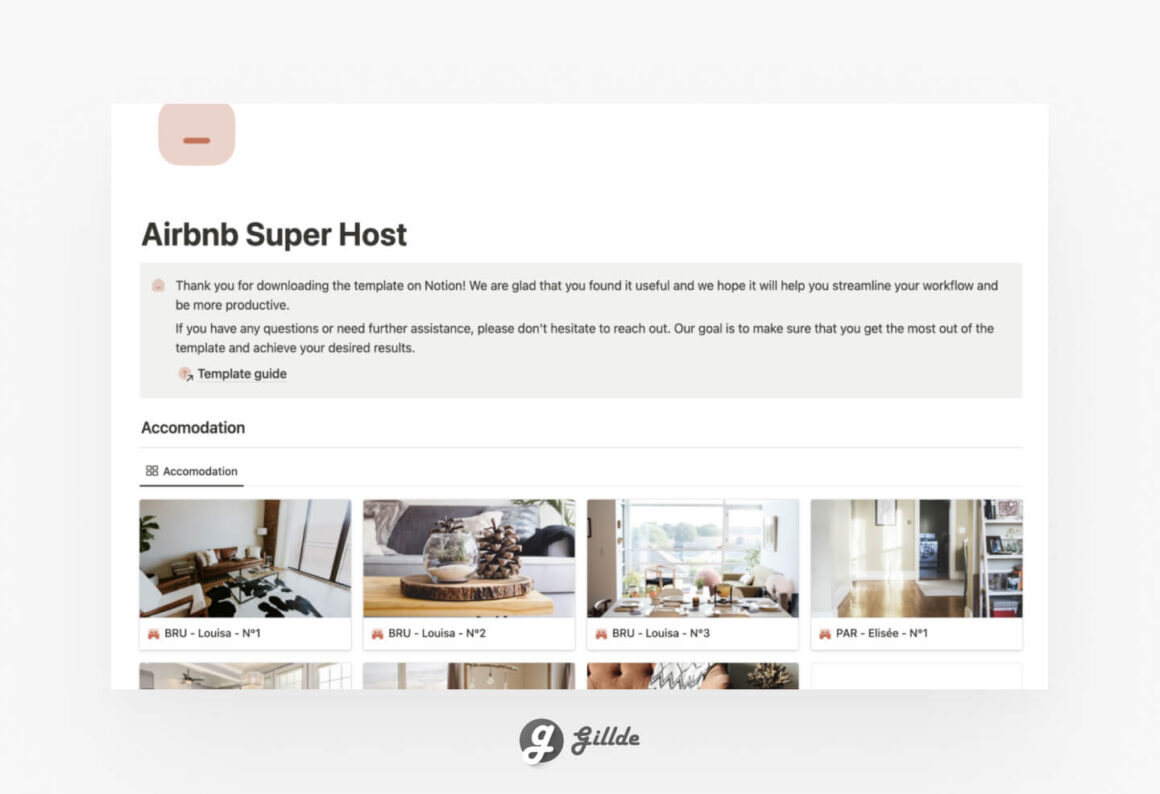 200+ Useful AirBnb Resources List from iManage on Notion!
If you're looking for ways to build a better AirBnb business, these free resources as notion templates will help you get started. You'll find books to improve your skills, software to automate your management process, and tips on how to increase your cash flow.
Features:
Books to help you become a better AirBnb host
Useful software to automate your management process
Best blogs and articles about short-term rentals
Useful YouTube videos for continuing your real estate investment education
Hot tips on how to increase your cash flow and reduce your stress
Essential product suggestions for your AirBnb units
Notion templates for better Real Estate management.
Who is this for:
People who own AirBnb properties and want to make more money from them.
Those who are thinking about becoming an AirBnb host and want to learn more about the process. stress
People who are looking for passive income ideas
Real estate investors who want to learn more about short-term rentals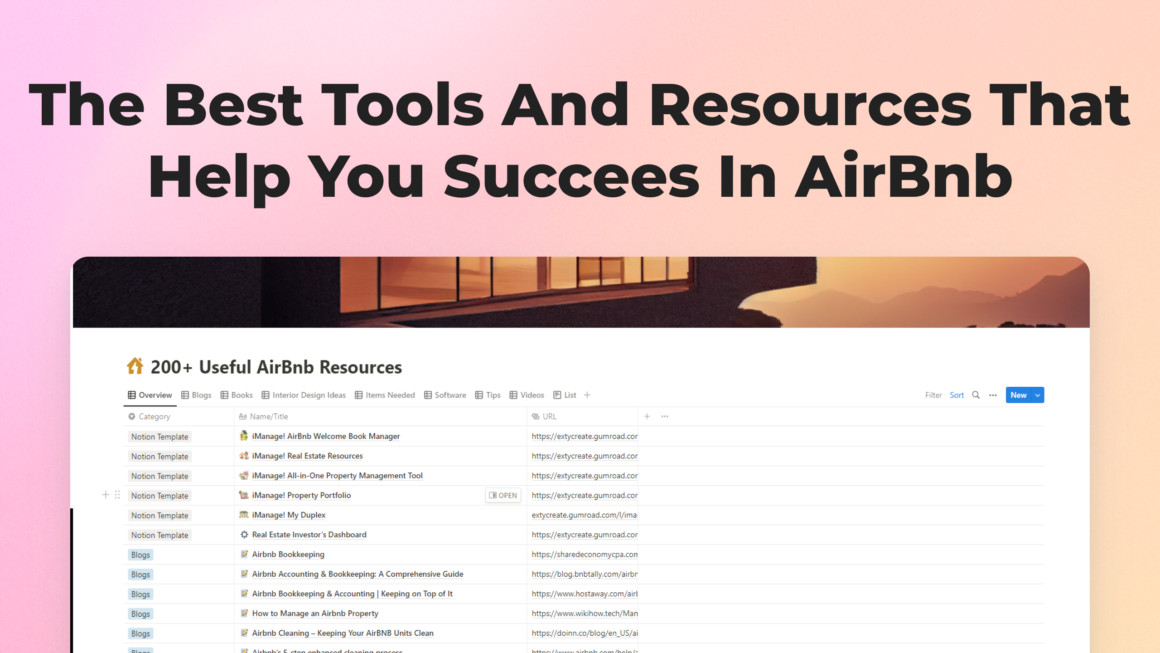 Airbnb Rental Package
Features:
Property Insights
Entertainment Options
Guest Access and Guidelines
Location at a Glance
Review Section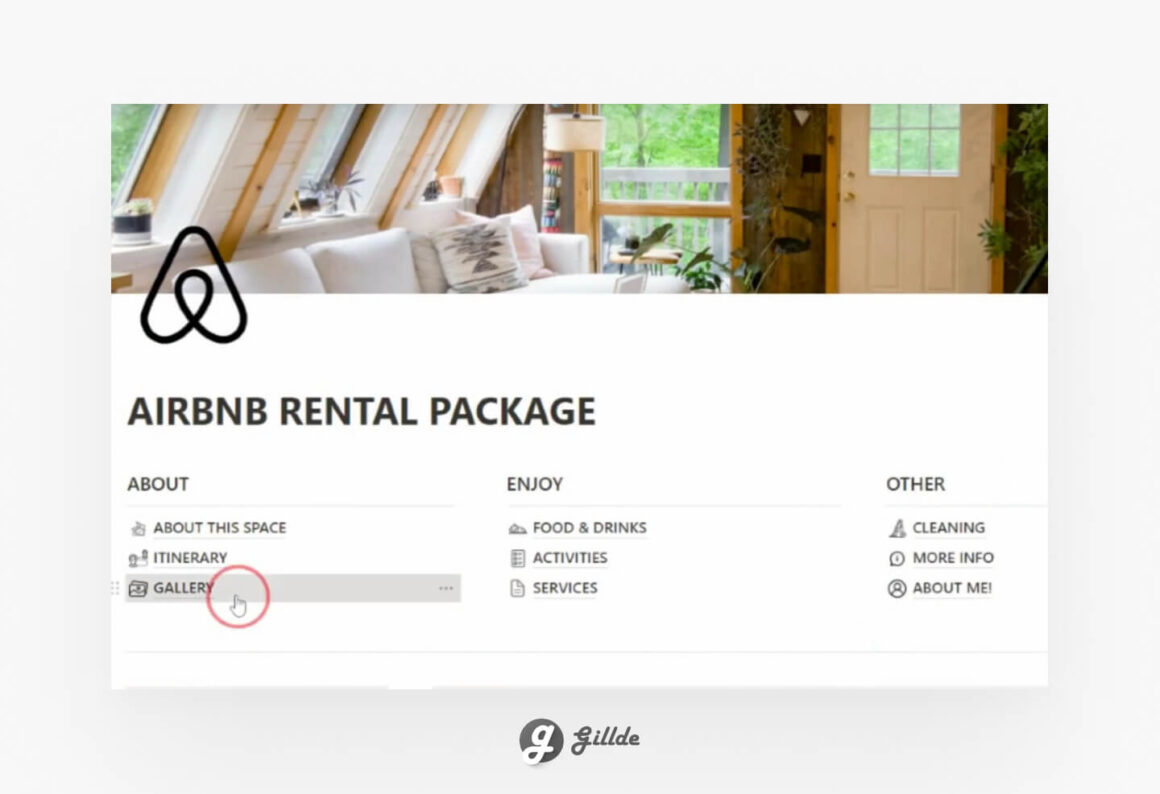 AirBnB Guest Handbook
Features:
Answer common queries just once
Share with guests on booking
Update whenever you want and share the same link
Contacts, location, and house rules
Check-in and Checkout Procedure
Getting to the house
Instructions for stay (cleaning, laundry, heating, etc)
Guide to restaurants, tourist spots, and more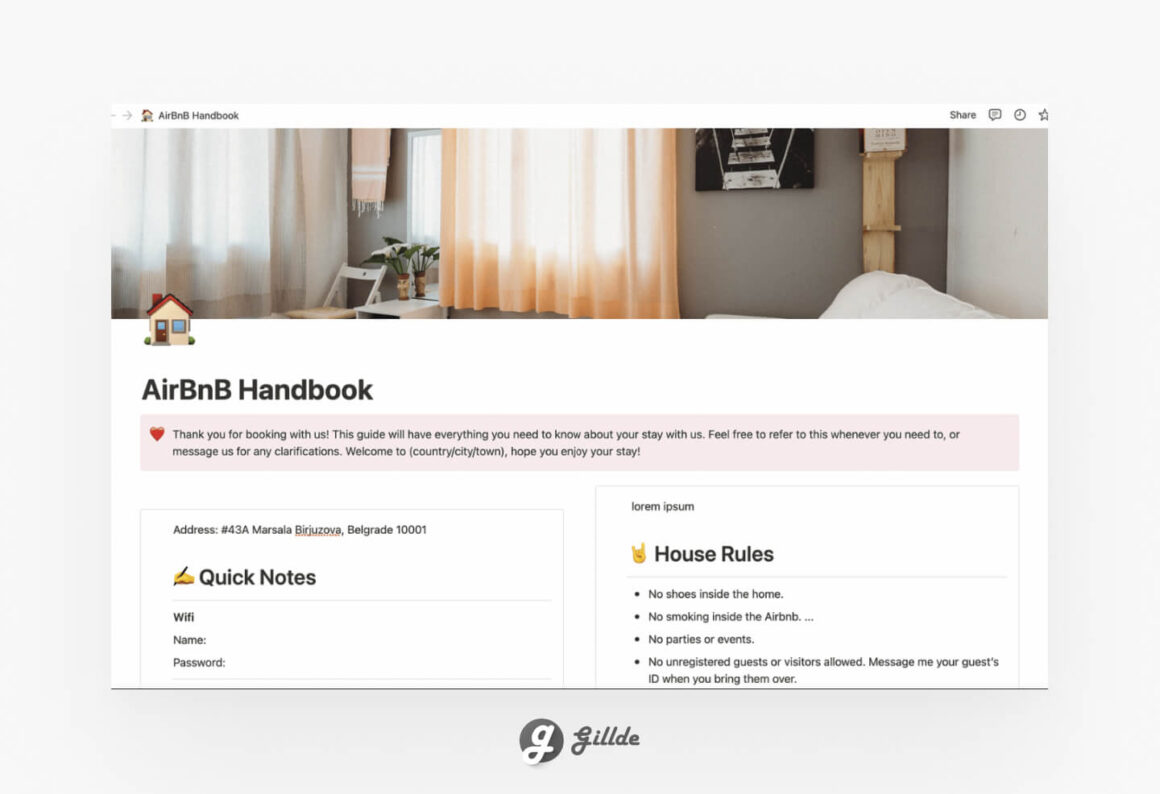 Airbnb Instructions Sheet Notion Template
As an Airbnb Host, you've surely struggled many times with figuring out the best way to communicate with your guests. The information has to be clear and precise, and surely you have had more than one misunderstanding. With this Notion template, you will be able to send your guests all the information in a single link.
Features:
General Info section with organized information on addresses, access, routes, and key retrieval.
Facilities & Amenities table to inform guests about facility rules and additional services.
Rules section to specify home rules and update furniture inventory.
Services space to recommend nearby services such as markets and local stores.
Emergencies & Appliances section with emergency contact numbers and security information.
City Guide & Near Services section to recommend the best places to try, including food, traditional dishes, and points of interest.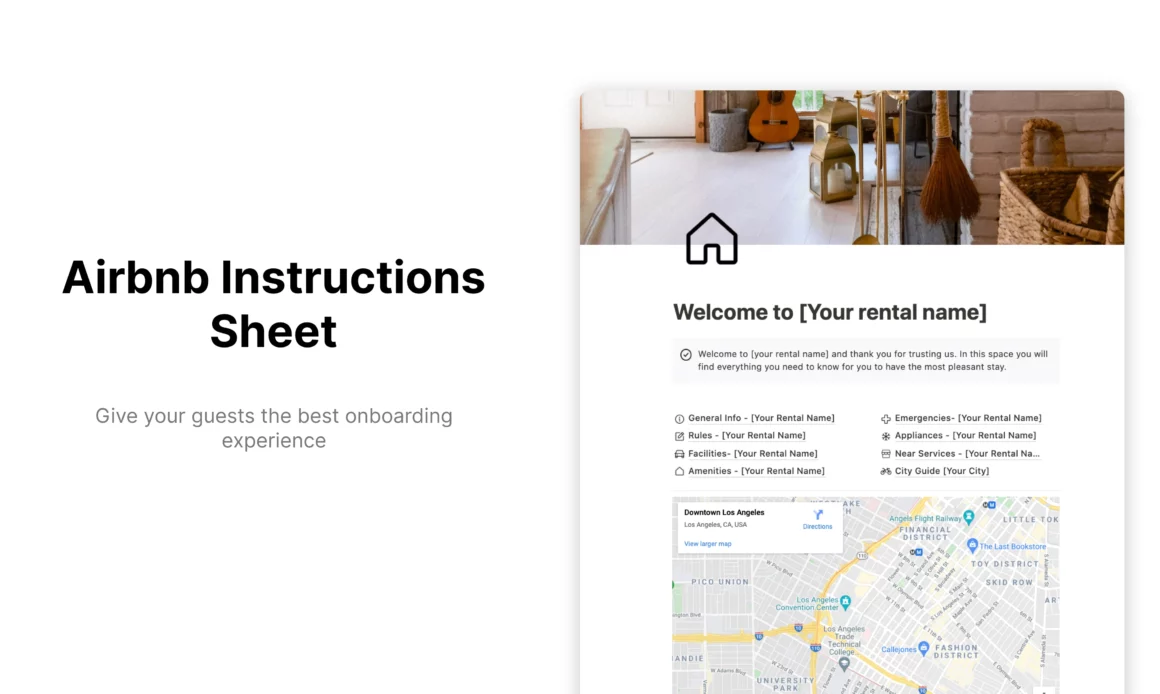 Conclusion
Notion is a powerful tool that can greatly benefit Airbnb hosts in managing their hosting duties efficiently. With its customizable templates, Notion provides a seamless way to stay organized and enhance the guest experience. By utilizing the ten best Notion Airbnb templates discussed in this blog post, you can streamline your operations, improve communication, and ultimately achieve greater success as an Airbnb host.
Want to Discover More Templates? We've got you covered! A Wealth of Notion Templates Awaits
For every conceivable template aspiration, Gillde stands ready. Dive into our trove for a spectrum of Notion templates that cater to your every whim. Embark on your quest for structured creativity with a mere click. Uncover even more enticing lists on our blog!
We've unleashed an array of 50+ Notion templates and guides within our archive on Gillde. While we'd love to list them all here, we've made it effortless for you. Simply head over to our dedicated Notion Category page, and explore this treasure trove at your leisure!