Last Updated on November 11, 2023 by Farnaz
Are you a photographer looking for a better way to manage your shoots and business? Look no further than Notion's photography templates. Notion is a versatile productivity tool that can help you streamline your workflow, stay organized, and level up your photography game. In this blog post, we will explore 10 Notion photography templates that will revolutionize the way you manage your shoots and business.
Notion Template Bundle Photography Planner
The Photography Business Planner is a complete template for managing your photography business efficiently. It helps photographers stay organized by offering tools to track finances, plan work travel, manage equipment, scout locations, create a branding strategy, and streamline client workflow. It also includes a photography portfolio, social media marketing hub, and user guide for quick start.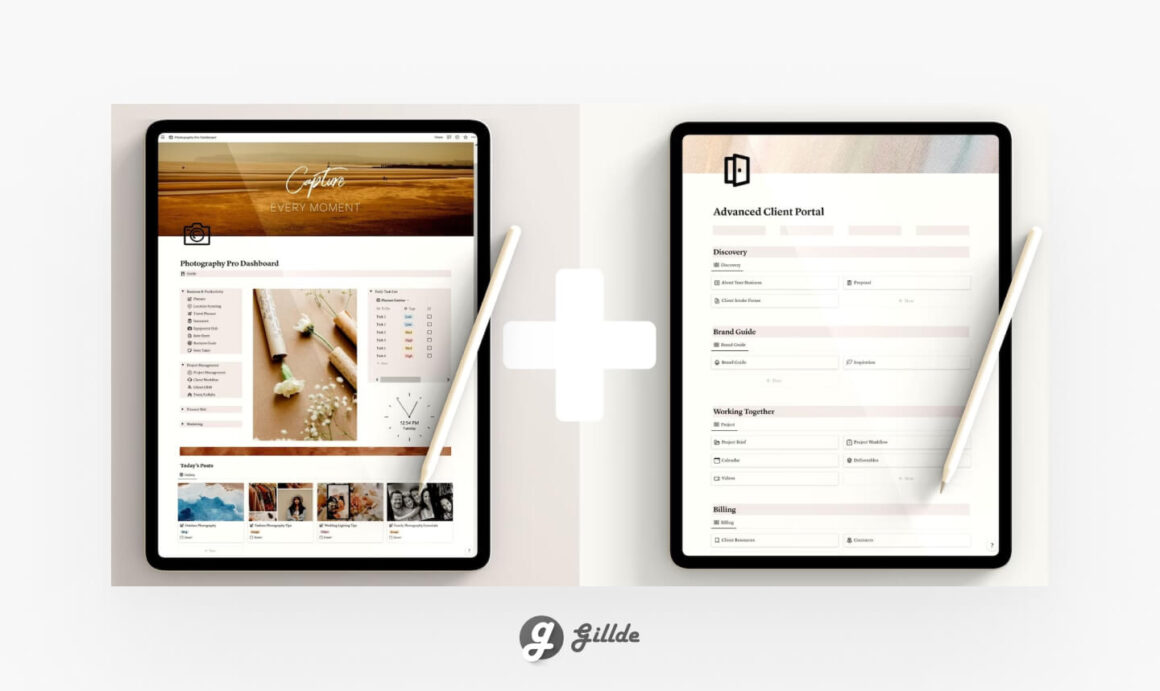 Features:
Business finance tracking
Work travel planning
Photography equipment management
Location scouting
Branding strategy creation
Client workflow streamlining
Photography portfolio
Social media marketing hub
Notion – Photography CRM Template
This Notion Photography CRM is suitable for photographers, photography businesses, and professionals in the photography industry who want to efficiently manage their customer relationships and streamline their workflow.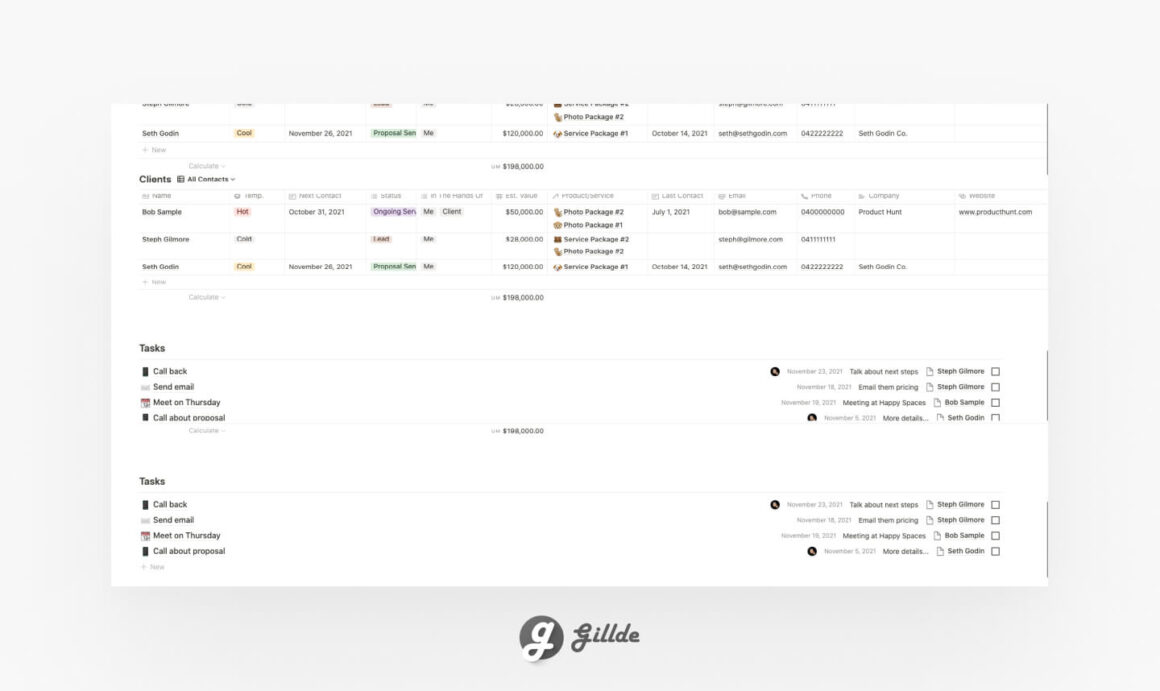 Features:
Instructions on how to use the CRM
Ability to add new contacts and store client contact information
Track sales leads from enquiry through to sale
Track ongoing conversations with clients
Remind your staff to follow-up clients
Manage tasks and have tasks connected to client records
Segment clients for marketing
Know the temperature of a lead (cold, cool, warm, hot)
Keep a client dashboard
Mobile app access so you can view your CRM when you're out of the office
Notion Photography template
This Notion Photography Template is designed to help photographers and photography teams get organized. It provides a comprehensive set of tools and templates to streamline the photography planning process and ensure efficient workflow management.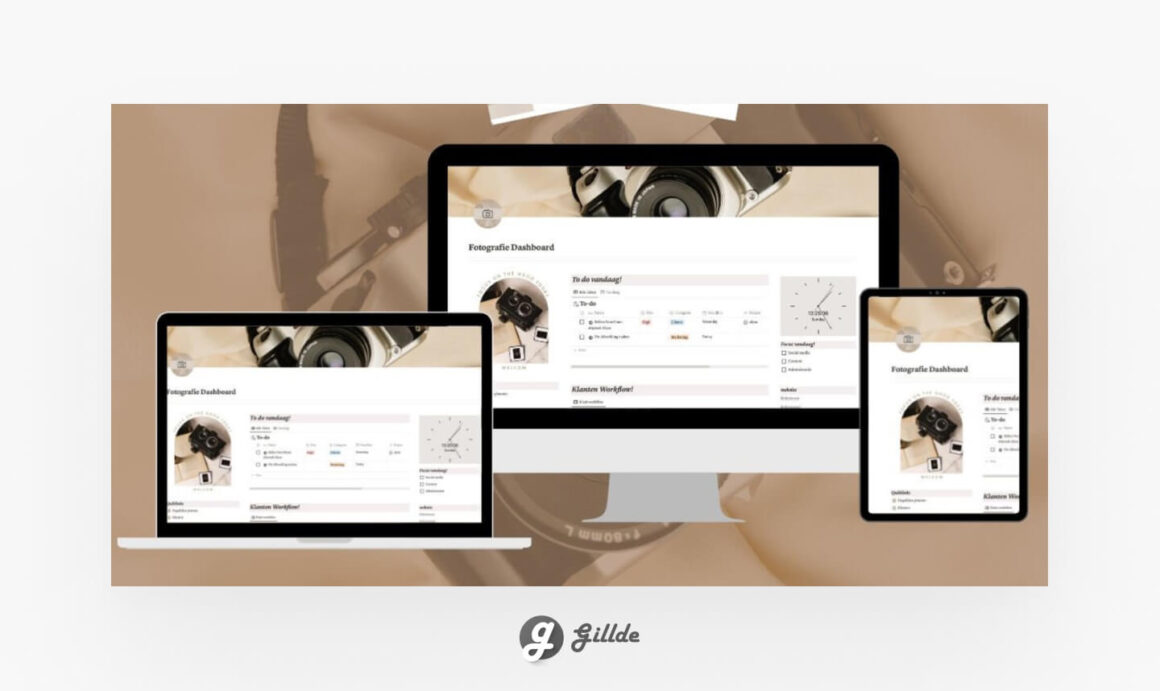 Features:
Digital shoot planner
Social media planner
Financial tracker
Photography equipment organizer
Location scouting template
Client workflow
User guide for easy setup
Notion Photography Business Planner
This template is specifically created for photographers. It will assist you in effectively managing your clients. Increase your productivity with Notion by having all your information, research, tracking, and content easily accessible in one place.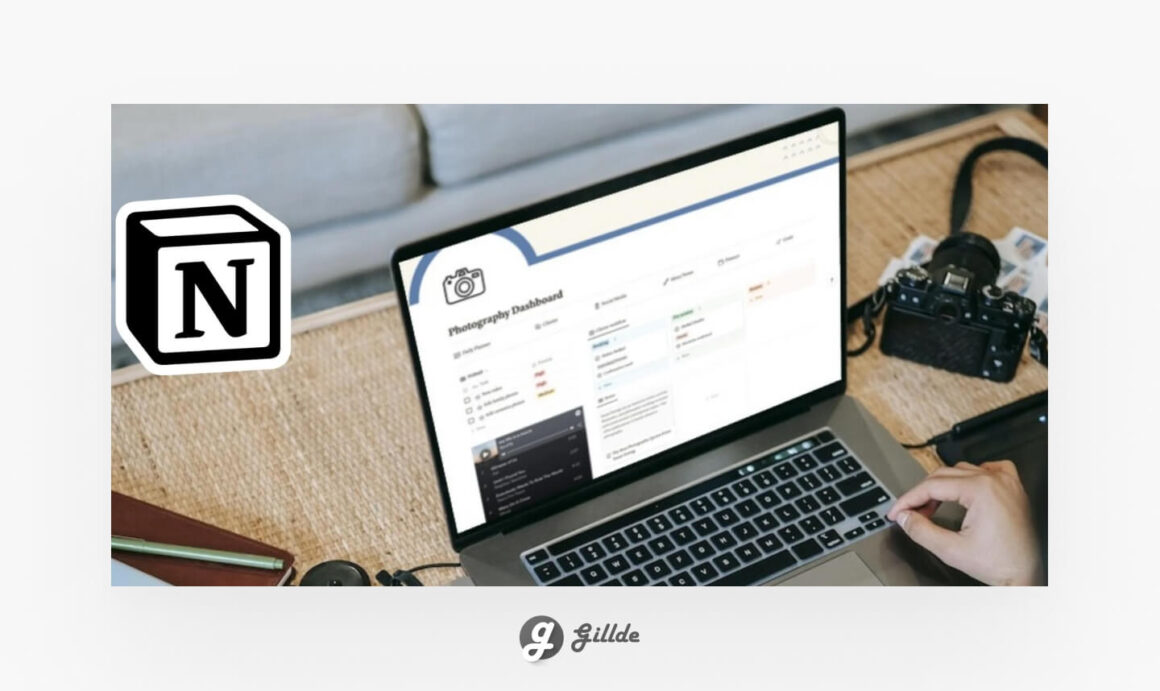 Features:
Designed for photographers
Helps manage clients
Increases productivity with accessible information, research, tracking, and content
Notion Photography Planner and Dashboard
Photography Planner: This planner serves as a useful tool and a creative partner, assisting you in planning photoshoots, managing editing tasks, and keeping track of project deadlines. Its sophisticated design makes it an ideal template for photographers seeking organization and inspiration.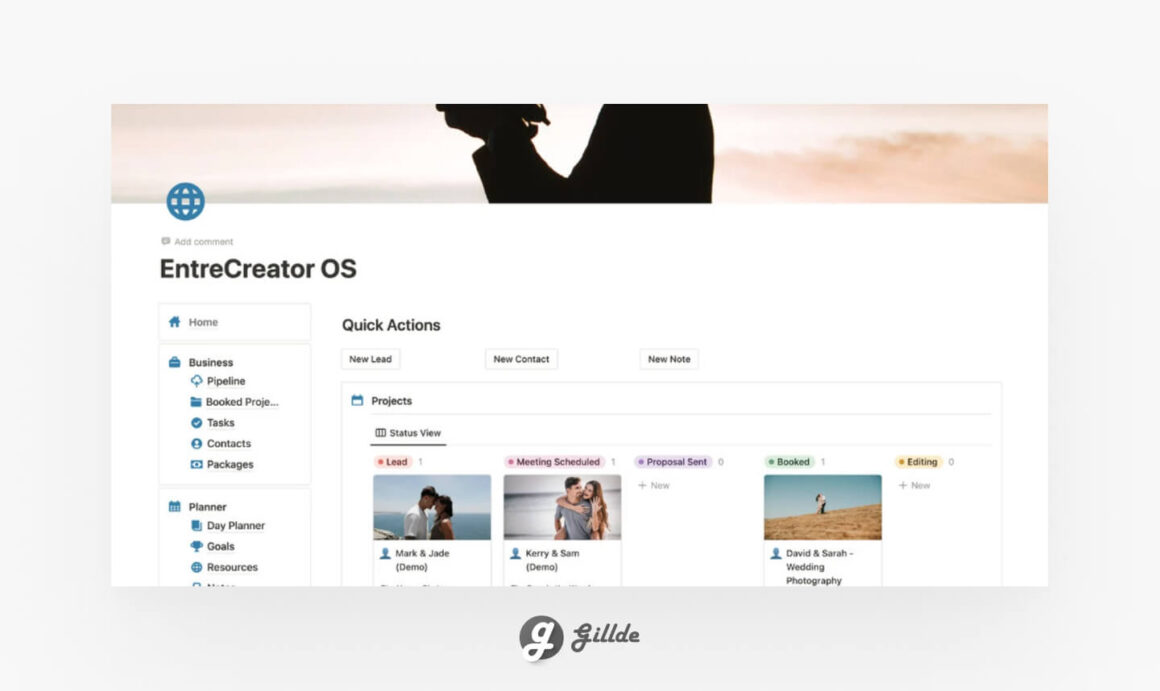 Features:
Comprehensive CRM integration
Project and task management capabilities
Resource management functionality
Goal tracking and progress monitoring
Pricing packages for photographers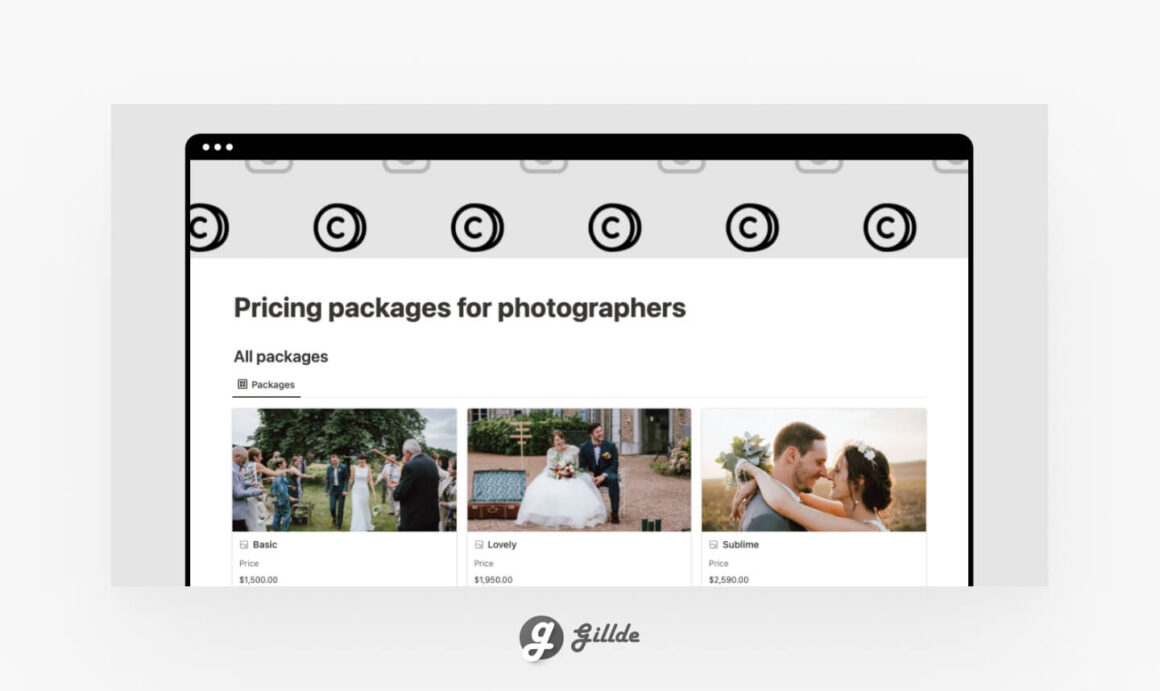 Photography Notion Template
This template is specifically created for film photographers. It will assist you in managing your film inventory and establishing a digital film database. All the necessary research, tracking, and content are conveniently accessible in a single location.
Portfolio of photographer
A Photographer Portfolio template is a pre-designed layout that helps photographers showcase their work professionally. It allows individuals, teams, or companies to:
Present their photography skills and style to potential clients or employers.
Save time and money by avoiding the need to create a portfolio website from scratch.
Enhance online visibility and expand their audience reach.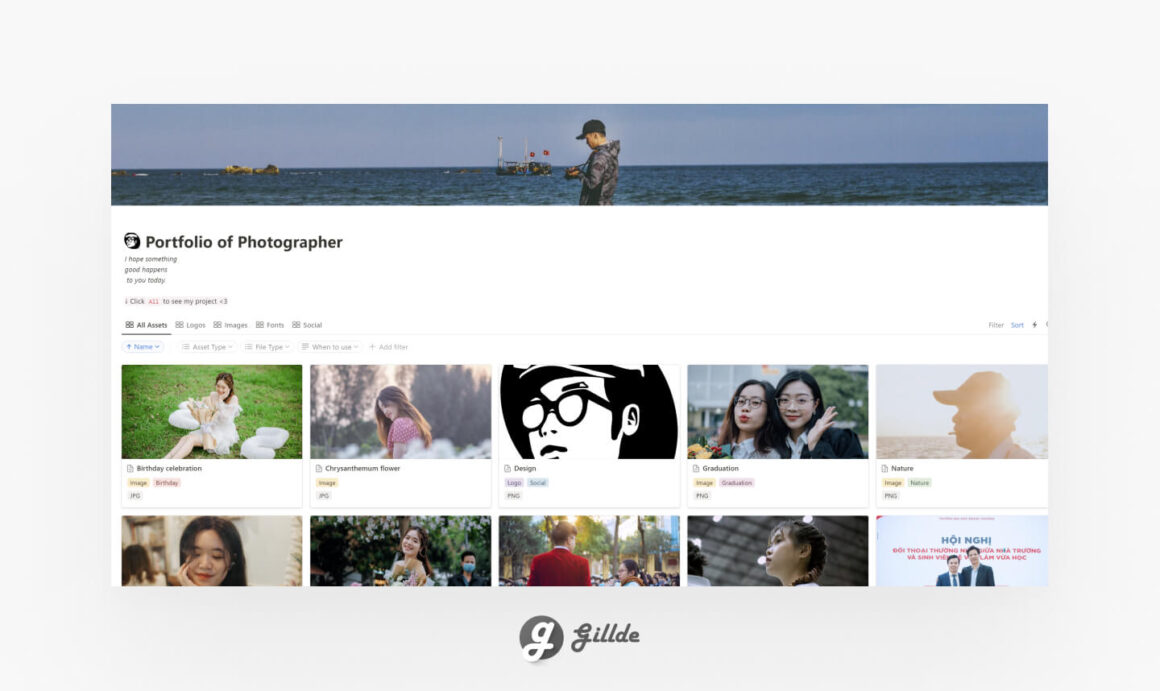 Notion Photography Template 
This Notion template is suitable for photographers of all skill levels, from beginners to professionals. Whether you're just starting out or have been in the photography industry for years, this template can help you stay organized and manage various aspects of your photography business efficiently.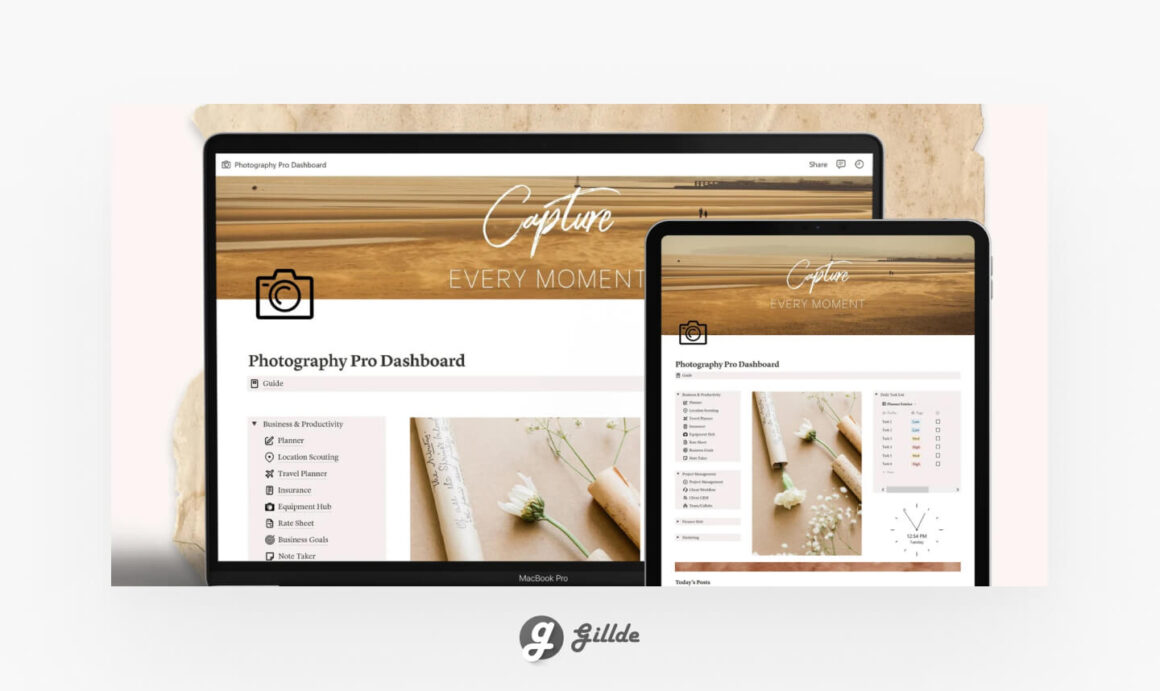 Features:
Digital business planner
Photography portfolio
Business finance tracker
Work travel planner
Photography equipment organizer
Location scouting template
Branding template
Social media marketing hub
Client workflow
Photography lead & client management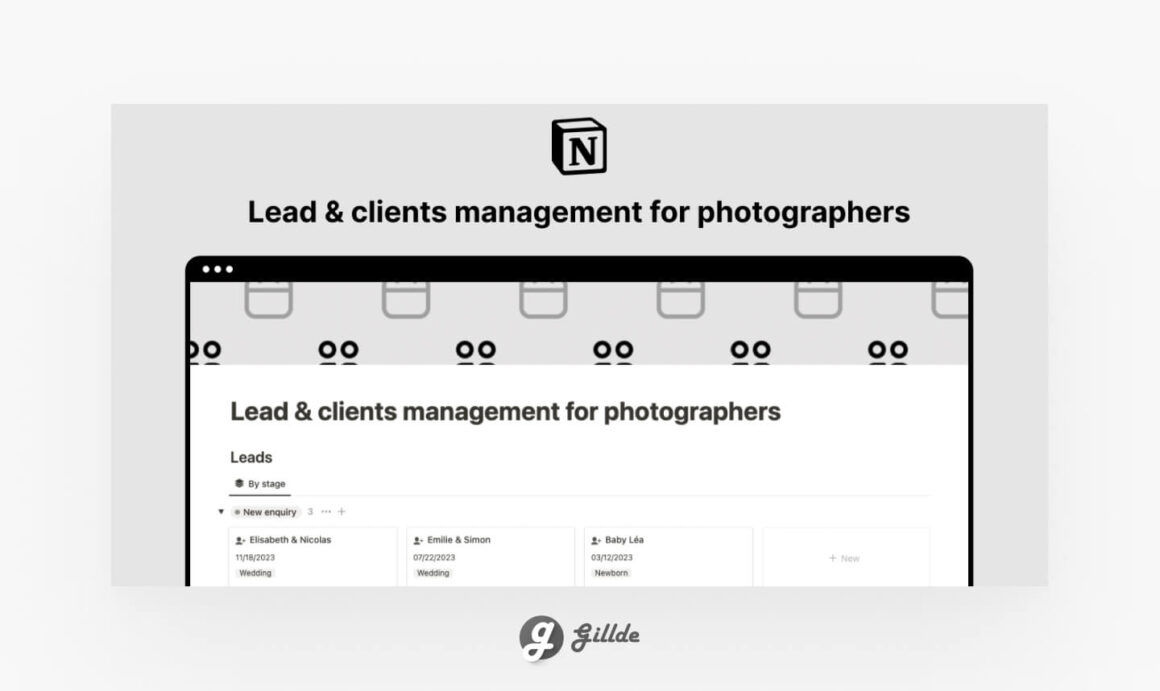 Conclusion
Managing your shoots and business can be a daunting task, but with Notion's photography templates, it doesn't have to be. These templates offer a range of features that can streamline your workflow, keep you organized, and help you take your photography game to the next level. Whether you need to plan your shoots, manage your clients, track expenses, or organize your projects, Notion has a template for you. So why not give it a try and see how it can transform your photography business?
Want to Discover More Templates? We've got you covered! A Wealth of Notion Templates Awaits
For every conceivable template aspiration, Gillde stands ready. Dive into our trove for a spectrum of Notion templates that cater to your every whim. Embark on your quest for structured creativity with a mere click. Uncover even more enticing lists on our blog!
We've unleashed an array of 50+ Notion templates and guides within our archive on Gillde. While we'd love to list them all here, we've made it effortless for you. Simply head over to our dedicated Notion Category page, and explore this treasure trove at your leisure!