Setting and tracking goals is crucial for personal and professional growth. It helps us stay focused, motivated, and organized. With the advancement of digital tools, there are now various platforms available to assist us in goal tracking. Notion, a popular all-in-one workspace, offers a range of templates specifically designed to aid in goal tracking. In this blog post, we will explore ten Notion templates that can help you effectively track and achieve your goals.
The Super Life (Ultimate Life Planner) is your all-in-one hub to keep every facet of your life seamlessly organized, and it's entirely built within Notion.
This planner brings together tasks, notes, plans, health insights, your plant babies' care schedules, your upcoming wanderlust adventures, your financial world, and much more, all right within your favorite digital Swiss Army knife of productivity.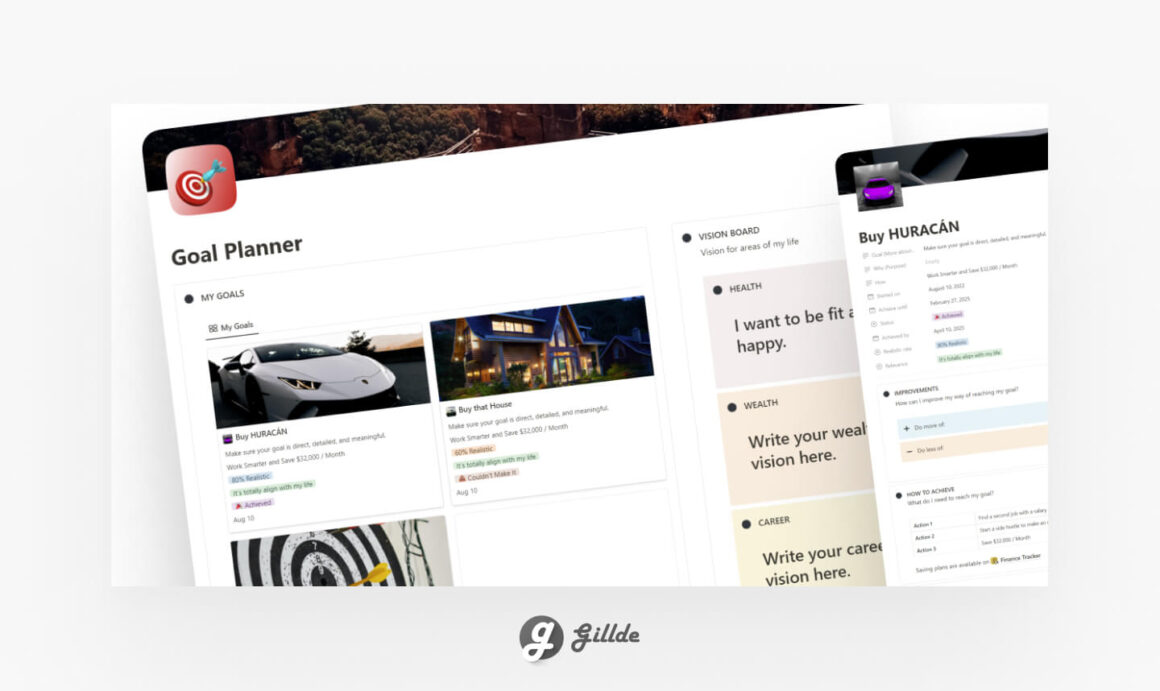 Features:
Goal Planner & Tracker: Set ambitious goals, create actionable plans, and track your progress effortlessly. Celebrate your milestones and witness your dreams turning into reality.
Dashboard: Your home base for an overview of your entire life's operations.
Finance Tracker & Planner: Your financial GPS to steer your money matters in the right direction.
Monthly Planner: A snapshot of your upcoming month at a glance.
Personal & Work Daily Planners: Tailor-made tools for managing both your personal and professional daily tasks and projects.
Bookmarks: A handy way to keep all your online treasures close at hand.
Bookshelf & Reading List: A cozy corner for your literary adventures and must-reads.
Workout Planner: Your workout buddy to stay fit and fabulous.
Plant Care: Don't let your leafy friends down – this section helps you remember to water and nurture them.
Trip Planner: For the explorers and jet-setters, this is your go-to for planning those unforgettable getaways.
…and a whole lot more.
Notion Goal Tracker (SMART), your dedicated partner on your journey to achieving your dreams and ambitions. Notion Goal Tracker (SMART), your dedicated partner on your journey to achieving your dreams and ambitions.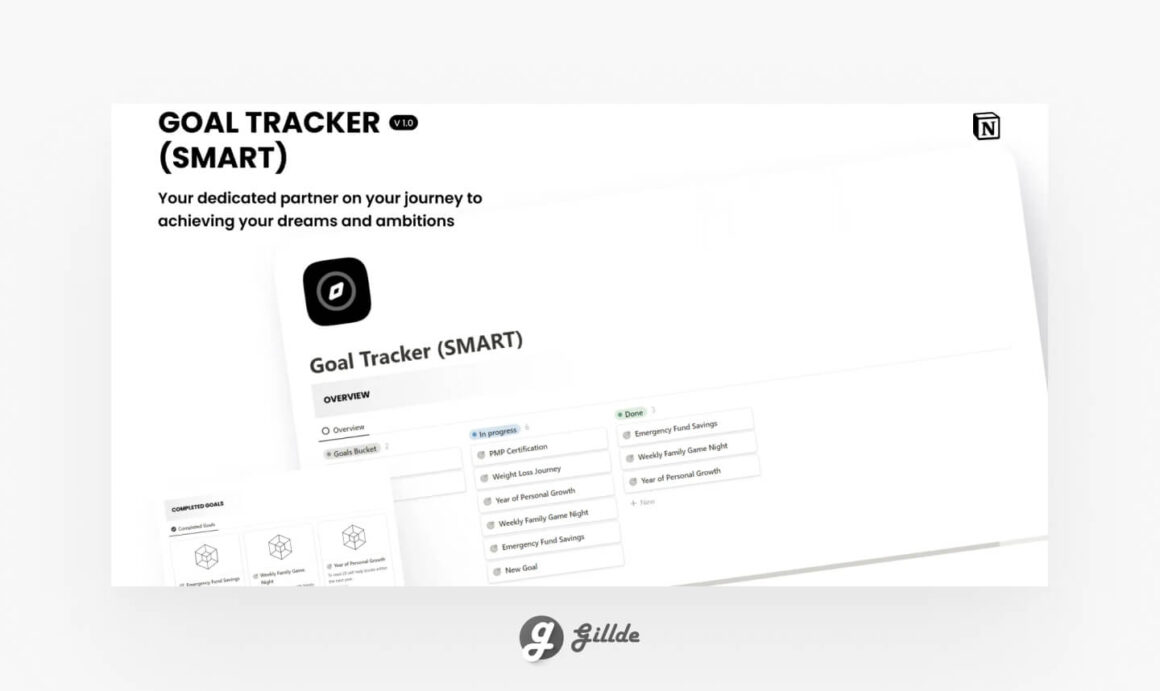 Features:
SMART Goal Setting: Easily set SMART goals that are Specific, Measurable, Achievable, Relevant, and Time-bound.
Individual Goal Pages: Dedicated pages for each goal, with key details like goal title, description, due date, category, and more.
Progress Tracking: Visualize your progress with a built-in progress tracker.
Related Tasks: List tasks related to each goal to stay organized.
Attachments: Add links or documents relevant to your goals, such as workout plans or dietary guidelines.
Notes and Reflections: Document your personal thoughts and daily progress.
Completed Goals: A section to showcase your accomplished goals.
Calendar View: Visualize ongoing goals and milestones on a calendar.
Active Goals: Quickly access your ongoing goals.
Overview Section: An at-a-glance overview with three sections: Goals Bucket, In Progress, and Done.
Notion Goal Planner Template
With its sleek and intuitive design, this template makes goal-setting and tracking a breeze. It's the perfect companion for anyone looking to take control of their life and make real progress towards their goals.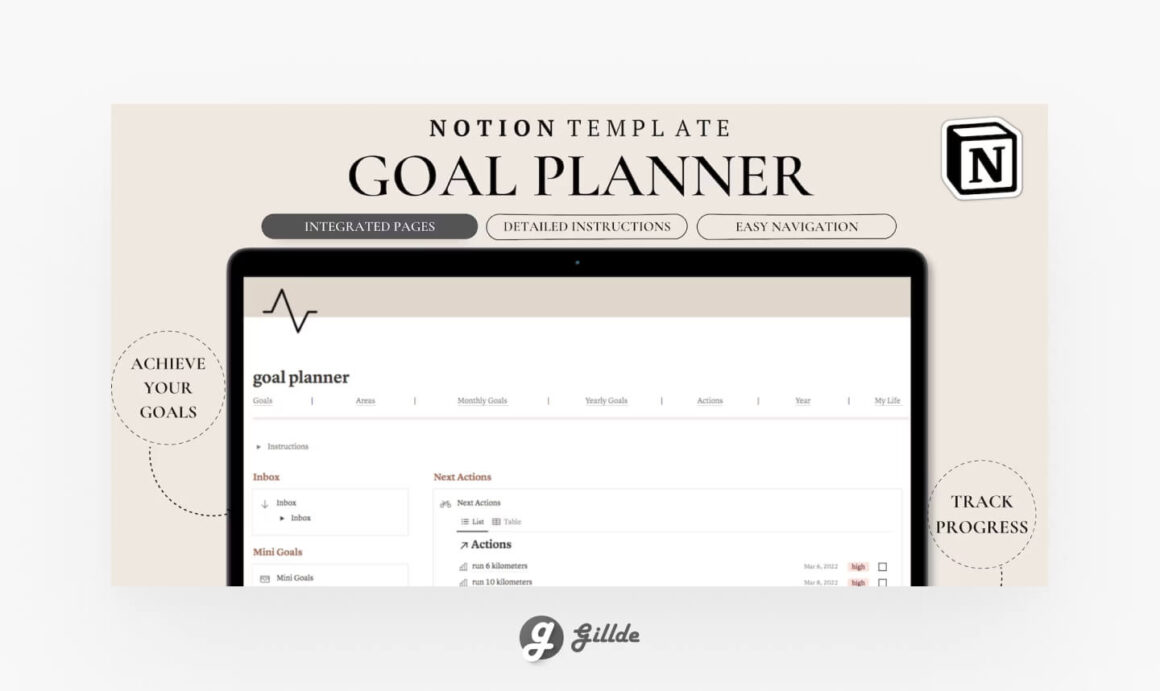 Notion Smart Goals Tracker
An all-in-one Notion template to set goals, evaluate them and set & track habits to achieve them.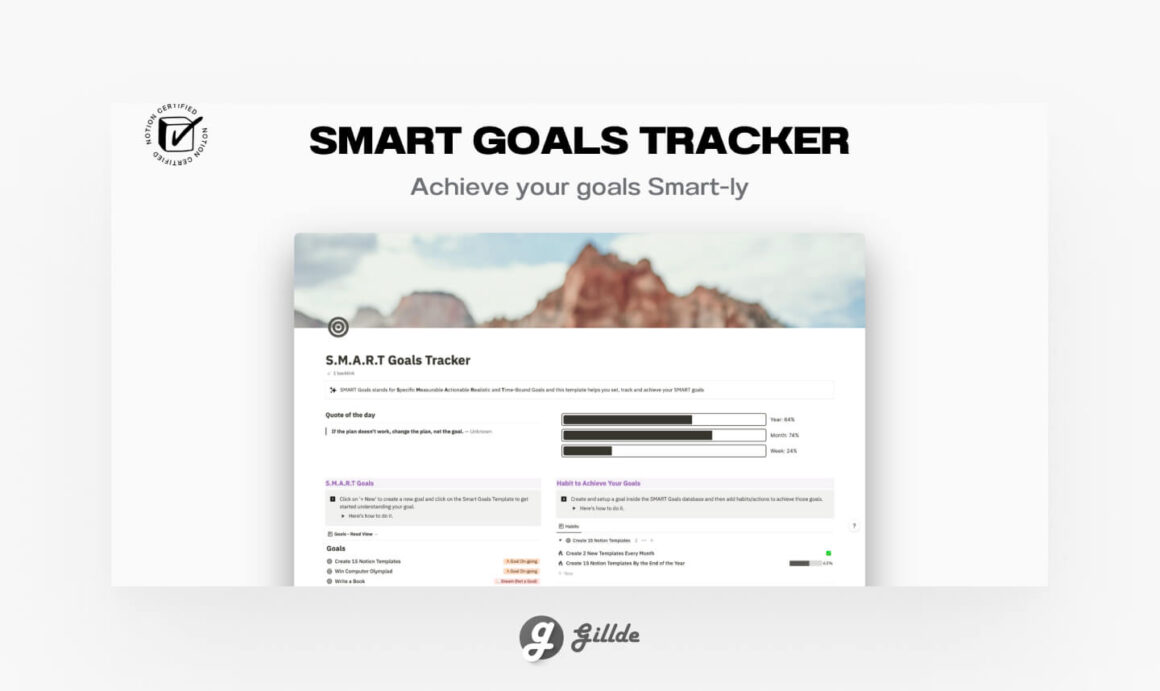 Notion Goal Planner Template & Daily Habit Tracker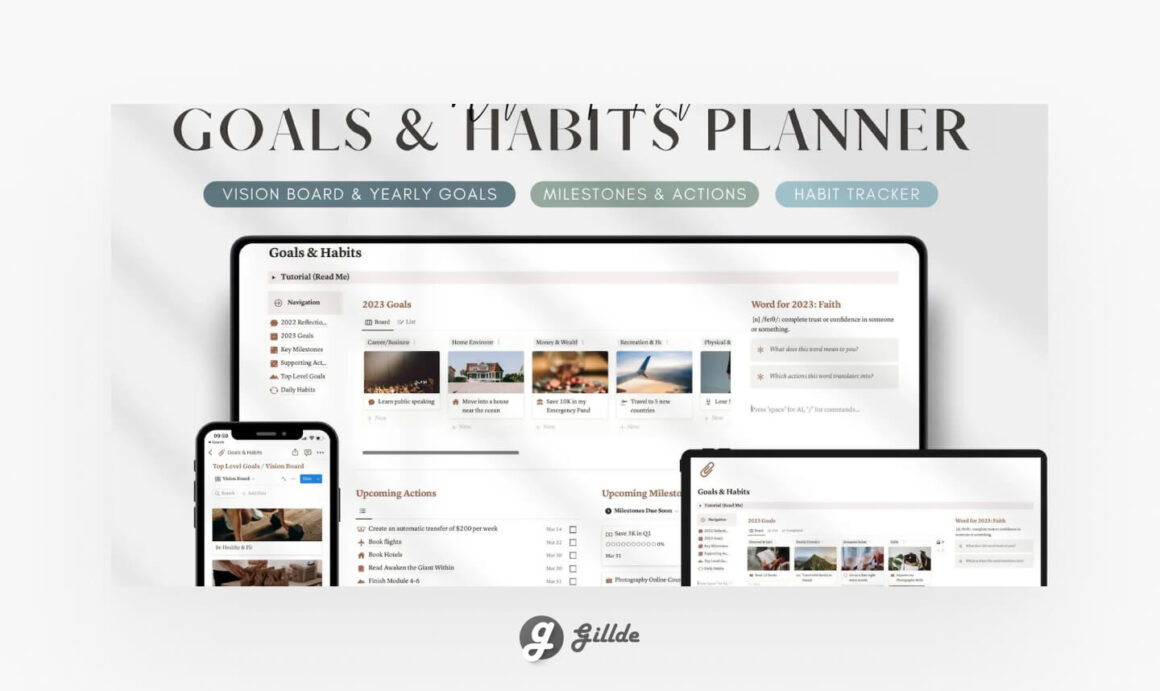 Features:
Top Level Goals section to set and track your ultimate aspirations
Vision Board section to visualize your dreams
Yearly Goals section to break down your goals into actionable steps for the year
Key Milestones section to keep track of your milestones and celebrate along the way
Supporting Actions – Actionable Steps that break each milestone into achievable tasks
Daily Habits section to establish and maintain positive habits
Free Goal tracker
Keep track of all the goals you want to achieve with this aesthetic, green themed notion template: divide them into smaller steps to keep the focus on your objectives and to make them easier to achieve.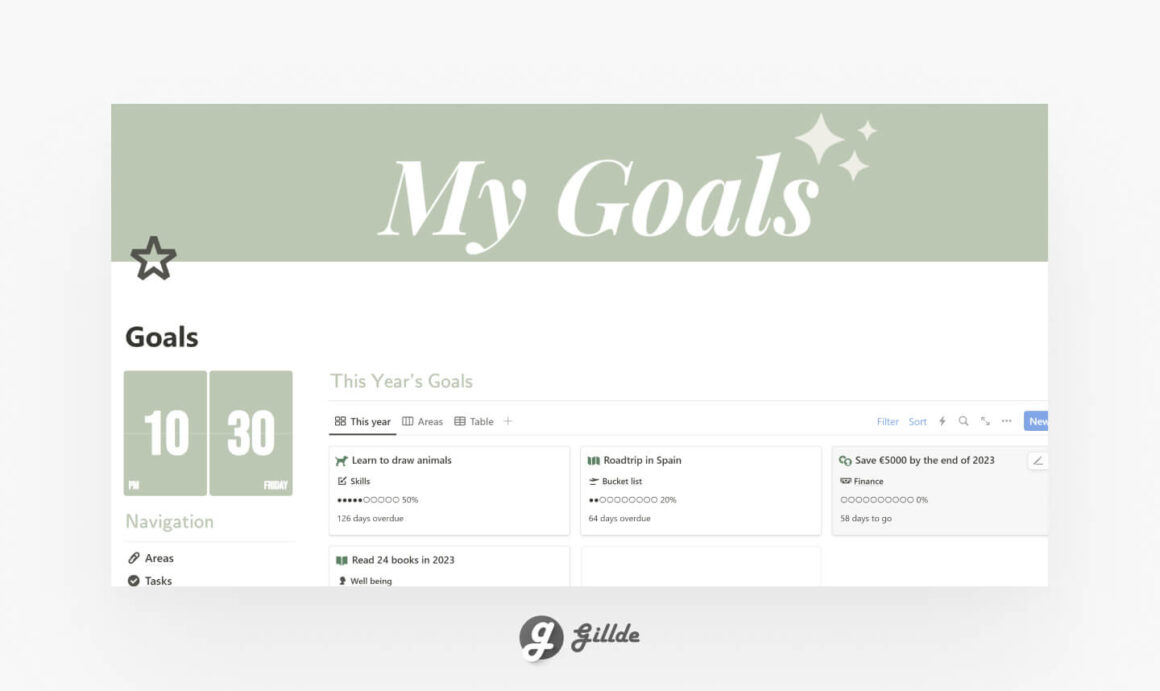 Quarterly Goal Setting Notion Template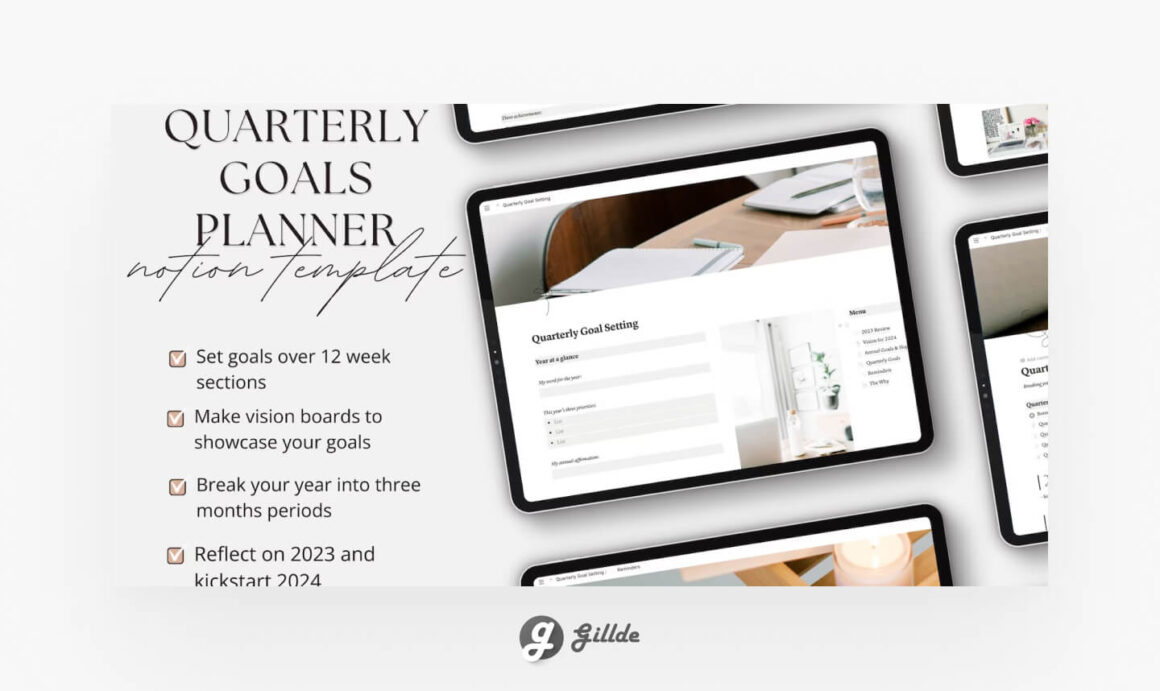 Goal Tracker
Setting goals gives you long-term vision and short-term motivation. This Notion template helps you track your goals to transform your habits, mindset, and daily decisions.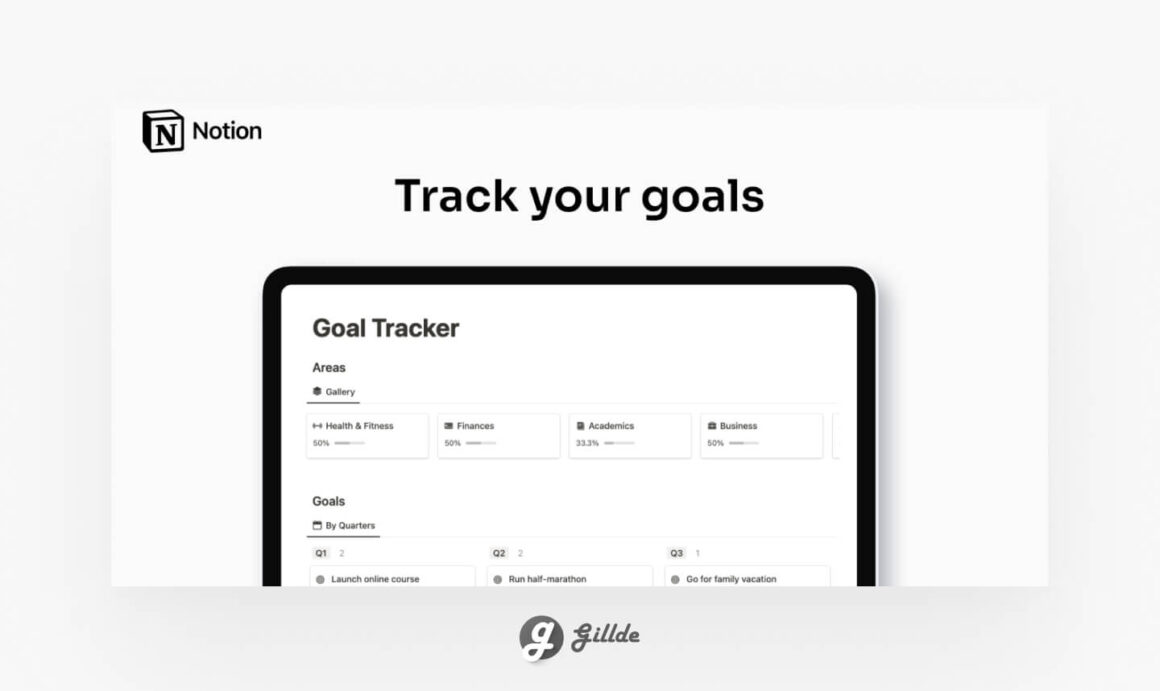 Notion Goal Template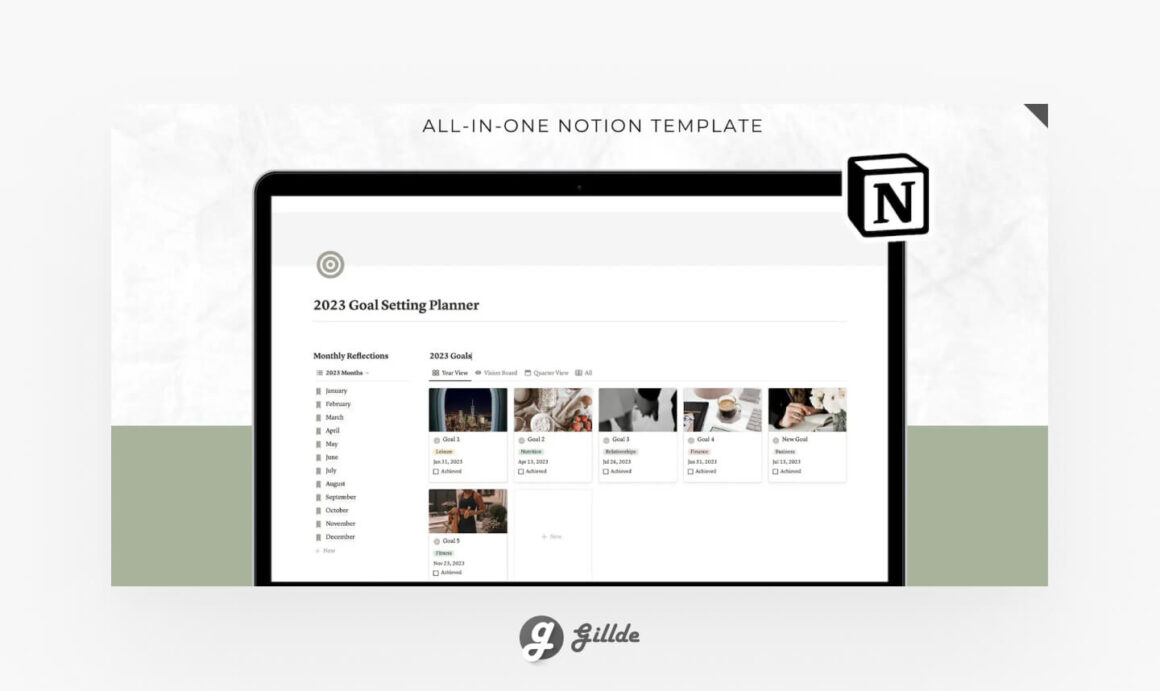 Notion Template Habit Tracker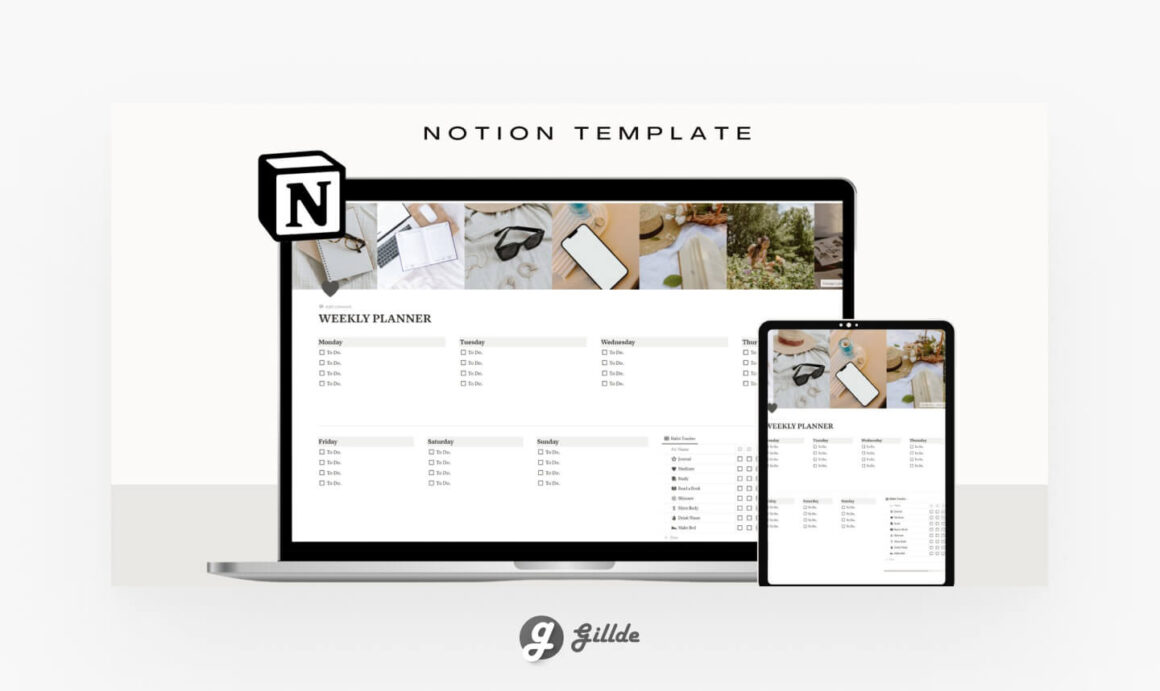 Conclusion For Notion Goal Tracking
Notion offers a wide range of templates to support goal tracking and productivity. The ten templates discussed in this blog post provide a starting point for leveraging Notion's capabilities to track, manage, and achieve your goals. Whether you are focusing on tasks, habits, projects, or personal growth, Notion's templates can help you stay organized, motivated, and on track towards success. Explore these templates and customize them to fit your unique goals and aspirations.
Want to Discover More Templates? We've got you covered! A Wealth of Notion Templates Awaits
For every conceivable template aspiration, Gillde stands ready. Dive into our trove for a spectrum of Notion templates that cater to your every whim. Embark on your quest for structured creativity with a mere click. Uncover even more enticing lists on our blog!
We've unleashed an array of 50+ Notion templates and guides within our archive on Gillde. While we'd love to list them all here, we've made it effortless for you. Simply head over to our dedicated Notion Category page, and explore this treasure trove at your leisure!